Covid-19: Brazil virus already in UK 'not variant of concern', scientist says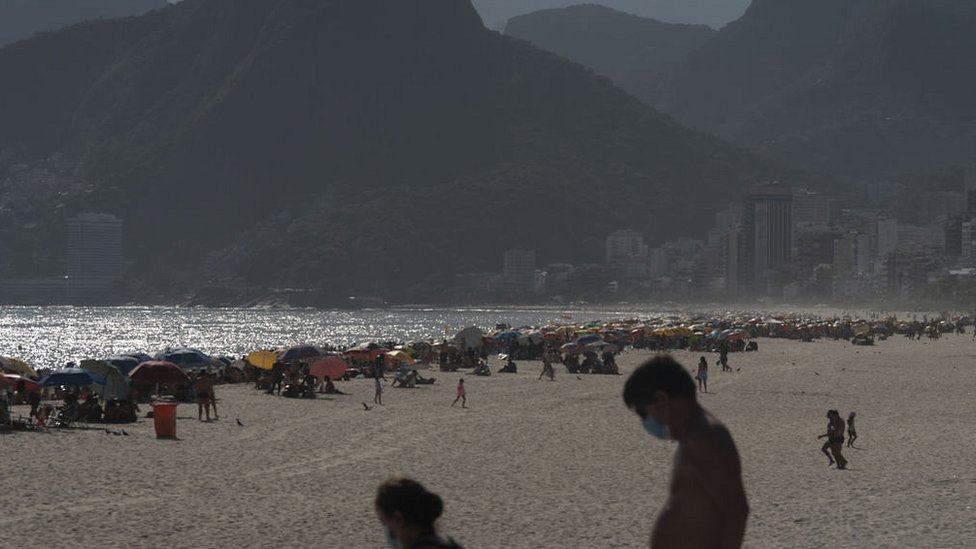 One of two coronavirus variants first detected in Brazil has been found in the UK, says a leading scientist advising the government.
But the version discovered is not the "variant of concern", Prof Wendy Barclay clarified.
The "variant of concern" from Brazil, detected in travellers to Japan, is thought to be more infectious.
It led to travellers from South America and Portugal being banned from entering the UK on Friday.
Prof Wendy Barclay, who is heading a newly-launched project to study the effects of emerging coronavirus mutations called the G2P-UK National Virology Consortium, said: "There are two different types of Brazilian variants and one of them has been detected and one of them has not."
Prof Barclay, who also sits on Nervtag, a committee which advises government on new and emerging respiratory virus threats, said the variant was "probably introduced some time ago" and it "will be being traced very carefully".
She added: "The new Brazilian variant of concern, that was picked up in travellers going to Japan, has not been detected in the UK.
"Other variants that may have originated from Brazil have been previously found."
The body which collects and analyses the genomes of virus samples – Covid-19 Genomics UK Consortium (Cog-UK) – said this variant seen in the UK contained one of the mutations found in the Brazilian "variant of concern".
The mutation, also found in the South African variant, has been linked to a reduced antibody response meaning our bodies might be less able to fight it off.
Cog-UK said this alone was not enough to qualify it as a "variant of concern", thought it acknowledged "no internationally agreed definition of a variant of concern has yet been agreed".
In other variants of concern, the mutation sits alongside a "constellation" of others which together amount to a high chance of making the virus more transmissible.
How worrying are the new coronavirus variants?

Which countries are included in the UK travel ban?
Coronavirus variants: The science explained
It comes as a further 1,248 people with coronavirus have died in the UK.
The latest government figures on Thursday also showed another 48,682 new cases had been reported.
Meanwhile, the latest estimate for the reproduction (R) number in the UK – which represents the average number of people that one infected person will pass on a virus to – is between 1.2 and 1.3.
Last week it was estimated at between 1 and 1.4 by the government's Scientific Advisory Group for Emergencies.
When the figure is above 1, the number of cases increases exponentially.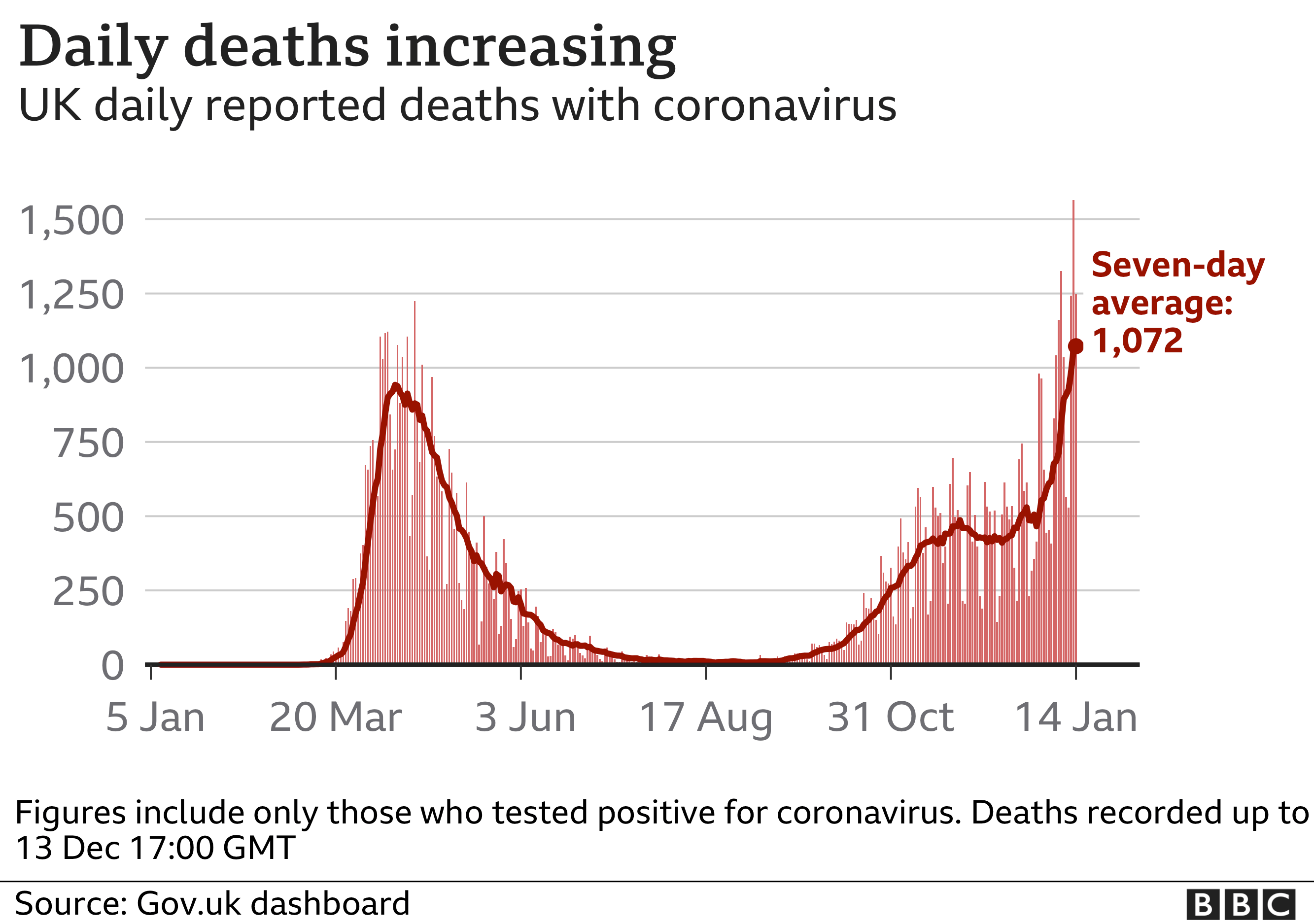 Despite other variants entering the country since, the Kent variant remains dominant in the UK and is believed to be 30-50% more infectious than the previous form of the virus.
Viruses acquire random changes to their genes constantly as they replicate.
Many are neutral or even hurt the virus's ability to spread, but those that give it an advantage will become more common.
Mutations are being detected now because enough time has passed for those random changes to take hold.
Even though there is no evidence any of these mutations make the virus more deadly, a virus that infects more people is likely to have a higher death toll.
When the virus gets better at sticking onto and breaking into human cells, in theory someone exposed to the same dose is more likely to become ill.
The use of masks and personal protective equipment, social distancing and hand washing remain the best defences against the virus's spread.
Downing Street said current evidence did not suggest the concerning Brazilian variant affected vaccines or treatment.
Mr Shapps described the travel ban, which came into force at 04:00 GMT on Friday, as a "precautionary" measure.
It covers people who have travelled from or through, Argentina, Brazil, Bolivia, Chile, Colombia, Ecuador, French Guiana, Guyana, Paraguay, Peru, Suriname, Uruguay and Venezuela in the last 10 days.
The ban also applies to Portugal – because of its strong links to Brazil – and the former Portuguese colony of Cape Verde off the coast of west Africa, as well as Panama in central America.
British and Irish citizens and foreign nationals with residence rights are still allowed to return – but must isolate for 10 days.
Also exempt are hauliers who are travelling from Portugal to transport essential goods.


LOOK-UP TOOL: How many cases in your area?
LOCKDOWN LOOK-UP: The rules in your area
TESTING: How do I get a virus test?
SYMPTOMS: What are they and how to guard against them?


Dr Mike Tildesley, an epidemiologist who is part of the government's Scientific Pandemic Influenza Group on Modelling, said the travel ban should minimise the risk from a "more transmissible" variant.
"We always have this issue with travel bans, of course, that we're always a little bit behind the curve," he told BBC Breakfast.
"My understanding is that there haven't really been any flights coming from Brazil for about the past week, so hopefully the immediate travel ban should really minimise the risk."
Downing Street said it acted "as quickly as possible" to impose the travel ban because the concerning Brazilian variant "could pose a significant risk to the UK".
However, Portugal's government has described the ban as "absurd" and illogical".
The country's minister of foreign affairs Augusto Santos Silva said he had requested a conversation with his British counterpart after the "sudden and unexpected" suspension of flights.
He added Portugal was already restricting flights from Brazil and there was "no evidence" the new variant existed in his country.

LOCKDOWN LEARNING ON BBC IPLAYER: BBC Bitesize is here to help with your homeschooling needs
IN NEED OF A NEW SERIES TO BINGE IN LOCKDOWN?: The Serpent is a twisting, real-life story of a murderer, thief and seductive master of disguise

Published at Fri, 15 Jan 2021 17:12:30 +0000