Covid: 'Convalescent plasma no benefit to hospital patients'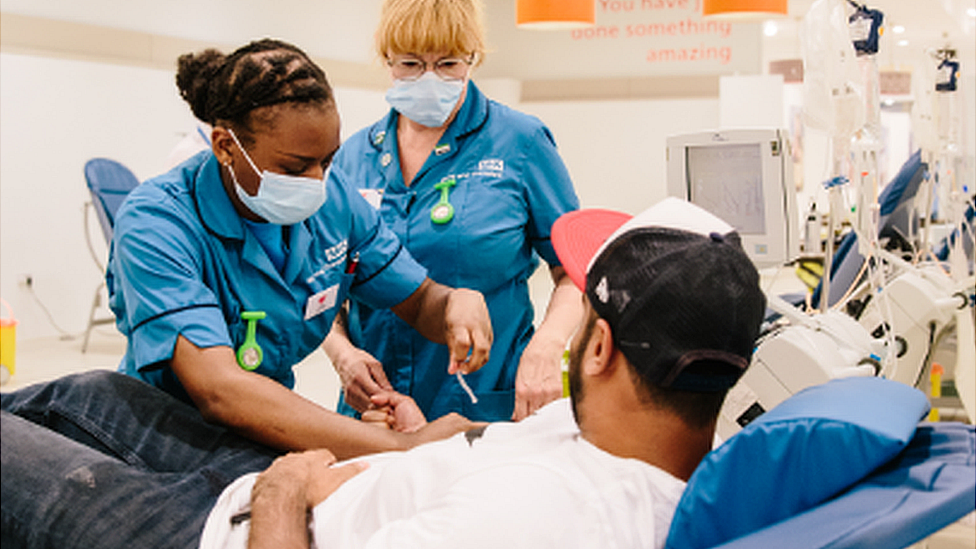 A potential treatment for Covid using blood plasma does not reduce deaths among hospital patients, trials show.
The results are a blow to researchers and the NHS, which led the drive to collect plasma donations.
This arm of the
Recovery trial, which is investigating a number of promising Covid treatments, has now been closed.
The Oxford researchers involved say they are "incredibly grateful" for the contribution of patients across the country.
Donations of plasma have been temporarily suspended, according to NHS Blood and Transplant.
There had been huge international interest in the role of convalescent plasma as a possible treatment for hospital patients with Covid-19.
The treatment involves blood plasma being taken from people who have recovered from the disease – which contains antibodies to coronavirus – and transfused into seriously ill patients.
It was hoped the plasma donation would give the recipient's struggling immune system a boost to fight off Covid.
The NHS had been urging people to donate, particularly men who are thought to have higher levels of antibodies in their blood.
'Value of trials'
But early analysis of 1,873 deaths in a study of 10,400 UK patients shows the treatment made "no significant difference".
In the group treated with convalescent plasma, 18% of patients died within 28 days – the same figure for the group given standard treatment.
Patients in the study are still being followed up and the final results will be published shortly.
Earlier this week, a separate study showed no evidence that the same treatment improved outcomes for patients in intensive care.
Martin Landray, chief investigator and professor of medicine and epidemiology at the Nuffield Department of Population Health, University of Oxford, said the Recovery trial showed "the value of large randomised trials to properly assess the role of potential treatments".
The trial is still investigating other treatments, including tocilizumab, aspirin and an antibody cocktail.
Prof Peter Horby, who also worked on the trial, said the largest ever trial of convalescent plasma "was only possible thanks to the generous donation of plasma by recovered patients and the willingness of current patients to contribute to advancing medical care".
"While the overall result is negative, we need to await the full results before we can understand whether convalescent plasma has any role in particular patient sub-groups," he said.
Published at Fri, 15 Jan 2021 17:22:36 +0000