Co-op and Morrisons see queues over payments outage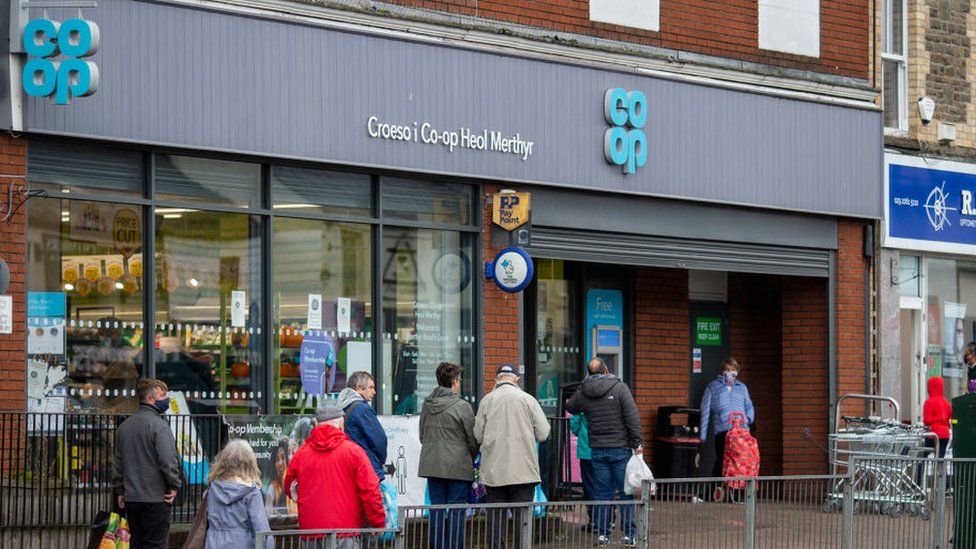 The Co-op and Morrisons have confirmed that there is an ongoing issue affecting card payments from being processed in some of their stores.
Long queues were seen outside some of the Co-op's convenience stores from Sunday amid the snow, and customers were encouraged to pay using cash.
The BBC understands that the problem is due to an issue with a real-time payments processing provider ACI.
Multiple customers took to Twitter and Facebook to complain about the queues.
The issue comes as contactless payments have taken off in the UK during the pandemic, with fewer consumers using cash to pay for groceries.
The BBC has approached ACI for comment.
"We've experienced some technical difficulties with our card payments and are working hard to resolve this as quickly as possible," said a Morrisons spokeswoman. "We are sorry for any inconvenience this may have caused."
A Co-op spokesman told the BBC: "Our payment processing provider is working to correct an intermittent issue which has prevented a very small number of customer transactions from being processed.
"We would like to apologise for any inconvenience caused."
The BBC witnessed the card processing issue affecting some of The Co-op's stores meant that self-service checkouts had to be closed, requiring customers to queue to be served at tills manned by staff.
Iep
Mu local Co-op too.
Staff said it's been a problem all day.
Customers had to dash over to use the in-store cash machine then pay in cash. Long queues!!
Strangely, after my Barclays Debit Card was "declined" I tried my Smile Card and that worked first time!

— David of Nottingham (@DavidofNotting1) January 25, 2021
At some stores, customers queuing outside were warned on Monday evening that transactions had to be "cash-only" due to the ongoing issue.
Some customers said they had to use the convenience store's cash machine to withdraw money to pay for purchases.
However in other stores, the problem was intermittent, impacting some payment card brands, but not others.
Published at Tue, 26 Jan 2021 01:54:11 +0000