Local Women Mine Restaurants, Grocers for Food Help – Bay News 9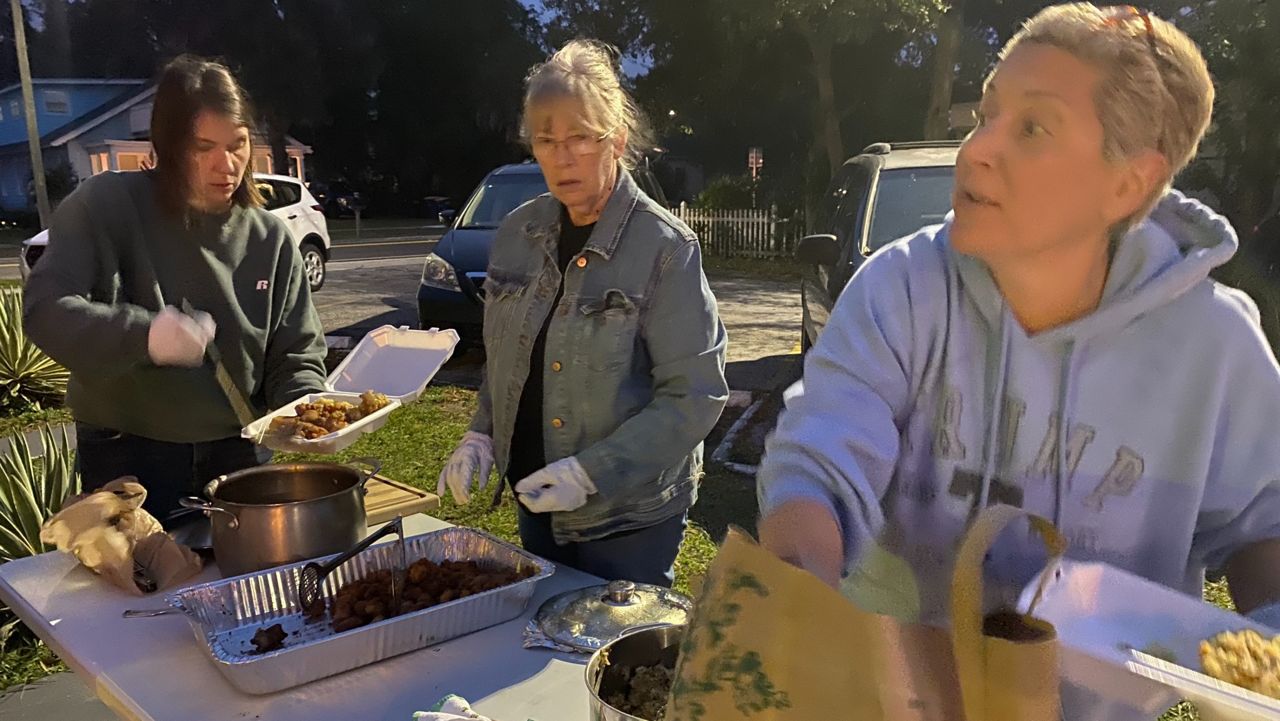 CLEARWATER, Fla. — As the saying goes, one man's trash is another man's treasure.
---
What You Need To Know
Local women collect food that would be thrown away by restaurants, grocers
They make sure the food is distributed to people who need it
Heather Brooke, her husband get food from more than 650 establishments monthly
Volunteers looking for permanent place to use for storage, cooking
---
In this case, though, that "trash" could be a Christmas miracle for some families.
"Everybody has to eat, and I don't care what they've done wrong in their life," volunteer TC Campisi said. "Nobody deserves to starve to death, that's for sure."
So she's spending her holiday here, along with nonprofit leader Heather Brooke, serving up a warm meal to people in need, a meal that would otherwise have been thrown away.
"So this food is already available, it's out there," Brooke said. "It is the end-of-day stuff, and restaurants, businesses, grocery stores. It's already there."
Her work started with a trip to a restaurant nearly a year ago.
Brooke and her husband saw someone throwing away the end-of-day food that wasn't used.
And in a time, especially now, when so many people are in need, Brooke said she needed to get involved.
"So we approached them and asked them how we could try to connect with that and get that, make use of it," Brooke said. "And they told us how, how to register, how to be able to pick that up at the end of each day."
Less than a year later, she now serves food nearly every day, picked up from more than 650 establishments each month, to those who could really use it.
"It's awesome, I hear people talk about it all the time," recipient Darlene Reed said. " 'The food lady came today, the food lady came!' That's what they always talk about."
The food helps fill physical and emotional hunger, according to Imara Williams, manager of the hotel where food was served Christmas Eve.
"Sometimes there's a lot of people out here that don't know where they're going to get their next meal from because everybody pays their bills and stuff, so I think it actually gives people more hope," Williams said.
Hope is needed, especially during the season of giving, she said.
"It makes them more in the Christmas spirit to see that somebody still cares," Williams said.
The food provides a Christmas gift for more than just those on the receiving end.
"It feels like Christmas every day," Campisi said. "Yeah, it feels great."
Volunteers with the nonprofit are currently working out of their home garages, but are looking for a more permanent space to store and cook food.
If you would like to donate to help them secure a location, visit their GoFundMe page.
Published at Sat, 26 Dec 2020 00:27:00 +0000