The kids are all right: Tacofino rolls out new meal for the littles in a sweet customizable ride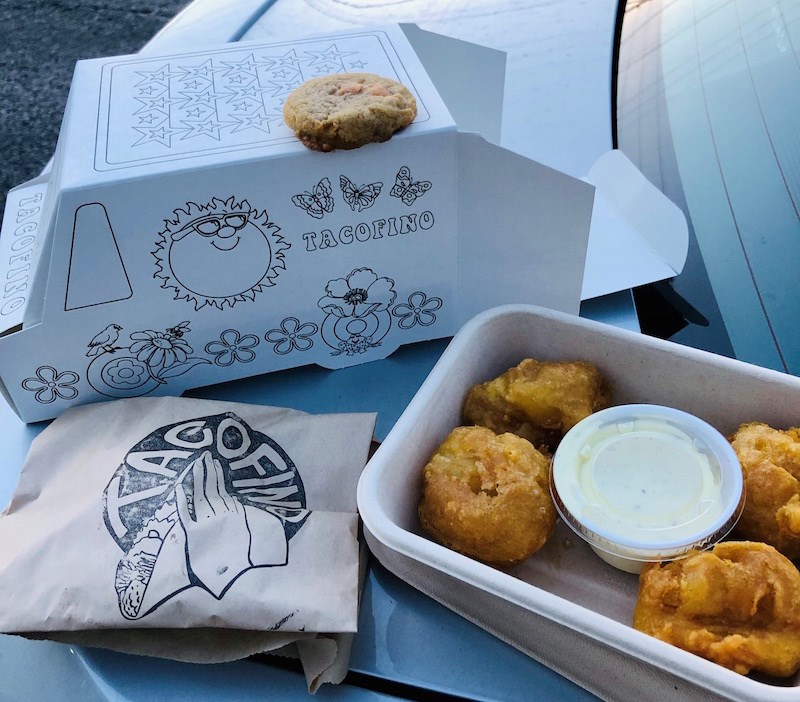 Not all kids' meals are created equal, that's for sure. While some restaurants reinforce the stereotype that the under-12 set can only manage chicken strips or buttered noodles, others give the kids the chance to stretch their taste buds with menus for the minis that mimic what the grown-ups are eating – only wisely scaled-down in portion size and price.
Happily, Tacofino has entered the fold of local restaurants now dishing up cool kids' meals – and they've even gone the extra mile to package them in a sweet cardboard mini food truck box that the kiddos can customize at home with crayons, markers, and stickers galore.
Tacofino's Food Truck Kids' Kits offer kiddos in your take-out meal crew a choice of a Cheese (mixed cheese, flour tortilla) or Chicken Quesadilla (karage chicken, salsa fresca, lime crema, spring onion, flour tortilla) or Fish Nuggies (tempura Pacific cod, sauce on the side) along with Tortilla Chips and a Churro Butterscotch Cookie.
Priced at $8.50, the combo is a great three-item meal and looks utterly adorable in its food truck box, which stays clean thanks to the thoughtful packaging of the food.
My pint-sized dining companion took Tacofino's Fish Nuggies meal for a taste-drive – because like his mom, he can't resist that tender, sweet, tempura-battered fish Tacofino is known for – and his Kids' Kit earned major thumbs up from this seven-year-old Vancouver food nerd in training. Though I'm lucky he can hold his own when we feast off the regular menu just about anywhere we go, having this option at Tacofino is an absolute bonus and makes grabbing a casual meal for us both a lot easier.
As a B.C. family, we've collected our fair share of Pirate Pak vessels, and even packed home the yellow cardboard convertible that holds the kids' meals at Quebec chicken chain St. Hubert, but this colour-it-yourself Tacofino truck is an extra treat because it keeps those little hands busy a little longer. Talk about a happy meal for everyone!
The Food Truck Kids' Kits are available now to order for pickup and limited delivery at all Vancouver-area Tacofino locations and trucks, except its "Oasis" outpost on West Pender in the downtown financial district.
Published at Mon, 21 Dec 2020 20:58:49 +0000