32 Best Stocking Stuffer Ideas for the Whole Family (on Every Budget)
Do you remember what you got in your Christmas stocking last year? Probably not, right?
The perfect stocking stuffer gifts are baubles or gadgets the recipient will love and use. As you fill people's stockings, think of their hobbies and habits as well as the things they value to help you decide what to put in. Some gifts are great stocking stuffers for everyone, while others are only right for a specific person, so everyone's stocking is always a little different. And finding out what's in your stocking (and everyone else's) is half the fun.
But it's easy to spend a fortune filling stockings if you're trying to avoid old standbys like fruit and candy. Just make sure you factor stocking stuffers into your holiday budget and stick to it.
Fortunately, there are plenty of creative ways to stuff a Christmas stocking on any budget.
Creative & Affordable Stocking Stuffer Ideas
Just because stocking stuffers are small doesn't mean they're all inexpensive. Some you can get for as little as $1, while others, like quality Bluetooth headphones, can cost hundreds. To keep it from getting out of hand, fill the stockings with plenty of cheap stocking stuffers. But don't be afraid to leave room for at least one splurge item, depending on your budget.
Stocking Stuffers Ideas for $5 or Less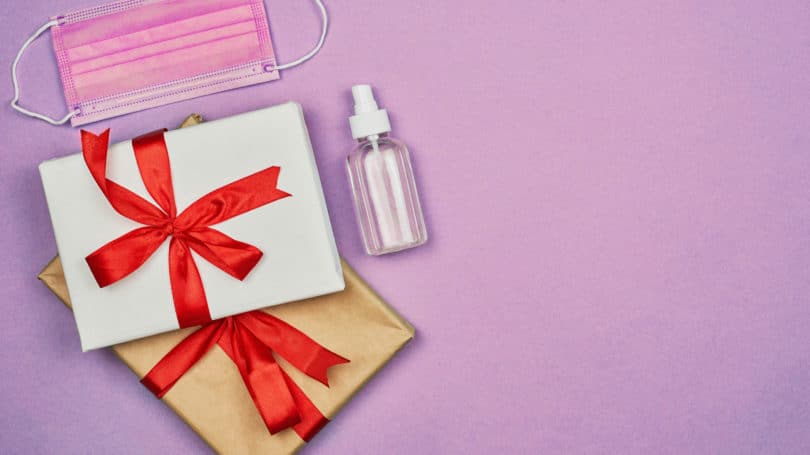 Under-$5 trinkets typically make up the bulk of your holiday stockings. Their low prices mean you can buy plenty without busting your budget.
1. Hand Sanitizer
It's a smart idea to keep a bottle of hand sanitizer within easy reach throughout the cold and flu season (and it's even more critical during the COVID-19 pandemic).
Wonderbac travel-size hand sanitizer costs less than $2 and comes in multiple scents to suit everyone on your list. Choose from holiday-themed fragrances like vanilla sugar cookie, sparkling cranberry, peppermint twist, sugared lemon, and coconut macaroon.
They fit perfectly into the $5 Wonderbac hand sanitizer cases, which are an easy (and kid-friendly) way to keep a bottle on hand at all times. The cases come in a range of adorable designs, including doughnuts, sequined purses, a robot, cupcakes, and a winter hat.
2. Moisturizing Lotion
All that hand sanitizing, while great for your health, can leave your loved ones with dry, chapped skin. Slip a bottle of moisturizing hand cream or lotion into their stockings to help counteract the drying effects of hand sanitizer and winter cold.
Aveeno's travel-size moisturizing lotion is an exceptional all-purpose daily hand and body lotion you can get for $4. Or opt for the stocking stuffer-size Sweet & Shimmer Sugar Cookie lotion, which has a warm vanilla scent and costs only $1.
3. A Monogram Candle
Get personal by slipping a pretty glass candle monogrammed with the recipient's initial into their stocking. The $5 Opalhouse monogram candles have a delicate freesia scent and a wick that crackles as it burns. They're made from soy wax, which burns more cleanly than oil-based waxes. Get them in fuchsia, pale green, and dark green glass holders.
If you need smaller candles, check out Opalhouse's other $5 offerings, including scents like balsam fir, cozy flannel, and gingerbread frosting.
4. Eco-Friendly Oral Care
Toothbrushes and toothpaste are stocking stuffer standbys, but this year, you can put a green spin on tradition. Slip a $3 bamboo-handled toothbrush and some $1 chewable toothpaste tablets into your family's stockings. Once the bamboo toothbrush is past its prime, you can remove the bristles and compost the bamboo or use the handle as a garden marker rather than throwing it in the trash, making it a great gift for the eco-conscious. The chewable toothpaste is also eco-friendly, but it also may be the reason kids get excited about brushing their teeth before bed.
5. Foot & Hand Masks
Give the gift of pampering by putting moisturizing hand or foot masks into your family's stockings. Sephora's $5 hand masks and foot masks deliver moisture to cracked, tired, and dry hands and feet. Your whole family can don the masks while enjoying an at-home spa night.
6. Herb Seed Balls
Although gardening season is months away if you live in the Northern hemisphere, sliding a pair of seed balls from Etsy shop Plantables & Paper into someone's stocking gives them something green to look forward to. The seed balls are small enough to plant in a windowsill planter or the ground once the weather is warm enough. They come in a pack of two for $4, but you can split them up by packaging them individually in small gift bags.
7. Smartphone Grips
Smartphones are pricey, fragile, and all too easy to drop. Smartphone grips help solve that problem by adhering firmly to the back of your phone or case and providing a collapsible ring or knob you can use to maintain a better grip. You can also use them as phone kickstands.
There are multitudes of phone grips out there, including pricier PopSockets. But you can buy a bundle of them to stuff in stockings for around $2 or $3 per grip. Get a standard multipack of rings with color options like silver, pink, and black, or opt for hand strap-style grips in gray, black, or pink. Fancier options include designs that look like flowers, mandalas, marble, or nebulas.
8. Cable Ties
As much as modern life has gone wireless, there are still a lot of cables lying around. A pack of $3 cable ties is a utilitarian gift your loved ones can use to keep their cords in order. The ties come in a range of colors, so you can choose a different one for each family member.
9. Wine Stoppers
Once you open a wine bottle, air starts to mix with the contents, causing it to oxidize and lose flavor. Putting the cork back in the bottle doesn't keep the air out well enough, meaning the wine tends to taste off the next day.
Stuff an oenophile's stocking with a wine stopper. Buying them in a pack of four means they cost only $2 each. The bottle stoppers create a tight seal, preserving leftover wine. They also work well to keep soda fizzy.
10. Cloth Face Masks
Even as a COVID-19 vaccine becomes available, people will likely be wearing face masks for months to come. Mask-wearing may be one of the many ways the pandemic will change our country permanently.
Slip a few washable, made-in-the-USA face masks into your family's stockings to help protect them from the virus. Kids' and toddlers' sizes are also available. Regardless of size, most of these masks cost only $3.50 each.
11. A Portable Reusable Straw
Let your loved ones sip in style while protecting sea life with a collapsible stainless steel reusable straw. The Ibowee multipack comes with four straws, keychain carrying cases, and brush cleaners to divide among your family's Christmas stockings, making each straw set around $4. If you only need one, opt for the similarly priced Leafico collapsible stainless steel straw, which also comes with a brush and keychain carrying case.
12. Homemade Play Dough
Little ones love getting creative with play dough. But it dries out quickly, and all those fun colors end up a weird shade of gray or brown once kids mix them too many times. It's a never-ending cycle of buying more, which adds up.
But you can easily make your own play dough for much less than it costs to buy (literally a few cents per recipe). The only ingredients you need are flour, cream of tartar, salt, water, and food coloring. You can also make glitter play dough, galaxy-themed play dough, and edible peanut butter play dough.
Pack the play dough into plastic to-go containers to keep it from drying out. And include the recipe so the kids (or their parents) can stay in inexpensive play dough no matter how often they ruin it.
13. Bath Bombs
Buying in bulk is the way to go if you have a lot of stockings to fill. Purchase a box of 12 individually wrapped bath bombs and divvy them up among your stockings so each family member can enjoy a luxurious soak in the tub for $2. There are 12 different fragrances per bomb, but each one contains only natural, organic ingredients, so they'll leave your loved ones' skin soft but not greasy.
While kids love bath bombs just as much as anyone else, you can make it more fun by DIY'ing bath bombs with a fun surprise.
14. An Emergency Sewing Kit
Rips and tears happen, and often at the worst moments. Tuck an emergency sewing kit into your family members' stockings, and they'll be ready if a seam splits, a button falls off, or a hem falls. This 68-piece set comes with several different colors of thread, needles, a measuring tape, a seam ripper, and incidentals. And it's in a much nicer carrying case than the cheap ones you buy at the dollar store.
15. Poo-Pourri
No one likes having to go No. 2 at a friend's house or in a public restroom, but when you've gotta go, you've gotta go. A few spritzes of Poo-Pourri helps hide any embarrassing odors. For $5, you can get the company's original citrus scent, the Royal Flush version (eucalyptus and spearmint), or the blingy Sparkle Before You Go series featuring Pink Cintron (strawberry, citron, and rock candy) or Sweet Violet (blackberry, violet, and honey). The product's essential oils create a film over the water, coating anything that breaks the surface to prevent odors before they start.
16. Lip Balm
Winter can be brutal on the skin and lips. Keep your loved ones from dealing with chapped, cracked, and bleeding lips by tucking lip balm into their stockings.
You can buy a multipack of EOS lip balm and break it into individual sticks, one for each stocking. The pack comes with four flavors — sweet mint, strawberry sorbet, vanilla bean, and pomegranate-raspberry — so there's something for everyone. Buying in bulk means each stick only costs $2.50. It uses shea butter, coconut oil, jojoba oil, and beeswax to moisturize and protect.
Or try the Rocky Mountain Barber Company's lip balm 4-pack for just a little more. With flavors like orange brandy, peppermint, vanilla coffee, and maple, it's worth the extra price, even if it uses the same ingredients.
---
Stocking Stuffers Ideas From $6 – $10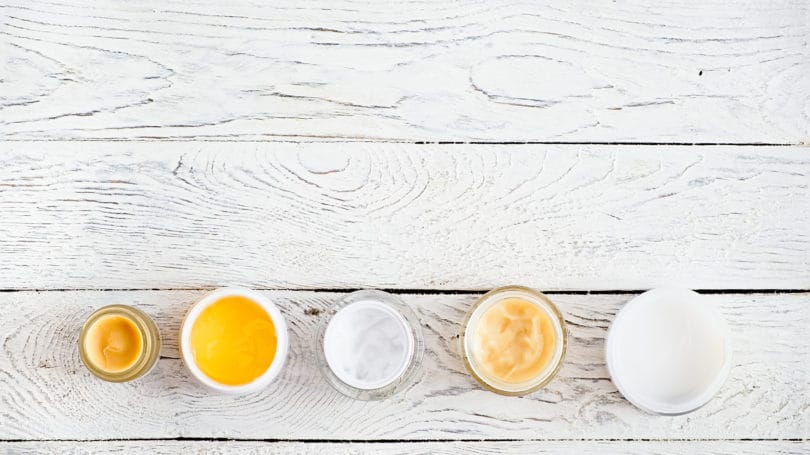 If you can spend a bit more, there are plenty of practical and delightful stocking stuffers from $6 to $10.
17. A Lip Care Kit
If you've already bought lip balm, kick it up a notch and turn it into a lip care kit with the addition of an exfoliating scrub. While you can easily spend $15 per container on fancy lip scrubs, peppermint-flavored Chapstick Total Hydration lip scrub is a well-reviewed affordable option at $7 per canister. It's made with sugar crystals, maracuja (passion fruit seed) and coconut oils, shea butter, and vitamin E to scrub away dead skin, leaving lips smooth and supple. If you didn't purchase the lip balm, pick up the lip beauty pack instead and get vanilla cream-flavored Total Hydration lip balm to go along with it for just a little more.
You can also make your own lip balm using shea butter, beeswax pellets, coconut oil, and essential oils for fragrance. Pair it with a DIY lip scrub made with 1 part coconut oil, 2 parts sugar, and 1 part honey. Divide the homemade lip balm and lip scrub into small plastic jars from Amazon. Stack one of each jar per stocking, and tie them together with a pretty ribbon.
18. A Wireless Earbud Case
Wireless earbuds free you from a tangled cord, but those tiny earbuds can get lost easily — which is no small problem when they're a pricey pair of Apple AirPods. Tuck an inexpensive earbud case into a loved one's Christmas stocking to minimize the chances of loss and let them keep their expensive AirPod charging case at home. The Insten wireless charging earbud case costs just $9 and has a handy carabiner clip the recipient can use to attach it to their belt loop, keychain, or bag.
19. A Notebook
Moleskine notebooks are beloved by writers, visual artists, and entrepreneurs alike. The journals, which come in a rainbow of different colors, come in both hardcover and softcover styles, some of which you can secure with an elastic band. The paper inside the notebook is thick and absorbs ink nicely. You can buy multiple versions of the smaller Moleskine for between $6 and $11 on Amazon. It fits nicely inside a stocking and is portable enough to tuck into a backpack or tote bag when the recipient is on the go. Just be careful. This brand has so many attractive notebooks it's easy to justify a few dollars more per unit, which can add up quickly if you have several stockings to stuff. Only go over if it's for someone who thinks of it as much more than a place to jot things down.
20. A Condiment Keychain
Hot sauce cultists are always looking for a new flavor or variety to douse their food with. The Fuego hot sauce keychain two-pack lets them keep a small bottle of the spicy stuff handy at all times. At $10, it comes with two flavors, cayenne pepper and smoky bourbon. You can make this an even less expensive stocking stuffer by putting only one flavor in each stocking.
Or opt for a set of empty condiment keychains to fill with your recipients' favorite sauces. They come with a tiny collapsible funnel to keep the filling process mess-free.
21. A Homesick Air Freshener
One way to comfort and soothe family members who spend lots of time away from home is an air freshener that smells like home. Homesick car fresheners include options that smell like Texas, SoCal, LA, Hawaii, and NYC. Although designed to hang from a rearview mirror, the recipient can hang them anywhere that needs a scent of home. At $10, these car fresheners are pricey for what they are, but they're worth it to remind a loved one where they come from.
22. A Bamboo Utensil Set
A bamboo utensil set helps people cut down on plastic waste when they're eating on the go. The set includes a fork, spoon, knife, straw, and chopsticks as well as a convenient carrying case for $8. Younger kids can take it to school with their packed lunches, while older kids and adults can keep one in their backpack, purse, or desk drawer.
23. A Scrabble Fridge Magnet
You already know you can play Scrabble on a table or your phone. But you can also play it on your fridge. Slip a pack of $10 Scrabble fridge magnets into someone's stocking so they can play a word game every time they get a glass of water.
---
Stocking Stuffers Ideas Over $11
While inexpensive gifts will likely make up the bulk of your stockings, Santa can still throw in a pricier item (or three) to make the stocking truly memorable.
24. Personalized Playing Cards
Lots of people have a deck or two of playing cards lying around the house. But do they have a deck of cards with their photo or other cherished image printed on one side? Choose a picture, such as a new baby photo, wedding photo, or child's first school photo, and have it printed on the cards. You can order the playing cards in multiples so you have enough decks to give to each family member. They typically cost around $15 or $20 per deck, but keep an eye out for seasonal sales. Just be prepared to include a card game in family game night for the foreseeable future.
25. A Swiss Army Knife
A Swiss army knife is a type of multitool that lets a person carry several individual tools, such as a bottle opener, screwdriver, wire stripper, and tweezers, in one handy object. While they're convenient tools for everyone to have, they're ideal for someone who enjoys spending time in the great outdoors. A basic Swiss army knife with only four tools costs up to $20. But you can buy them with more tools in the $30 to $50 range — for example, the Victorinox Fieldmaster version is $36 and comes with nine tools. Or you can opt for a model with pretty much every tool under the sun plus a digital clock for over $300.
26. A Collapsible Coffee Mug
Reusable travel mugs help cut down on waste and let people enjoy their favorite hot beverages anywhere. But your average travel mug takes up a lot of space. A collapsible silicone coffee mug is the perfect size, as it folds down into a mini puck for easy transport and storage. The Stojo 12-ounce silicone collapsible cup comes in various colors for only $15 and is well reviewed on Amazon.
27. Beeswax Wrap
Do you have a family member who's embracing a zero-waste lifestyle in the new year? What about someone who loves to save money on groceries any chance they get? Get them off on the right foot by slipping a package of Bee's Wrap beeswax wrap into their stocking to help them eliminate single-use plastic wrap from their home. These wraps are pieces of fabric coated in beeswax to make them flexible and sealable. They can wash and reuse the wraps again and again. This starter pack has one large and two medium wraps in a cute honey bear print for $21.
28. Fancy Popcorn Seasoning
Popcorn is one of the simplest and most affordable snacks out there. But it can be a bit boring. Help your loved ones dress it up with a tasty seasoning. The $26 trio of William Sonoma popcorn seasoning comes with quattro formaggio, cheddar-jalapeno, and garlic Asiago.
Or make your own DIY popcorn seasoning and put it into shakers to keep it under $5 per person.
29. Touch-Screen Gloves
When it's cold outside, the last thing anyone wants to do is pull off their gloves to send a text or make a phone call. Touch-screen gloves send a current from a gloved fingertip to the screen of a mobile device, letting you use your phone and keep your fingers warm. Women's gloves and men's gloves are available for between $27 and $36, depending on size and color.
But winter isn't the only time people wear gloves. A quality pair of yardwork gloves can protect their hands while they work with sharp tools and dirt. A touch-screen-compatible pair allows them to take pictures of their handiwork or check soil and fertilizer requirements as they work, all for only $14.
30. A Warm Beanie
Cashmere is a luxurious splurge, but as usual, Amazon makes it relatively affordable. Keep your family members warm by putting a chic cashmere beanie in their stockings. They have minimalist options, pom-pom-topped designs, and slouchy beanies for $20 to $30.
For kids, opt for a beanie that tells the world what they like, such as a gamer beanie or robot beanie. Or keep them extra warm with an adorable animal-themed beanie-and-scarf set that mimic creatures like cats, reindeer, and raccoons.
31. A Portable Phone Charger
The last thing anyone wants is for their phone battery to drain away at a critical moment. The well-rated Poweradd Pilot portable phone charger is perfect for people whose iPhone or Android is always running out of juice at the least opportune moments. The high-speed-output device comes in a range of different colors and is compatible with the Galaxy S9 and multiple Apple products. And it only costs $25. If they have a different device to charge, check out Amazon's selection of wireless chargers from brands like Anker, Belkin, and AmazonBasics
32. The Perfect Personal Tech
Gadgets tend to fit perfectly into a stocking, but they don't exactly have a stocking stuffer price. But if you have the budget, high-end portable electronics make the best stocking stuffers. Some stocking-size gadgets to consider include:
An iPod. Although many people use their smartphone as an MP3 player these days, there are still those who prefer to keep their music separate from their phones. And many parents choose not to get younger kids a smartphone too early. The $190 Apple iPod Touch comes in several color options and has all the functionality of an iPhone — sans the ability to make phone calls.
A Kindle. Thanks to e-readers, you can easily give a book lover an entire library for Christmas — and it all fits into their stocking. The Kindle Paperwhite is waterproof and has a lighted screen that reads like real paper and 32 gigabytes of storage space, which works out to be a lot of books. As long as you're buying the e-reader, give the bookworm on your list a subscription to Kindle Unlimited, which provides access to over 1 million book titles, plus magazines and audiobooks. It costs $9.99 per month, but you get the first month free, and there are frequently deals, such as $4.99 per month for the first two months.
A Fitbit. A Fitbit Flex tracks a person's sleep and activity and is a helpful tool for someone who has a health and wellness-focused New Year's resolution. The tracker is available in multiple different colors and syncs wirelessly to most Android and iOS devices.
---
Final Word
The key to stuffing stockings is to start with a base of several under-$5 gifts with a few more expensive gifts in the $6 to $10 range if you like. If you have the room, you can even toss in a few more expensive presents. Then have plenty of Christmas candy or assorted snacks, such as individual packages of nuts, cookies, or salty snacks to fill in any gaps. Stockings are also a handy place to stash the batteries someone needs for that batteries-not-included gadget they got this holiday season.
Ultimately, you can make Christmas morning even more magical by filling stockings with gifts your whole family will love. Just remember to think of gifts people want and will use. Sometimes, the best Christmas gifts really do come in the smallest packages.
Published at Mon, 21 Dec 2020 23:21:51 +0000