69 Best Christmas Gift Ideas for Kids of All Ages (on Every Budget)
Of everyone on our lists, kids are the most fun to buy holiday gifts for. Sharing their delight and wonder reinvigorates our joy for the holiday. So it's no wonder a 2018 survey by ipostparcels, a British division of the shipping service DHL, showed people spend more time thinking about and shopping for children than for anyone else.
Though children are the most likely to tell us what they want for Christmas, we could all use a little help when it comes to finding gifts for the kids on our lists. Despite all his magic talents, Santa's not a mind reader — especially when it involves trying to discern the writing on a handwritten letter. And friends and family members who don't see the children on their lists often have even more trouble choosing the right gift.
Luckily, there are loads of expert- and kid-approved picks for every age.
How to Choose the Best Gifts for Kids of All Ages
It's a common misconception that kids only ever want the hottest toy of the year. Having been an educator at all grade levels for more than 20 years, I can attest that each kid has their own unique interests.
So before you pull the latest Hatchimal off the shelf, think about the specific child you're buying for.
Know Their Interests. If you aren't the parent and don't already know, check in with the parents or the kids themselves. Are they into sports, science, music, or art? Disney princesses, "Paw Patrol," or Legos? Don't be afraid to ask what kids want. Research published in 2016 by the Association for Psychological Science found the best gifts are those people specifically requested.
Consider the Child's Age and Development. Kids' physical and cognitive abilities vary widely from one age range to the next. A board game that requires anything more complicated than spinning a dial and moving game pieces along colored squares is wasted on a preschooler. But don't assume that building and programming a robot is too advanced for an 8-year-old.
Avoid Gender Stereotyping. Don't assume all girls are into dolls and unicorns and all boys are into dinosaurs and superheroes. I know many kids whose interests run counter to gender stereotypes. That doesn't mean you should get every little boy on your list a doll and every little girl a superhero action figure — only that some of them may be interested in those things.
Best Christmas Gift Ideas for Preschoolers — Ages 3 – 4
Kids don't really start getting into Christmas until they're around 3. They know all about the big guy and can't wait to see what he brings them. Even though they've left their baby and toddler years behind, it still pays to think about preschoolers' physical, social, emotional, and cognitive abilities when choosing the right gift.
Language & Literacy Skills
Preschoolers are great talkers. They love to chat up anyone who'll listen as they learn about the art of conversation. And as they master the use of language, they start to develop early literacy skills. Preschool curriculums typically focus on learning letters, numbers, and phonics in preparation for reading.
1. Picture Books
Children can graduate from board books as soon as they're unlikely to tear the pages of a real book. That opens up a wide range of more sophisticated stories, including those that help teach emotional and social development and inform preschoolers about the world around them.
With that in mind, you can stock your preschooler's library with these choice picks:
If you're not sure what to get, go with a subscription to Lilly Post. They'll get three expertly curated picture books per month. The little one on your list will love it. And it's a gift you can feel especially good about. For every monthly box, they donate one book to a child in need.
2. A Kids Edition Learning Tablet
Electronic learning tools like tablets teach children this age literacy skills through apps and games. The latest Kindle Fire HD 10 kids-edition tablet features a 10-inch screen, full high-definition display, and a kid-proof case, so it won't break if dropped. Plus, unlike the case that came with its predecessor, this one has a fold-out stand to prop it up.
Preload it with ABCMouse, a top-rated kids literacy program for children ages 2 to 8. It also teaches math, science, art, and colors. And right now, you can get your first month for free.
For a tablet that's explicitly learning- and literacy-focused, go with the LeapPad Academy kids learning tablet from LeapFrog, the leader in kids electronic literacy tools. It comes preloaded with over 20 educational apps, including a three-month free trial of LeapFrog Academy, an interactive progressive-learning program. And its Android-based system allows kids to download hundreds more.
3. A Smart Speaker & Lamp
Amazon specifically created the Echo Dot for kids with children in mind. Parents no longer have to worry about their kids getting into mischief, like ordering an expensive dollhouse and 4 pounds of cookies with the parents' stored credit cards. Instead, kids can ask Alexa to tell them a bedtime story or knock-knock joke, play them music or audiobooks, and even play games with them. And the all-new kids-edition Echo Dot comes in either a cute Panda or Tiger character.
Pair it with an Echo Glow, a smart lamp that helps preschoolers through bedtime and wake-up routines with timers and color-changing lights.
---
Music
According to multiple studies, including a 2012 meta-analysis published in Frontiers in Psychology, music aids language development and even helps improve early literacy skills. Therefore, it's crucial to include music in little ones' lives.
4. Musical Instruments
Let them explore sound patterns to their heart's content with a set of musical instruments. The Ohuhu musical instrument set comes with a wide variety of musical instruments, including maracas, bells, castanets, a rattle drum, a tambourine, a double sound tube, a triangle, and a xylophone — all packed into an easily portable backpack.
5. An Electronic Musical Toy
The B. Symphony musical orchestra toy by B. Toys introduces your child to the classics with 15 songs and 13 musical instruments. The repositionable instruments let kids experiment with different sounds.
The Fisher-Price Think & Learn Rocktopus encourages similar musical creativity in the form of a fun octopus friend. It comes with musical cartridges kids can insert to make different instrument sounds. They can also tap keys and drums to play a total of 15 musical instruments in five musical styles. It features three play modes: music, math, and games. And it won a 2019 Toy of the Year Award from the Toy Association.
Or go with a super-fun floor mat that encourages movement and physical activity while kids make music. The B. Toys Battat floor piano mat features four musical modes, including memory music, which challenges kids to complete the melodies of familiar nursery songs; super dance, in which kids have to "catch" the notes as lights flash on the dance pad; wacky sounds, which encourages kids to make up their own songs; and melody mix, which plays familiar nursery songs when they step anywhere on the mat. The mat also features four different controls. Kids can adjust the volume and tempo, play the previous song or skip to the next one, or begin a new game or end an old one.
6. A Karaoke Machine
Help kids channel their inner Elsa, Anna, or Olaf with an eKids Frozen 2 karaoke machine. Sing along with the preprogrammed songs or connect an MP3 device to stream your own playlist. While little ones belt their hearts out, lights flash on the boombox to make them feel like a real rock star. The eKids Trolls World Tour karaoke machine has similar features with a different theme.
Alternatively, opt for the Singing Machine pedestal karaoke machine, which is a more advanced player. It comes with a height-adjustable stand, so kids can sing alongside it, or they can detach the karaoke machine for tabletop use. Plus, the Bluetooth-enabled machine has a nonskid holder for tablets and smartphones, two microphones for duets, and auto shut-off. Kids can have fun auto-tuning their voices using six voice-changing effects and can record their performances for playback.
---
Science, Technology, Engineering, & Math (STEM)
Children can start working on STEM skills through sensory exploration involving things like bins of pasta or Cheerios as early as infancy. But once kids enter preschool, more advanced learning — like the kind involved in coding toys and science kits — becomes possible.
7. A Play-Doh Set
Play-Doh is beloved by preschoolers everywhere. There's something about squishing your fingers into the soft, pliable dough that's just plain fun. A homemade edible play dough recipe, like the homemade peanut butter play dough from Little Bins, Little Hands, is an excellent lesson in chemistry — teaching kids how ingredients come together to make something new. But once they're no longer likely to put it in their mouths, they can explore the world of "real" Play-Doh.
The Play-Doh Kitchen Creations Candy Delight play set features a whimsical candy factory with a candy machine, peanut butter cup maker, gummy molds, and chocolate bar molds along with five tubs of candy-colored Play-Doh. Or introduce them to a variety of interesting textures with the Play-Doh Compound Corner variety pack. More than just basic dough, this set crackles, oozes, and stretches with a combination of slime, cloud, stretch, foam, and Krackle dough.
8. A Beginner Coding Toy
Believe it or not, preschool isn't too early to start acquiring some basic coding skills. Plus, getting a toy to do precisely what you tell it is pretty darn cool. On the Fisher-Price Think & Learn Code-a-Pillar, kids adjust dials on the caterpillar's segments that direct the caterpillar to move forward, backward, left, or right. Each segment lights up as the action happens, and a motorized head segment completes the toy with lights, sounds, and blinking eyes.
9. Tangrams
A tangram is a two-dimensional puzzle made by cutting a rectangle into seven geometric shapes. Children can arrange the shapes to make big squares and triangles or more complex patterns, like animal shapes. Just like blocks, tangrams teach kids about spatial relationships. The Montessori tangram set from Gemem comes with 155 colorful wooden pattern blocks kids can arrange into an infinite array of animals, bugs, flowers, and vehicles — pretty much anything they can dream up.
For a simpler puzzle that teaches the same basic skills, go with the Melissa & Doug beginner wooden pattern blocks set . It adds ovals and circles to the mix of the usual triangles, squares, and rectangles. And the colorful design templates make it easier for some preschoolers to learn before moving on to more advanced tangrams.
10. A STEM-Centric Subscription Box
For a gift that represents all the letters in STEM, go with a Koala Crate subscription from Kiwi Co. Kids get a themed box every month with enough materials for two or three STEM and art projects, plus a magazine, online tutorials, and an activity guide for parents.
---
Arts & Crafts
Most preschoolers love to paint, color, and draw. Though the average preschooler would be thrilled with a set of crayons and coloring books, take it up a notch with some more complex art tools.
11. A Craft Projects Kit
The Alex Discover My Giant Busy Box Craft Kit is Parent's Choice Approved Award winner designed especially for younger crafters. Preschoolers get to create 16 cute and doable projects, including paper bag puppets, dough animals, sticker art, and tissue paper collages. All this allows them to work on their fine motor skills, scissor skills, and hand-eye coordination.
12. A Scratch Art Set
Scratch art is guaranteed to fascinate little ones as they scrape the paper with their hand-drawn designs to reveal a rainbow of colors. The Melissa & Doug Deluxe Combo scratch art set includes 16 scratch art sheets, two stylus tools, and three frames — plenty to get them started exploring this medium.
13. An Art Easel
They'll feel just like a real artist with their own easel. The all-in-one kids art easel from Hape includes a dry-erase board, chalkboard, and paper roll so kids can explore art with various mediums.
---
Fine Motor Skills
At the preschool stage, kids are still learning to use the fine muscles in their hands to do things like hold a pencil, crayons, or paintbrush. And many of them haven't yet learned to tie their shoes or manipulate buttons. So any toy that helps develop these skills is both useful and fun.
14. A Building Set
For preschoolers ready to graduate from Duplos, the next step is Lego Juniors, designed for ages 4 and up. If your little one is a superhero fan, check out the Lego Juniors Spider-Man vs. Scorpion Street Showdown set.
For a sciencey twist on building sets, get them a Meg-Genius magnetic tiles building set. These are a staple of preschools everywhere because they teach cause and effect and hand-eye coordination. Plus, magnets are a whole lot of fun.
15. A Skills Board or Skills Doll
A stuffed animal, doll, or board with zippers, buttons, snaps, and laces teaches preschoolers how to dress themselves. The Melissa & Doug basic skills board enhances their manual dexterity and hand-eye coordination and introduces the necessary dressing skills.
---
Sports & Outdoors
Preschoolers are more capable than toddlers but don't have the coordination and dexterity of older children. Toys like tricycles and sports sets help them develop these skills, as do indoor activity toys like balance boards and trampolines.
16. A Tricycle or Balance Bike
According to the American Academy of Pediatrics, most kids are ready for a tricycle by age 3. Tricycles help preschoolers develop the coordination involved in learning to pedal before graduating to a bike. One that's low to the ground with a wide base — like the Frozen 2 Fly Wheels Cruiser Ride-On or the Fisher-Price Harley-Davidson Tough Trike prevent injuries caused by accidental tipping.
Some parents and bicycling experts say tricycles don't teach the balance and steering skills necessary for riding a bike. In fact, Chris Cassidy, communications director for the San Francisco Bicycling Coalition, told NBC News training wheels are a thing of the past. Instead, they argue in favor of a balance bike, which is a two-wheeled bike powered by pushing rather than foot pedals. Strider, the original creator, makes the highest-rated balance bikes.
17. A Sports Set: T-Ball, Golf, Basketball, or Soccer
A set of equipment for their favorite sport is another fun gift that helps kids master hand-eye coordination. A T-ball miniset lets preschoolers practice their swing while teaching their brains to make connections between their eyes and arms. Likewise, a golf set helps them master the art of connecting club to ball.
Or forgo the swinging instruments altogether and help preschoolers develop hand-eye coordination and foot-eye coordination. An N/C kid's indoor-outdoor adjustable-height basketball hoop keeps them active on snowy and rainy days while they're stuck inside. But they can also use it to play outside when the weather's nice. Plus, it will grow with them, adjusting from 3 feet up to just over 6 feet. Or let them have a blast kicking a kid-friendly learning soccer ball into portable pop-up soccer nets.
18. An Indoor Trampoline
Kids are full of energy. An indoor minitrampoline allows them to expend some of it while working on gross motor and coordination skills. The Little Tikes 3-foot trampoline lets them bounce while holding a handlebar so they stay safe from injury. The Skywalker Trampolines minitrampoline comes with an enclosure net that frees them to jump as high as they like.
19. A Balance Board
The Fat Brain Toys Teeter Popper helps little ones develop stability and strength. They can rock side to side while balancing on the board, and it makes fun popping sounds as the suction cups attached to the bottom stick and release.
Or for a toy that will grow with your child, opt for the Spooner freestyle board. It has similar play options as the Teeter Popper but comes with the added benefit of allowing older kids to perform some neat skateboard-like tricks. So it will keep your preschooler busy developing gross motor skills as they spin and twist on it, but it's equally fun for older kids.
---
Indoor Games
Your toddler was too young for family game night. But your preschooler is old enough to introduce them to the concepts of rolling dice, matching cards, and taking turns with some basic beginner games.
20. A Board Game
Simple, straightforward games like Chutes and Ladders and Candy Land lay the foundation for later gameplay and enhance social skills by teaching preschoolers how to follow rules and take turns. And the ThinkFun Zingo bingo game has received critical acclaim for helping develop early reading skills.
21. A Puzzle Set
Puzzles are a lot of fun, and preschoolers gain confidence as they figure them out. The Melissa & Doug Mermaid Fantasea wooden jigsaw puzzle has a colorful design that captures preschoolers' attention. Or get them a boxed set of puzzles featuring their favorite characters, like the PJ Masks.
22. Card Games
Simple matching and counting games reinforce the cognitive skills preschoolers are beginning to master. A set of card games like go fish, memory, and old maid can keep your little one entertained for hours.
---
Imaginative Play
It's tempting to buy only educational toys for kids. But imaginative play is crucial for children. It unleashes their creativity and helps them develop critical emotional and social skills through role-playing. Laurel Bongiorno, the director of the Champlain College graduate program in early childhood education, writes that play is a primary learning method.
23. A Play Set for Fictional Role-Play
Role-play lets kids interact in their own imaginative worlds, enhancing their understanding of social roles.
If your little one is obsessed with all things "PAW Patrol," the must-have play set of 2020 is the Paw Patrol Dino Rescue HQ, which gives the classic rescue tower a Jurassic makeover. It features lights and sounds and comes with the PAW Patrol's dinosaur expert, Rex, and his vehicle. Or go with the motorized Dino Rescue PAW Patroller, the first-ever motorized PAW Patroller. The push of a button gets it started, and when the PAW Patrol spots a dinosaur in trouble, they can rescue it by launching a net. It comes with a Chase figure dressed in his Dino Rescue uniform and a T-Rex with a moveable mouth and tail.
Or journey to Arendelle with the gigantic 5-foot Arendelle Castle, which comes with 14 cool accessories for decorating seven different rooms. The press of a button sets off a northern lights-inspired light show. And it's large enough to hold full-size dolls, like the Singing Elsa doll, which belts out "Into the Unknown" from "Frozen 2."
24. A Play Set for Real-Life Role-Play
While toys for fictional role-play allow kids' imaginations to soar into magical and untold realms, real-life play sets — like kitchens, food trucks, grocery stores, and doctors' offices — let kids try on roles from their everyday lives. Playacting as Mom, Dad, or a store clerk helps kids figure out the social roles of people they interact with.
The Melissa & Doug Get Well Doctor wooden activity center lets kids pretend to be doctors as they see patients through a check-in center, waiting room, and exam room. The play set includes a blood pressure monitor, X-rays to display, a scale, an eye chart, a clock with movable hands, a sink, a credit card reader, and file slots in addition to interchangeable artwork, a seat in the waiting area, and a patient bed in the exam room.
Or go for a unique spin on the traditional kitchen play set with the Kidkraft Amazon Alexa-enabled two-in-one kitchen and market. The two-sided play set has one side set up like a kitchen and the other like a grocery store. But the RFID chip-equipped food and kitchenware, which interact with an Alexa Echo device, really separate it from other kitchen play sets. Through various play modes, Alexa guides kids through recipes, including shopping for the right ingredients in the market and scanning them for checkout. It also understands if they add the right ingredients while cooking and makes appropriate sound effects. For example, if they decide to cook a hamburger, Alexa makes sizzling sounds when they add it to the pan.
---
Best Christmas Gift Ideas for Younger Elementary School Kids — Ages 5 – 7
Crafts, building materials, bikes, and fun science kits are among the top toys for this age group. Younger elementary school kids are noticeably better at fine motor skills than preschoolers. So the best toys help them build objects, create things, and draw detailed pictures.
Language & Literacy Skills
Kids' reading abilities vary widely in this age range. Typically, kindergarteners are just beginning to read, while second-graders might be mastering developmentally appropriate novels.
25. Early Reader Books
Regardless of their reading level, the best book gifts are those that speak to kids' interests. So if you have a kindergartner who's an avid watcher of the Disney Junior channel, a box set of pre-level 1 books featuring their favorite characters is sure to get your kid reading.
26. Chapter Books
Chapter books suit most first- and second-graders. A box set of "The Never Girls" by Kiki Thorpe, a series about four best friends whisked off to Neverland, will delight Disney fans. Dog lovers will drool over a series about a part-man, part-dog crimefighter, "Dog Man: The Supa Epic Collection" by Dav Pilkey, the creator of "Captain Underpants."
---
Music
Robert Cutietta, an expert in musical education writing for PBS, says kids are ready for formal music lessons by age 5. He references a growing body of research that's found a window of opportunity for exposing kids to music. From birth to age 9, kids' cognitive capacities for processing and understanding music are at their prime, making this an ideal age to introduce a musical instrument. Cutietta recommends two popular instruments he says are ideal for this age.
27. A Guitar
A kid-size guitar lets them feel like a real musician with just a few inexpensive music lessons. The Janod Confetti guitar features a fun design and is the perfect size for little arms and fingers. Or go with a more classic child-size acoustic guitar complete with a waterproof bag, picks, a sturdy nylon-and-leather strap, a cleaning wipe, a clip tuner, and a capo to help them quickly switch musical keys. For bigger kids, a full-size electric guitar, like Fender's American Professional II Telecaster, is a better long-term choice — one they'll happily grow into over the years.
28. A Keyboard
Before springing for a piano, make sure the kid on your list is committed to the instrument with a less expensive Casio keyboard. The beginner bundle includes a 44-key keyboard specially sized for little fingers, a comprehensive learning course designed for children, and stickers for labeling keys to make learning to play easier.
Or if you have more room in your budget, go with The One Music Group smart piano keyboard. It's a piano and instructor in one. The LED keys light up to show your child which ones to play, and the free app provides professional video lessons, fun games, and a library of sheet music to have your child learning in no time.
---
STEM
Once kids have mastered reading and numbers, it opens them up to a whole new world of STEM-based experiences. They're now capable of playing with chemistry, more advanced coding, and even robotics.
29. A Slime-Making Kit
Making slime is chemistry in action. It involves combining ingredients to form long-chain polymers — the molecules that hold together the gooey ooze. Plus, there's something about slime kids can't resist. So get your budding scientist a make-your-own-slime kit like the Make Your Own Galaxy Slimygloop or the Nickelodeon SuperSlime Studio kits.
30. A Coding Kit
Kano coding kits let kids learn to code while imagining themselves as their favorite characters. With the Kano Star Wars: The Force coding kit, kids can use a computer or tablet and a few easy-to-follow instructions to wield the power of the Force and a sensor they build themselves to swing lightsabers, force-push Stormtroopers, and pilot X-wings.
Or they can channel their ice powers with the Kano Disney Frozen 2 coding kit and make snowflakes, blizzards, and ice castles — or even build Olaf.
31. A Robot
Take coding to the next level by giving kids their own robot. The Thames and Kosmos Kids First coding kit takes them through lessons on coding and model building. Likewise, Learning Resources' Botley the Coding Robot 2 lets kids code through music, lights, and movements to discover 16 different interactions, including "transforming" Botley into a train, police car, and ghost. Plus, Botley 2.0 scored a Good Housekeeping best toy of 2020 award.
32. An Electric Building Set
Kids can learn the basics of electrical circuitry with the Educational Insights Circuit Explorer Deluxe Base Station set. The set includes pieces for constructing a base station complete with towers, a planetarium with a color-changing dome light, a dining area with a spinning sign, a voice synthesizer station with 10 space sounds, a communication station with a rotating radar dish, and two vehicles with light-up headlights. The set also includes several astronaut and robot figures.
33. A Creator Subscription Box
A subscription to a monthly science kit keeps the gift — and the learning — going all year. Mel Kids delivers a monthly box full of science projects like bottle rockets and hydraulic lifts supplemented with augmented reality, comic books, and games. Kiwi Co. also delivers a range of creative, scientific, and tinkering projects for this age range every month with its classic Kiwi Crate.
---
Arts & Crafts
At this age, kids move from drawing and coloring to full-on crafting and making. Let them exercise their creative muscles with a variety of maker kits and design tools.
34. A Craft Supply Kit
Unleash your child's creativity with the Kid Made Modern Arts and Crafts Library. It contains over 1,000 crafting supplies, including different types of beads, several pipe cleaner shapes, decorative elements like googly eyes and pom-poms, and multiple types of fabric along with craft tools like safety scissors and glue — enough to create just about anything they can imagine.
Or go with one of the holiday bundles from Ooly. These craft boxes are filled with fun crafting tools like scented glitter gel pens, brightly colored notebooks, scratch-art pads, air-dry clay, paint sticks, and stickers. Ooly is offering six holiday bonus boxes this year with themes like outer space, dragons, and mermaids. Each comes with at least one free bonus gift, like color-your-own temporary tattoos, plus free shipping.
For more structured crafts, subscribe them to the We Craft Box, a monthly box of craft projects that contains all the supplies needed to make two to three craft projects with two children. Each month has a new theme connected to a story. For example, a past box featured the theme "Out of This World" and included a UFO craft, Silly Putty, and glow-in-the-dark paint to make a photo backdrop.
35. A Jewelry Kit
Kids are proud to wear accessories they made themselves. The Just My Style Personalized Jewelry Studio comes with 14 strands of multicolored thread and plastic cord and 600 beads and charms for kids to make friendship bracelets. The easy-to-follow guidebook teaches them 11 different weaving and braiding techniques for making one-of-a-kind bracelets.
If they'd prefer a more versatile accessory they can wear or attach to almost anything, get them the Puffy Charm Palooza craft kit. With this kit, they can add their own handmade charms to bracelets, necklaces, pins, shoelaces, and backpacks or make pencil toppers.
36. A Spin Art Station
Encourage kids to create unique designs with the Crayola Spin and Spiral Art Station. The kit includes two side-by-side stations — one for creating spiral art and one for spin art. It comes with three spiro gears, six markers, three ink bottles, and 15 paper discs.
37. A Mess-Free Art Tablet
As much as every parent wants to encourage creativity, no one likes to clean up glitter. In comes Crayola's innovative solution, which contains art projects in an enclosed case. Kids draw with glue on paper, then place their paper inside the Crayola Sprinkle Arts Shaker and shake. The glitter stays inside the case, where tubes collect it so you can use it again.
The Crayola Ultimate Light Board drawing tablet is another innovation for mess-free art. Kids use the included washable FX markers to trace designs or draw their own. When they finish drawing, three light modes make their art glow.
38. A Digital Animator
Turn their iPad or Kindle Fire tablet into an animation studio with the Osmo Creative Kit. Using the Monster app, kids can draw designs on the included creative board. Then an animated friend "pulls" their drawings into his world, where they come to life.
Or they can use the Masterpiece app to learn basic drawing skills, from simple lines to intricate designs. The included reflector projects lines for kids to follow while they draw on paper. At the same time, it scans the table to see what kids are creating. Their works in progress transfer to the tablet screen automatically.
For creative opportunities beyond simply drawing, the StikBot Zanimation Studio lets kids make stop-motion animation with the figures and green screen.
39. A Movie-Making Kit
If you have a budding YouTube star on your hands, get them started making their own videos with the VTech KidiZoom Creator Cam. The HD video camera has a built-in microphone and features like time-lapse video and over 20 animated backgrounds that let your kids get chased by a T-Rex, visit outer space, or become invisible when they film against the included green screen background fabric. It also comes with editing tools and a tabletop tripod. And you can feel confident they'll love it — it won a Good Housekeeping best toy of 2020 award and is a Toy of the Year finalist for 2021.
---
Sports & Outdoors
By kindergarten, kids have developed enough motor skills to master activities requiring some coordination, like playing catch or riding a bike.
40. A Training Bike
Since the invention of bikes, they've been the traditional Christmas wish of kids everywhere. Make your kid's Christmas dream come true with a fun beginner bike featuring their favorite character, like the Huffy Spider-Man bike or Disney princess bike.
41. A Go-Kart
Go-karts are a fun alternative to the usual bikes and trikes. The Hauck Lightning pedal go-kart features an innovative design that lets the driver control the speed with pedaling, so they go as fast or slow as they like. It also boasts smooth, sharp steering. And if your little one is a Batman fan, Hauck also makes a super-cool Batmobile version.
42. A Scooter
Kids as young as 5 can have fun and burn off energy with the Globber Ultimum Scooter. Even better, it upgrades with them as they grow. Designed to be used from age 5 to adulthood, the scooter has an adjustable six-height T-bar and adjustable steering angle control system. The three-wheel design makes it extra stable for safety, plus it has a knob on the front that allows you to adjust the turning radius. It's built for durability and features a wide deck that supports up to 220 pounds. And it folds for easy storage after playtime ends.
---
Indoor Games
Games teach essential social skills, like cooperative play, taking turns, following rules, and winning — or losing — graciously.
43. A Trendy Card Game
Kids at this age really start to become interested in and swayed by trends. If they're hooked on Pokemon Go, they'll love the Pokemon Shining Legends Elite Trainer Box collectible cards. It contains some of the rarest and shiniest cards to help them build up their collection.
44. A Complex Board Game
Elementary-age kids are capable of more complex thought than preschoolers — including strategy and reasoning. So they'll appreciate a board game that includes more significant challenges than merely spinning a wheel. With 60 challenges that involve critical thinking and planning to help the aliens snatch cows and return to Mars, Invasion of the Cow Snatchers is a super-fun game for this age.
Or go with ThinkFun's Laser Maze, another logic game that promotes STEM skills. Plus, this one comes in a junior version for those who'd appreciate a more approachable challenge.
45. An Active Indoor Game
If cold or rainy weather has kids stuck indoors, help them burn off their excess energy with an active game that keeps them moving. Ultra Dash is a fun race-against-the-clock game that comes with a tagger stick and five colored targets. Kids make a course with the targets and race to match whatever color the tagger flashes to the correct target. Once they find a target, they tap the tagger to it and race to find the next one. Once they've tagged all five targets, the game is over. They can play solo and race to beat the timer or compete against other players for the fastest time.
---
Imaginative Play
Kids at this age can handle toys that involve more skill and coordination, like remote control cars or aim-and-shoot bows and arrows.
46. A Surprise Toy
L.O.L. dolls are a continued obsession with the younger set, and this year, the must-have L.O.L. gift is one of the O.M.G. Remix dolls. There are four different musically inclined dolls to choose from, and each comes with more than 25 surprises to unbox, including a record featuring their surprise song. Kids play it on the record-player shaped box by using their hand to spin it. Or go with the L.O.L. Surprise O.M.G. Remix Super Surprise and get four dolls plus over 70 surprises, including four different instruments that each play music. And it all comes wrapped in a package that looks just like a boombox. It's the ultimate unboxing experience.
Additionally, new for 2020, Blume dolls are back with Series 2. Kids who loved them last year are likely to love the new ones just as much. As with Series 1, they come in flower pots, and when you water them, the dolls break through the faux soil. But unlike the previous dolls, these have hair that changes color in the sunlight.
47. A Superhero Lair
The Imaginext DC Super Friends Super Surround Batcave is the ultimate superhero playset. The interactive Batcave has a mission control center with eight activation points, including a working Bat-Signal, a spinning Batsuit vault, a helipad, three jail cells, an elevator, and a climbing wall. Plus, it features a multicolored light system, dual speakers that feature more than 200 sounds and phrases, and it's over 2.5 feet tall and 4 feet wide (though it folds up for easy storage). It comes with 13 accessories and five exclusive figures, including Batman, Joker, Robin, Catwoman, and Mr. Freeze.
48. A Barbie Play Set
The Barbie Dream House has come a long way since Mattel released it in 1962. The modern version features three stories, eight rooms, a working elevator, a pool with a slide, and a carport. Plus, realistic lights and sounds — like a sizzling frying pan, whistling tea kettle, flushing toilet, and light-up oven — level up the fun. And dual-use rooms — like a couch that transforms into bunk beds, a rotating fireplace that converts a den into a home office, and a double-sided fridge with an outdoor food stand on the back — increase the opportunities for pretend play.
Also on kids' wish lists are the Barbie three-in-one DreamCamper and the Barbie Dreamplane play set. The camper comes with various camping-themed accessories, including a kitchenette, picnic table, camp chairs, and fishing boat. And it transforms into a pickup truck and living area with room for lounging, a patio with a pool, a bathroom with a pop-up shower, and a rooftop bedroom. The plane features seats that recline and more than 15 play pieces, including luggage, a puppy travel companion, and a rolling food and beverage cart complete with snacks.
49. An Interactive Toy
Kids in this age range may be too young for the acclaimed Disney+ series "The Mandalorian," but that hasn't stopped them from becoming obsessed with the cuteness of the character commonly called Baby Yoda. The Child animatron features more than 25 different sounds and movements, including a head that moves up and down, ears that move back and forth, and eyes that open and close. When you touch the top of his head, he makes series-inspired sounds like giggles and babbles and Force effect sounds. He'll even take a Force nap. This toy is super-popular and could be hard to find in time for Christmas. So if you can't get it online, check out the stock at your local Walmart or Target.
If your child isn't into "Star Wars," furReal toys are perennially popular. This year, the most coveted version is Mama Josie the Kangaroo. She's unique in that she comes with three babies — one boy, one girl, and one mystery surprise. Like Mama Josie, the babies need love and affection too. And together with Mama, your child can feed the joeys, give them kisses, and nuzzle them with love. Plus, Mama Josie makes more than 70 sounds and motions, including moving her head and arms, doing a little hopping dance to music, and making loving sounds when holding or kissing one of her babies. And she even comes with a yummy smoothie treat for your child to feed her and her little joeys.
---
Best Christmas Gift Ideas for Older Kids — Ages 8 – 10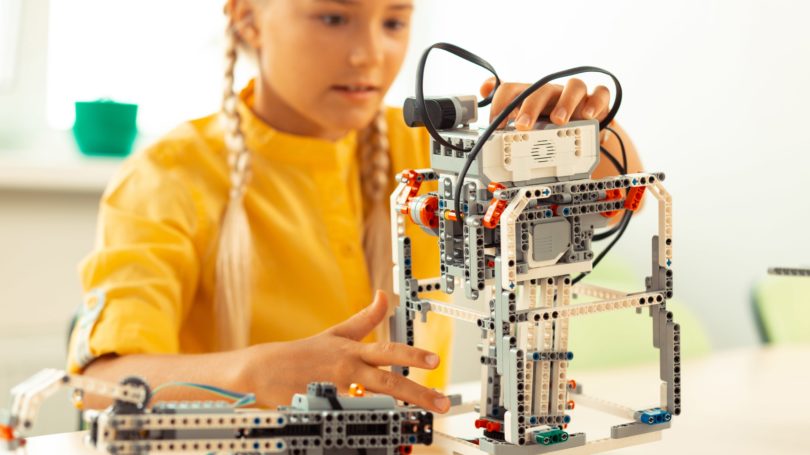 At this age, kids are developing their social identities. They're also becoming more independent, dexterous, and sophisticated in their problem-solving. Imaginative play more actively involves friends and may stretch over days or weeks. They're ready for middle-grade novels, games with complex rules, and more elaborate fantasy play.
Language & Literacy Skills
By age 8, kids are more confident readers, ready to explore new worlds through middle-grade (MG) fiction and graphic novels. As with younger readers, the key to keeping them reading is helping them find books and series that hook their attention.
50. Middle-Grade Fiction
Though your 8-year-old seems far from entering middle school, middle-grade fiction is written for 8- to 12-year-olds. In my experience as an educator, fantasy stories seem to hook this age group more than any other genre.
Two decades after the first book hit stores, J.K. Rowling's "Harry Potter" series is still capturing new fans. Even better, the series starts in MG territory and gradually advances to YA, or young adult. That makes it an excellent series for advancing reading skills. Spring for a box set of the complete "Harry Potter" series, or go with a stunning and collectible illustrated edition of each book.
Adam Gidwitz's "The Unicorn Rescue Society" is another great series for early to middle readers. The series sends children on fantastical adventures to save mythical creatures.
And though the 2020 film didn't go over well with fans or critics, Eoin Colfer's "Artemis Fowl" books are leaps and bounds better than the movie. This novel series features an "evil" boy genius protagonist who gets embroiled with the secret world of fairies. And unlike the movie, the plot makes sense and is genuinely funny.
And for kids who'd appreciate more realistic fiction, you can't go wrong with a classic. "Where the Red Fern Grows" by Wilson Rawls is about the bond between a boy and his dogs. For a less emotional read, "From the Mixed-Up Files of Mrs. Basil E. Frankweiler" by E. L. Konigsburg is about a brother and sister who run away from home — and straight into a mystery that makes headlines.
51. Graphic Novels
Graphic novels are excellent for reluctant readers, who find these illustrated stories more accessible than traditional fiction. They're also an art form in their own right — one that's gaining more critical attention and acclaim.
The New York Times bestselling "Amulet" series by Kazu Kibuishi is about children drawn into a mysterious and magical world after a creature kidnaps their mother.
Another bestselling series is "The Last Kids on Earth" by Max Brallier, which features protagonists who must deal with the after-effects of a monster apocalypse.
Kids less into fantasy will love the new "The Baby-Sitters Club" series of graphic novels, adapted by cartoonist Gale Galligan, based on the novels by Ann M. Martin that follow a group of friends on their adventures in babysitting.
---
STEM
Good STEM toys and science kits are difficult to find for the younger elementary set. But once kids enter the upper elementary grades, toys that are both fun and educational abound.
52. A "Magic Formula" Chemistry Set
Science kits developed for older children let them experiment with more sophisticated materials and ingredients. The SmartLab Ultimate Secret Formula Lab lets kids indulge their inner mad scientist with 40 different experiments, while the Scientific Explorer Magic Science for Wizards Only kit is like taking a magical potions class. Kids get to explore kitchen science with the Edible Candy Food Science Chemistry Kit, which includes 40 delicious experiments that result in candy, chocolate, crystals, and jellies.
Or up the cool factor and go with Professor Maxwell's VR Science Lab, which won a Good Housekeeping best toy award for 2020. The set comes with virtual reality goggles kids wear to perform experiments using virtual and augmented reality. But the experiments are still hands-on. Each kit comes with lab equipment like beakers and measuring cups and guides kids through actual experiments using immersive videos with the free app.
53. A Robotic Building Set
More complex robotic building sets allow older kids to continue developing their engineering and coding skills. The Tin Can Robot kit lets kids get creative with trash by turning an aluminum can into a cute bug-eyed robot that walks and wobbles.
And with the Lego Boost Creative Toolbox robot-building set, kids use Legos to build a robot and additional models, like a cat and a guitar, for it to interact with, which they control through an app on their smartphone or tablet.
54. An Augmented Reality Building Set
Most kids are very familiar with Legos by this age. But augmented reality has upped the game. The Lego Hidden Side Newbury Haunted High School comes with over 1,400 pieces, including eight Minifigures, to build the haunted educational institution. Even better, once kids have finished building the structure, they can download a free app and use augmented reality to find clues, solve mysteries, track down ghosts, and unlock the must-find boss ghost.
55. An Earth or Space Exploration Set
Kids learn about earthquakes while engaging in destructive fun with the SmartLab Aftershock Earthquake Lab. Or let them explore the universe with the Exploring Our Solar System STEM box, which includes activities that focus on journeying to the stars, including building a model electric space car.
56. A Forensics Kit
The Scientific Explorer Crime Catchers Spy Science Kit lets kids become forensic scientists as they explore clues like fingerprints and DNA to solve crimes.
---
Arts & Crafts
Kids at this age have well-developed dexterity. They've advanced beyond basic shapes and are interested in drawing more complex pictures and engaging in more adultlike crafts.
57. An Art Set
If your child is serious about art, give them their own set of coloring tools with a U.S. Art Supply 143-piece art set. It comes with pencils, crayons, oil pastels, watercolors, and a color-mixing wheel, all contained in a convenient wooden carrying case.
58. A Comic Book Kit
Delight any child who loves to draw and create stories with a create-your-own-comic book kit. Kids fill in the preformatted blank pages with their stories and art, then mail it off in the supplied envelope. They get it back in four to six weeks, transformed into a professionally bound comic.
59. A Cosmetic Arts Kit
For the kids beginning to explore their individuality with hair and makeup, the Alex Spa Hair Chalk Salon lets them turn their hair into a rainbow of colors with easily washable chalk.
Or encourage their self-expression with the Cra-Z-Art Shimmer 'n Sparkle light-up eight-in-one nail design studio, which lets them decorate press-on nails with various polish, pens, glitter, gems, stickers, stencils, and foil.
60. A Cooking Kit
Get your budding chef a subscription to Eat2Explore. It helps them discover new cuisines from around the world. Each kit includes three recipes, spices and sauce mixes, a shopping list, and additional educational swag — a country brochure, an activity sheet with educational games like word puzzles and math problems, a passport with the country's sticker, a flag pin, and cooking tools. You can sign them up to receive a single box featuring one country. Or they can explore a continent and get four monthly boxes, each featuring one country on that continent. Or sign them up for an entire year of monthly boxes that let them explore the world.
---
Sports & Outdoors
At this age, kids have developed enough sense of balance to master bike riding and acquired the social skills needed for group activities.
61. A Bike
If your child is ready to take off the training wheels, get them a real bike. RoyalBaby makes a fantastic line of kids bikes appropriate for riding around the neighborhood or off-roading on park trails. The RoyalBaby Freestyle kids bike includes safety features like an enclosed chain guard and nonslip pedals. Plus, it comes in various colors, sports a water bottle holder — water bottle included — and a bell. You can even opt for training wheels if your child still needs them.
62. A Battle Activity Set
Encourage kids to get physical activity while having fun with a game set that lets them pretend to be a Jedi Knight. With the Lightsaber Academy Interactive Battling System, kids can play by themselves and train with Jedi masters to learn lightsaber moves using the free app. They score points and level up with Bluetooth technology that tracks their movements. Or they can connect two Lightsabers and play in battle mode.
Or let them challenge their friends to a laser tag battle with the Nerf Laser Ops Pro AlphaPoint set. More complex than your run-of-the-mill laser tag, Nerf designed the blasters with unlimited ammo, a quick reload button, and a switch to adjust between indoor and outdoor play. Plus, they can level up their game with the app, which allows them to access real-time battle intel to customize their blaster, track their performance, earn power-ups, and locate opponents. The set comes with an armband so they can wear and easily access a smartphone during play.
63. A Kid-Friendly Drone
Drones aren't just for teens and adults. There are plenty of kid-friendly models designed for little hands that come equipped with easy-to-use features. When it comes to buying a drone for a child, look for devices with propeller guards to protect fingers, altitude hold to keep the drone stable, and cameras to capture incredible images.
A few kid-approved drones include:
Holy Stone HS210 Mini-Drone. According to over 4,000 Amazon reviews, the HS210 mini-drone is easy to set up and fly, making it ideal for kids ages 8 to 10. Plus, it can do flips in the air, and thanks to headless mode, the drone doesn't have to face a particular direction. Even better for gift-givers, it's one of the least expensive drones for kids.
RC Helicopter Drone. If your kid loves helicopters, the RC helicopter drone is the ultimate combo of drone and copter. Designed to look like a helicopter with all the features of a drone, they can fly it indoors or out. Propeller guards and a landing base protect fingers and the drone from damage during takeoff and landing.
Force 1 Scoot Hand-Operated Drone. The Scoot hand-operated drone is ideal for first-time flyers. You control it entirely with your hands, so you don't need a remote. Plus, you can recharge it with a USB cable, so there's no need for batteries. The only drawback is that this one is an indoor-only drone.
---
Indoor Games
At this age, indoor games are much more sophisticated, challenging young minds to use strategy and reasoning and not merely spin a dial or roll dice.
64. A Quirky Board Game
The game Quarto requires your child to use strategy. Players stack up pieces according to their attributes to outwit their opponents. It's an addictive game for adults and kids alike — perfect for family game night.
Or choose a game that combines strategy with role-playing, like the King of Tokyo board game. In a race to be the one and only king of Tokyo, players must roll the dice to battle other players and occupy the city. Even more fun, players can choose to be a monster, alien, or robot as they strategize to take over.
65. A Fast-Paced Card Game
Kids can learn about technology without turning on a computer with the Bits and Bytes coding game. Players use cards to issue commands and avoid obstacles, just as they would in real programming.
Or go with Not Parent Approved, a kid-friendly card game similar to the hilarious Cards Against Humanity. One player chooses a fill-in-the-blank card and then reads it to the others. All other players look at their own sets of cards to select an "answer" they pass anonymously to the reading player. The reader then chooses one as their favorite, and the person who contributed the card wins that round. Play then moves to the next reader.
Imaginative Play
Though kids are still very much into toys at this age, it's also a time when they start to take a deeper interest in electronics. Entering into the imaginative realms of pretend play in this age range often includes computers, video game systems, and smartphone apps.
66. A Racing Track
With Hot Wheels, it's all about the crashes, and the Hot Wheels Sky Crash Tower track set provides ultimate crashing action. The stower stores 20 cars (but it only includes one), and kids can add more and more vehicles to the tracks — racing multiple cars at once for sky-high crashes. Additionally, the motorized booster launches cars onto the looping track and into the air for midair crashing stunts.
Or opt for a Hot Wheels ID Smart Track Starter Kit, which connects special tracks and cars to an app for augmented gameplay. When kids lay out their tracks, their designs appear in the app. And when they scan a vehicle, they can use the app to track its progress, take on in-app challenges, and earn rewards like vehicle upgrades.
67. Wizarding Tools
Aspiring wizards can prep for Hogwarts with the electronic Harry Potter Wizard Training Wand, which lets them practice their spells and receive real feedback. Kids can learn and master 11 different spells using the included training guide. Plus, separately purchased wands interact with each other, so your little one can duel other wizards.
And there isn't a Harry Potter fan out there who wouldn't squeal over an Invisibility Cloak. The cloak lets them vanish from view on camera and video screens using the downloadable app.
68. An iPod Touch
Although The New York Times notes 10 is the average age kids receive their first smartphone, an iPod Touch is a nice compromise if you aren't ready to go there. The device allows kids to play music and games, send messages, watch videos, and download apps. It also comes in a bunch of colors to suit different tastes.
69. Their Own Game System
The hottest game system out there right now is the Nintendo Switch. It's a universal kid favorite. The console dock lets you use the system with the TV, or you can slide out the handheld touchscreen for portable gameplay. But if you really want to get them something that's just for them and not a gift they'll have to share with the whole family, opt for the brand-new Nintendo Switch Lite. It's handheld-only, so they can easily take their game system wherever they go — even if that's just to their bedroom. But it plays all the games the full-size Switch does.
---
Final Word
Although many adults find shopping for kids fun, it can also be tricky. If the child is not your own, it's easy to stress over age-appropriateness and developmental readiness. Is it OK to buy a toy labeled for ages 6 and up if your nephew is 5 years old?
So remember: As with buying gifts for babies and toddlers or tweens and teens, every kid is different, and age labels are safe guidelines, not hard-and-fast rules. And kids may excel in some areas and lag in others. For example, my 5-year-old is relatively adept with small Lego pieces labeled for 8-year-olds. But he hasn't yet mastered the necessary skills to play a board game designed for an 8-year-old.
Though we all want to see children's faces light up when they unwrap our gift, a surprise gift isn't always the best path. When in doubt, go straight to the source. It's OK to ask their parents or even the child for ideas — just check with Mom or Dad to make sure they or someone else haven't gotten the same gift.
Published at Mon, 14 Dec 2020 23:45:33 +0000