'I made £1,265 selling my clothes second-hand'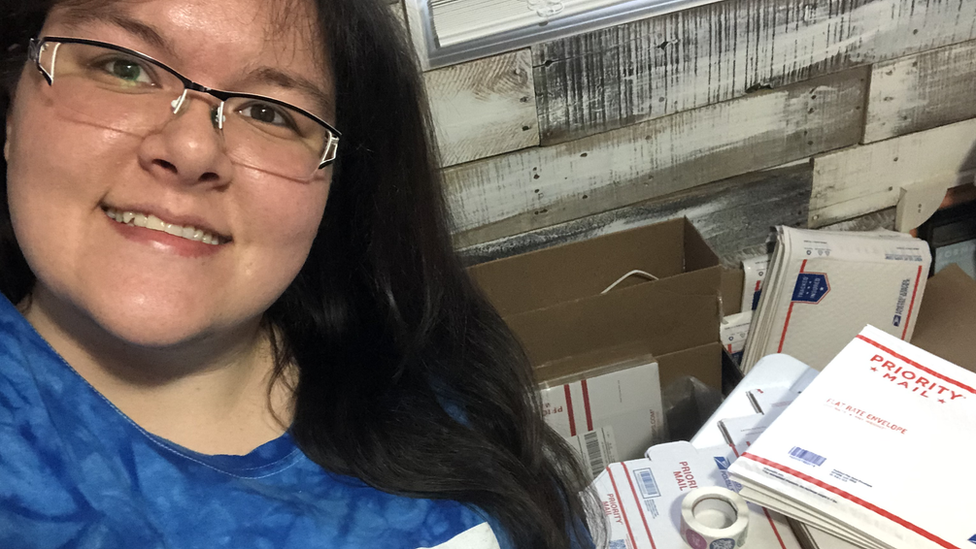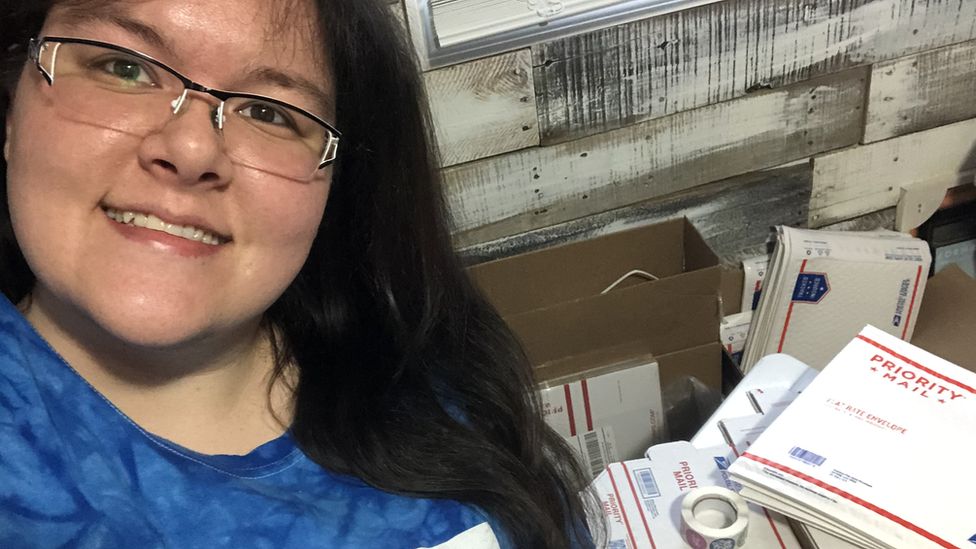 School cleaner Stormee James has made about $1,700 (£1,265) from selling used clothing this year, finding buyers for everything from bathing suits to her boyfriend's t-shirts.
"At first it was kind of a boredom thing," the 31-year-old from Ohio says. "It started to get into, 'Am I going to need this for money?' though thankfully I've kept my job."
Stormee used Poshmark, a resale platform which allows buyers and sellers to connect directly, taking a cut of each sale. It says sales this spring were up 50%. Rival UK-based Depop saw business double at the height of the lockdowns and says has growth has remained solid since.
Stormee, who listed her first product for sale in May, has turned some of her Poshmark earnings over to her sister and boyfriend, in thanks for the cast-offs they contributed. She's also spent some $500 back on the site, tempted by purchases for herself.
"It's so hard not to," she says, adding that she's bought some Christmas presents there too.
"I like that I can prolong the use of clothes, instead of them just getting thrown away," she says. And, she adds, "You can get really good prices."
The stay-at-home habits brought on by the pandemic have devastated demand for clothing and accessories stores, pushing sales down 25% or more and driving many firms towards collapse. But used fashion websites say they're seeing a different story.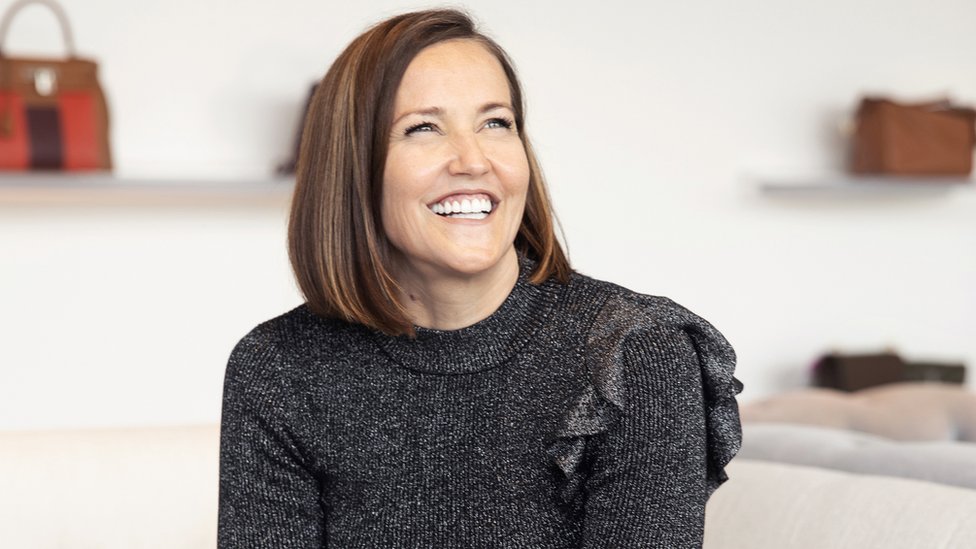 Fashionphile founder Sarah Davis was terrified about what the pandemic would do to her business.
She had started the company, which specialises in online sales of used designer handbags, as a seller on eBay in 1997. Now it's a standalone site, handling $200m (£148m) worth of transactions in 2019 and growing some 50%.
It turned out that that health or economic concerns didn't turn shoppers away. But the pandemic meant the sellers the site relies on were postponing trips to the post office.
"We were selling like crazy," she says. "We were literally selling everything off the shelves and getting no product in."
Resale boom
Ms Davis expects Fashionphile revenue to grow 20% this year, despite the supply hiccups.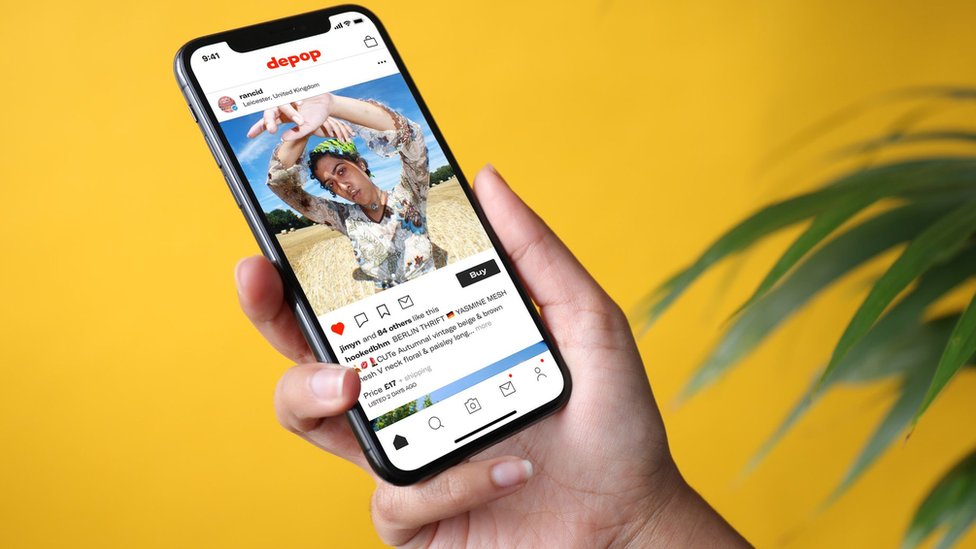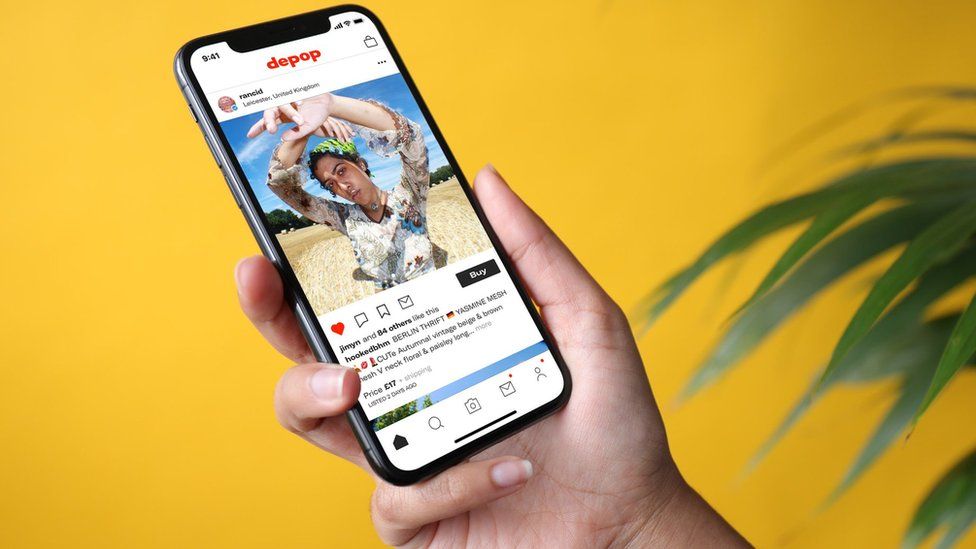 Fashions change
Even before the pandemic, resale platforms were rising in popularity, as fashionistas embraced unique, any-decade looks, minimalism prompted wardrobe purges and concerns grew about the apparel industry's environmental impact.
As the pandemic boosts online activity, while setting off an economic crisis, used fashion sites are poised to benefit, says Alexis DeSalva Kahler, senior analyst of retail and e-commerce at market research firm Mintel.
Last year, Mintel surveys found roughly 66% of UK shoppers and more than 70% in the US had bought or were open to buying second-hand items.
People worried about shopping second hand tended to cite concerns about cleanliness, Ms Kahler says.
But interest in the practice actually increased during the pandemic.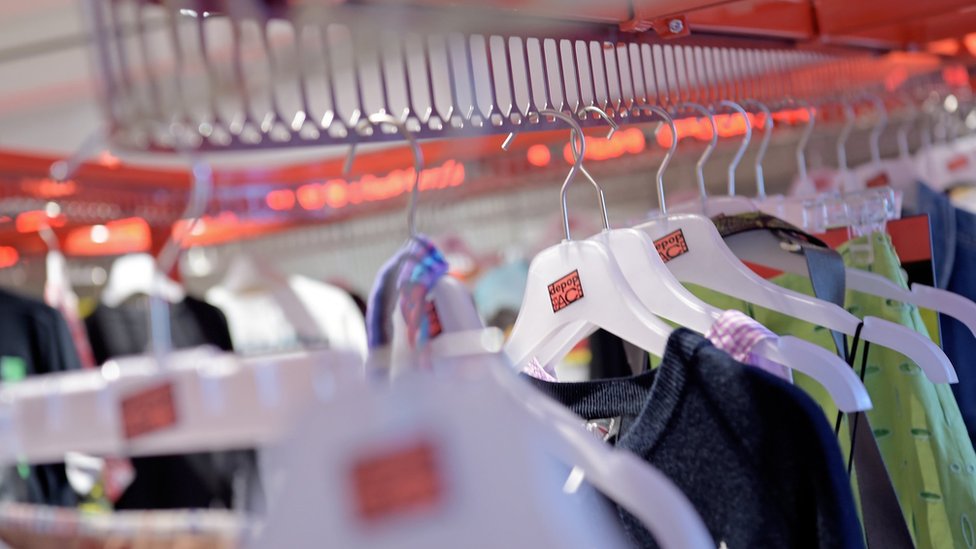 In June, about 20% of consumers surveyed in the US told Mintel that Covid had made them more interested in buying and selling second-hand clothing.
Ms Kahler thinks wider concerns about catching the virus from surfaces like boxes and textiles have subsided since the initial panic this spring, as we learn more about how it is transmitted.
She compares the interest in second hand clothes to the growth of fast fashion and flash discount sites like Gilt Groupe after the 2007-08 economic crash.
"We're a little bit wiser and more aware of the impact," she says. "Consumers still want to save but there's a different way to do it."
Retail challenge
In a June report for San Francisco's ThredUp, one of the leading resale sites, research firm GlobalData predicted the online market for used clothing and accessories could hit $36bn by 2024, up from $7bn in 2019,
The potential growth has spooked traditional retailers, who have responded by investing in the upstarts, launching their own clothing recycling programmes and working with the challengers to sell used clothes in some of their stores.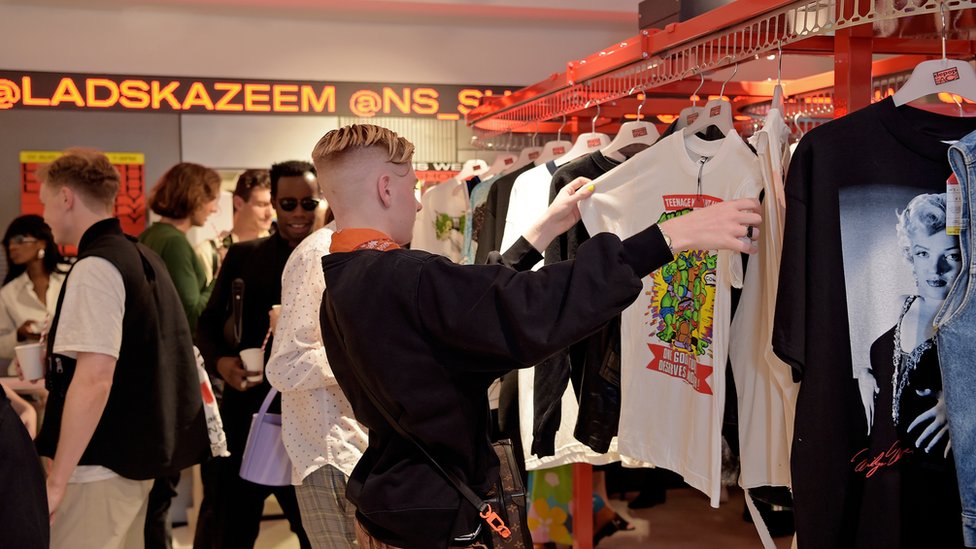 Selfridges in the UK, for example, hosted a pop-up shop with Depop last year. In the US, upmarket department store Neiman Marcus took a stake in Fashionphile, while ThredUp has worked with department sore chains JC Penney and Macy's to sell used goods in some stores.
"The retailers are going, 'Oh my god, it's a thing,'" says Lee Peterson, executive vice president at Ohio-based retail consultancy WD Partners. "They're of a mindset right now, 'Hey, let's fail fast. Let's try everything.'"
Some companies, including Nordstrom and JC Penney, have since ended their experiments.
While they declined to discuss the experience, analysts said the decisions signal the firms' internal challenges during the pandemic, rather than waning interest in second-hand items.
Indeed, in May Walmart revealed plans to collaborate on sales of used goods with ThredUp, while European e-commerce site Zalando launched a second-hand section of its site in September.
"Right now, for some retailers that are non-essential, they have to really shift their priorities," says Ms Kahler of Mintel. "But there's a reason that everybody from specialty retailers to department stores is getting into the business. There's definitely demand. It's not something that's going away."
Investor doubts
In recent months both Poshmark and ThredUp took their first steps towards a public share sale in the US. Sneaker resale site StockX has hinted at similar plans. The offerings are expected to raise hundreds of millions of dollars for the companies and put their worth in the eyes of the market on a par with traditional retailers.
But Forrester Research retail analyst Sucharita Kodali says the listing flurry shouldn't be mistaken for proof that used clothes are the future of the fashion industry.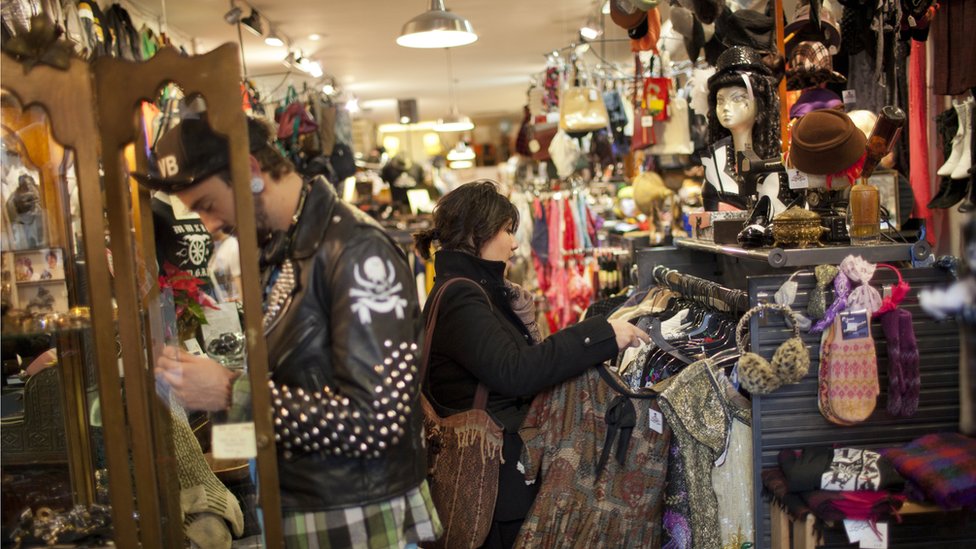 "The market is doing really well and people go public when the timing is right, when they think there's an appetite to raise money," she says. "I don't think that it suggests there's some kind of amazing business in secondary stuff."
The RealReal, one of the few companies in the sector whose financial reports are open to the public, was valued at more than $2bn last year when its shares debuted on the Nasdaq stock exchange.
But shares in the luxury resale site have halved since their peak, while revenue at the firm has slipped about 5% this year, despite growth in other areas, like buyer numbers.
Ms Kodali says technology has made it easier for buyers and sellers to connect, increasing the potential market of second-hand shops and making it easier to hunt down the perfect item.
But the cost of listing and shipping one-of-a-kind – often inexpensive – items also makes for a challenging business model, she warns.
"[Thrift shops] have been around for ages. They're not going away but I wouldn't necessarily say they're on fire," she says. "Technology enables you to direct that experience a little bit better but you can't be foolish about the costs."
Published at Fri, 11 Dec 2020 23:29:59 +0000