Brexit stalemate: Boris Johnson and Ursula Von Der Leyen seek to break trade deal deadlock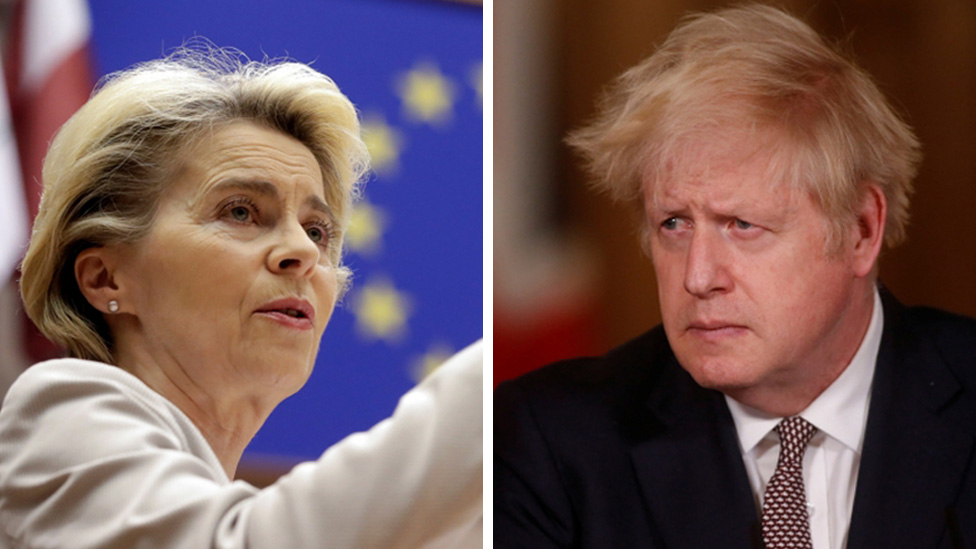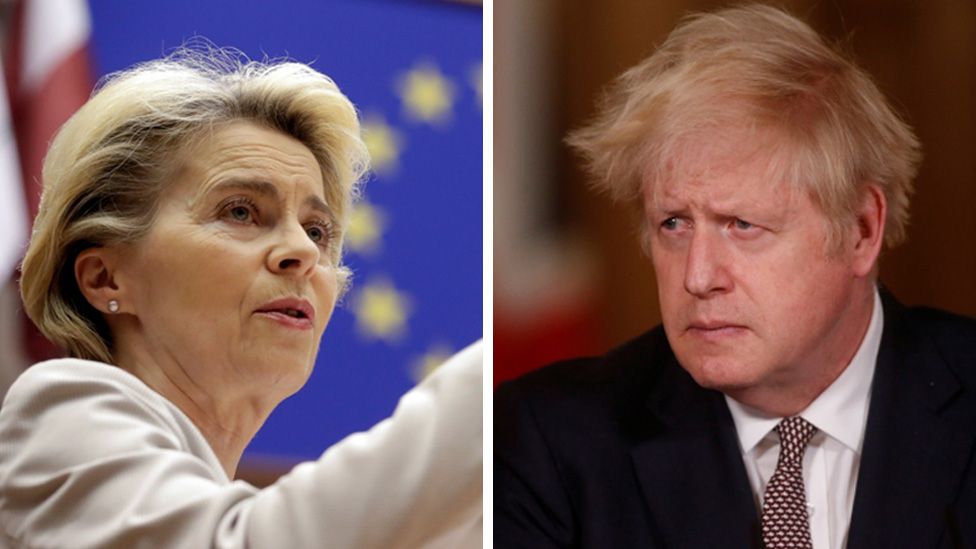 Boris Johnson and European Commission President Ursula Von Der Leyen are to speak later as they try to break the post-Brexit trade deal stalemate.
The leaders were called in after negotiators for the two sides said "significant divergences" remained following a week of intensive talks.
"If there is still a way, we will see," EU negotiator Michel Barnier said.
Sticking points include fishing rights, rules on state subsidies for business and arrangements for policing any deal.
The UK left the EU on 31 January but remains under EU trading rules until a transition period ends on 31 December.
One source close to the negotiations on the UK side suggested there had been a more optimistic outlook earlier in the week but pointed to demands for EU fishing boats to have 10-year access to UK waters as one issue that derailed progress –
BBC political editor Laura Kuenssberg said the pattern of recent UK negotiations with the EU was for victory to be snatched from the verge of defeat at the very last moment – but that one member of the government was now putting the chances of a deal at around 50-50.
She said it would be complacent to think it would all automatically fall into place after a last bit of political scrapping.
Speaking to reporters in London as he prepared to return to Brussels, Mr Barnier said: "We keep calm, as always, and if there is still a way, we will see."


Brexit – The basics
Brexit happened but rules didn't change at once: The UK left the European Union on 31 January but leaders needed time to negotiate a deal for life afterwards – they got 11 months.
Talks are happening: The UK and the EU have until 31 December to agree a trade deal as well as other things, such as fishing rights.
If there is no deal: Border checks and taxes will be introduced for goods travelling between the UK and the EU. But deal or no deal, we will still see changes.


France's Europe minister suggested his country could veto a deal if it was not satisfied. French President Emmanuel Macron has been keen to ensure the fishing industry will not lose too much access to British waters.
Meanwhile, the spokesman for German Chancellor Angela Merkel said there was "always room for compromise".
And Irish Prime Minister Micheál Martin said he "fervently hoped" a trade deal can be agreed.
Former UK Brexit Secretary David Davis told BBC Breakfast the probability of a deal was "still high" but there would be compromise on both sides and the "big decisions won't be this afternoon between the prime minister and president of the commission but in wires running hot between Berlin and Paris and other capitals".
He said: "My suspicion is when it gets to the end of the month there is no time to ratify… so they will have to do some sort of freeze in place of current customs arrangements to take us through the few months until everybody from the European Parliament to the Walloon parliament actually give their opinion."



Positive-minded readers might consider that, even if the EU-UK deal were almost agreed, the European Commission president and arguably, especially Boris Johnson, who has aligned himself so personally to "getting Brexit done", would want to put their personal stamp on things.
Confirmation that they will call each other on Saturday afternoon could therefore be seen as a "good" sign. Although sources in the EU and UK warn not to expect news of the conclusive Big Breakthrough following their chat.
Cynics might nod their heads too when I say that – considering the uncomfortable political compromises both sides have to make to reach a deal – one more "crisis", aka the current stop in talks, is quite useful to demonstrate to the public back home that you're hanging on in there, fighting for their interests.
That's certainly the way to interpret France's threat to use its veto if a deal is agreed, and it doesn't like it.
Emmanuel Macron has enjoyed the role of Brexit bad cop throughout. It plays well domestically. And "France the frenemy" is an easy headline in the UK too.
But reality is more nuanced. Paris trumpets more brashly what is the belief in all EU capitals, and in the UK government: Yes to this deal but not at any cost.


Releasing identical statements on Friday evening, Mr Barnier and his UK counterpart, Lord Frost, said: "After one week of intense negotiation in London, the two chief negotiators agreed today that the conditions for an agreement are not met, due to significant divergences on level playing field, governance and fisheries.
"On this basis, they agreed to pause the talks in order to brief their principals on the state of play of the negotiations."
If an agreement is reached it will need to be turned into legal text and translated into all EU languages and ratified by the European Parliament.
The UK government is likely to introduce legislation implementing parts of any deal reached which MPs will be able to vote on.
And the 27 EU national parliaments could also need to ratify an agreement – depending on the actual contents of the deal.






Published at Sat, 05 Dec 2020 10:00:23 +0000