Covid-19: Care home vaccinations to start 'within two weeks'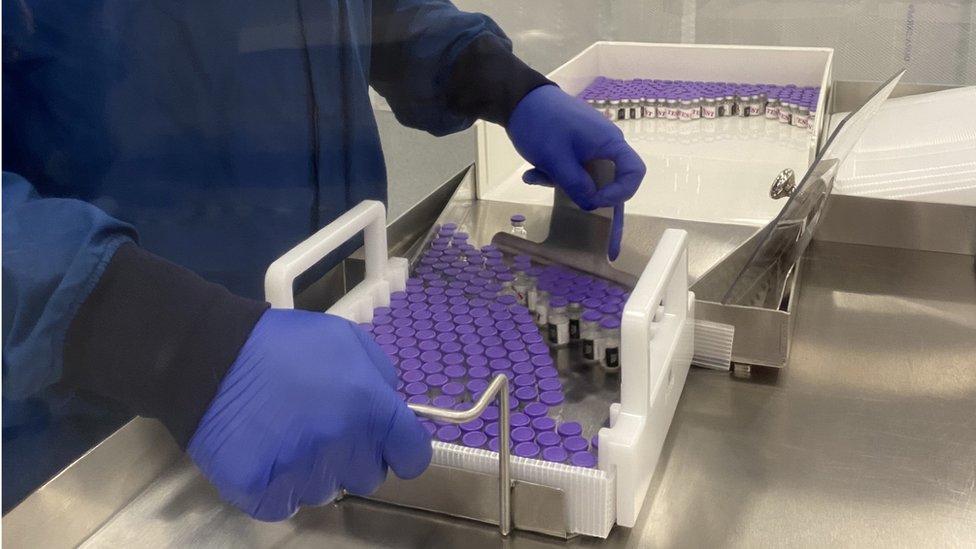 The Covid-19 vaccine will "definitely" be ready to go into care homes in the next two weeks, the regulator has said.
The Medicines and Healthcare products Regulatory Agency (MHRA) said it had approved the way doses would be distributed to homes.
It means care home residents and staff may not be the first to receive jabs, despite being the top priority.
But the UK's chief medical officers say the vaccine will only have a "marginal impact" on winter hospital numbers.
In a letter to colleagues, the chief medical officers of England (Prof Chris Whitty), Scotland (Dr Gregor Smith), Wales (Dr Frank Atherton) and Northern Ireland (Dr Michael McBride) warn this winter could be "especially hard" for the health service due to coronavirus.
"Although the very welcome news about vaccines means that we can look forward to 2021 with greater optimism, vaccine deployment will have only a marginal impact in reducing numbers coming into the health service with Covid over the next three months," they said.
First batch of Covid vaccines arrives in the UK

First vaccines 'could cut 99% of deaths' – Van-Tam
When will you be eligible for the Covid vaccine?
What are the safety checks for vaccines?
They added they did not expect the virus to "disappear" even once full vaccination had occurred.
Festive gatherings are likely to place "additional pressure" on hospitals and GPs in the New Year, which "we need to be ready for", the experts said.
Cold temperatures
The experts' warning comes as vaccinations are expected to begin at 50 hospital hubs in England on Tuesday.
NHS England also says GP-run vaccination centres will be up and running from 14 December and are expected to start inviting in patients aged over 80.
Dr Ellie Cannon, a GP in North London, said local GPs were working together to provide one centre or one team to administer the vaccines.
"We've been told we need to be available to vaccinate people from 8am to 8pm," she told BBC Breakfast, adding there was "a lot of enthusiasm among healthcare staff to help and to be involved".
She cautioned that strict guidelines would have to be followed and only "the most high risk" would receive the vaccine in the first week.
"Don't call us, we will be calling you," she advised patients. "GPs have already identified exactly who their high risk patients are. We don't have the facility to bypass the rules," she warned.
Because of how the vaccine doses are packed, the regulator needs to approve the way in which they are broken down into smaller consignments for distribution to care homes, while ensuring that the vaccine stays at very cold temperatures.
Asked when the vaccine would get to care homes, Dr June Raine, chief executive of the MHRA, told BBC Radio Cumbria that it might be "variable" but added: "I would say definitely within the next two weeks."
The MHRA, which regulates medicines across the UK, requires that the vaccine doses are repacked for shipping to care homes in refrigerated cold rooms at between 2 and 8C and transferred into carriers that maintain the same temperature.
As soon as they thaw the vials of vaccine, assemblers have 12 hours to pack them, label them and transport them to care homes, an operation that has never been done before at this scale.
Business Secretary Alok Sharma said the UK is "absolutely confident" it will have 800,000 doses of the Pfizer/BioNTech vaccine – the first to be approved by the regulator – next week.
He said more doses were expected by the end of the year, but he was unable to specify how many.
Scotland, Wales and Northern Ireland have also said they are ready to begin vaccinations on Tuesday.
Meanwhile, official data showed infection levels were falling in all English regions, except the North East.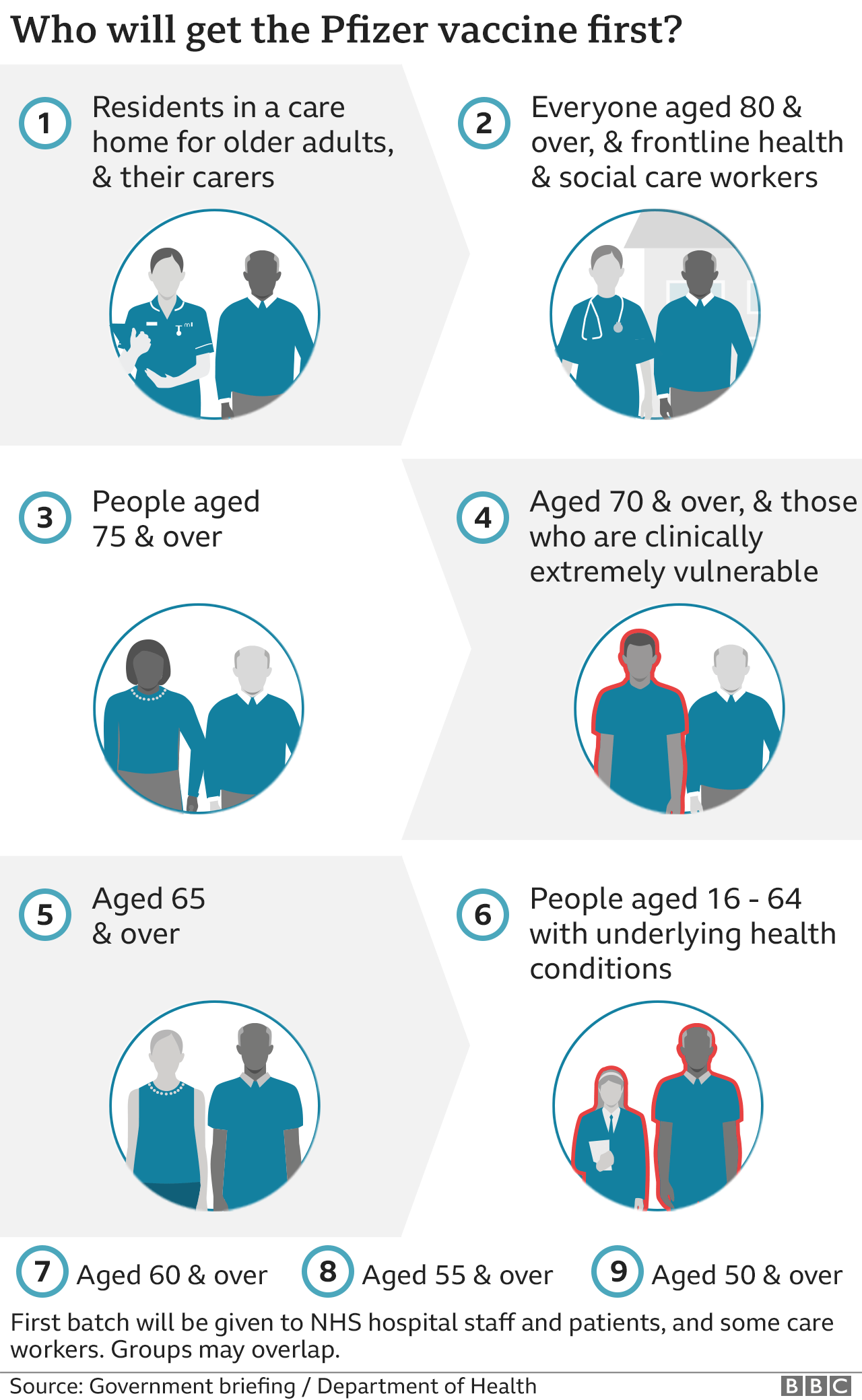 The government said the R number – the average number of people each person with Covid-19 goes on to infect – had fallen to between 0.8 and 1 in the UK, from between 0.9 and 1 last week.
It also reported that a further 504 people had died within 28 days of a positive Covid-19 test, bringing the total number of deaths in the UK to 60,617.
The first consignment of the Pfizer/BioNTech coronavirus vaccine arrived in the UK on Thursday, and the government has ordered 40 million doses in total – enough to vaccinate 20 million people.
Elderly people in care homes and care home staff have been placed top of the priority list – as recommended by the Joint Committee on Vaccination and Immunisation (JCVI) – followed by the over-80s and front-line health and social care staff.


LOCKDOWN LOOK-UP: The rules in your area
THREE TIERS: How will the system work?
SYMPTOMS: What are they and how to guard against them?
TESTING: How do I get a virus test?


Prof Anthony Harnden, deputy chair of the JCVI, told The World at One on BBC Radio 4 he understood the elderly in care homes "might not end up being the first priority group for operational reasons" and the committee would "closely monitor this".
He stressed the JCVI still expected care home residents "to be prioritised".
Chris Hopson, chief executive of NHS Providers, said the vaccines would now have reached 50 hospital hubs to enable vaccinations to begin on Tuesday.
Hospitals were working out how many care home residents, care home staff and over-80s they can get it to, he said.

PANORAMA: How do you run a business if Covid-19 takes your customers away?
THE HOME OF PEAKY BLINDERS: Watch every episode of the iconic crime drama on BBC iPlayer

Published at Sat, 05 Dec 2020 08:46:37 +0000