Debenhams set to close putting 12,000 jobs at risk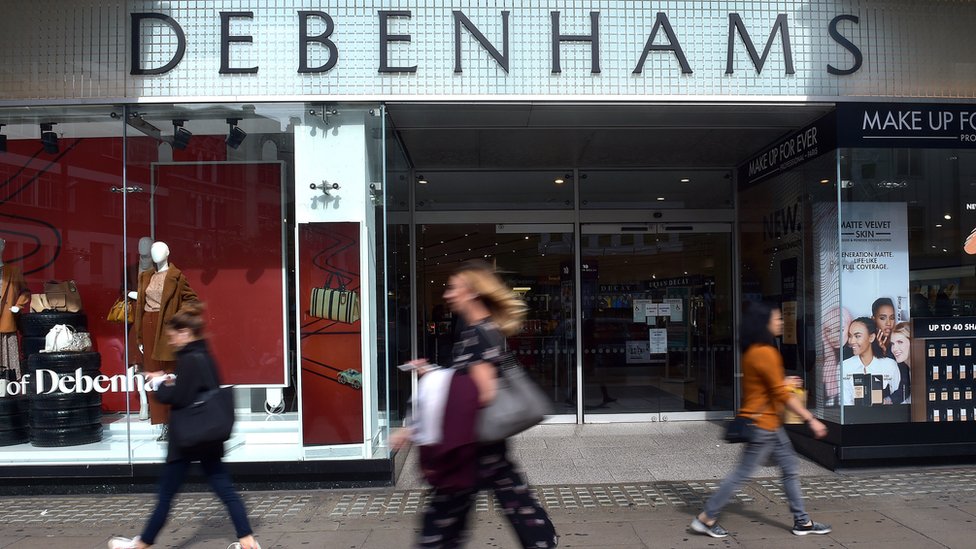 Debenhams stores are set to close after the failure of last-ditch efforts to rescue the ailing store chain.
It means all 12,000 employees are likely to lose their jobs when the chain's 124 shops cease trading.
The news comes just hours after Topshop owner Arcadia fell into administration, putting 13,000 jobs at risk.
Debenhams itself had been in administration since April. Hopes of a rescue were crushed after the last remaining bidder, JD Sports, withdrew.
Staff were told the news on Tuesday morning.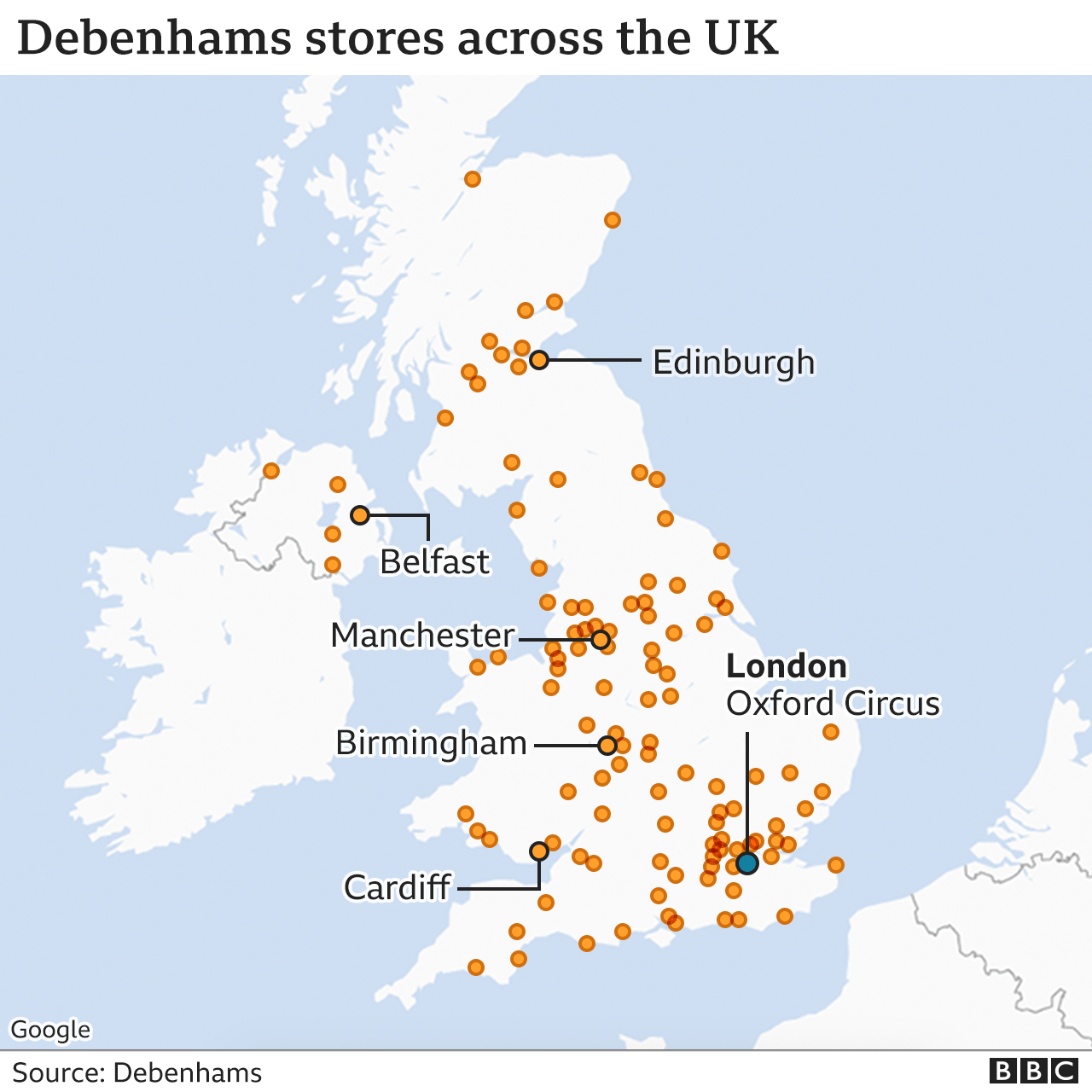 Is there any way back for Debenhams?
It's hard to see how. The department store chain had already gone into administration for a second time and is now set to enter liquidation, also known as winding-up, which means it will cease to exist as a company.
The 242-year-old retailer had already trimmed its store portfolio and cut about 6,500 jobs since May as it struggled to stay afloat.
However, the administrators said the outlook for a restructured operation was "highly uncertain" and they had therefore "regretfully concluded" that they should start winding up Debenhams UK, while continuing to seek offers for all or parts of the business.
There have been suggestions that JD Sports pulled out of bidding for Debenhams because of the collapse of Arcadia, which is the biggest concession operator in Debenhams.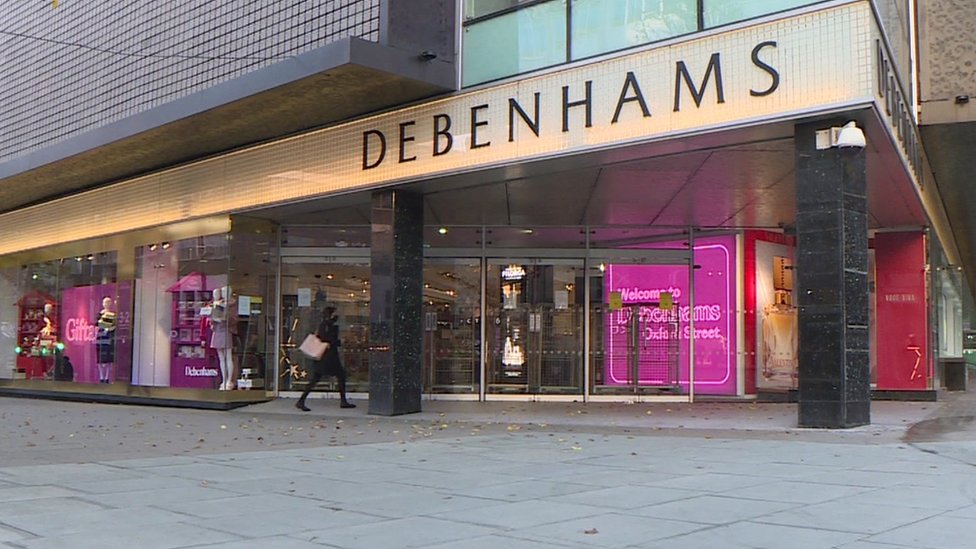 However, senior sources at Arcadia dismissed any link and told the BBC it was being blamed for the collapse of a deal that had never been agreed.
What happens next?
The 12,000 jobs at Debenhams are set to go over the coming months unless the administrators do a deal for all or parts of the business.
Restructuring firm Hilco will start going into stores on Wednesday to begin clearing stock.
Tough trading during the coronavirus pandemic proved to be the final blow for both Debenhams and Arcadia, which employ more than 25,000 people between them.
Geoff Rowley of FRP Advisory, joint administrator to Debenhams and Partner at FRP, said: "All reasonable steps were taken to complete a transaction that would secure the future of Debenhams.
"However, the economic landscape is extremely challenging and, coupled with the uncertainty facing the UK retail industry, a viable deal could not be reached."


What does it mean for the High Street?

With Debenhams to be wound down and Arcadia in administration, this is one of the blackest weeks for the British High Street and one that will have councils around the country pondering the future of their town centres.
Debenhams, which started as a single shop in central London in 1778, has withstood recessions, depression and world wars, but has succumbed finally to the twin threats of the internet and pandemic shutdowns.
It has been struggling financially since before the financial crisis, but successive restructurings have failed to find a winning formula.
In many town centres, Debenhams was one of the few sizeable anchor tenants left after the recent demise of BHS and others.
And this may not be the end of the bad news. If Arcadia were to go the way of Debenhams, it would mean another 13,000 jobs lost.


What happens to my orders?
Shoppers are still able to buy items in stores and on the Debenhams website, until all the stock is sold.
Anyone who has ordered something on the website, including during Black Friday, should receive it. They should also be able to return these items, under the normal rules, within 14 days, if they do not want them.
The business is also accepting payment cards, such as gift cards. If the business is sold, these cards might continue to be valid.
However, if cards are unspent or items not delivered if Debenhams closes entirely, then shoppers may need to contact their bank, via the chargeback scheme, or their credit card provider (if they spent more than £100 on a single order) to get a refund.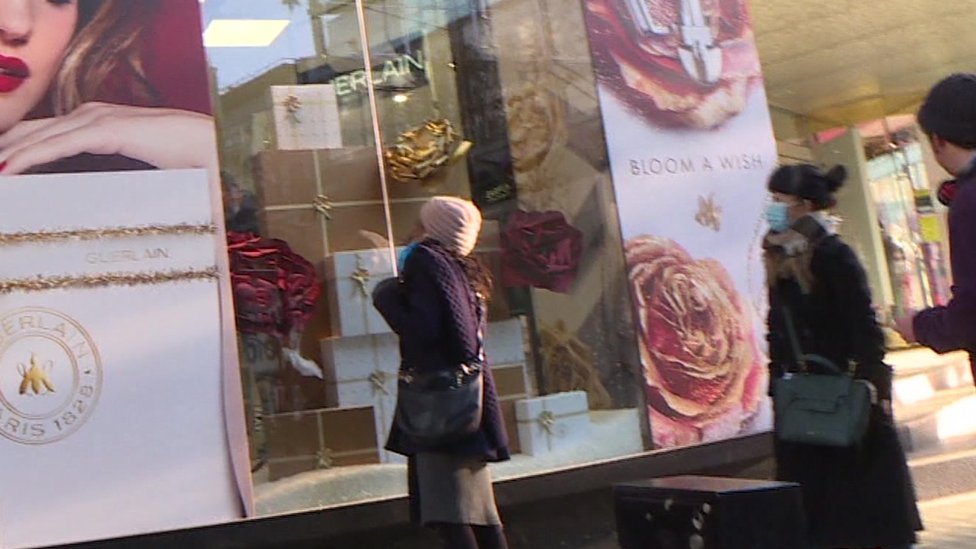 What about the workers?
A supervisor who has worked at the Debenhams Bullring Birmingham store for five years said she had found out the news on a group call.
"The call was really sad. It genuinely felt like they had tried so hard and they had now lost the fight.
"Unfortunately the business is just outnumbered and the pandemic is something they, like all of us, could never have predicted," she told the BBC.
Retail trade union Usdaw said it was seeking urgent meetings with Debenhams' administrators and urged them to "treat staff with fairness and dignity".
Usdaw general secretary Paddy Lillis said the company and its administrators had refused to engage with the union and accused them of treating staff "appallingly".
He added that the government needed "a recovery plan to get the industry back on its feet".
Former Debenhams chairman Sir Ian Cheshire told the BBC he felt "desperately sorry" for its employees.
He said that Debenhams had been "caught in a straitjacket" with too many High Street outlets on long leases.
What do shoppers think?
Shoppers in Leeds raised concerns about what Debenhams stores closure would mean for the High Street.
"We won't have any shopping centres left, we'll have no town centres left if everyone shops online," said one shopper.
"It's been a long time coming, really," said another. "It's been a long slow decline for Debenhams – it's not really changed with the times."
In Edinburgh, one shopper said it was "a shame", adding: "People are losing their jobs, It's a shop that's been there since I was born. All the girls bought their prom dresses there."
Are staff pensions affected?
Long-serving members of staff, or past workers, who were members of the company's two defined benefit pension schemes have been at risk for months of getting smaller pension payouts.
The two schemes – the Debenhams Retirement Scheme and the Debenhams Executive Pension Plan – have been assessed by the official rescue scheme called the Pension Protection Fund since April last year, affecting an estimated 11,000 members.
Those yet to retire, or who have retired early, could receive at least 10% less than they would have expected from their pension. If the schemes are found to be in a relatively strong financial position, they may not lose as much.
Others who have already reached pension age (thought to be about half of members) may see a smaller inflation-linked increase each year than they were promised.
More recent members of staff have a different type of pension, which they keep as a pension pot for retirement.

Or use this form to get in touch:
If you are reading this page and can't see the form you will need to visit the mobile version of the BBC website to submit your comment or send it via email to HaveYourSay@bbc.co.uk. Please include your name, age and location with any comment you send in.

Published at Tue, 01 Dec 2020 18:30:52 +0000