Covid: Adults with learning disabilities 'miss out'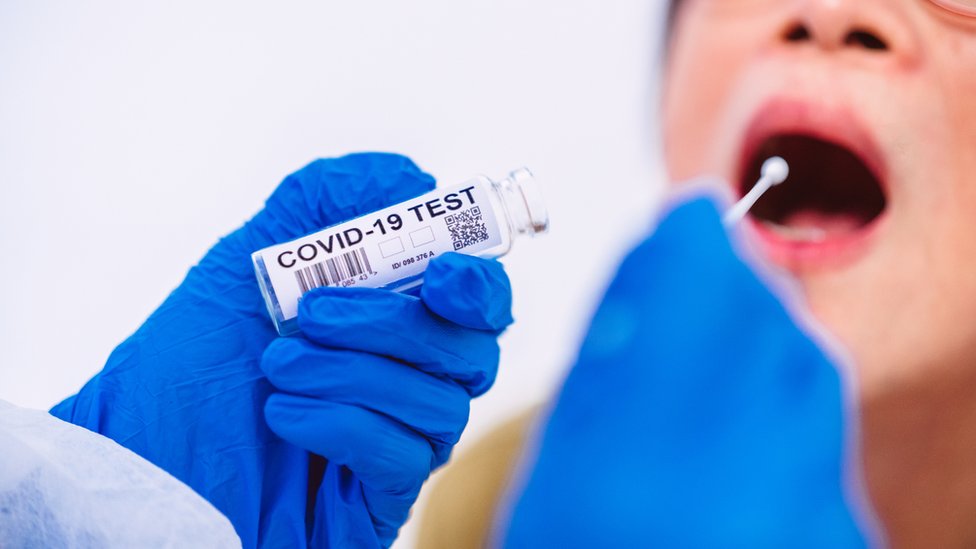 People with learning disabilities have been "at the back of the queue" during the coronavirus pandemic, a panel of MPs has been told.
Those living in supported accommodation were left waiting weeks for guidance on testing and visits.
MPs were also told long-term social factors were likely to be more important than biology when it came to ethnic divides in the virus's impact.
The panel focused on what lessons could be learned.
Giving evidence
James O'Rourke's brother Tony lives alone in a one-bedroom flat in a block of supported-living accommodation.
He said the family had been unable to visit him, even though people living alone in the wider community are allowed to form a support bubble with another household.
Mr O'Rourke said this was because guidance had been tailored towards large residential care homes and failed to account for people in his brother's situation.
He was giving evidence to a joint hearing of the Health and Social Care Committee and Science and Technology Committee.
Supportive-living services
This sentiment was echoed by Steve Scown, who runs Dimensions UK, a major provider of supported accommodation for adults with learning disabilities and autism.
"Consistently, the government guidance for registered care homes has been issued weeks in advance of guidance for supportive-living services," he said.
"There's been a focus on large registered care homes for older people."
Learning disabled Covid deaths 'six times higher'
While the government's focus on older people was "understandable", these delays meant his service was still waiting for guidance on testing residents.
And in other cases, constantly changing guidance had left staff and residents confused.
'Better instructions'
Ann McCallum, who has a learning disability and advocates for others who do, said she had struggled to understand certain guidelines.
"It's not been in easy language for people to understand," she said.
"Politicians need to really not use jargon and give better instructions on all the rules that they want us to follow".
Language around "tiers", for example, was confusing, Ms McCallum added.
Mr Scown said life-expectancy figures – between 14 and 18 years lower for people with learning disabilities – were evidence they were not valued "as equal members of the community".
And he cited "frankly, disgraceful" instances during the pandemic of medics placing do-not-attempt-resuscitation (DNAR) orders on patients with learning disabilities' files without consulting their families .

PAY-PACKET SUPPORT: What do chancellor's plans mean for wages?
SUPPORT BUBBLES: What are they and who can be in yours?
TESTING: How do I get a virus test?
JOBS: How will I be kept safe at work?
TEST AND TRACE: How does it work?

The MPs also heard evidence from experts about the disproportionate impact of the pandemic on people belonging to ethnic minorities.
Public Health England London regional director Prof Kevin Fenton said he was concerned about the availability of data on the impact of testing and contact-tracing among different ethnic communities and whether people were taking up testing and being reached by tracers.
A number of reasons have been given for why Covid disproportionately affects people belonging to ethnic minorities.
public-facing jobs outside the home
higher occupancy, multi-generational households
living in urban, densely populated or deprived areas
co-existing health conditions
the long-standing impact of inequality, including on someone's likelihood of accessing care in good time
These factors are often linked.
Prof Fenton cautioned against "looking for simple or easy solutions for what are very, very complex and difficult issues".
But he said "social and structural conditions have a much greater impact on your overall health and wellbeing" than biological factors.
And that included housing, employment and the impacts of discrimination and stigma, which were "much bigger determinants of wellbeing than, for example, your access to care or genetic profile".
Published at Tue, 01 Dec 2020 16:12:27 +0000