Food bank's 40 member agencies to share in $524K from fall give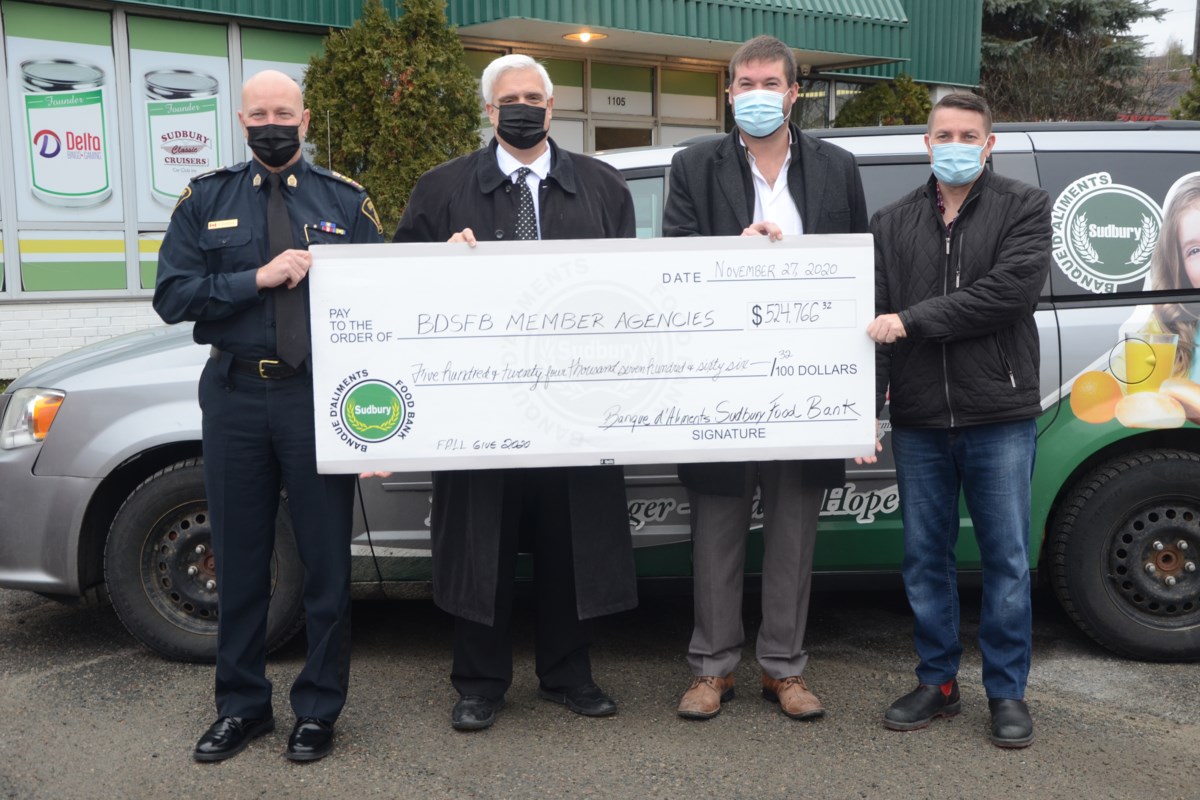 While the world is full of negative news right now, the Sudbury Food Bank is sharing something positive — it raised $524,000 to hand out to its 40 member agencies.
That amount far exceeds any total raised for past gives, which are held several times a year and provides much-needed funding for the food bank's member agencies.
Food banks and meal programs have seen a 30-per-cent increase in first-time users over the course of the pandemic, said food bank executive director Dan Xilon.
"Most of these citizens and families never envisioned a need for food assistance in their lives," said Xilon. "It's a challenging number that has grown during this pandemic and may very well continue to grow."
Being able to raise that much money is a tangible symbol to how much giving there is in this city, said Police Chief Paul Pedersen, chair of the board for the Sudbury Food Bank.
"There was a call for Sudburians to step up in the time of COVID-19, and they stepped up," Pedersen said. "This is our largest give ever, and it's the community giving us their hard-earned money so we can give a hand up instead of a handout."
Since the food bank's beginning, it has raised and distributed almost $43 million in perishable and non-perishable food stocks and funds.
Now, the food bank is focusing on the Edgar Burton Christmas Food Drive, which kicked off Nov. 19. During the pandemic, local businesses and organizations are asked to either collect food donations or make online financial donations.
Without the support of the Kids Helping Kids campaign, the food bank is already starting from a disadvantage and is 50 tons short right out of the gate as a result. Last year, the food drive collected 112 tons of food.
For more information about the Edgar Burton Christmas Food Drive and how to participate, visit www.sudburyfoodbank/edgarburton or contact 705-682-8200, orebcfooddrive@gmail.com.
Published at Sat, 28 Nov 2020 15:00:00 +0000