Covid-19: Mass testing a 'distraction' from vaccine rollout – health leaders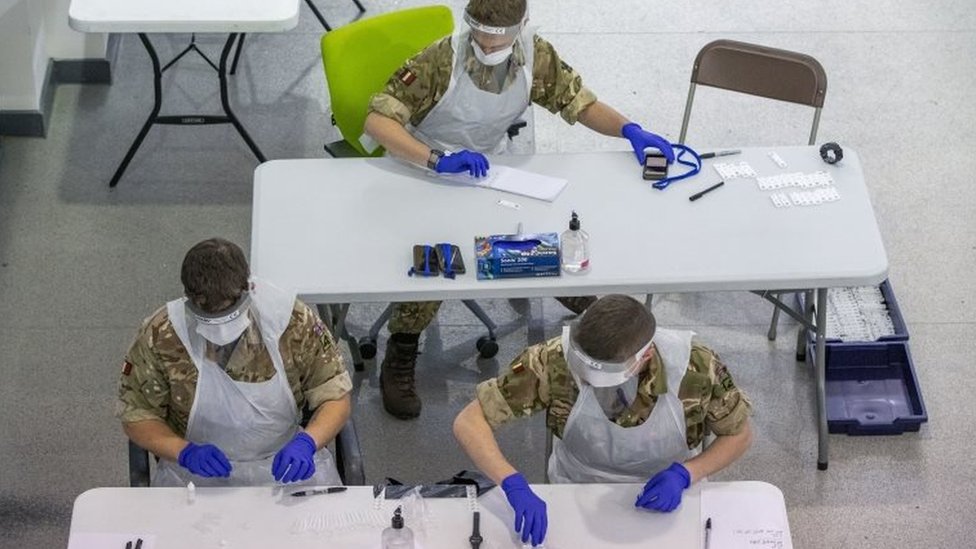 Mass testing plans in England threaten to be a "distraction" from other priorities such as the rollout of a vaccine, health leaders have warned.
The PM has said mass community testing, as seen in Liverpool,
will be offered to all areas in tier three after lockdown ends.
But experts have questioned whether this is possible due to the "enormous" resources it requires.
The government said it will work with local authorities to support plans.
In a joint statement, the Faculty of Public Health and the Association of Directors of Public Health said improving NHS Test and Trace must remain the top focus for testing.
Where will mass testing be available?
Hundreds get wrong results due to Covid test error
PM: Tougher post-lockdown rules 'strike a balance'
Mass testing of people without symptoms using new rapid "lateral flow" tests – which give a result in about 20 minutes, without the need for a lab – has been piloted in Liverpool.
So far more than 100,000 people without symptoms have been tested using the new rapid tests, with just over 700 positive results.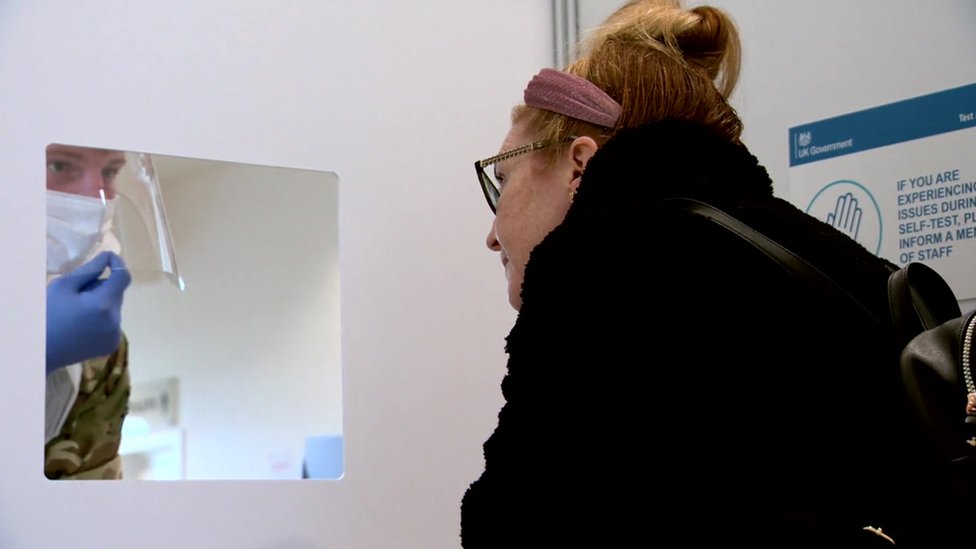 Now thousands of rapid tests have been sent to more than 90 local authorities in England as part of an expansion of the Liverpool scheme, which was supported by 2,000 members of the military.
One of those is Liverpool's neighbour, the borough of Sefton, which has half as many residents.
But the area says it only has a team of 12 people to carry out mass testing and has been offered no other support.
Postcode check – what is the new tier for your area?
What are you allowed to do in each Covid tier?
The Faculty of Public Health and the Association of Directors of Public Health said: "The additional capacity provided to Liverpool to set up and manage testing sites alone has been enormous and it is difficult to envisage how or even whether this could be replicated at the pace being proposed across the country.
"This threatens to be a distraction from other activities, like planning and rolling out vaccines."
Their statement added: "The key priority needs to be targeted community testing… in settings or locations of higher risk of transmission or where the consequence of infection is higher."
The government is asking local leaders and directors of public health in tier three to put forward proposals and said it will work with them to make sure they're resourced.
It said it is not expecting to see Liverpool replicated up and down the country.

SOCIAL DISTANCING: What are the rules now?
SUPPORT BUBBLES: What are they and who can be in yours?
FACE MASKS: When do I need to wear one?
SCHOOLS: What will happen if children catch coronavirus?
TESTING: What tests are available?

Liverpool's mass testing pilot began earlier this month. Prof Louise Kenny, pro vice chancellor at Liverpool University, which is running the pilot scheme with the city council, said they were delighted with the results.
"It was a pilot, we had very few expectations about how it would turn out. But I'm really pleased by how the city has embraced it from all corners," she said.
"Yes, it's been lower in some areas but we're addressing that by making the testing more available, we assess what the barriers are, that's a work in progress.
"And I think the fact that we have identified over 700 of our residents who were positive, didn't know it, were at risk to their fellow citizens is a hugely encouraging thing."
Published at Fri, 27 Nov 2020 22:41:44 +0000