Covid: Hospitals could be overwhelmed without new tiers, says Gove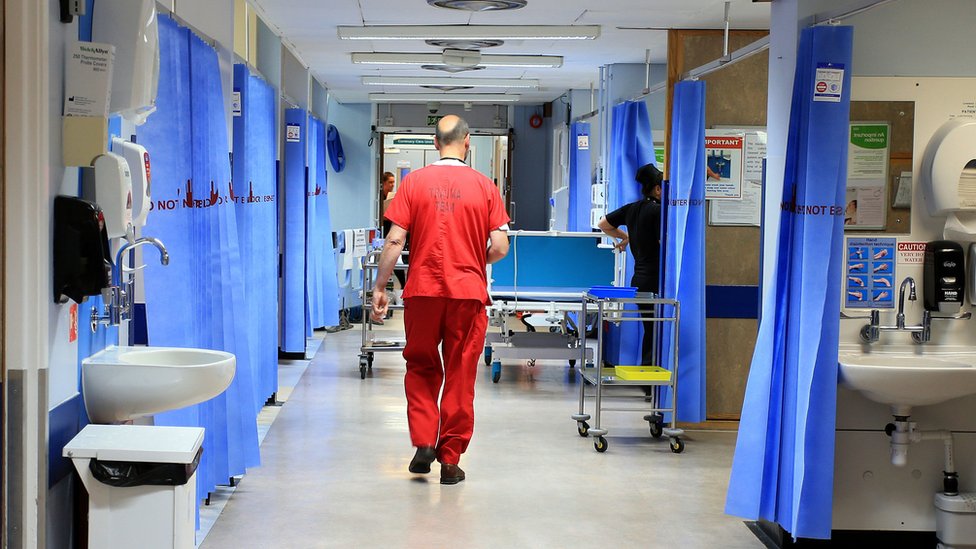 Hospitals in England could become "overwhelmed" with Covid cases if MPs do not back new restrictions, Cabinet Office minister Michael Gove has said.
Many Tory MPs oppose the tougher tier system, which begins on 2 December.
But
writing in the Times, Mr Gove said MPs – who will vote on the measures next week – need to "take responsibility for difficult decisions".
Labour is yet to decide whether it will support the new restrictions.
It has warned, however, that areas in tier three will be stretched to "breaking point" without further financial support from the Treasury.
Has England's lockdown worked?
Why is so much of the North and Midlands in the top tier?
When England's four-week national lockdown ends on Wednesday, regions will be placed in one of three tiers: medium, high and very high.
In total, 99% of England will enter the highest two tiers, with tight restrictions on bars and restaurants and a ban on households mixing indoors. Only Cornwall, the Isle of Wight and Isles of Scilly will be in the lowest tier.
Some MPs say the new system imposes tight restrictions on numerous areas with low cases, and are calling instead for a more localised approach.
But Mr Gove has defended the new system, saying that, unless action to slow the spread of coronavirus is taken, the NHS could be "broken" and hospitals "physically overwhelmed".
'Take responsibility'
"The tiers we had in place before the lockdown had not suppressed [Covid] sufficiently: they were neither strong enough to reduce social contact sufficiently, nor applied widely enough to contain the virus's spread," he wrote.
He added that, across the UK, about 16,000 beds are filled with Covid-19 patients, compared to a peak in April of almost 20,000 and a low of 740 on 11 September.
"When the country is facing such a national crisis, the truth is that all of us who have been elected to Parliament, not just ministers, must take responsibility for difficult decisions," he said.
Elsewhere in the UK, Northern Ireland has begun a two-week circuit-breaker lockdown, while in Scotland each area has been placed in one of five tiers.
Lockdown restrictions in Wales were eased on 9 November. Under the current rules, up to 15 people can meet for organised activities indoors and businesses can reopen.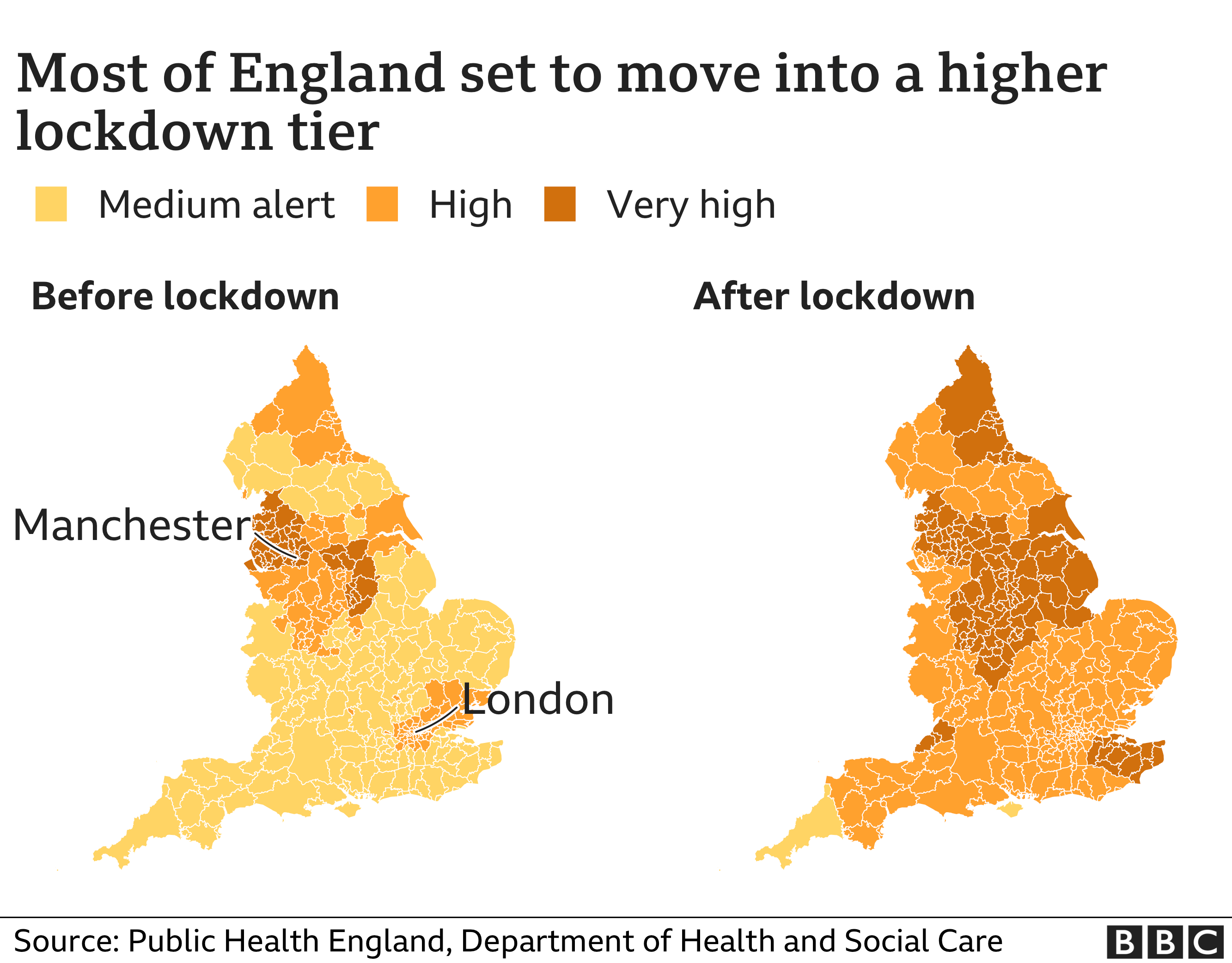 Former Tory leader Iain Duncan Smith is among those questioning England's approach.
On Friday, he asked "what was the point of lockdown" if England ends up with tighter restrictions than it had before the four-week national restrictions came into force.
"We aren't even waiting to learn what the effect of the lockdown has been before rushing into these changes," he tweeted.
It came as a further 521 deaths within 28 days of a positive test were reported in the UK, bringing the total to 57,551. There were also a further 1,471 recorded hospital admissions on Friday.
What are you allowed to do in each Covid tier?
Mass testing a 'distraction' from vaccine rollout
Several Conservative MPs have asked to see the data the government based its decision on.
Tory MP Tobias Ellwood told the BBC's Newsnight programme: "Here in Dorset, we entered lockdown with pretty low figures. We're coming out of it with even lower figures.
"This last week we've gone down by a third. So we're really surprised to find ourselves in tier two."
The new coronavirus tier restrictions will mean 55 million people will be banned from mixing with other households indoors.
The tiers areas are in will be reviewed every 14 days, starting 16 December.


Differences between the new tiers include restrictions on where households can meet up:
tier one: the rule of six applies everywhere, indoors and out
tier two: the rule of six applies outdoors but there is no household mixing anywhere indoors
tier three: can only meet other households in outdoor public spaces like parks, where the rule of six applies
Gyms and close-contact beauty services like hairdressers will be able to open in all tiers. People in all tiers who can work from home, should continue to do so.
Pubs in tier two can only open to serve "substantial meals", while those in tier three can only operate as a takeaway or delivery service.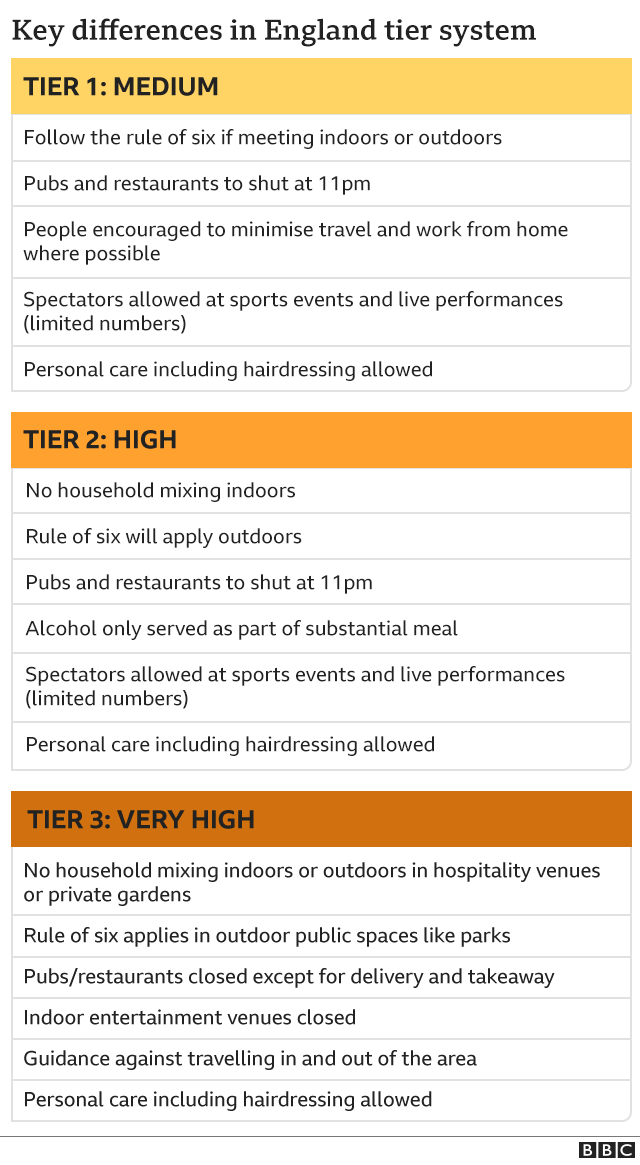 Meanwhile, Labour's shadow chancellor Anneliese Dodds will urge Chancellor Rishi Sunak to extend the Additional Restrictions Grant (ARG) in tier three areas following concerns the new rules will force some local authorities to stretch the grants further than others.
Leaders in Lancashire have written to the PM's interim chief of staff saying it is "unfair" that areas facing four weeks of restrictions under the lockdown received the same amount as they did for seven weeks.
The one-off ARG funding equates to £20 per person in an area and is designed to help closed businesses that do not directly pay business rates, as well as those that do not have to close but are affected by restrictions.

LOCKDOWN LOOK-UP: The rules in your area
SOCIAL DISTANCING: What are the rules now?
SUPPORT BUBBLES: What are they and who can be in yours?
FACE MASKS: When do I need to wear one?
TESTING: How do I get a virus test?

Ms Dodds is due to tell the party's online regional conference – Connected North West – on Saturday afternoon: "It is completely irresponsible for the government to leave tier three areas in the lurch like this again.
"The run-up to Christmas is a critical period, and local authorities are going to be stretched to breaking point trying to help."
A Department for Business, Energy and Industrial Strategy spokesman said "a host of other support measures" have been made available.

NEW CRIME DRAMA 'THE VALHALLA MURDERS': In the desolate darkness of Iceland, a serial killer has links crimes from years before
FANCY A FILM?: A small-town vlogger tries to uncover the truth behind her best friend's sudden disappearance. Watch 'A Simple Favour' on BBC iPlayer

Published at Sat, 28 Nov 2020 03:18:25 +0000