What's the Best Online Tax Preparation Software? TaxAct vs TurboTax vs H&R Block
In recent years, it's taken me much longer than I'd like to complete and e-file my state and federal income tax returns. That's because I've taken it upon myself to evaluate firsthand the most popular online tax preparation options available to U.S. filers.
My tax prep marathon always includes TurboTax, TaxAct, and H&R Block. There are plenty of less popular options (such as Circle CPA, TaxSlayer, eSmart Tax, and FreeTaxUSA, among others). All have a similar set of core features and capabilities, including the ability to e-file, but the three we're discussing here are by far the most popular.
Here's how TurboTax, TaxAct, and H&R Block stack up – and what's new for the 2019 tax year.
My Income Tax Situation
I've done my own taxes and run this comparison for several years in a row. As my tax situation has changed, so have my experiences. For instance, during the 2014 tax year, I moved across state lines and therefore filed two state tax returns. In the this post, I'll note how each platform handled or reacted to specific aspects of my present tax situation.
For the most recent run, in 2019, I used a modified version of my actual tax situation for all three programs to ensure an apples-to-apples comparison. The highlights:
TurboTax, H&R Block, and TaxAct all have a maximum refund/minimum tax liability guarantee. In other words, each service waives your prep fees if you can prove that another program produces a higher tax liability or lower refund on an identical tax situation.
Luckily for these three programs, my federal and state tax liabilities have always been identical across the board. However, the time and expense of preparing with each service does vary considerably.
Sizing Up the Best Tax Software Programs: H&R Block
First up, H&R Block.
Plans & Pricing
Free: Free federal and state filing for simple to moderately complex situations
Deluxe: $29.99 to $49.99 federal. Free functionality plus additional features.
Premium: $49.99 to $69.99 federal. Support for more complex situations, such as itemized deductions, investment activity, and rental property ownership.
Self-Employed: $89.99 to $104.99. For even more complex situations involving small business income.
Tax Pro Go: $49.99 and up (custom pricing). A hybrid service for filers willing to upload tax documents to remote human preparers. Due to the complexity of my situation, Tax Pro Go wasn't competitive for me; I would have paid upwards of $300.
Online Assist: Adds at least $39.99 to the cost of a federal return. Remote professional review available as an add-on to any DIY package (most commonly Self-Employed).
State Return Fees: Free with the Free version. For higher-priced plans, state returns cost $39.99 to $49.99 apiece.
Cost to Pay Prep Fees With Your Refund: $39.95 to pay federal and state prep fees with your federal refund (may vary).
My Bottom Line
Time Spent Preparing: 90 minutes
Version Used: Self-Employed. In past years, I began with the Free version and upgraded only after being prompted, but in 2019 I didn't even bother. I did take advantage of H&R Block's drag-and-drop return upload feature, though – a big time-saver over cumbersome importing tools.
Total Cost: $139.98
H&R Block is one of the most popular online tax preparation programs. Plus, it's backed by a network of more than 10,000 brick-and-mortar tax prep locations. But filing online may be more convenient than schlepping down to the local office, and it's almost certain to be cheaper. The software uses an interview-style process that takes you through your taxes step by step, ensuring that you don't miss any important forms or schedules.
The first time I used H&R Block, I was happy to learn about the company's refund bonus, which boosted your federal refund's size by up to 10% (5% for Free and Basic plans, and 10% for Deluxe and Premium plans) when you accepted it as one or more gift cards to well-known retailers such as Target, Kohl's, and Best Buy.
That changed sometime before the start of the 2017 tax year, when H&R Block capped the refund bonus at 5% of the refund – no matter what plan filers select, per H&R Block's refund bonus terms. That's $50 for every $1,000 refunded. And you have to take your refund on an Amazon gift card, which is a drag for people who prefer straight-up debit cards. You can still also your federal refund on a reloadable prepaid debit card, just without any extra cash.
Federal Filing
My experience with H&R Block has been mostly positive over the years. That said, I've found some of the platform's questions and instructions to be confusing, at least relative to the clear, simplified explanations offered by TurboTax. For instance, in 2015, when I indicated that I had gotten married during the tax year, I was shown a filing options chart with these explanations: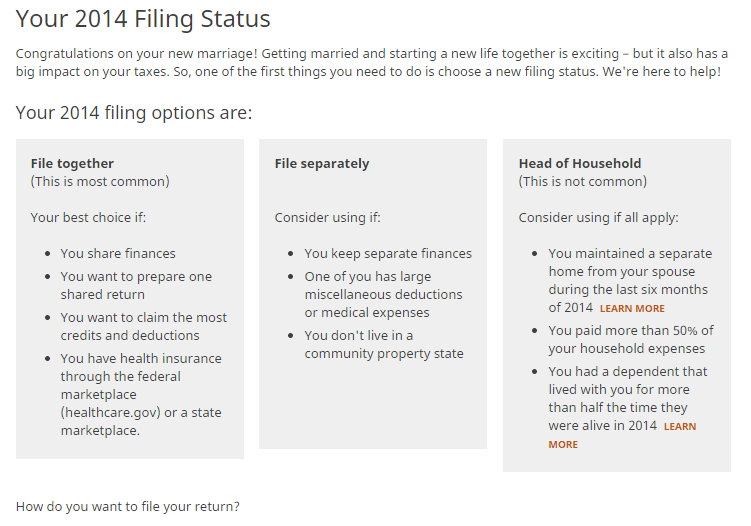 For kicks, I tried the same maneuver in 2018 and got a similar screen – some of the bullets were different, but the gist was the same. The issue here is that instead of auto-selecting your filing status based on your answers to a series of questions (like TurboTax), H&R Block requires you to interpret this information and make your own decision. While some filers won't have a problem doing so, that extra step could make many novices uncomfortable.
On the bright side, the last page of each section includes a succinct, clear summary of the information you enter. If anything looks amiss, you can go back to the appropriate page and edit the erroneous information with one click.
One thing I've always appreciated about H&R Block: totally transparent pricing. You know exactly how much you'll pay to file before you actually do so, and H&R Block makes any pricing increase crystal-clear before you upgrade.
Though I've never hit a major snag during the H&R Block preparation process, I'm nevertheless impressed by the "Help" button on the left sidebar. When clicked, it produces a popup window that lists popular help topics in question form and featured a search bar for less common items. This makes it easy to get clarification without having to exit the return or open a new window. I've played around with this feature quite a bit in the past, and never failed to learn something new each time.
Overall, H&R Block has grown smarter over the years. I'm particularly pleased with the evolution of the Tax Pro Review feature, which is a big peace-of-mind boost for nervous filers.
State Filing
The state preparation process unfolds in similar fashion to the federal return, except with state-specific questions. Once you check your federal return for accuracy, the program immediately whisks you into the state section and automatically imports all relevant information from your federal return.
During the 2014 tax year, when I lived in two states, I found it simple to fill out my second state return. H&R Block remembered that I'd moved during the year, and the software automatically brought me back to the beginning of the state return process after completing the first. I haven't moved since and can't claim income in any other states, so this hasn't come up since, but the process appears much the same today.
Every year, before filing, H&R Block has checked my entire return for accuracy again. I'm able to view my federal and state returns, print my estimated tax vouchers for the coming year, and specify how I want to pay the tax I owed. (When I'm eligible for a refund, which doesn't happen every year, I'm asked how I'd like to receive it as well.) All in all, the process ends smoothly, and always in less time than the other two options here.
Advantages of H&R Block
Here's why you might want to file with H&R Block.
Transparent Pricing. H&R Block has totally transparent pricing. You should always know exactly how much you'll pay to file – and how much you'll add to the final cost of your return if you need to upgrade to a higher-priced plan.
Solid Importing Capabilities. H&R Block may have discontinued its refund bonus for refunds loaded onto prepaid gift cards, but it's made up for that disappointment with vastly improved importing capabilities. All you need to do to import a prior-year return is drag and drop a PDF version into the interface. Done and done.
In-Person Support During and After Filing. H&R Block has a network of more than 10,000 branches across the United States, making it easy to switch from online to in-person preparation if needed. TurboTax and TaxAct don't have such support. H&R Block also offers free, in-person audit assistance for all online filers, a key perk for folks who worry that they might be audited. Its new Tax Pro Go service, wherein professionals put together your return within five business days using uploaded files, is a nice DIY-professional hybrid.
Disadvantages of H&R Block
Consider these drawbacks before prepping your return with H&R Block.
Low-Priced Plans Aren't Great for Complex Situations. H&R Block's free plan has gotten considerably more generous over the years, but it's still not suitable for complex tax situations involving investment or small business income. Though I don't have the most complicated tax situation in the world, I still have to use the most expensive DIY H&R Block plan.
Spendier Than Some Competitors. Though its pricing is transparent, H&R Block can't compete with true discounters, not to mention free premium services like Credit Karma Tax. If protecting your bottom line is more important than value-added features, H&R Block might not be your top choice.
Inflexible Navigation During Preparation. H&R Block requires you to complete your return in order and doesn't let you jump past incomplete sections if they don't apply to your situation. Several times during the process, I found myself clicking through multiple irrelevant questions just to get on with it. By contrast, TaxAct lets you skip inapplicable questions right away.
Verdict
4.4 out of 5 stars: I like H&R Block's relative ease of use, moderate pricing, and robust customer support. My experience was straightforward, with none of the bugs that plagued my TurboTax return and without the overwhelming detail inherent in TaxAct's interview process.
However, H&R Block could be a bit more friendly – and a bit more cost-competitive for filers who need some extra help. In general, H&R Block is suitable for people who have some tax filing experience and comfort with the basic contours of the process, including choosing the appropriate filing status and selecting the right forms.
See our full H&R Block Review for a complete analysis.
Expires April 10, 2020. Complete the form below to instantly download your unique coupon code.
Sizing Up the Best Tax Software Programs: TurboTax
Next up, TurboTax.
Plans & Pricing
Federal Free Edition: Free state and federal filing for simple situations (1040EZ/1040A). State filing is free until a few weeks before the filing deadline; after that, a fee applies.
TurboTax Live: A hybrid approach that's appropriate for all situations, with a remote CPA or IRS Enrolled Agent consultation and on-demand live tax advice included. See pricing below.
Deluxe: $40 to $60 for DIY and $90 to $120 for TurboTax Live. For moderately complex situations.
Premier: $70 to $90 for DIY and $140 to $170 for TurboTax Live, for investors and landlords. For investors, landlords, and others who don't earn pass-through income via a formal legal business structure.
Self-Employed: $90 to $120 for DIY and $170 to $200 for TurboTax Live. For small business owners and others with complex situations.
State Return Fees: For higher-priced plans, state fees generally range from $40 to $55.
Cost to Pay With Your Refund: $34.99 federal in most states (subject to change). There's no option to pay with your state refund.
My Bottom Line
Time Spent Preparing: 100 minutes
Version Used: Self-Employed. In past years, I've started out with the Federal Free version and upgraded in steps. Each time I provided an interview answer that couldn't be handled with my current version (for instance, indicating that I had received a 1099-MISC and thus had self-employment income), TurboTax would prompt me to upgrade to the cheapest version that could handle it. This year, I had enough experience to know that I'd need to start with Self-Employed right off the bat.
Total Cost: $140
TurboTax is another extremely popular online tax filing program. Though it doesn't have a dense network of physical branches to back it up, TurboTax is owned by Intuit, one of the country's best-known financial software firms. Despite a free version that's appropriate for relatively simple tax situations, TurboTax's plans are a bit more expensive than H&R Block's – though Block has obligingly closed the price gap in recent years.
My situation is too complex for any plan but Self-Employed, the priciest DIY option, though I've been fortunate to get an early-filer discount on the now-$120 list price most years. Bear in mind that prices tend to rise as tax day approaches. Expect to pay full price if you wait until late June or early July to file.
TurboTax's interview-style preparation process is extremely intuitive, demystifying tax issues for novice filers. TurboTax also has a clean, mobile-friendly layout and a great mobile app, not to mention excellent customer support and a dynamic, user-supported knowledge base.
I've been using TurboTax on and off to prepare my taxes for years. My experience hasn't always been pleasant.
The low point was the 2014 tax year, when a slew of glitches significantly lengthened my prep time. Had 2014 been my first year on the TurboTax bandwagon, I would have struggled far more than I did – and may well have chosen to go with a different program. I won't go into great detail about the issues I encountered, but the two most serious could plausibly have caused data loss (though they didn't): HTML errors when attempting to upgrade and random sign-outs while actively working on my return.
Federal Filing
Back to the good stuff. One of my favorite things about TurboTax is the ability to import prior-year returns from any tax prep service, as long as the return is in PDF format. TurboTax has long been a leader in this respect, with competitors – namely H&R Block – struggling to keep up. Needless to say, robust PDF importing capability is hugely helpful for first-time users who can't simply upload a prior TurboTax return.
I also like how TurboTax eases you into the interface with helpful pop-up windows that explain key features of the platform, such as the help bar and internal navigation tools. TurboTax has consistently been (and continues to be) among the most user-friendly tax prep programs I've used.
When the system is operating smoothly, TurboTax's prep interface is blissfully easy to navigate. Its questions are more pointed and easy to understand than H&R Block's, and the platform rarely presents confusing or vague information. At the beginning of each section, TurboTax takes care to call out "less common" situations and forms, subtly directing you towards items that are more likely to apply.
The platform also places "Learn More" buttons next to items that may require explanations, such as schedules and types of income. Clicking on the button creates a pop-up window that explains the topic in detail – a somewhat less confusing solution than H&R Block's searchable popup help windows. For filers in a rush, this is a time-saving alternative to searching the knowledge base.
I also like that TurboTax waits until you're done with state taxes to review everything. This is a marginal time-saver relative to H&R Block's federal-only and state-only reviews. However, I've noticed at times that when I attempt to move backward in my federal return to check something manually, I'm stymied by an HTML error. This has happened sporadically for several years, even after the 2014 nadir.
Finally, I'll note that TurboTax Live – first introduced in the 2017 tax year – is a huge help for filers with complicated situations. Expect TurboTax Live to add $50 to $80 to your federal tax prep costs, a substantial discount to the cost of filing with a CPA.
State Filing
As with H&R Block, TurboTax automatically transfers all the information from your federal return to your state return. The process for adding a second state, if necessary, is slightly more cumbersome as you have to navigate an additional drop-down menu. But that's a pretty minor issue that most taxpayers (being single-state filers) won't have to worry about.
I do like that TurboTax follows your state return(s) by reviewing the entire package and assessing your audit risk with a handy thermometer graphic. This part of the process does come with a pitch for the MAX Benefits package, an optional add-on that costs about $50 and includes audit defense, among other perks.
TurboTax is nothing if not thorough. The first time I ran this comparison, I was impressed that TurboTax affirmatively asked how I preferred to pay my taxes and file my returns, and that I was given a choice of which returns to file. Though this thoroughness does lengthen the process of filing taxes, it's a tradeoff I'm willing to make.
Advantages of TurboTax
Here's what TurboTax has going for it.
Extremely User-Friendly. TurboTax is the most user-friendly of these three programs. Its design and aesthetic are intuitive and easy on the eyes, unlike the more cluttered, less intuitive TaxAct. Its questions are both simply worded and logical, whereas H&R Block's interview questions and explanations can be confusing. And in addition to offering a powerful app, TurboTax's regular version is very mobile-friendly. That's good news for taxpayers who prefer to prepare their returns on tablet or 2-in-1 devices.
Impressive Importing Capabilities. TurboTax lets you import your prior year's tax return and supported forms from any other online tax prep system, as long as you can convert the return to PDF format beforehand. Though H&R Block now has this capability, TurboTax gets points for being first.
Good Customer Service and Help Functions. TurboTax has some useful support features, including a customer service hotline with extensive hours and a comprehensive knowledge base. I've referred to TurboTax's knowledge base more times than I can count, and have almost always had my questions answered to my satisfaction.
Disadvantages of TurboTax
TurboTax does have some warts.
Plans Are Pricey. Though it's arguably the easiest to use (bugs notwithstanding), TurboTax is the highest-priced option of the three. For filers without razor-thin budgets, TurboTax's other features may outweigh its steep price tag, but it could be disqualifying for more cost-conscious folks.
Lots of Apparent Bugs in the System. My personal TurboTax experience has involved some annoying bugs and functionality issues in recent years, which is surprising given that I'd used it with no problems prior to the 2014 tax year. While it's impossible to know for sure how others experience the platform, my experience could well have been representative. By contrast, I've never had any serious functionality issues with H&R Block or TaxAct.
Low-Priced Plans Only Good for Straightforward Tax Situations. Like H&R Block, TurboTax's lower-priced plans are only ideal for filers with simple tax situations. If you have capital gains income, you need to upgrade to the Premier plan. Self-employed people need to purchase the Self-Employed plan, which costs at least $90.
Verdict
4.2 out of 5 stars: As my go-to tax filing program for years, TurboTax has built up a lot of goodwill with me. Unfortunately, the program has performed unevenly since 2014, presenting occasional bugs and functionality issues that tested my patience – though I've noticed a definite improvement since the 2016 tax year. Nevertheless, TurboTax is significantly more expensive than H&R Block or TaxAct. Though its free plan has grown more robust in the past couple years, it's still lacking.
That said, you do get what you pay for: an intuitive interview process, a great (and mobile-friendly) layout, and lots of support. It's nice to be able to import from so many sources too. TurboTax is therefore ideal for novice tax filers as well as more experienced filers for whom affordability isn't a top concern.
See our full TurboTax Review for a complete analysis.
Sizing Up the Best Tax Software Programs: TaxAct
And, finally, TaxAct.
Plans & Pricing
Pricing is subject to change, depending on when you file. Lower prices denote early-season discounts that may disappear at any time.
Free Edition: $0 federal and state. For individual filers with simple tax situations (1040EZ only).
Deluxe+: $19.95 to $29.95 federal, $39.95 per state. For moderately complex returns including homeowners and investors.
Premier+: $19.95 to $39.95 federal, $39.95 per state. For most complex situations, save self-employed and solopreneur filers.
Self-Employed: $44.95 to $74.95 federal, $39.95 per state. Same functionality as Freelancer package with audit defense and other perks.
State Return Fees: $39.95 for higher-priced plans.
Cost to Pay for Service With Your Refund: $20 or less (subject to change).
My Bottom Line
Time Spent Preparing: 115 minutes
Version Used: Self-Employed. In the past, I've used the Free version, but recent updates have rendered it unsuitable for situations as complex as mine. This raised the overall cost of filing, but it's nice not to have to upgrade midstream.
Total Cost: $84.90 (would be $114.90 at full price).
I hadn't used TaxAct before the 2014 tax year, so I didn't know what to expect when I first started running these comparisons. All in all, I was pleasantly surprised my first time through, and my appreciation for TaxAct has grown in subsequent years.
That said, TaxAct has changed more than TurboTax or H&R Block since I became acquainted with it, so returning each year has been something of an adventure. The most noticeable change is the platform's fee structure. TaxAct's prep fees have risen dramatically since the early 2010s. In 2014, I was able to prepare my federal taxes for free with TaxAct, despite a complex situation that included substantial self-employment income. Those days are long over, though TaxAct remains relatively cheap compared with TurboTax and Block.
TaxAct uses interview-style questions, but the interface is more exhaustive and less responsive to user answers than TurboTax's or Block's. (The system may ask you questions about specific situations that don't apply to you, based on previous answers, whereas TurboTax and H&R Block seem to learn better from earlier responses.)
By covering just about every topic that could apply to you, TaxAct can be tedious and time-consuming. However, the program has gotten better since I've been using it. My TaxAct time investment for the 2016, 2017, 2018, and 2019 tax years wasn't too much greater than with TurboTax or Block.
It's worth reiterating just how much stingier TaxAct's free version has grown, even as TurboTax and H&R Block have upped their free tax prep games. TaxAct's free version once supported the vast majority of available tax forms and schedules, meaning it was appropriate for virtually any non-business situation. Today, it's only appropriate for simple situations. This probably isn't a dealbreaker, as TaxAct's most expensive consumer version is cheap relative to the competition, but it's still frustrating for those accustomed to ultra-low-cost tax prep.
Federal Filing
Beginning in the 2017 tax year, I've had to use TaxAct's most expensive plan – I haven't even bothered starting with the Free version.
Though I'm still miffed that a prep program that cost next to nothing in 2014 now costs just slightly less than "full-service" competitors like H&R Block and TurboTax, it's heartening to see how much more user-friendly TaxAct has become.
For instance, prior to the 2016 tax year, TaxAct underwent a cosmetic overhaul that improved overall readability, especially on small screens. Though I'm not quite ready to use TaxAct on my smartphone, I'd certainly consider using it on a tablet.
TaxAct has long had some free or low-cost features designed to simplify and streamline the tax prep process. For instance, early-bird filers can lock in their pricing at the beginning of tax season, even if TaxAct raises its prices in the interim. The at-a-glance help feature gives you real-time advice and commentary from tax experts as you work through your tax return. The bookmark feature lets you flag interview questions for review at a later time. And it's easier than ever to call up prior-year tax returns – a service that previously cost $13 per filing year.
State Filing
TaxAct's state return section is similar to the other two services', with automatically imported information and thorough, state-specific questions. (As with the federal return, sometimes it's sometimes too thorough.) It starts immediately after you finish your federal return, though you're free to leave it for later.
Like TurboTax, TaxAct waits until all your returns have been completed to review them for accuracy, saving some time. However, the review process is more complicated than TurboTax's and H&R Block's, with different alert levels (red, yellow, and green) that identify issues of varying severity. TaxAct uses these alerts to assess your overall audit risk, though it doesn't display this risk in a handy graphic like TurboTax.
You can also skip the alerts altogether if you're confident you've kept everything aboveboard – a nice perk for seasoned filers who know what they're doing. One drawback here is that there's no easy way to run your completed return by a professional tax preparer. Both H&R Block and TurboTax now offer that option.
Once you pay for TaxAct's prep services, the platform takes care of your refund or tax payments, walking you through how to prepare for next year's taxes (including introducing its Donation Assistant app, which can help you track and quantify non-cash charitable donations throughout the year). Donation Assistant is a genuinely helpful tool when used properly, but my personal feeling is that this part of the process drags on too much. That's not ideal when the end is in sight.
Advantages of TaxAct
Here's what TaxAct has going for it.
Low Cost. TaxAct is the cheapest of the three services reviewed here. I have a complex tax situation, but I was able to walk away from my most recent filing without spending more than $84.90 (though that would have been $114.90 had I waited until later in the season to file). That's less than I spent for tax prep with H&R Block and TurboTax. Again, TaxAct has gotten more expensive in recent years, but it's still the cheapest option on this list.
Price Lock Guarantee. TaxAct offers a price lock guarantee to all customers at sign-up. Once you create your account, you're locked into TaxAct's pricing at that moment, even if you leave your return for months and TaxAct raises prices during the intervening period. Since tax prep companies frequently raise prices close to the filing deadline, this is great news for frugal filers. One caveat: TaxAct's first price lock step-up happened extremely early in 2019 (for the 2018 tax year), on January 29. Another step-up occurred in mid-March. It's likely that the 2019 tax year will play out in similar fashion.
Useful Apps Help You Keep Track of Important Forms and Records. TaxAct has useful tools that help keep track of receipts, bills, tax forms, and other necessary documentation that you may need to complete your return. You can add photographic records to a secure, mobile-accessible storage area throughout the year, potentially eliminating the need to file away tax-related papers for reference at tax time. Use a separate app to calculate the fair value of non-cash charitable donations, a potentially lifesaving tool for filers who donate vehicles, furniture, or other valuable items. In the past, I've had to scour the Internet for fair value charts from reputable sources without any clear guarantee that they're accurate.
Disadvantages of TaxAct
TaxAct does have some drawbacks.
Limited Customer Support. TaxAct has a helpful knowledge base and a basic customer support framework, but it lacks the robust professional support of H&R Block and TurboTax, not to mention the dynamic, user-supported knowledge base of TurboTax. (TaxAct's knowledge base is actually really confusing and anachronistic, though it hasn't given me problems serious enough to warrant a separate call-out here.) Professional and user support resources are useful for inexperienced filers and those with newly complicated tax situations, such as itemized deductions or business tax credits.
Increasingly Expensive. TaxAct used to be the gold standard for free tax prep software. It's still cheaper than top-shelf competitors, including TurboTax and H&R Block, but the gap has narrowed considerably in recent years. In the 2014 tax year, I filed my federal and state taxes for $12.95 out the door. My 2019 taxes cost nearly seven times that amount.
More Time-Consuming. When I first started using TaxAct, it took me more than half an hour longer to work through than either H&R Block or TurboTax. My process was lengthier primarily because TaxAct wasn't as good at intuiting my situation. Instead of asking questions specific to my needs, it asked me about pretty much anything that could possibly be relevant. The program has gotten better in recent years, and I've therefore been able to cut down my prep time significantly, but it still took about 15 minutes longer than either competitor on the most recent comparison run.
Verdict
4.3 out of 5 stars: I was pleasantly surprised by my first experience with TaxAct, and that sentiment has largely held up since. It has always been my cheapest option, and its functionality has improved significantly over the years, such that it's nearly (but not quite) on par with TurboTax and H&R Block.
That said, my TaxAct return has consistently taken longer than my TurboTax and H&R Block returns. I'm still not super impressed with the support infrastructure, though I'm grateful that tax audit defense no longer costs an arm and a leg – just $10 when you upgrade to the Premium plan. I did lower TaxAct's score a couple ticks for the 2017 tax year due to the price increase, and the rating remains the same for 2019. Simply put, TaxAct is no longer the best game in town for ultra-frugal filers.
In general, TaxAct is ideal for somewhat more experienced filers who don't mind exchanging time for money. Though its interface has gotten more user-friendly since I started using it regularly, I still wouldn't recommend TaxAct to first-timers.
See our full TaxAct Review for more a complete analysis.
Final Word
TurboTax, TaxAct, and H&R Block might be three of the most popular online tax software options, but they're not the only ones out there. A bevy of other options exist, from relatively well-known providers like TaxSlayer and eSmart Tax, to lesser-known options like Circle CPA and FreeTaxUSA.
And the federal government can help as well with free tax preparation options, thanks to the Free File Alliance (a consortium of about a dozen tax prep companies that offer free filing services to filers who meet certain income and residency criteria) and Free Fillable Forms, which are available to filers regardless of income or residency.
The point is, there are plenty of tax preparation options besides these three. Depending on your tax situation, you might find one that's easier, faster, or simply less stressful to use.
One last plug: If you don't want to face a potentially hefty processing charge to pay your tax prep fees with your tax refund, but don't want to pay out of pocket right then and there, consider using a rewards credit card to pick up the tab. As long as you stay within your card's spending limit and pay your balance in full by the statement due date, you'll avoid processing fees and earn a small return on your outlay. Check out our roundups of the best cash back credit cards and best travel rewards credit cards for ideas.
Published at Wed, 25 Nov 2020 19:00:52 +0000