Deliveroo shares drop 30% on stock market debut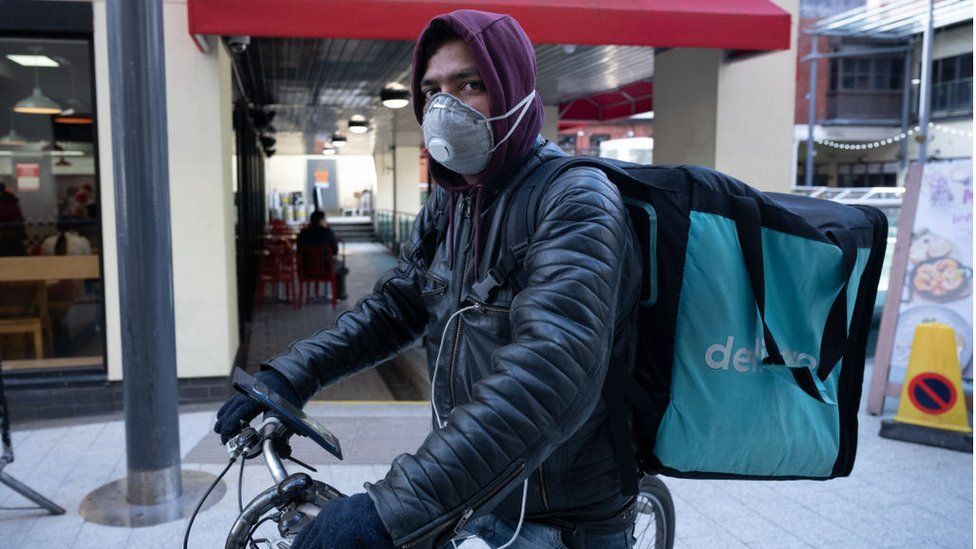 Deliveroo shares have plummeted on its stock market debut after a number of major UK investors expressed concerns about its gig economy worker model.
Shares in the food delivery business had been offered to investors at 390p each, but dived in early London trading to 275p at one stage, a 30% fall.
The company had initially hoped for a share price of up to 460p.
Shares later recovered some earlier losses to trade down about 11%.
Deliveroo, which has not yet made a profit, said it had chosen the lower price due to "volatile" market conditions.
The investors were put off by factors including the working conditions of its riders and a lack of investor power over the direction of the company.
They include some of the UK's biggest investment fund managers, including Aberdeen Standard, Aviva Investors, BMO Global, charity fund manager CCLA, Legal and General Investment Management and M&G.
Another reason they refused to invest was that founder Will Shu will have shares that gave him 20-times the voting power of other investors.
'Tech success'
Deliveroo's self-employed drivers have seen a boom in demand during the Covid-19 pandemic, bringing food from restaurants to housebound customers.
Deliveroo's planned share sale had attracted much attention as it is one of the UK's biggest flotations since Glencore's in May 2011 and also the biggest technology platform float on the London Stock Exchange.
Chancellor Rishi Sunak said in March the listing of the Amazon-backed company was a "true British tech success story" that could clear the way for more initial public offerings by fast-growing technology firms.
A share flotation sees the wider investment community assess the value of a company.
Initially, Deliveroo hoped to see that value as high as £8.8bn, based on a share price of 390-460p. It scaled that back to £7.6bn, but the share price drop wiped £2.28bn off that.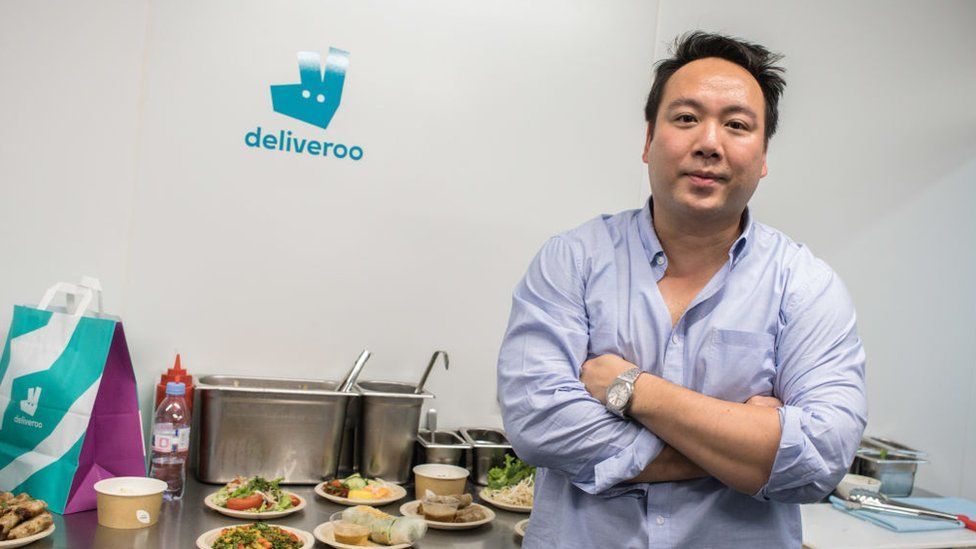 Chief executive Will Shu said: "I am very proud that Deliveroo is going public in London – our home.
"As we reach this milestone I want to thank everyone who has helped to build Deliveroo into the company it is today – in particular our restaurants and grocers, riders and customers.
"In this next phase of our journey as a public company we will continue to invest in the innovations that help restaurants and grocers to grow their businesses, to bring customers more choice than ever before, and to provide riders with more work."
'Plain mis-priced'
Sophie Lund-Yates, equity analyst at Hargreaves Lansdown, said the biggest concern from investors was about worker rights: "The flexible employee model of Deliveroo's riders is a huge pillar of the group's plans for success.
"If forced to offer more traditional employee benefits, like company pension contributions, Deliveroo's already thin margins would struggle to climb, and the road to profitability would look very tough indeed."
She said it was difficult to value the firm as it had yet to turn a profit.
Neil Wilson, chief market analyst for Markets.com, said that "even pricing the initial public offering at the bottom of the range, Deliveroo was demanding too high a price tag for a loss-making delivery platform in a very competitive space with a questionable path to profitability.
"The books were covered, it was just plain mis-priced."
AJ Bell investment director Russ Mould said the backlash by fund managers "is likely to have spooked a lot of people who applied for shares in the initial public offering, meaning they are racing to dump them".
The initial public offering was made to institutional investors and Deliveroo customers were able to register their interest.
Share trading is currently conditional, meaning the initial public offering can be cancelled. Trading is expected to become unconditional on 7 April.
Published at Wed, 31 Mar 2021 10:22:15 +0000