Covid: All over-50s in UK to be offered vaccine by May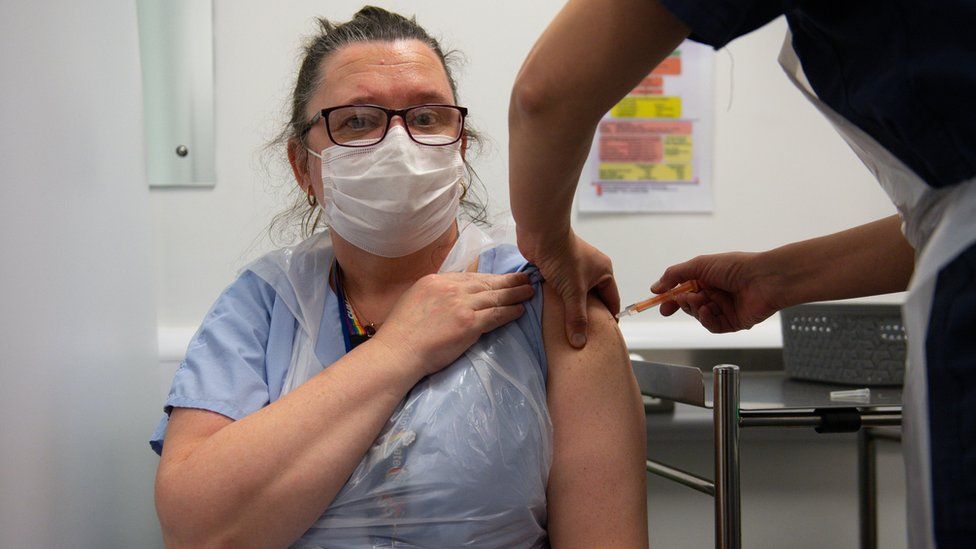 All adults aged 50 and over should have been offered a coronavirus vaccine by May, Downing Street has confirmed.
Previously ministers had said it was their "ambition" to vaccinate the first nine priority groups by the spring.
The UK had given a first jab to nearly 11 million people as of Thursday and is aiming to reach 15 million vaccinations by 15 February.
Health Secretary Matt Hancock said a lot of things would "have to go right" to hit the May target for all over-50s.
He said supply was the "most difficult" limiting factor in the roll out.
But he said the government was on track to vaccinate the first four priority groups by the middle of the month, these include the over-70s, frontline health and care workers and the clinically extremely vulnerable.
Covid vaccines extremely safe, finds UK regulator
Five reasons to be (cautiously) hopeful on Covid
How many people have been vaccinated so far?
The top nine priority vaccination groups – which are set by the Joint Committee on Vaccination and Immunisation (JCVI) – also includes people aged 16 to 64 with underlying health conditions.
Mr Hancock also said it was "still too early to say" when restrictions could be lifted and warned the health service was still under pressure.
But Mark Harper, chairman of the Covid Recovery Group made up of Conservative MPs who want lockdown to be eased, said it would be "almost impossible to justify having any restrictions in place" once the over-50s had been vaccinated.
Prof Graham Medley, who is a member of the Scientific Advisory Group for Emergencies, earlier said the government should avoid "setting dates" for lifting lockdown and focus on criteria, such as case rates, rather than a calendar.
A further 1,014 deaths within 28 days of a positive test were reported on Friday, taking the total by that measure to 111,264.
There have been 19,114 more positive cases of coronavirus recorded, while another 480,560 people received their first dose of a vaccine – taking the total to 10,971,047 across the UK.
Coronavirus cases are showing clear signs of falling across the UK, the latest figures suggest, and the R number – the average number of people that someone with Covid will go on to infect – has dropped slightly to between 0.7 and 1.


LOOK-UP TOOL: How many cases in your area?
LOCKDOWN RULES: What are they and when will they end?
SCHOOLS: When will they reopen?
OXFORD JAB: What is the Oxford-AstraZeneca vaccine?


In a press release confirming May's local elections will go ahead, the Cabinet Office said: "The UK's vaccination programme is planned to have reached all nine priority cohorts by May, meaning that the government can commit to go ahead with these polls with confidence."
The prime minister's spokesman said Boris Johnson would set out a "precise timeline" for vaccinations when he published the government's roadmap for lifting lockdown restrictions in England on 16 February.
BBC health correspondent Nick Triggle said while the NHS has the staff, volunteers and clinics needed to vaccinate the 15 million people in the next priority groups vaccine production is a biological process so there are no guarantees about how much can be grown.
But our correspondent said there is growing confidence in the UK supply chain, with the bulk of supplies now coming from UK-based plants, while the first batches of the Moderna vaccine – of which the UK has ordered 17 million doses – will start to arrive before Easter.


Analysis
By Rachel Schraer, BBC health correspondent
So far, the falls in Covid cases and hospital admissions (about a fifth in a week respectively) are pretty much exclusively down to the effects of lockdown restrictions.
But soon, we'll start to see the impact of vaccination too – and we will expect to see more good news, particularly falls in deaths which are heavily concentrated in the over-80s.
While deaths mainly occur in the over-80s, about 20% of hospital admissions are in 45-64-year-olds and another 20% in 65 to 74-year-olds. The latest commitment to vaccinate all over 50s could have a massive impact on severe illness and the strain it puts on the health service, too.
But the situation will remain precarious for a while. Cases, though falling, are still high – and despite a so-far successful vaccination campaign, large swathes of the country may still be unprotected come spring.
Though much rarer, a proportion of younger, healthy people will end up in hospital with Covid, and we're only just beginning to learn about the burden of long Covid on the previously well young.
So once the groups at highest risk of ending up in hospital and dying have been vaccinated, the government will face difficult questions about what level of risk it is willing to stomach to ease restrictions, while a prolonged lockdown carries its own risks that might be currently difficult to measure.


The UK's drugs regulator, the MHRA, said the vaccines being distributed in the country were extremely safe, while new research shows the AstraZeneca jab protects well against the new "Kent" variant of Covid.
Earlier on Friday, the government also announced a deal with biopharmaceutical company CureVac, which Business Secretary Kwasi Kwarteng said would allow the UK to "swiftly tweak and roll out" existing vaccines to combat new variants, with 50 million doses placed in an initial order for later this year.
The government also said no contracts had yet been awarded to hotels to take part in England's new quarantine scheme, which will see all those arriving from 33 Covid hotspots have to stay in a hotel for 10 nights.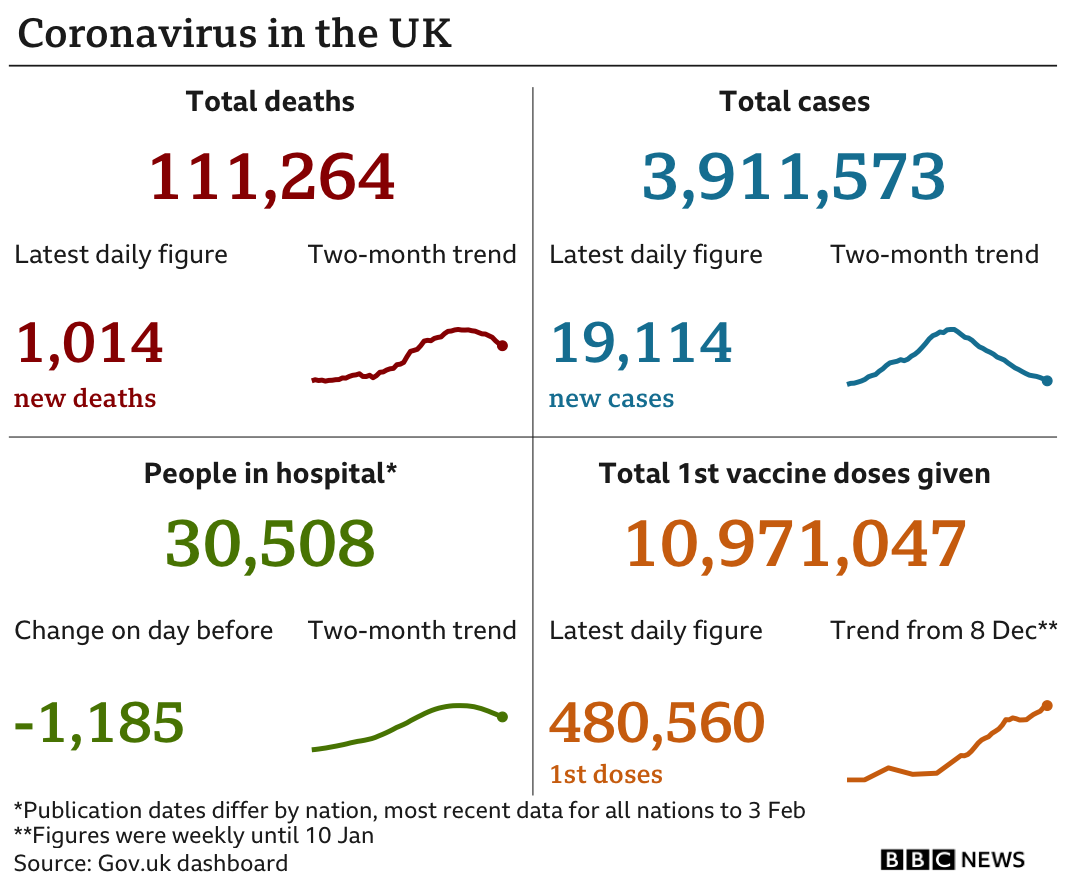 CHINA AND THE PANDEMIC: The gulf between what Chinese officials knew and what they told the world…
KATIE PRICE: HARVEY AND ME: A deeply personal film following Katie Price and her disabled son Harvey in a crucial year of his life

Published at Fri, 05 Feb 2021 18:46:32 +0000