GameStop investor battle moves on to silver as prices surge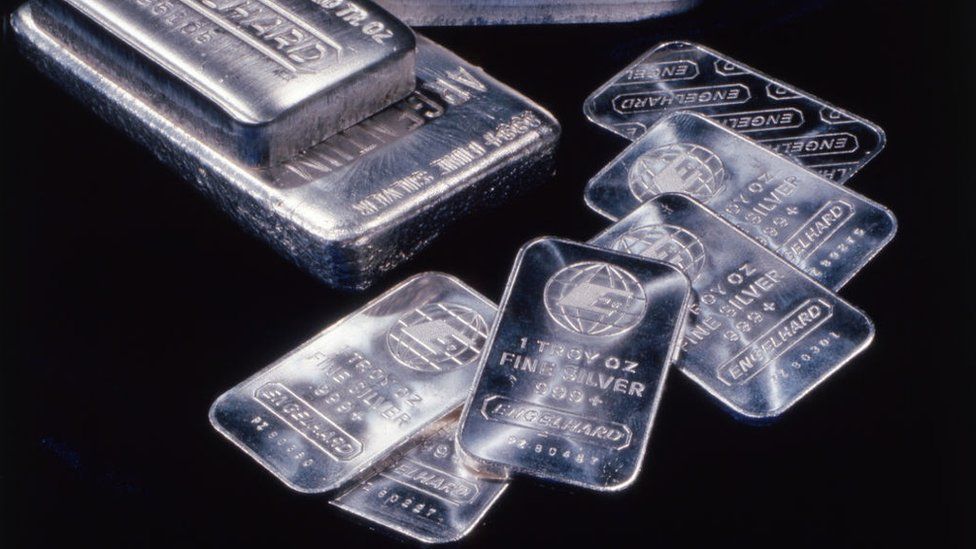 Silver prices have hit an a eight-year high after calls to buy the metal on social media sparked a trading frenzy.
It comes a week after amateur investors piled into shares in the games retailer GameStop, causing them to jump 700%.
On Monday silver rose by as much as 11% to $30 an ounce, while shares in some mining firms were up as much as 60%.
Small time traders swapping tips on Reddit are thought to be behind the trend, as they seek to drive prices up.
However, some users of the site dispute this, alleging the "Silver Squeeze" is secretly being coordinated by big Wall Street firms.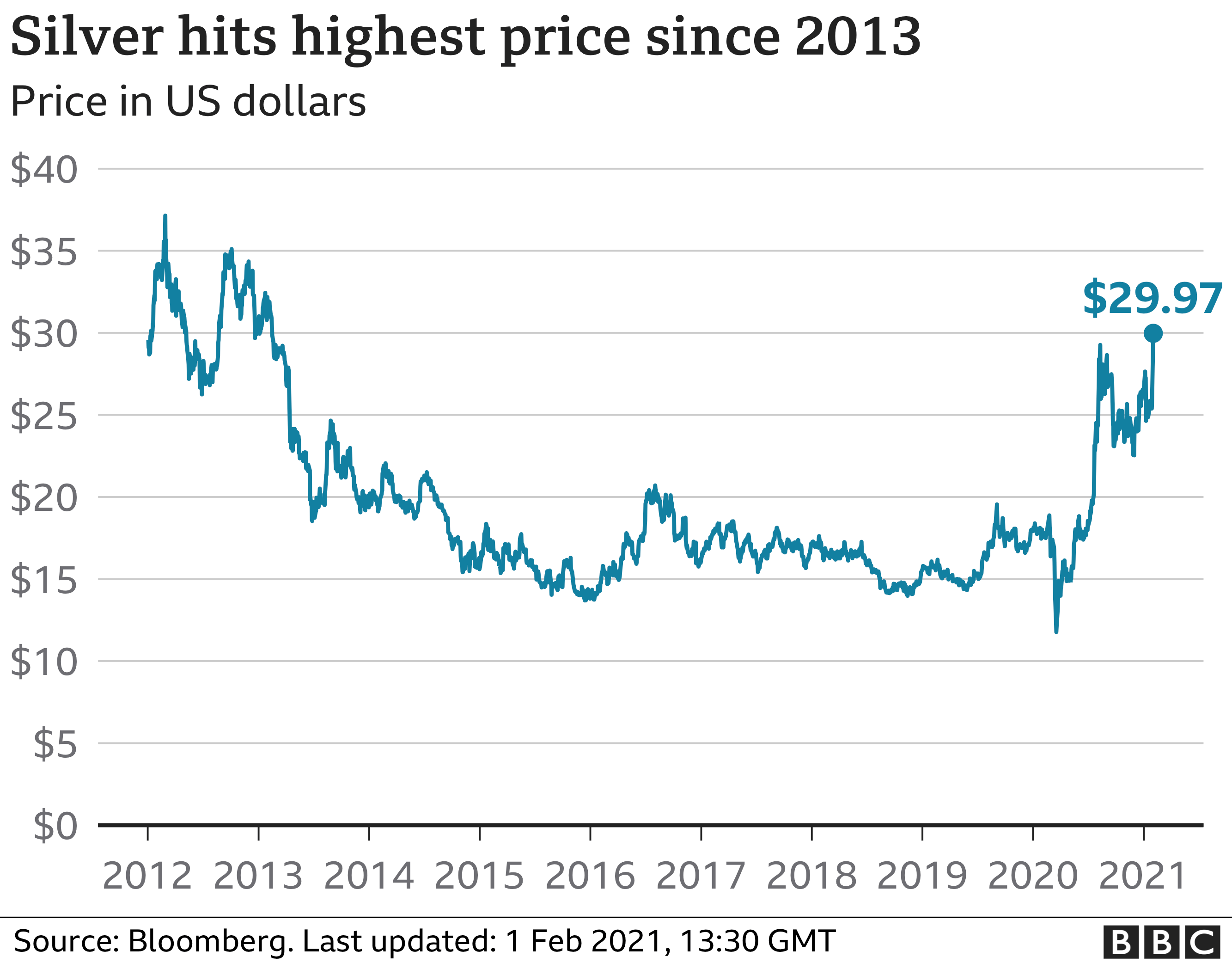 What is going on?
It is the latest example of apparently small-time traders taking on big Wall Street hedge funds that hope to profit when the price of an asset or stock falls, but could lose heavily if it rises.
Tips posted on social media sites like Reddit say these so called "short sellers" are manipulating the markets.
And so the amateurs buy up the stocks or assets, driving up the price and inflicting losses on the big players.
It began in January when amateurs piled into loss-making retailer GameStop and other companies such as AMC and Blackberry.
Now the battle appears to have moved on to silver – a far bigger market.
What's being said to stoke the speculation?
The amateurs have clearly been successful so far, with silver prices up 20% since Wednesday, when messages began circulating on Reddit forums, encouraging users to buy the metal.
Coin-selling websites say they are now seeing unprecedented demand and delays in delivering silver.
Reflecting the attitude of many of those swapping tips on the site, one user called RocketBoomGo urged fellow traders to "think about the Gainz" in a widely circulated post.
"If you don't care about the gains, think about the banks like JP Morgan you'd be destroying along the way," they added.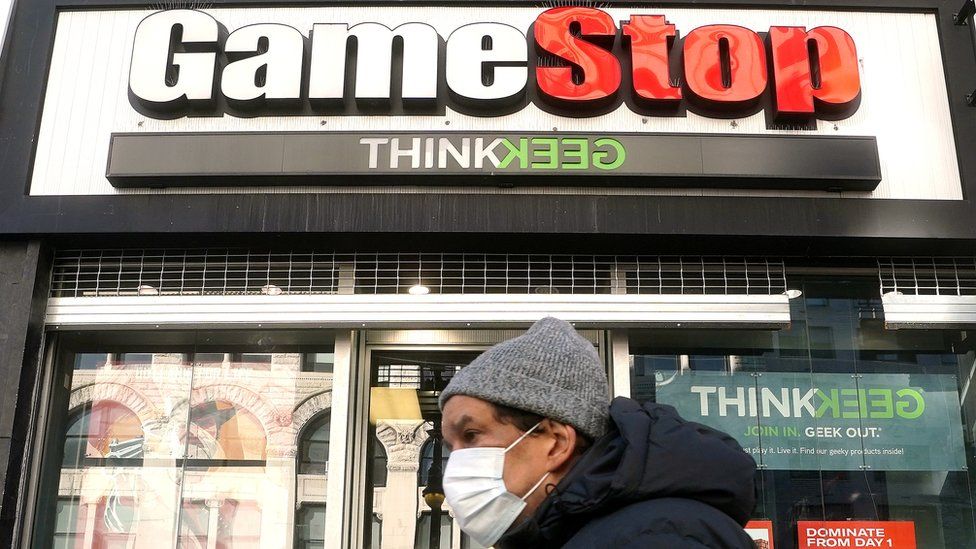 Such users have alleged that the silver market is being manipulated by Wall Street firms, which justifies their actions.
Hussein Sayed, chief market strategist at FXTM, said that amateur investors would find it much harder to influence the price of silver than they did with GameStop.
For one thing, the total value of silver being traded is around $1.4-$1.6 trillion, he said, which is 1,000 times the total value of GameStop's share capital, which was $1.5bn before it became the target of speculation.
A large proportion of the silver market also exists "off-exchange", meaning it can't be bought and sold as easily online.




The army of small investors will have enlisted for different reasons.
Some will hope to profit from getting in early and starting a wave of others doing the same, ride it for a bit before getting off the wave and letting it crash after they've taken their profits.
Others will see something going up and think the sky's the limit to this – still plenty of time for me to profit too.
And others will think – I don't really care if I lose a few bucks, sticking it to the man is the name of the game.
The first group will have made money and indeed may be being infiltrated right now by the very professionals they hoped to beat.
The second group will end up poorer and unhappy about it.
The third may end up poorer but don't care – they have made a telling political point.


"Retail traders who are just following the herd and join the party late may accumulate huge losses and need to be more rational in their decisions," Mr Sayed added.
Are the Wall Street giants on the ropes?
Despite what some retail traders had hoped, some of the biggest profiteers from last week's market action were said to be Wall Street giants such as asset manager BlackRock and the private equity firm Silver Lake.
However, other big investors have been hammered by the trading frenzy.
Hedge fund Melvin Capital – which bet heavily that shares in GameStop would fall – lost 53% of its value towards the end of January, according to media reports.
The firm has since received commitments for fresh cash from investors, leaving it with around $8bn (£5.8bn) in assets, but that is still down from $12.5bn at the beginning of 2021, according to Reuters.
Regulators say they are monitoring the trend, while trading platforms have imposed restrictions on shares in GameStop and other companies caught up in the buying frenzy.
It sparked anger among amateur traders, who say they are just playing Wall Street at its own game, and several prominent US politicians and the billionaire Elon Musk have voiced their support.

Are you an amateur investor who has bought silver in the last few days? Get in touch and let us know what motivated you. Email haveyoursay@bbc.co.uk.
Please include a contact number if you are willing to speak to a BBC journalist. You can also get in touch in the following ways:
If you are reading this page and can't see the form you will need to visit the mobile version of the BBC website to submit your question or comment or you can email us at HaveYourSay@bbc.co.uk. Please include your name, age and location with any submission.
Published at Mon, 01 Feb 2021 15:49:03 +0000