Covid-19: Record day for UK vaccinations as total nears 9m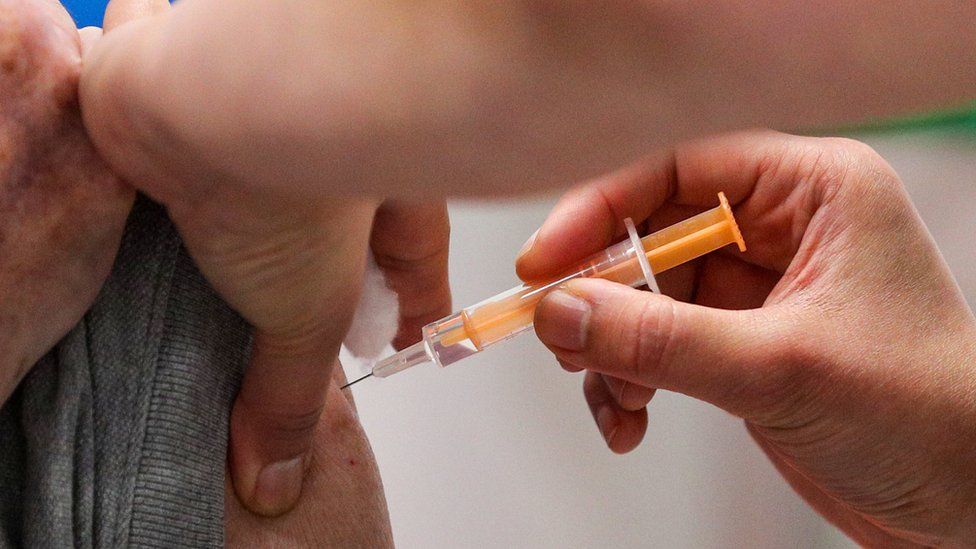 A record 598,389 people were given their first coronavirus vaccination in one day across the UK on Saturday, government figures show.
As of Saturday a total of 8,977,329 people had received a jab, and 491,053 of those have had a second dose.
Health Secretary Matt Hancock said he was "delighted", adding each vaccine "brings us one step closer to normal".
However, a further 587 deaths within 28 days of a positive Covid test were reported on Sunday.
It takes the UK's total by that measure to 106,158, although the number of reported deaths tends to be lower over the weekend.
How the vaccine will reach your arm
'Lessons to be learnt' from vaccine row – Irish PM
The vaccines that work – and the others on the way
In a video posted on Twitter Mr Hancock said he was "so grateful to everybody who's involved in making this happen", and said it meant three-quarters of those aged 75 to 79 and four-fifths of those over 80 had now been vaccinated.
Sir Jeremy Farrar, director of the Wellcome Trust and a member of the government's Scientific Advisory Group for Emergencies (Sage), described the volume of vaccinations as a "staggering achievement".


TESTING: How do I get a virus test?
SYMPTOMS: What are they and how to guard against them?
LOOK-UP TOOL: How many cases in your area?
GLOBAL SPREAD: How many worldwide cases are there?


Earlier, the health secretary predicted "a happy and free Great British summer" but warned of a "a tough few months" as national restrictions continue across the UK while vaccinations are administered.
His comments came after Dr Susan Hopkins, Public Health England's Covid strategy chief, warned that ending the current coronavirus lockdown must happen "very slowly, very cautiously".
"It is better to be cautious, let's get the population vaccinated," she told the BBC's Andrew Marr.
England's current lockdown will continue until 8 March, when it is hoped schools could begin to reopen, while national restrictions are also in place across Wales, Scotland and Northern Ireland.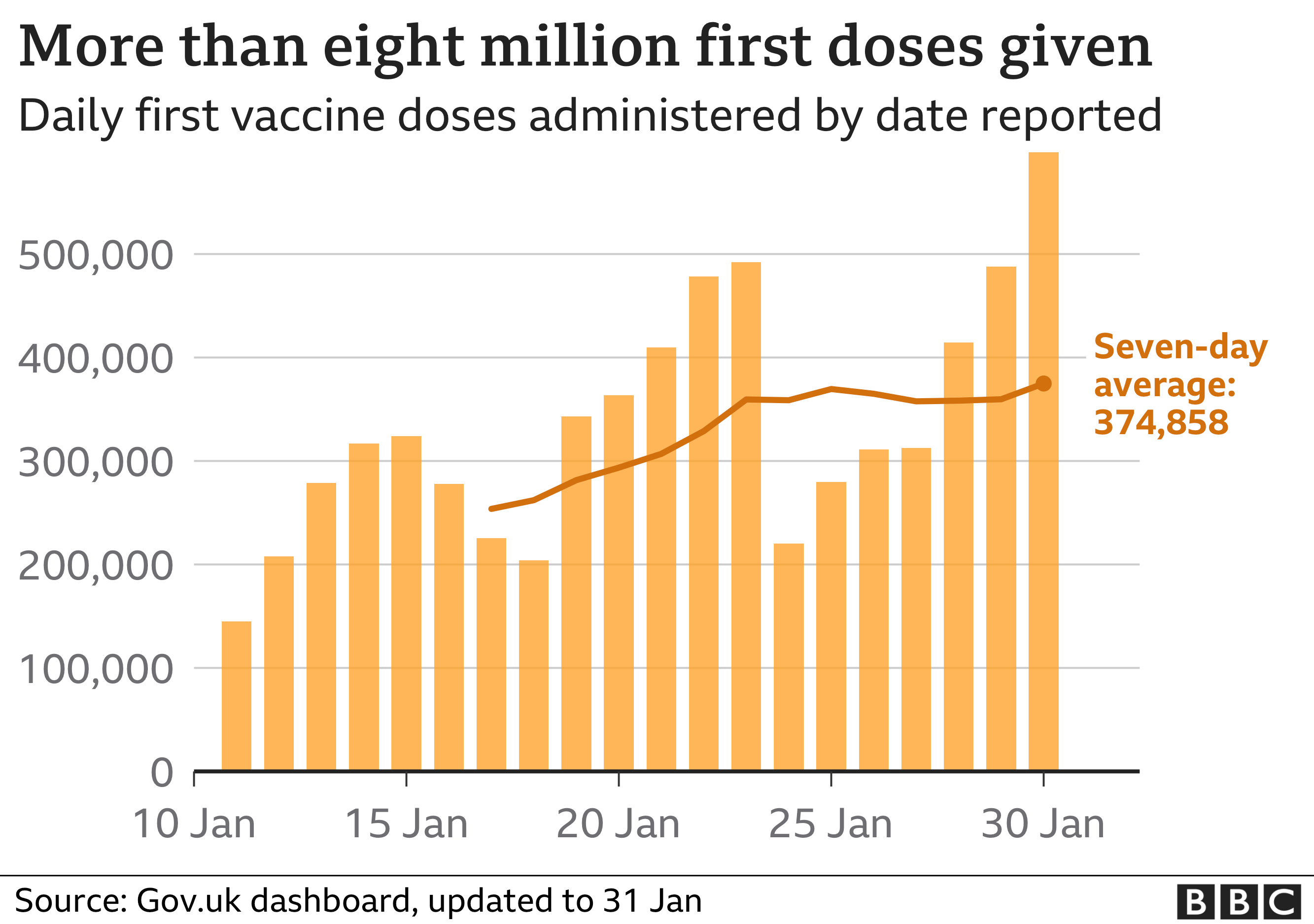 The vaccines record comes after a week which had seen a row with the European Union over vaccine distribution.
Taoiseach Micheál Martin said there were "a lot of lessons to be learnt" after Brussels reversed its threat to put checks on the Irish border – a move which had been widely condemned.
International Trade Secretary Liz Truss said the president of the European Commission Ursula von der Leyen had assured Prime Minister Boris Johnson that "there will be no disruption of contracts that we have with any producer in the EU".
Meanwhile, the situation in hospitals has "stabilised", according to intensive care doctor Prof Rupert Pearse, who said it was going to be "another very hard year" for NHS staff.
His comments came before it was announced that charity fundraiser Captain Sir Tom Moore, 100, had been admitted to hospital with coronavirus.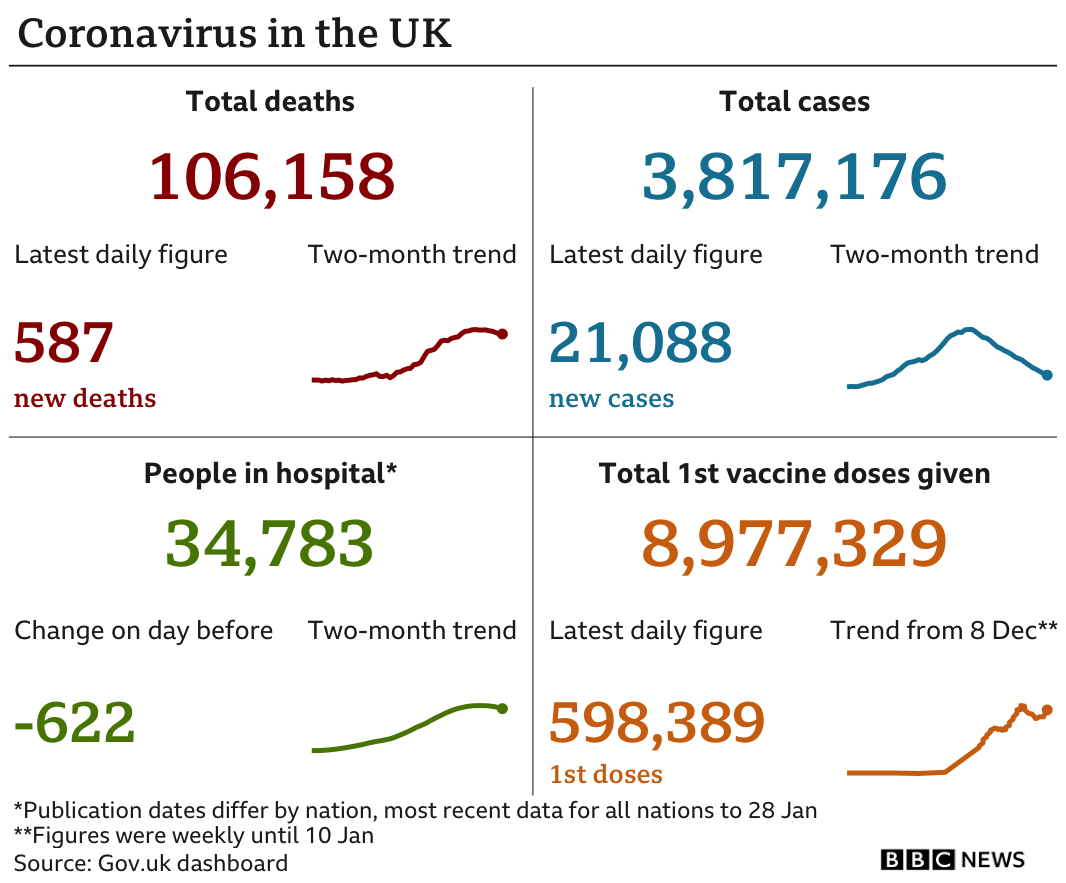 NEWSCAST: A row has erupted between the EU and drugs company AstraZeneca over vaccine shortages. What's happened?
GROUNDED WITH LOUIS THEROUX: Stuck at home, Louis is using lockdown to track down high-profile people he's always longed to chat to…

Published at Sun, 31 Jan 2021 18:30:26 +0000