Covid-19: Scientists challenge 'flawed' lateral flow tests report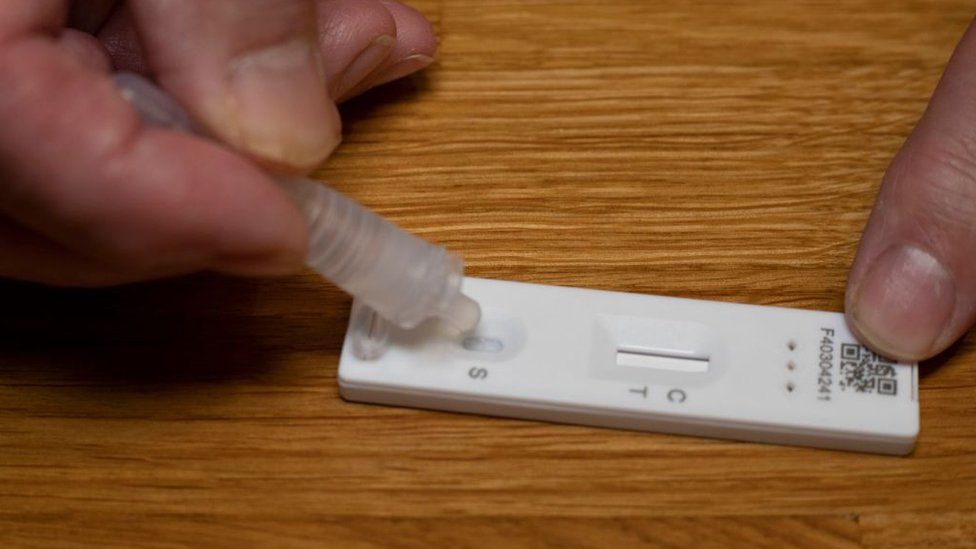 A group of experienced scientists has issued a statement supporting the use of lateral flow tests in the battle against Covid.
They say the rapid devices have identified 27,000 infected people in the UK who would not otherwise have had to self-isolate.
The findings of a recent report suggested the tests were inaccurate and potentially harmful.
But the scientists say that report was flawed and confused.
Signatories to the statement include Prof Calum Semple, professor of outbreak medicine and child health, from the University of Liverpool, Prof Sir John Bell, regius professor of medicine at the University of Oxford, and Dr Susan Hopkins, interim chief medical adviser from Public Health England.
They reject the accusation, in
a report by Prof Jon Deeks, Dr Angela Raffle and Dr Mike Gill on 10 January, that the lateral flow tests (LFT) will cause harm, saying there is no evidence for the "irresponsible" claim.
And they say the tests are fast, easy to use and an essential tool in the current epidemic.
Unfounded criticism
The scientists go on to explain that the report confused the role of PCR tests and lateral flow devices.
PCR tests, which the NHS uses to test people with symptoms and are sent off to a lab for the results, can detect dead virus as well as viable virus.
That means people can test positive for many days after symptoms appear and for weeks after they are capable of passing the virus on to others.
As a result, only a subset of people testing positive with PCR tests are actively infectious.
How worrying are the new coronavirus variants?
School attendance higher than first lockdown
Rapid coronavirus test use defended
How to get a Covid test
Lateral flow tests, however, are designed to detect live virus and only pick up people who are highly infectious. Results are available in 30 minutes.
The Deeks report said a Liverpool pilot of lateral flow tests had "missed infection" in 60% of people – but the scientists say that data has been misinterpreted.
'No gold standard'
Neither PCR or lateral flow is a perfect test, but "treating PCR as a gold standard of infectiousness" is a mistake, they say.
Prof Iain Buchan, who signed the statement and is chair of public health and clinical informatics at the University of Liverpool, said the criticism of lateral flow tests came from people not involved in public health. He added that there was no review carried out of their claims before publication.
He said the controversy over the rapid tests had affected public confidence in them, which was damaging.
The Department for Education in England has paused the rollout of daily testing of close contacts, using LFTs, in all but a small number of secondary schools and colleges.
Prof Buchan said this was to allow time for schools to organise their rollout properly.
"Proper implementation can keep schools going," he said.
In England, lateral flow tests are currently being used by a number of large companies to test their workforce, in secondary schools to test staff and pupils who remain in school, and in more than 300 local authorities for testing people who cannot work from home during the lockdown.


SCHOOLS: What will happen if children catch coronavirus?
TESTING: How do I get a virus test?
LOOK-UP TOOL: How many cases in your area?
THE R NUMBER: What it means and why it matters
TEST AND TRACE: How does it work?


Published at Thu, 21 Jan 2021 16:06:50 +0000