Inflation: Cost of living up despite Covid Christmas curbs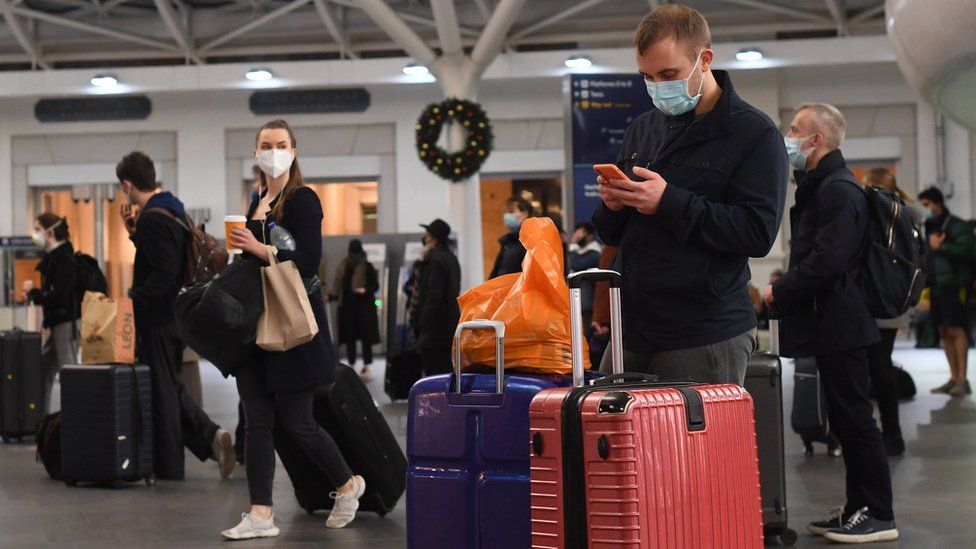 Prices rose at a faster rate in the UK in December, despite Covid curbs that forced non-essential shops to shut.
Consumer Prices Index inflation jumped to 0.6%, from 0.3% in November, pushed higher by rising transport and clothes prices,
Many people rushed to travel and beat Christmas restrictions, forcing up prices.
The rise was slightly higher than many economists' forecasts of 0.5%.


What is inflation?

Inflation is the rate at which the prices for goods and services increase.
It affects everything from mortgages to the cost of our shopping and the price of train tickets.
It's one of the key measures of financial well-being, because it affects what consumers can buy for their money. If there is inflation, money doesn't go as far.


What's the explanation for these figures?
ONS deputy national statistician for economic statistics Jonathan Athow said: "Clothing prices put upward pressure on inflation in December, despite some evidence of continued discounting.
"Transport costs, including air, sea and coach fares, as well as petrol prices, rose as some travel restrictions eased during parts of the month.
"These were partially offset by falling food prices, most notably for vegetables and meat."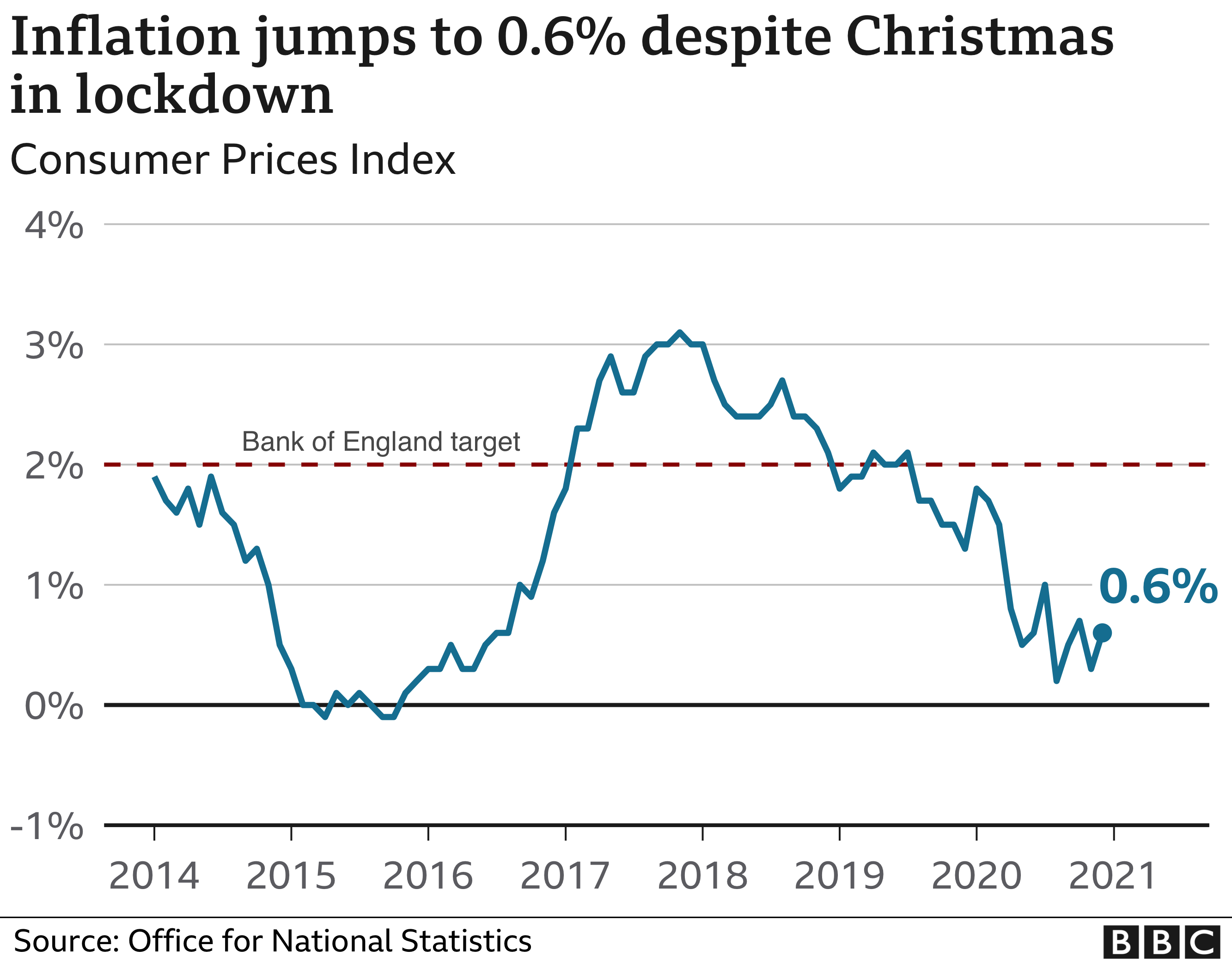 What are the main effects for shoppers?
Statisticians said it was normal for transport costs such as the price of flights to rise at this time of year, but that the rise was bigger than usual.
"Despite the travel restrictions in place in December, prices for air fares followed their usual seasonal pattern, with price increases between November and December 2020, albeit by more than between the same two months in 2019," the ONS said.
The ONS added that clothing prices rose "fractionally" in December, a month in which they usually tend to fall because of sales.
Price increases for items such as children's toys, computer games and consoles – which fall under the category of "recreation and culture" – also helped push the cost of living higher in December.
Food and non-alcoholic drinks were the main things that were cheaper last month, particularly vegetables, the ONS said.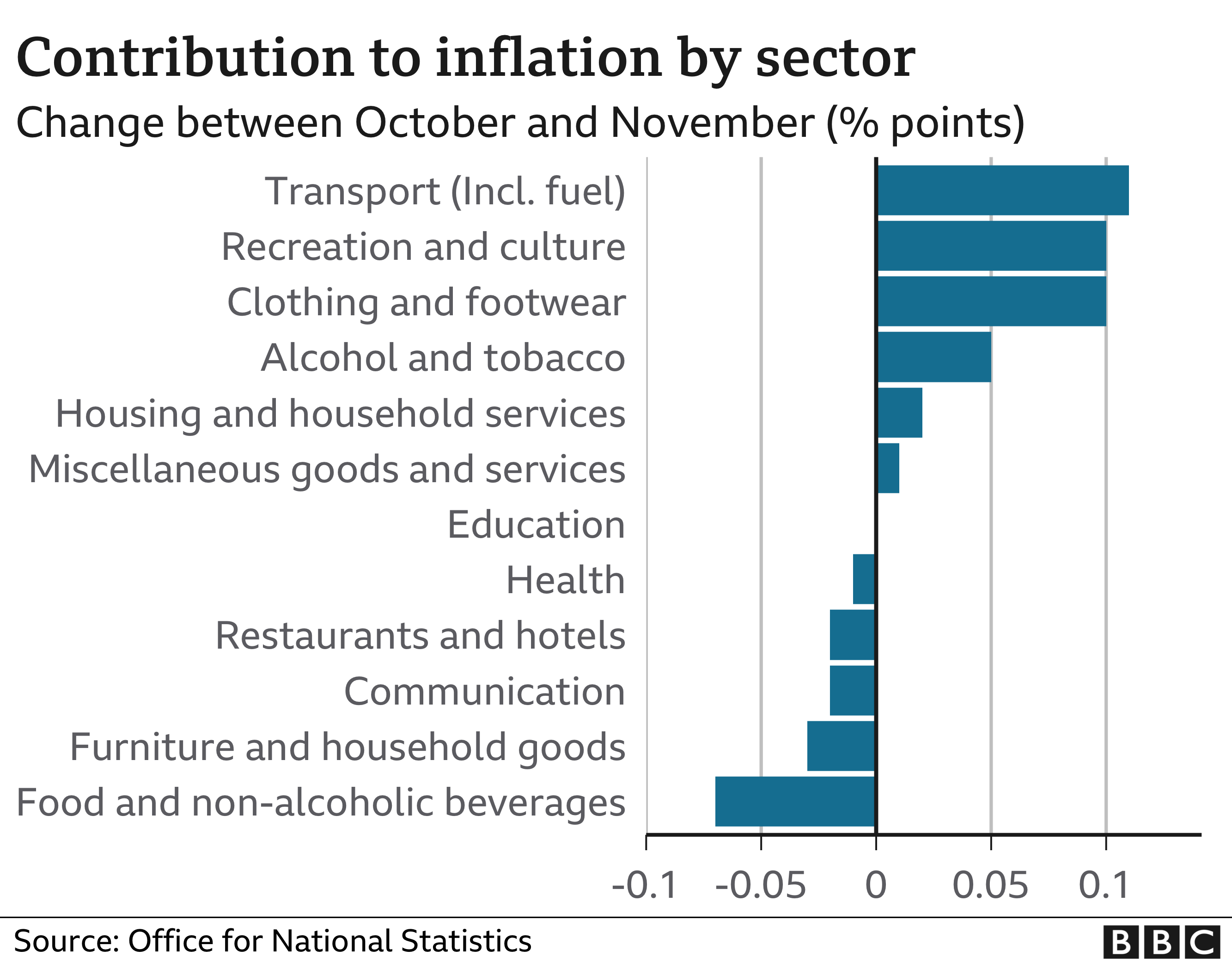 What's the reaction from economists?
Samuel Tombs, chief UK economist at Pantheon Macroeconomics, said the rise in transport costs was partly due to the timing of the ONS survey.
"The ONS collected its data five days closer to Christmas Day last month than in December 2019; airline fares tend to rise sharply as the Christmas holidays approach," he said.
"Looking ahead, we expect CPI inflation to hover between 0.5% and 0.8% in [the first quarter], before leaping to 1.5% in April, when Ofgem likely will increase its default tariff cap for electricity and natural gas prices, and the anniversary of last year's slump in oil prices will be met."
Janine Boshoff, an economist at the National Institute of Economic and Social Research, said the institute's own measure of underlying inflation, which excludes extreme price movements, remained unchanged at 0.3% in December.
"Our analysis at regional level indicates that regions that entered higher tiers of restrictions in December experienced marked decreases in consumer prices during the month," she added.
"Inflation is likely to remain subdued in the short-term due to the effects of continued lockdown measures to stem the spread of Covid-19."


What does it mean for the wider economy?

The rate of increase of prices in November was still very modest, but this figure is the first of a few such rises expected. The biggest contributor was an increase in the cost of transport services such as air fares, as well as a smaller decline in clothing prices.
Some of these figures are distorted by the unusual pandemic patterns of spending. In the coming months, energy price rises, a return to VAT of 20% and rises in costs of EU imports and freight costs will also push up overall prices.
But with pandemic pressures on the economy remaining, such increases in inflation are not likely to require the Bank of England to lift interest rates. It will recalculate its forecasts for the economy next month. Progress in immunisation will be as important for that as the path of inflation.


Published at Wed, 20 Jan 2021 10:06:49 +0000