Covid-19: Early signs of lockdown restrictions working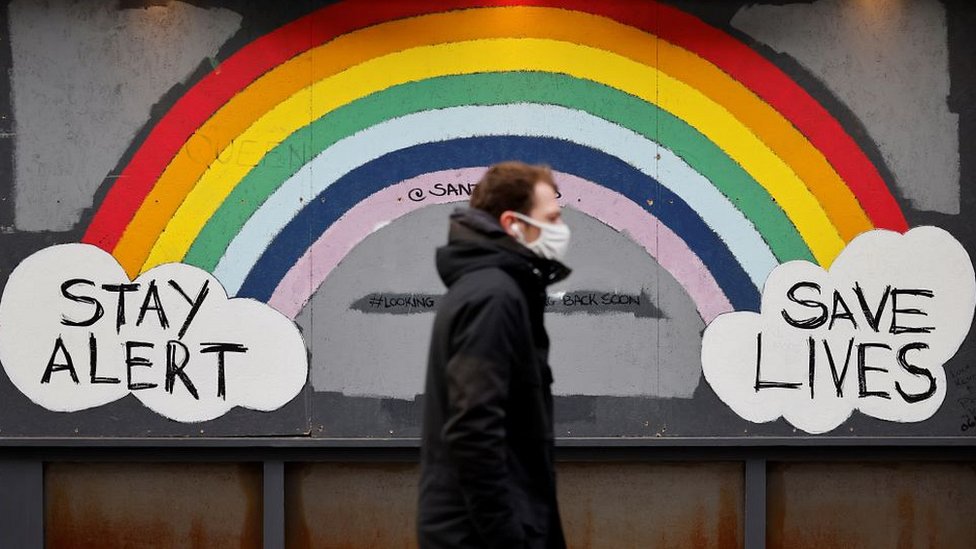 The UK's epidemic is still officially estimated to be growing, according to the latest R number, but data suggests new cases are beginning to fall.
The UK's R number – which takes into account cases, hospitalisations and deaths – is estimated to be between 1.2 and 1.3.
This suggests the total number of people with the virus is still rising across the UK.
But in London, where tight restrictions came in earlier, the R number is lower.
In the capital, the estimate is between 0.9 and 1.2.
It comes as a further 1,280 people with coronavirus have died in the UK within 28 days of a positive test, taking the total to 87,291.
The latest government figures on Friday also showed another 55,761 new cases had been reported.
Meanwhile, more than three million people in the UK have now received the first dose of a vaccine – latest figures show the number at 3,234,946.
What is the UK's R number and why does it matter?
Covid patients moved from London to Newcastle
North-east England leads over-80s vaccination race
Although the number of people sick with coronavirus is growing in the UK, data from various sources suggests new infections are declining.
This provides early signs that lockdown restrictions may be taking effect.
The R number is a way of rating coronavirus or any disease's ability to spread. In theory, it describes the number of people that one infected person will pass the virus onto, on average.
In reality, though, the government's estimate of R gives a wider view of the epidemic's general trend since it also looks at what is happening in hospitals.
Data from the Covid symptom study app gives its own estimate of 0.9 for the virus's R or reproduction number. This is based on cases alone, rather than a wider number of data sources included in the official estimate.
While this leaves out the fact that hospitals are still filling up, looking at cases on their own allows assessment of whether lockdown restrictions are working.
But the large number of infections recorded at the end of December and the beginning of January means, despite receding cases, hospitalisations and deaths will inevitably continue to rise for some time.
A ban on travellers from South America, Portugal and Cape Verde entering the UK came into force on Friday as a result of a new, potentially more infectious strain linked to Brazil.
Prof Wendy Barclay, a scientist at Imperial College London advising the government, said this "variant of concern" had not been detected in the UK but another variant from Brazil was already in circulation.
It is not clear whether this second strain is more contagious or not.
Published at Fri, 15 Jan 2021 16:25:43 +0000