Covid: Many NHS staff 'traumatised' by first wave of virus, study shows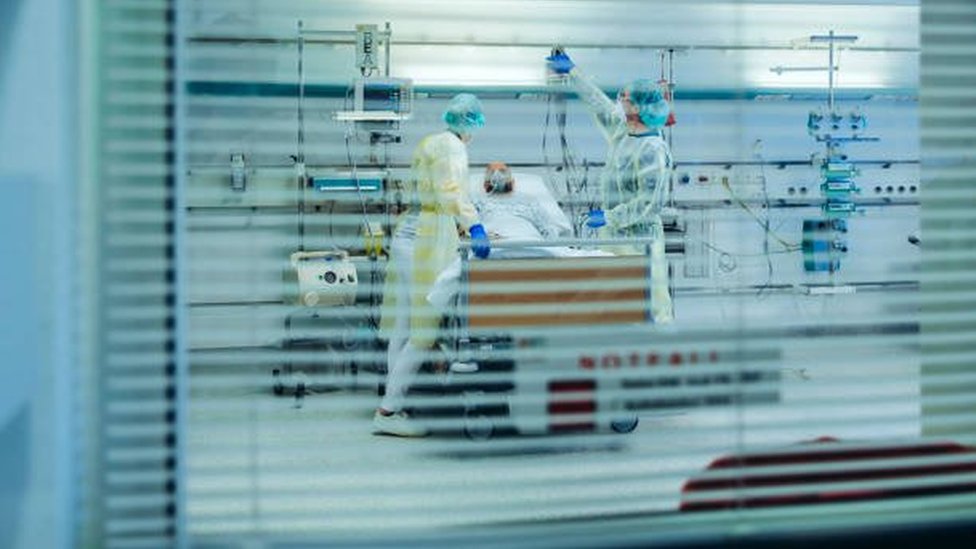 Many hospital staff treating the sickest patients during the first wave of the pandemic were left traumatised by the experience, a
study suggests.
Researchers at King's College London asked 709 workers at nine intensive care units in England about how they were coping as the first wave eased.
Nearly half reported symptoms of severe anxiety, depression, post-traumatic stress disorder or problem drinking.
One in seven had thoughts of self-harming or being "better off dead".
Nursing staff were more likely to report feelings of distress than doctors or other clinical staff in the anonymous web-based survey, which was carried out in June and July last year.
Just over half reported good well-being.
In the study, which has been published online but has not yet been peer-reviewed:
291 (41%) were doctors, 344 (48.5%) were nurses, and 74 (10.4%) other healthcare staff
59% reported good well-being – but despite this, 45% met the threshold for probable clinical significance for at least one of: severe depression (6%), PTSD (39%), severe anxiety (11%) or problem drinking (7%)
The researchers say the findings are, in some ways, not surprising given the pressures ICU staff have faced.
Their workload has been relentless, caring for more patients than is ideal and under extremely challenging circumstances.
Lead researcher Prof Neil Greenberg said the findings should be a "wake-up call" for NHS managers.
He said: "The severity of symptoms we identified are highly likely to impair some ICU staff's ability to provide high-quality care as well as negatively impacting on their quality of life."
Prof Greenberg said it was important to have "occupationally focused" mental health care to try to keep staff fighting fit or, where this was not possible, to ensure they got help to access the right sort of care.
And he said that, while their work suggested things may have improved over the summer, there were signs the numbers experiencing mental health problems would rise in November and December.
'How long can we keep going like this? About a week'
Victoria Sullivan, an intensive care nurse at Queen's Hospital in Romford, said she often can't sleep because she's thinking about what is happening at the hospital.
Her worst moment was breaking the news of a death on the phone, she said, adding that the screams from the patient's relatives "will honestly stay with me forever".
"Telling someone over the phone and all you can say is 'I'm really sorry', whilst they're crying their heart out, is quite traumatising," she said.
"Although you're saying how sorry you are, in the back of your mind, you're also thinking: 'I've got three other patients I've got to go and see, the infusions need drawing up, and meds need to be given and a nurse needs support'.
"The guilt is just too much."
Prof Partha Kar, diabetes consultant at Portsmouth Hospitals NHS trust, said it was "really, really difficult seeing people battling through all sorts of odds".
He added: "We've got sickness rates high all around us and colleagues from all specialities, where they're not accustomed to seeing such ill patients, coming out and trying to help.
"Understandably the impact of that on everybody's mental health is not insignificant either… it's such a tough place to be in."


What is post-traumatic stress disorder (PTSD)?
PTSD is an anxiety disorder caused by very stressful, frightening or distressing events.
Someone with PTSD often relives the traumatic event through nightmares and flashbacks, and may experience feelings of isolation, irritability and guilt.
They may also have problems sleeping, such as insomnia, and find concentrating difficult.
These symptoms are often severe and persistent enough to have a significant impact on the person's day-to-day life.
Causes of PTSD can include:
serious road accidents
violent personal assaults, such as sexual assault, mugging or robbery
serious health problems
childbirth experiences


An NHS spokesperson said: "This is an incredibly tough time for NHS staff working on the front line which is why we have invested £15m in support, including 38 local mental health and well-being hubs and a service for staff with complex mental health needs, such as trauma and addiction.
"The public can also help to support doctors and nurses by following the 'hands, space, face' guidance to reduce pressure on hospitals and save lives."
If you or someone you know has been affected by mental health issues, the organisations listed at this link might be able to help
Published at Wed, 13 Jan 2021 00:58:41 +0000