Chestermere schools compete to raise donations for local food bank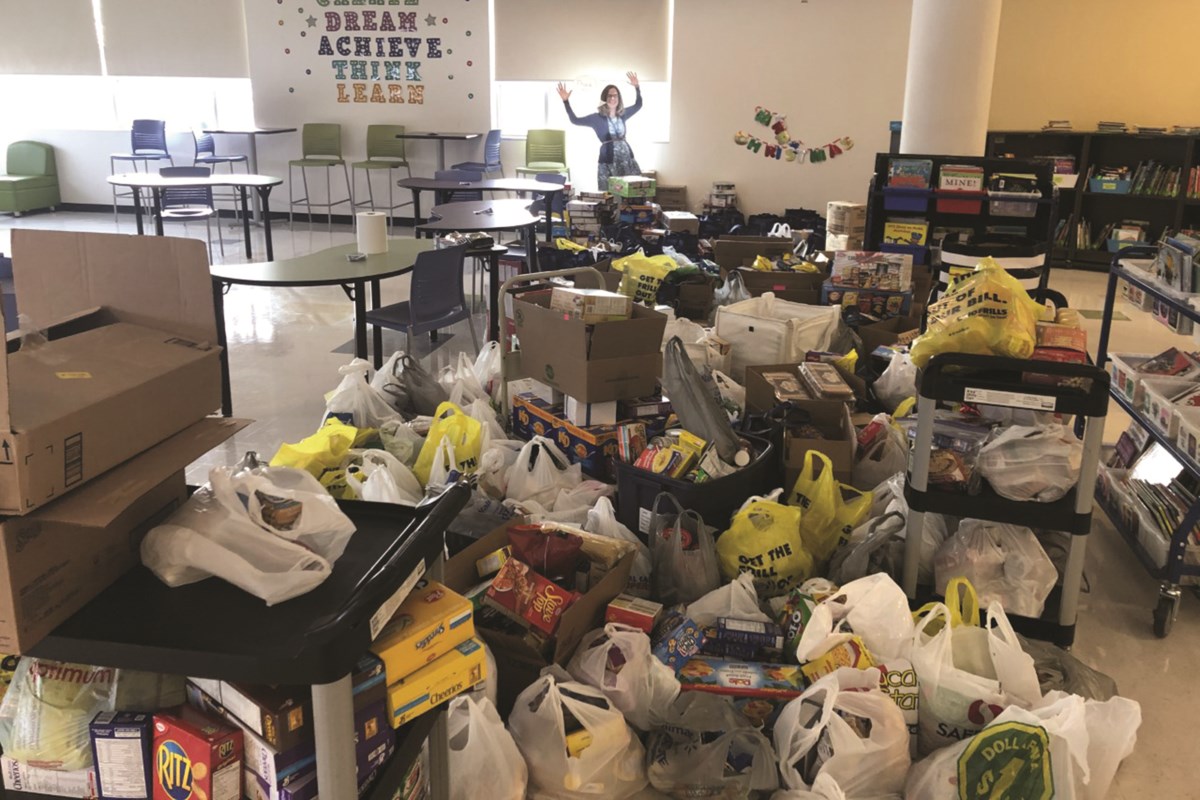 Two elementary schools in Chestermere used the motivation of competition to help support their local food bank in December 2020.
From late November until Dec. 14, students and staff from Rainbow Creek Elementary and East Lake School competed against each other to see which school could come up with the most donations for the Chestermere Regional Food Bank.
"We have a student council and for the last few years, at least since I've been here, we've done a food bank fundraiser around this time, between November and the Christmas holiday," said East Lake School's assistant principal, Shannon Storey.
"We wanted to figure out how we could still do it with the pandemic happening. We decided what would maybe increase our chances of beating previous years was if we put out a challenge to one of our other elementary schools in Chestermere."
A caveat of the competition, according to Storey, was that members of the school that raised fewer donations would have to wear the other school's colours for a day. Additionally, administration members would have to buy coffee for the opposing school's administrative team.
After more than two weeks of soliciting donations, East Lake School came out on top, donating more than 7,000 food items, while Rainbow Creek's drive garnered approximately 5,000 items. Storey added East Lake School's total donations weighed approximately 3,500 pounds.
"They wanted to win, on both sides," she said. "We had an internal challenge here as well. We had a little prize for the class that brought in the most overall, and then [for the top class] in our two divisions – Grades 1 to 3 and then Grades 4 to 6."
As per the contest's conditions, Rainbow Elementary School's administration team was decked out in the orange and blue shirts of East Lake on Dec. 17.
"It was funny because they also had to bring our admin team coffee," Storey said. "[Their assistant principal] brought coffee over to our team and we had some extra East Lake Eagles gear kicking around, so we made them wear our shirts."
Despite not raising as many donations as East Lake, Rainbow Creek Elementary students were still excited to help out the food bank, according to the school's assistant principal, Cristy Leonard-Glaspey.
"We actually collect for the food bank every Christmas too, and thought it would be a really fun way to get the kids excited about it and bring some joy during these tougher times right now," she said.
"The kids really enjoyed it. They're competitive in our school, and were asking what the other school was at and always talking about it."
According to Mardy Oel, the executive director of the Chestermere Regional Food Bank, the school's donations were a huge boost for the charity. She said the food bank's demand more than doubled in 2020, due to the economic woes brought on by the pandemic.
Before the pandemic, she said the food bank served 30 to 35 local families a month. For much of 2020, she said the food bank served anywhere from 60 to 90 families a month.
"It was our first big food drive of 2020 and our shelves were pretty much bare," she said. "We were very happy to see that."
Oel added the extent of the schools' donations means food bank volunteers have enough provisions to last approximately three months.
"It not only supplied us with food we needed, what it also did was take the pressure off running out to go shopping twice a week," she said.
While the competition was in good fun, Storey said the most important aspect was being able to support an important local charity.
"It was a pleasant surprise how well we did and the parents were really into it too, which was great," she said.
Scott Strasser, AirdrieToday.com
Follow me on Twitter @scottstrasser19
Published at Fri, 08 Jan 2021 23:00:00 +0000