Covid-19: UK daily coronavirus cases top 60,000 for first time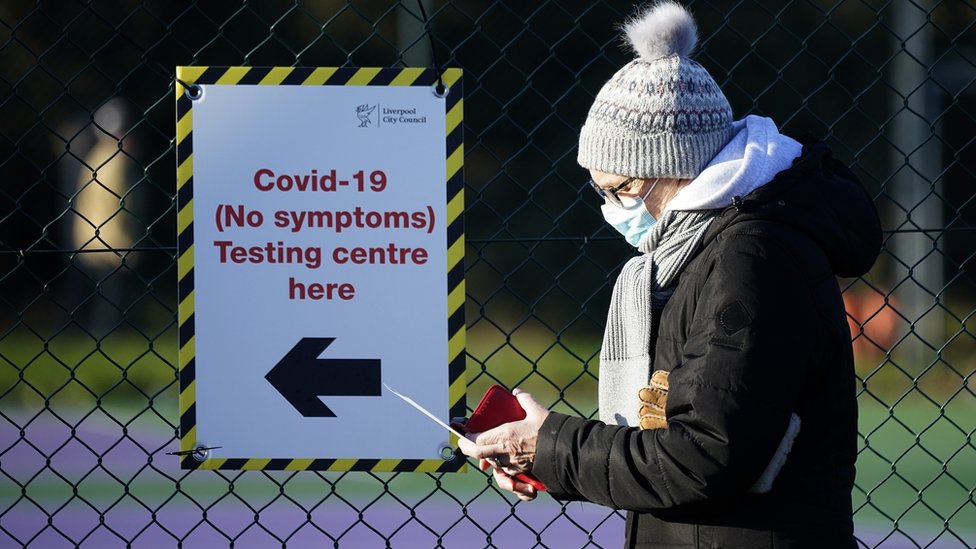 The number of new daily confirmed cases of coronavirus in the UK has topped 60,000 for the first time since the pandemic started.
According to government figures on Tuesday, the number of people who tested positive was 60,916.
One in 50 people in private households in England had Covid last week – and one in 30 in London, according to estimates based on the latest data.
A further 830 people have also died within 28 days of a positive test.
It comes as England and Scotland announced new strict lockdowns, with people told to stay at home.
What the rules where you live?
Can we really jab our way out of lockdown?
When will you be eligible for the vaccine?
At a press conference at Downing Street on Tuesday, Boris Johnson said 1.3 million people had now been vaccinated in the UK – including 23% of over 80s in England, some 650,000 people.
But he said more than one million people were currently infected – with the number of patients in hospitals 40% higher than in the first peak.
The government's chief medical adviser Prof Chris Whitty cited the Office for National Statistics' random sampling data for England as showing how widespread the virus is.
"We're now into a situation where across the country as a whole, roughly one in 50 people have got the virus, higher in some parts of the country, lower in others," he said.
That latest estimates include:
One in 30 for London
One in 45 for south-east England, eastern England and north-west England
One in 50 for the East Midlands
One in 60 for north-east England
One in 65 for the West Midlands and Yorkshire and the Humber
One in 135 for south-west England
The number of new daily cases has consistently been above 50,000 since 29 December.
Back in the first peak of the pandemic in the spring, the number of daily confirmed cases never went above 7,000.
However, it is thought the true number of cases then was much higher but not picked up because testing capacity was limited. It was estimated there were about 100,000 new infections a day at the end of March – but there was not the testing to detect it.
Hospital admissions of people with Covid-19 in England also reached another record high on Tuesday, NHS England figures show.
At a hospital in Lincolnshire, a "critical" incident has been declared after a sharp rise in patients requiring admission.
And potentially life-saving cancer operations have been put on hold at a major London NHS trust because of the number of beds taken by Covid patients.
However, Cancer Research UK said such cancellations did not appear to be widespread across the country.
In a statement after the case numbers were released, Public Health England medical director Yvonne Doyle said the rapid rise in cases was "highly concerning and will sadly mean yet more pressure on our health services in the depths of winter".



After seven consecutive days of more than 50,000 cases being confirmed, the fact that more than 60,000 have been recorded should not come as a surprise.
It will take a week, if not more, for the impact of lockdown to be felt.
And all the evidence suggests the new variant of coronavirus, which is more transmissible than previous ones, means the impact is likely to be more limited than it was in previous ones.
The figures are also a warning about what the NHS is facing.
Some of this week's infections are next week's hospital admissions.
About three in 10 beds are now occupied by Covid patients. In some hospitals more than six in 10 are.
Hospitals are now busy making more spaces on their wards – that means cancelling planned work, including in some places cancer treatment.


Boris Johnson and Scottish First Minister Nicola Sturgeon both announced new lockdowns on Monday.
Wales has been in a national lockdown since 20 December and Northern Ireland entered a six-week lockdown on 26 December.
Restrictions are also being tightened further in Northern Ireland, and an order for people to stay at home will become legally enforceable from Friday.
In a televised address to the nation, Labour leader Sir Keir Starmer urged the government to use the lockdown to create a "round the clock" vaccination programme.
He also called on people to "recapture the spirit" of the beginning of the pandemic.


LOOK-UP TOOL: How many cases in your area?
YOUR QUESTIONS: We answer your queries
GLOBAL SPREAD: How many worldwide cases are there?
THE R NUMBER: What it means and why it matters


At the press conference on Tuesday, Mr Johnson repeated his suggestion that there is a "prospect" of the lockdown being eased in mid-February.
"But you will also appreciate there are a lot of caveats, a lot of ifs built into that, the most important of which is that we all now follow the guidance," he said.
Earlier, Cabinet Office minister Michael Gove told Sky News he could not say exactly when the lockdown in England would end, but "as we enter March we should be able to lift some of these restrictions but not necessarily all".
Mr Whitty said the virus "is not going to go away, just as flu doesn't go away, just as many other viruses don't go away".
"We shouldn't kid ourselves that this just disappears with spring," he said.
Mr Whitty said although hopefully there would be nearly no measures needed from the spring onwards, the government might have to bring in a few restrictions next winter.
On Monday the UK's chief medical officers recommended the Covid threat level be increased to five – its highest level.
Although the new variant is now spreading more rapidly than the original version, it is not believed to be more deadly.

NEW YEAR NEW DRAMA: The Serpent: Investigating the disappearance of a young couple in 1975
FILMS FOR EVERYONE: Check out what films are streaming now on BBC iPlayer

Published at Tue, 05 Jan 2021 20:57:42 +0000