Medics appeal for more to get higher level PPE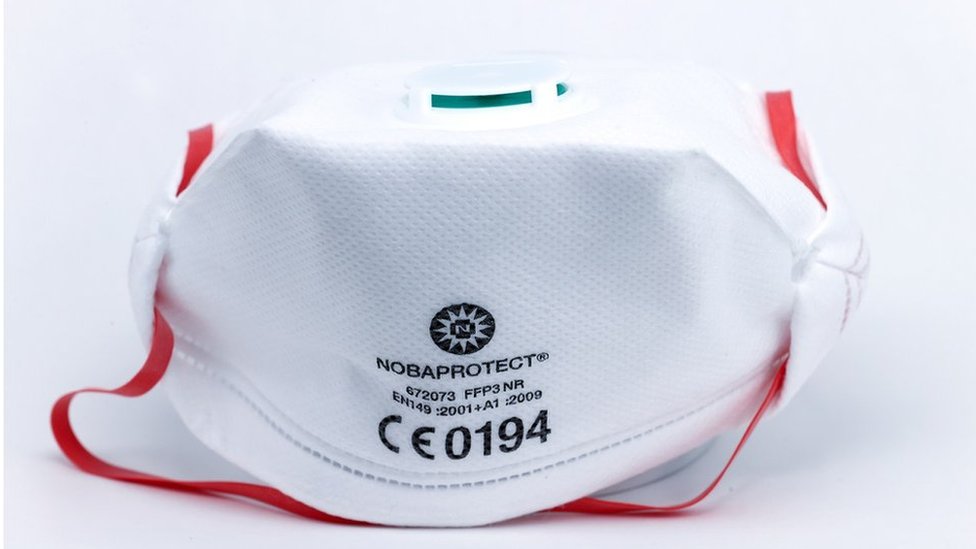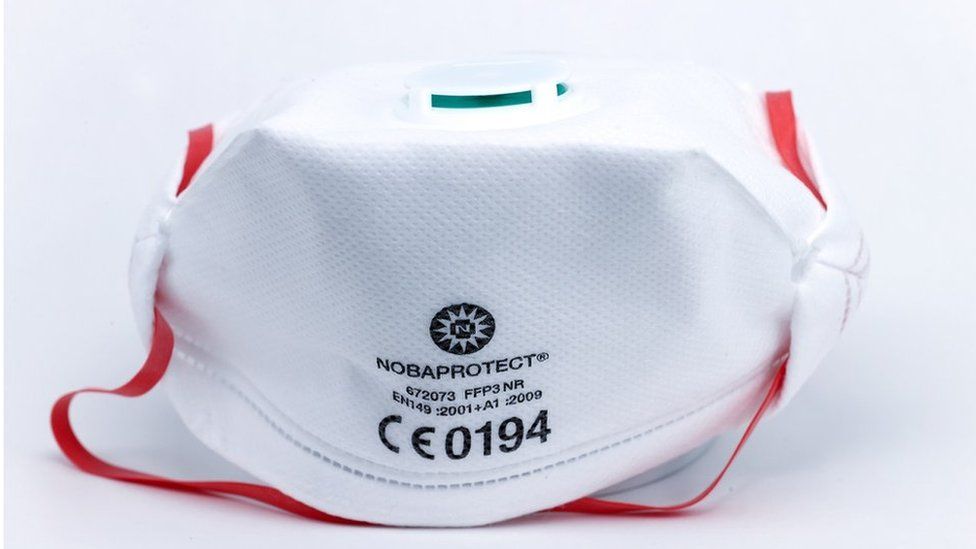 A thousand health professionals have backed an appeal for hospital staff to be given improved personal protective equipment.
In an open letter to UK political leaders, they say there is growing evidence that tiny coronavirus particles can spread through the air.
The group want general ward staff to be given the type of high-quality masks usually only worn in intensive care.
Nurses' leaders said higher level PPE should be provided as a "precaution".
Public Health England (PHE) has issued guidance on what PPE staff in different settings require. It was last updated
in October 2020.
Coronavirus: Has the NHS got enough PPE?
Covid PPE: Hospital gowns that cost £122m never used
Early in the pandemic, it was widely believed that to catch the disease you had to either be close to an infected person and hit by droplets from their coughs or sneezes or touch a surface they had contaminated.
But research during the course of last year highlighted how it is also possible for the virus to be carried in what are called aerosols, drifting and accumulating in the air.
Most infections are thought to have occurred indoors in badly ventilated rooms, and many studies have shown that the 'airborne route' can be an important factor.
Across the UK, the guidance for hospital staff is to wear surgical masks in most areas.
More sophisticated masks – a type known as FFP3 that includes an air filter – are only required in intensive care or when certain procedures are carried out that are known to generate aerosols.
In their letter, the consultants, doctors and nurses say healthcare workers are three to four times more likely to become infected than the general population.
But they point out that staff in intensive care units, who have the best level of protection, have about half the risk of catching the virus than colleagues on general wards.
The letter states: "It is now essential that healthcare workers have their PPE upgraded to protect against airborne transmission".
Hospital infections
Barry McAree, a consultant surgeon in Northern Ireland, is one of many healthcare workers to be ill with Covid.
He is self-isolating at home right after his testing positive for the second time.
A signatory to the letter, he says his hospital in Antrim followed the guidance about which type of masks should be worn in which areas, but he became infected nonetheless. It is not clear how and when he caught it.
"There's so much evidence that we are talking about an airborne infection that it has to be said that it is not appropriate just to wear FFP3 in environments when aerosol generating procedures take place."
He believes that with such high levels of the virus in the community and in hospitals, staff should be wearing the higher-grade masks whenever they're close to patients.
Surgical masks can be bought online for about 10p each, while the FFP3 masks are far more expensive about £5.00.
Dr Barry Jones, a retired gastroenterologist and leading expert on aerosols, says that's nothing compared to the cost of a patient with Covid,
He points to data showing that roughly a fifth of people needing hospital treatment for Covid may have acquired the infection in hospital in the first place.
"We should do everything we can to reduce that possibility – it's the air we share that's killing us."
'Time to act'
A few hospitals have decided to break with official guidance.
It's understood that hospitals in Cambridge, Plymouth and Exeter have decided to equip staff with FFP3 masks if they face patients diagnosed with Covid or suspected of having it.
One consultant, who did not want to be named, said: "When you realise patients are more infectious at an earlier stage of disease and are presenting at general wards with poorer ventilation than intensive care units and staff are wearing a poorer quality of PPE, you really want those in a position of leadership to listen and to act."
RCN General Secretary Dame Donna Kinnair, said: "Without delay, they must state whether existing PPE guidance is adequate for the new variant.
"While more research is carried out, we ask for the precautionary principle to be applied and staff to be given a higher level of PPE if working with suspected or confirmed cases."
Public Health England said this was a matter for NHS England to comment on.
The NHS has not yet provided a statement.
Published at Tue, 05 Jan 2021 09:41:15 +0000