Traverse City's 2020 Retail Shopping Season Report Card: A Silver Linings Playbook – Traverse City Ticker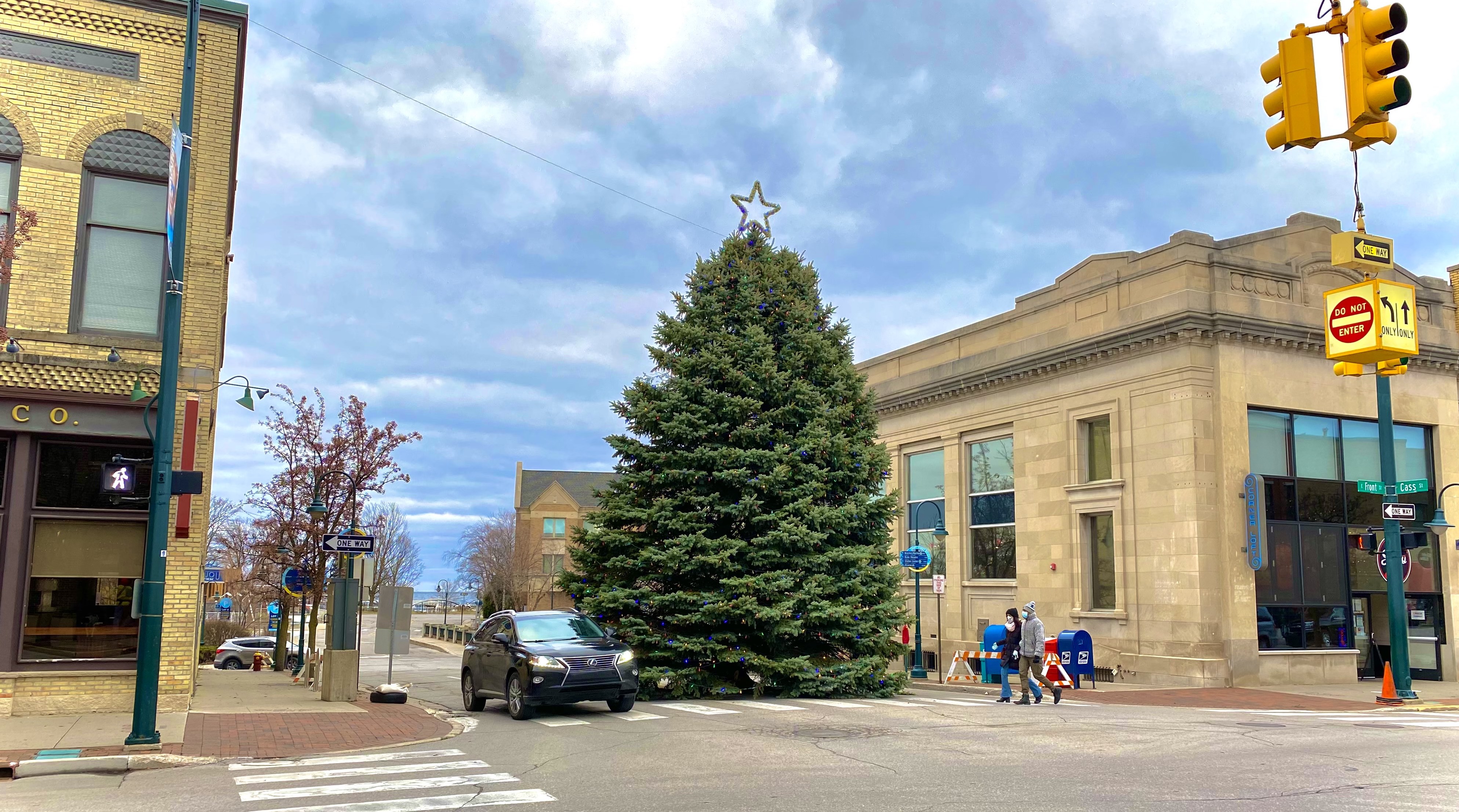 How did the holiday shopping season shake out for local retailers? With COVID restrictions in place that limited store capacity, reduced foot traffic, and cancelled Men's Night and Ladies Night downtown, many shop owners worried that the Black Friday to Christmas stretch would be markedly slower than usual this year. Checking in with retailers from Acme to Grand Traverse Commons, The Ticker heard that the 2020 holiday shopping season actually had many silver linings.
Peter Makin, owner, Brilliant Books
Grade for the holiday shopping season: I would have to give every member of staff an A+. We never expected to be door monitors, book packers, web order fulfillment specialists, stylus sanitizers, and gift wrappers – all from behind a mask and a plastic screen. As for sales, it was a hard-fought D: less than half what we would usually do in store, and so much gift wrapping!
Biggest challenge: Apart from the limited capacity that greatly reduced our sales, we had to juggle our web orders to ensure we could bring books in from multiple sources in time to get them wrapped and shipped by Christmas.
Biggest silver lining: Our Brilliant Books Monthly subscription service had its best ever year. It seems a hand-picked book selected by a bookseller every month makes a great COVID gift. It's a great excuse to Zoom every month with far away relatives to talk about the books you've received.
Andrew Moore, marketing director, Cherry Republic
Grade for the holiday shopping season: A. While store traffic and store revenue were down, new and lifelong customers shifted and placed their holiday orders on our website and over the phone. Typically, our holiday revenue is a 50/50 split between brick-and-mortar and e-commerce, phone, or business gifting channels. This year the latter made up 65 percent of holiday sales. Overall, our 2020 company-wide holiday revenue is up 15 percent compared to 2019.
Biggest challenge: Shifting gears to better manage the season's influx of mail orders. Producing enough product to keep up with demand, fulfilling our pack-and-ship and customer service staffing needs, and providing the safest possible environments for all staff were all priorities.
Biggest silver lining: Using our circumstances as an opportunity to innovate and grow in new ways. From offering curbside pickup in our retail stores, to upgrading company technology to work remotely more effectively, to operating a second pack-and-ship facility for the first time, we were encouraged to develop new ways of doing business.
Jim Milligan, owner, Fustini's
Grade for the holiday shopping season: A. Fustini's is in an industry – the packaged gourmet food business – at a time when there's an awful lot of home cooking by our customers. And so, our gift packs with oils, vinegars, and pantry items are a great gift for many. We're fortunate to have come into this pandemic with a solid online store, and we are shipping more than twice the amount of gift packages as we shipped last holiday.
Biggest challenge: Staffing to meet our increased holiday demand.
Biggest silver lining: We have been working on making it easier for our customers to buy. All of these options have shown improvement this holiday: online sales have more than doubled, customers are shopping in store and ordering for curbside pickup, and our wholesale channel is growing.
Diane Goodyear, retail manager, Grand Traverse Resort and Spa
Grade for the holiday shopping season: A-. Like all industries and businesses, this year looked very different than past years, but still exceeded expectations.
Biggest challenge: Slower tourist traffic. The Resort would typically be busy during this time of year with conferences, family vacations, and holiday parties – plus people coming over to dine at Aerie – but none of that is happening right now, or is taking place on a much smaller level.
Biggest silver lining: Increased local support and people venturing outside of downtown. Shopping small and local was so important this year, and it happened. I think people were also looking for new shopping experiences and, of course, safer shopping experiences. At the Resort we are unique in offering eight large individual stores in our Gallery of Shops. There is plenty of room to spread out and shop safely.
Lance Hill, founder and designer, High Five Threads
Grade for the holiday shopping season: B+. In-store traffic took a bit of a hit throughout the season, but we had a strong year with online sales resulting in almost double the sales from past years online.
Biggest challenge: Definitely the lack of in-person events to draw in-person shoppers. Obviously, we weren't able to do the annual 'Christmas in the Village' as we've done in the past, which is always one of the biggest holiday weekends for the Mercato. I believe that many shoppers opted more for online or quick in-and-out shopping trips this year, not necessarily shopping the way they have in past years. Lack of dine-in restaurants also hampered the usual traffic we see.
Biggest silver lining: Even with everything going on, we had an outstanding summer season that lasted well into October. We were able to launch a number of new products and offerings in the shop, as well as online. Our online traffic all year was strong, and I think more than ever customers are wanting to support local small businesses.
Tracey Lark, owner, Relish
Grade for the holiday shopping season: A+. I am lucky enough to have a very loyal customer base and social media following. I have noticed many new and previous customers purposely shopping only local businesses for this holiday season. Last year, this was not the case.
Biggest challenge: Definitely slower foot traffic than in previous years. Also, I have a limit of 10 individuals in my shop at once, so that's a tad hindering. Thankfully my customers understand and appreciate the safety precautions I have in place.
Biggest silver lining: In offering [options for] curbside pickup and shipping, my online sales were up 150 percent. I was able to pivot quickly during shutdown to get items in my shop and online that were conducive to staying in and staying home.
Published at Mon, 28 Dec 2020 05:00:40 +0000