Brexit: EU diplomats briefed on Brexit trade deal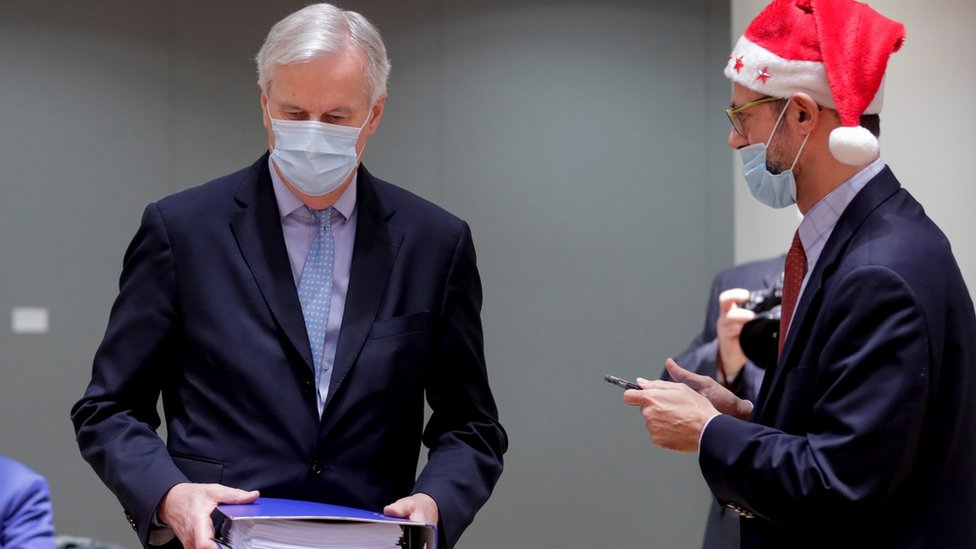 EU ambassadors have received a Christmas Day briefing on the post-Brexit trade deal reached with the UK.
EU chief negotiator Michel Barnier updated them on the agreement, reached after months of fraught talks on fishing rights and business rules.
MPs will vote on the deal in Parliament on 30 December, with the UK set to exit existing trading rules on 31 December.
The 1,246-page document, which includes about 800 pages of annexes and footnotes, has been seen by the BBC.
Labour said it was a "thin agreement" but they would back it as the only alternative to no deal, meaning it should win approval.
The European Parliament needs to ratify the deal but it is unlikely to do so until the new year, meaning its application will formally be provisional until then.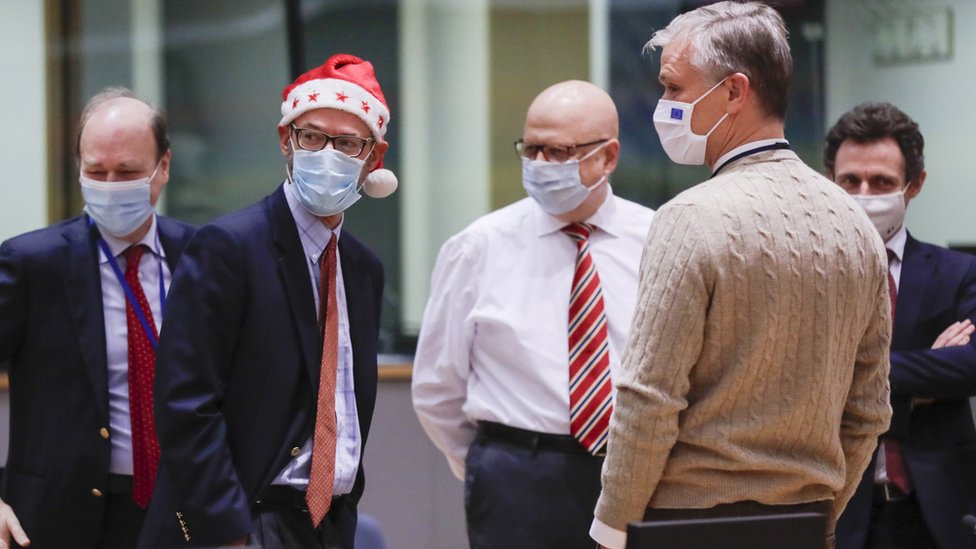 Sebastian Fischer, a spokesman for the German presidency of the Council of the EU, joked ahead of the EU diplomats' meeting that he was looking forward to it "because nothing is more fun than to celebrate Christmas among socially distanced colleagues".
Meanwhile, French Europe minister Clement Beaune said it was a "good agreement", adding that the EU had not accepted a deal "at all costs".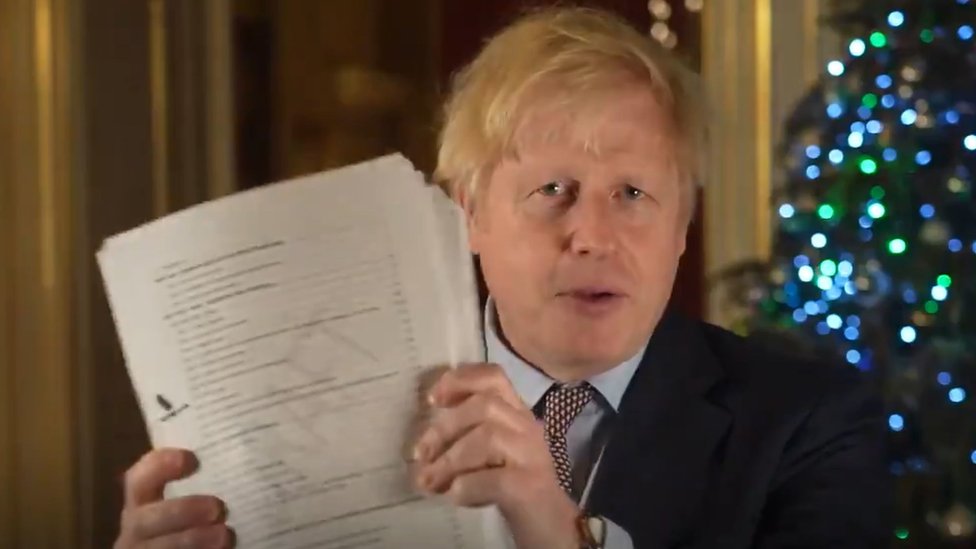 He said: "Tonight, on Christmas Eve, I have a small present for anyone who may be looking for something to read in that sleepy post-Christmas lunch moment, and here it is, tidings, glad tidings of great joy because this is a deal.
"A deal to give certainty to business, travellers, and all investors in our country from January 1. A deal with our friends and partners in the EU."
European Commission President Ursula von der Leyen described the agreement as "fair" and "balanced", saying it was now "time to turn the page and look to the future". The UK "remains a trusted partner," she added.
Struck four and a half years after the UK voted to leave the EU, the deal will define the future relationship for decades.
Similar to the EHIC – which entitles people to state-provided medical treatment if they fall ill or have an accident in any EU country, or in Switzerland, Norway, Iceland and Liechtenstein – the new card will cover chronic or existing illnesses and routine maternity care as well as emergencies.
The agreement says any specialised treatment, such as dialysis or cancer treatment, "must be subject to a prior agreement between the insured person and the unit providing the treatment" to ensure the treatment is available.
Meanwhile, goods will continue to be traded free of tariffs and quotas and there will be independent arbitration to resolve future disputes.
It will mean big changes for business, with the UK and EU forming two separate markets, and the end of free movement.
But it will have come as a major relief to many British businesses, already reeling from the impact of coronavirus, who feared disruption at the borders and the imposition of tariffs, or taxes on imports.
Labour leader Sir Keir Starmer – who campaigned against Brexit – said the deal did not provide adequate protections for jobs, manufacturing, financial services or workplace rights and was "not the deal the government promised".
But with no time left to renegotiate, the only choice was between "this deal or no deal," he added.
Ed Davey, leader of the Liberal Democrats, said his party needed to see the full text, but would not support a "bad deal".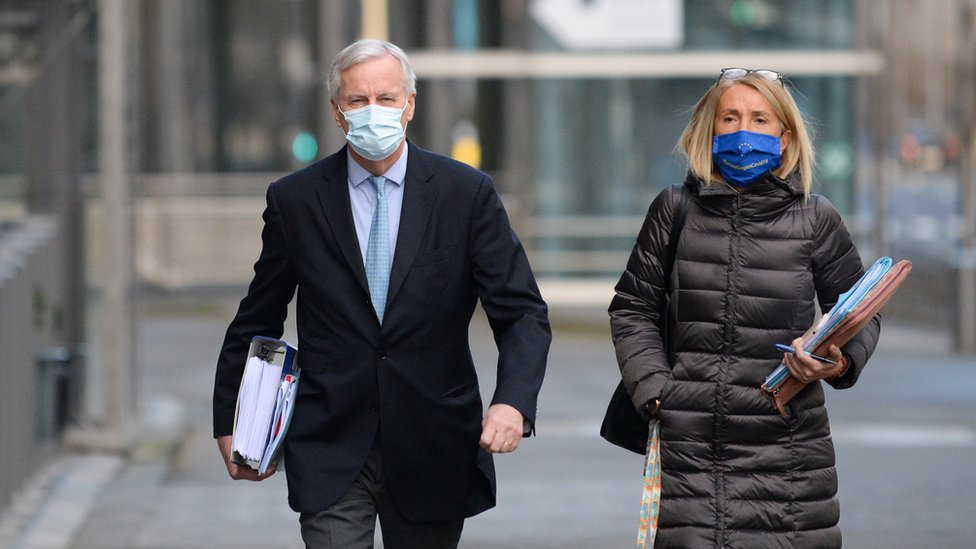 Parliament will sit on 30 December to vote on the trade deal.
Dr Joelle Grogan, senior lecturer in law at Middlesex University London, told BBC News: "To put this in real context, if I spend the next five days before Parliament is recalled on Wednesday spending 10 hours a day just reading that document, I will have a maximum of two minutes and 30 seconds to fully understand, analyse and comment on it."



"The clock is no longer ticking."
These were pretty much the first words out of the mouth of the EU's chief negotiator, Michel Barnier, as he announced the just sealed EU-UK trade and security agreement on Thursday.
No more looming "no-deal" threats; no more almost painful uncertainty about future relations across the Channel. This was a historic moment.
A fair and balanced deal for both sides, said the European Commission.
But you'd have to have been half-asleep (or halfway through a bottle of eggnog, cava or pint of Glühwein) to miss the stark difference in tone between UK Prime Minister Boris Johnson's triumphalist announcement on Thursday afternoon and the sombre statement by the European Commission.


At a press conference on Thursday, Mr Johnson said the agreement would "protect jobs across this country".
He said the UK had not got all it wanted on financial services, a vital part of the UK economy, but insisted the deal was "nonetheless going to enable our dynamic City of London to get on and prosper as never before".


The basics
A Brexit deal has been agreed, days before a deadline. It means that the UK and the EU can continue to trade without extra taxes being put on goods – but we don't know all the details yet.
What took so long? The UK voted to leave the EU in 2016 and actually left on 31 January 2020, but leaders had until the end of 2020 to work out a trade deal.
There are big changes ahead. Although it's a trade deal that has been agreed, there will also be changes to how people travel between the EU and UK, and to the way they live and work.


The prime minister also acknowledged he had been forced to give ground on his demands on fishing.
Fishing makes up 0.12% of the UK's economy but the negotiations went down to the wire over what EU boats were allowed to catch in UK waters.
In future, 25% of EU boats' fishing rights in UK waters will be transferred to the UK fishing fleet, over a period of five-and-a-half years.
Barrie Deas, the head of the National Federation of Fishermen's Organisations, said "significant concessions" meant there would be "a lot of disappointed and frustrated fishermen".
In another development following the deal announcement, the UK Mission to the EU said people with a driving licence issued in the UK would not need to use an International Drivers Licence in the EU.
Published at Fri, 25 Dec 2020 15:37:19 +0000