Tesco puts buying caps on several products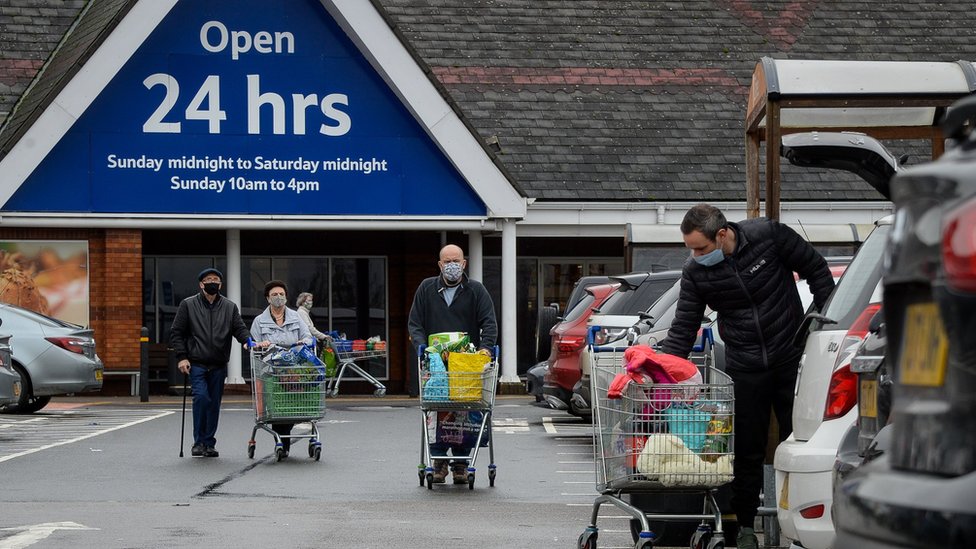 Tesco has introduced purchasing limits on some products including eggs, rice, soap and toilet roll.
The move is to make sure everyone has access to the products, it said in an email to customers.
Customers are allowed to buy up to three of each item.
The move comes as almost 3,000 lorries remain stranded in Kent after restrictions on travel and freight between the UK and France were introduced.
The supermarket giant also encouraged customers to shop alone to ensure social distancing in stores.
Tesco said it has "good stock levels" and customers should "shop as you normally would".
Tesco introduced limits on some products in September in a bid to prevent a repeat of the panic-buying that led to shortages in March.
France shut its UK border for 48 hours on Sunday amid fears of a new coronavirus variant.
Dozens of other countries have banned UK arrivals, including India, Iran and Canada.
'Drop travel bans'
Any solution would probably include testing for lorry drivers, BBC Paris correspondent Hugh Schofield said.
French authorities say some journeys will be allowed for residents and nationals with a recent negative test. Hauliers are expected to be updated later on Tuesday.
In a recommendation to all member states, it said flight and train bans should be discontinued to avoid supply chain disruption.
People should be allowed to travel to their country of residence, provided they take a Covid-19 test or self-isolate, it said.
But the commission added that non-essential travel should still be discouraged.
On Monday, Tesco and Sainsbury's warned that some fresh items could run short if no way is found to get freight moving again.
Much of the UK's fresh vegetable stock comes from continental Europe in the winter, including tomatoes and cabbages.
Tesco anticipated that produce such as lettuces and citrus fruit could be hit.
Sainsbury's told the BBC that it did not currently have any product caps in place, and said it had "good availability".
Andrew Opie, director of food and sustainability at the British Retail Consortium, pointed out that retailers have stocked up on goods ahead of Christmas, which should prevent immediate problems.
However, he said that if testing is required to reopen borders "we need to ensure it is quick to avoid adding friction to the supply chain.
"We have stressed to government there is no alternative to reopening the channel ports, given that it is a key supply route for fresh produce at this time of year."
The Channel is a vital trade route, with about 10,000 lorries a day travelling between Dover and Calais at Christmas, often bringing in the freshest produce.
Published at Tue, 22 Dec 2020 20:31:36 +0000