Food Standard Scotland unveils Christmas food safety campaign; explains dates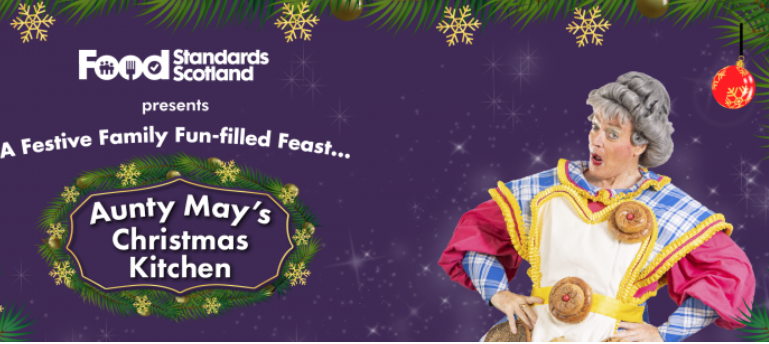 Food Standard Scotland's festive food safety campaign is focusing on "use by" and "best before" dates.
This year's notice is reminding consumers to pay attention to food labeling with the help of Aunty May. She is a character that theater goers will recognize from pantomimes.
The message is take care in the kitchen and stick to good food safety practices that can help people in Scotland avoid becoming ill from food poisoning and reduce any potential impact on NHS services.
Videos can be viewed on Food Standards Scotland's YouTube channel and social media platforms such as Facebook, Instagram and Twitter.
Date confusion
The latest Food Standard Scotland (FSS) food safety tracker in June found that one in three people in the country don't know the "use by" date is the best indicator to determine that food is safe.
The "use by" date is about safety while "best before" refers to quality. The European Food Safety Authority recently released a way to help business decide which one to put on their products.
Jane Horne, FSS's head of food protection science and surveillance, said the way Christmas is celebrated this year will likely be different than normal.
"Whether you're able to be with family and friends or keeping it within your household, the one thing that should remain the same is the safe preparation and cooking of food in your home," she said.
"The 'use by' date is important in terms of food safety and used on foods that go off quickly, such as pigs in blankets, pate, cooked sliced meats, dairy products and prawns. You shouldn't use any food after the 'use by' date, even if it looks and smells okay, as it might contain harmful bacteria.
"A 'best before' date indicates food quality, so after the date the food will be safe to eat but its flavor, color or texture might begin to deteriorate."
Other food safety tips include:
Follow storage instructions on labels which show how long you can keep the food — particularly once opened — and whether it needs to go in the fridge.
Planning is key to save money and food waste. Why not go for a turkey crown if you have fewer people to feed or a chicken instead of turkey?
After turkey or other meat is carved, cool leftovers then store them in the fridge for up to two days – or freeze to use later. Leftovers can also be ingredients to make other meals, such as soup or curries.
Food crime warning
FSS is also making consumers aware there may be an increased risk of food crime at the holidays. Food fraud is often linked to food safety issues. The Scottish Food Crime and Incidents Unit (SFCIU) urged people to be aware of three areas to help them avoid falling victim to fraudsters looking to exploit people at this time of year.
The first is if the price seems too good to be true; the second is unregistered food businesses on social media and online; and the final one is fake alcohol disguised as well-known legal brands.
Ron McNaughton, head of the SFCIU, said with people looking for a bargain ahead of Christmas there are opportunities for unscrupulous traders to cut corners and sell direct to individuals and retailers.
"This could include for example meat and fish products that have not been properly processed through the supply chain, or cheap fake alcohol. Food crime is not only illegal and deceptive, but potentially harmful to health so we are urging consumers not to be tempted by offers that seem too good to be true – because they most likely will be," he said.
(To sign up for a free subscription to Food Safety News, click here.)
Published at Tue, 22 Dec 2020 05:03:42 +0000