40+ Fun & Frugal Holiday Season Activities – Family Games & Crafts
When we think about the holiday season, buying and giving gifts often come to mind. We put a lot of time into finding the perfect gift for everyone on our list and a lot of focus on saving and budgeting for them.
But activities often get left out of our holiday budgets. And the costs can really add up. Polar Express train tickets for the whole family can run over $200, and even photos with Santa typically cost around $25 per child.
Yet the memories families make together last. If you forgot to budget for holiday experiences this year, there's no need to stress. There are dozens of festive, memory-making activities that cost little to nothing. Plus, most of them require very little prep, which means you can sit back, relax, and enjoy the time with your family.
Of course, this year, the COVID-19 pandemic will make celebrating the holidays look a little different. While it's tempting to celebrate the same way you always do, keeping our loved ones and communities safe requires taking some precautions.
How to Celebrate Christmas During the COVID-19 Pandemic
The holidays are a time for friends and families to come together to celebrate. And it's difficult to imagine them without a houseful of friends, cousins, aunts, uncles, and grandparents. Yet it means getting together with those you don't normally see often or who have to travel a great distance to visit. And this year the Centers for Disease Control (CDC) recommends sticking close to home and limiting the size of your gatherings because of the ongoing coronavirus pandemic.
It's unpleasant to think about needing to cancel your travel plans or forgoing large gatherings with family. But, even though the holidays will look different this year, that doesn't have to mean canceling them altogether. Many activities can be adapted to keep everyone safe, including hosting a holiday party on Zoom or making a virtual call to Santa.
You can gauge the risk level of gathering with 10 or more people in your area by checking out the interactive COVID-19 Event Risk Assessment map developed by researchers at the Georgia Institute of Technology. And, if you do decide to get together with others outside your household, keep your holiday activities as safe as possible by following the CDC-recommended holiday best practices. Following these guidelines helps keep everyone safe, including your loved ones.
Even if you normally go all out for the holidays, this year it's OK to skip the usual holiday stress. Instead, focus on the traditions and activities that are most important to you and give yourself permission to skip the rest.
---
Pre-Christmas Activities
The weeks leading up to Christmas are full of excitement and anticipation. This is when kids visit Santa and adults throw holiday parties. It's also the part of the season most filled with memory-making opportunities. So make the season extra magical this year with one or more festive family activities.
1. Make a Countdown Calendar
As kids wait eagerly for Christmas morning, make an activity out of their anticipation with a Christmas countdown calendar. Stores fill up pre-Thanksgiving with pricey Advent calendars full of toys or chocolates. But you can save money by making one of your own.
If you own a sewing machine, stitch up a fabric calendar with pockets from leftover scraps, like they did at DIY Network. If you can't sew, try filling numbered boxes with small toys or candy, like they did at A Bubbly Life. You can also tuck little surprises inside a shoe organizer beautifully stenciled with the numbers 1 through 24, like the countdown calendar at Elizabeth Jones Designs. Or use simple white or brown paper bags with numbered sticker labels strung up on a clothesline, like the one at The Endearing Home.
Though a DIY countdown calendar costs a little upfront for materials, you can use it year after year, especially if it's handsewn or made from durable materials, like the shoe organizer. To keep costs down, fill the bags or pockets with inexpensive candy or small toys from your local dollar store.
2. Read Books Together
Reading holiday books isn't just fun. Research, such as a 2019 study from Ohio State University, has consistently demonstrated that regularly reading to children boosts their intellectual development significantly. And a 2018 study published in the journal Pediatrics found that it also promotes kids' social and emotional development. Plus, the more you surround them with books they enjoy, the more you encourage kids' love of reading.
So, if you have younger children, make reading holiday books together a regular activity. Read a holiday-themed story every night leading up to Christmas. You can read the story in bed as part of your nightly routine or in front of the Christmas tree. You can even use it as a countdown activity in place of giving candy or toys. Make it super-frugal by wrapping up books you already own and having kids unwrap one book per night.
A few suggestions for holiday read-aloud books include:
"The Nutcracker" by The New York City Ballet tells the story of a young girl's magical Christmas gift: a nutcracker that transforms into a prince who whisks her away to a magical world.
"The Night Before Christmas" is a classic Clement C. Moore poem about a man who witnesses the arrival of Santa Claus late one Christmas Eve. This print also includes beautiful, detailed illustrations by Charles Santore.
"Rudolph the Red-Nosed Reindeer" illustrated by Antonio Javier Caparo features gorgeous illustrations of the classic 1939 poem from Robert L. May about a misfit reindeer whose primary "flaw" becomes his greatest strength. Although most of us are more familiar with the Rankin/Bass stop-motion animation adaptation of the story, the original tale is somehow less woefully outdated than the 1964 film.
"Yes, Virginia There Is a Santa Claus" by Chris Plehal is a story adaptation of the famous 1897 New York Sun response to a little girl's letter. The editor's reply is a rousing defense of the spirit of childhood that has become an integral part of American culture.
"The Christmas Wish" by Lori Evert tells the story of Anja, who wishes to become one of Santa's elves and heads off to pursue her ambition. Along the way, she encounters several animals that help her get to the North Pole.
"Snowmen at Christmas" by Caralyn Buehner follows the delightful thoughts of a little boy as he imagines what snowmen do at Christmastime.
3. Cut Down Your Own Christmas Tree
There's no lack of controversy over which is better — an artificial tree or a real one. But there's a lot to be said for going with a real tree. Artificial trees are filled with toxic chemicals and are terrible for the environment. And making an adventure of picking out a real tree each year is more conducive to creating cherished family memories.
If you've opted for a real tree this year, don't buy one from a shopping center parking lot. Instead, make a day of it and cut down one yourselves at a Christmas tree farm. Despite the extra expense, it's the kind of experience you can't get from putting up a fake tree.
4. Make Salt Dough Christmas Ornaments
No matter which type of tree you go for, making ornaments for it is a lot of fun for kids.
Salt dough ornaments are a timeless classic. You make them with only a few simple ingredients you likely already have around the house and cut the dough into holiday shapes with cookie cutters.
Supplies
1 large bowl
4 cups flour
1 cup salt
Spices like cinnamon, ginger, nutmeg, and cloves for scenting the dough (optional)
1 1/2 cups warm water
3 – 4 large sheets parchment paper
Rolling pin
Cookie cutters
2 baking sheets
Pencil
Smocks or old T-shirts (to protect your clothing)
Newspaper or a tarp (to protect your work surface)
Acrylic paints and glitter glue
Paintbrushes
Clear spray glaze or Mod Podge
3 yards ribbon (1/4-inch wide) or twine
Directions
Heat the oven to 325 degrees F.
In a large bowl, combine the flour, salt, spices (if using), and water. When it becomes too thick to stir, use your hands to bring the dough together.
Knead the dough a few times until it becomes uniform and soft.
Form the dough into a ball and flatten it gently between two pieces of parchment paper. Using a rolling pin, roll out the dough to 1/4 to 1/2 inch thick and cut shapes with your cookie cutters.
Transfer the shapes to 2 parchment-lined baking sheets, and reroll the leftover dough. Repeat rolling and cutting shapes until you've used up all the dough. You may have to bake the ornaments in batches.
Poke a hole through the top of each ornament with a pencil so you can later thread ribbon through it to hang it from the tree.
Bake cutouts for one hour or until firm to the touch. Don't worry if they brown slightly – you'll paint over that.
Meanwhile, change into smocks or old T-shirts to protect your clothing and spread newspapers or a tarp over the surface you plan to paint on. Acrylic paint doesn't wash out of clothing once it's dry and can be very difficult to get off other surfaces.
Let ornaments cool, and use your paintbrushes to decorate them with acrylic paints and glitter glue. Allow them to dry for at least 24 hours.
Once the paint is completely dry, seal them with spray glaze or brush on a few layers of Mod Podge – front and back. This will help preserve the ornaments.
Let them dry for 2 to 3 hours, then thread ribbon or twine through the holes for hanging.
Yield: 2 – 3 dozen
If salt dough ornaments sound like too much work, fill clear plastic globes, which you can find at the dollar store, with various festive items such as tinsel, ribbons, or pom-poms like those at B-Inspired Mama.
5. Attend a Community Winterfest
Many communities have winter festivals at the start of the holiday season. Whether organized around a tree lighting or a parade, they often include a variety of free family activities. For example, our local community has a tree lighting festival that also includes ice sculpting demonstrations, a live reindeer petting zoo, a visit from Santa, and free cookie decorating for kids at an area bakery.
Check the events calendar or program guide at your local parks and recreation department to see what kinds of holiday events are available in your area. If your neighborhood doesn't have anything going on, check nearby communities for activities.
6. Take a Carriage Ride
Any other time of year, a horse-drawn carriage ride is hard to come by in most areas. But many communities sponsor them for the holiday season. The price of a carriage ride varies from community to community. But they're often offered as part of winter festivals or at local parks or shopping centers.
7. Write a Letter to Santa
If you want to really wow your kids this Christmas, have them write a letter to Santa and mail it directly to the North Pole. As long as you send it before Dec. 7, the United States Postal Service will mail back your custom reply, complete with a postmark from Anchorage, Alaska. For full instructions, visit the U.S. Postal Service.
8. Have Breakfast With Santa
Save the frustrating wait in line and the high photo cost, and forgo the schlep to the mall to pose with Santa. Senior centers, community halls, and even roller-skating rinks all over the U.S. host Santa for breakfast.
These are typically low-key events where kids can interact with Santa in a nonstructured way – great for toddlers and preschoolers who are a little intimidated by the man in the red suit. Plus, they're typically cheaper than mall Santa sessions and come with food. Be sure to bring your camera so you can capture your own cute and candid pics of your kids with Santa.
9. Decorate Gingerbread Houses
Whether your kids are budding pastry artists or just like licking icing off their fingers, designing their own tasty creations is a blast. And getting wrapped up in their candy artistry is likely to keep them occupied for a while. There's no need for any prep if you go with an inexpensive gingerbread house kit, which you can find at Walmart, Target, or most grocery stores. The kits include all the prebaked cookie pieces you need, plus plenty of icing and candy for decorating.
10. Hold a Christmas Cookie Decorating Competition
Take your cookie baking festivities up a notch with a Christmas cookie decorating competition. Set out some prebaked sugar cookies, icing, sprinkles, and decorating sugar, and let kids release their inner artists. When everyone's finished, have them vote by secret ballot on whose are the best. Kids get to participate in a fun activity, and you get some help with all the holiday baking.
11. Have a Christmas Cookie Tea Party
When you're finished baking cookies, make the moment extra special by hosting a tea party. Brew some tea, set out the cookies, and even bring out the good dishes. This is the kind of event that will be especially cherished by young kids since they relish the chance to act grown-up while sharing a moment with the adults.
12. Attend a Holiday Performance
Attendance at a professional performance of "The Nutcracker" is a holiday staple for many – so much that it accounts for 40% of the annual revenue of many ballet companies across the U.S. However, tickets are prohibitively expensive for many families, running from $29 to $125 per seat.
But that doesn't mean you can't take your family to a holiday show. Check out your local community theater, children's theater, or a nearby college to see what they have scheduled for the holidays. If you live near a school that teaches ballet, you might even find tickets to "The Nutcracker" for significantly less than the cost of a professional company's performance.
13. Visit a Holiday Market
If you enjoy the quality and artistry of handmade goods, but DIY isn't your thing, visit a holiday market. Popular throughout Europe, these German-style markets are starting to make their mark in the U.S., although currently, they're not widely available except in major cities. These unique seasonal destinations combine shopping for handmade gifts with seasonal food, music, and entertainment. For a directory of Christmas markets in the U.S., visit Christmas Markets.
14. Make Wrapping Paper
Gifts and ornaments aren't the only fun things to DIY during the holidays. Kids can also make their own wrapping paper. It's a great way to cut down on holiday expenses, as the cost of wrapping paper, ribbon, and bows quickly adds up.
To get creative with your wrapping, buy some inexpensive brown or white kraft paper, which you can find at the dollar store, or upcycle brown paper grocery bags. Then use paint, crayons, markers, stamps, or even cookie cutters to decorate it however you like. For inspiration, take a look at this pretty cookie-cutter wrapping paper from Red Ted Art.
15. Throw an Inexpensive Holiday Party
For many, parties are an integral part of the holiday season. But entertaining is easily one of the most substantial holiday expenses. If you're hosting a holiday party, you can spend hundreds of dollars on food, entertainment, and decorations.
If throwing a party is at the top of your family's must-do list, it's possible to throw an inexpensive, low-key get-together that's even more fun than a black-tie event. A few family-friendly ideas include:
Cookie Exchange Party. Invite guests to make their favorite cookie recipe and bring three to six cookies for each attendee. Be sure to provide some low-cost containers, which you can pick up from the dollar store. Or decorate brown paper lunch bags with decorative holiday stamps.
Ornament Exchange Party. Instead of springing for brand-new ornaments to spruce up your tree, hold a swap. Invite guests to bring any ornaments they're bored with and trade with other guests. Everyone will feel like they've gotten something brand-new without having to spend a penny.
Make Your Own Ugly Sweater Party. Instead of just wearing the traditional ugly sweater, take the fun up a notch and have everyone make their own. Pick up some cheap and tacky seasonal decor – like tinsel garlands and glittery pom-poms – at the dollar store, set out some tacky glue, and have guests all bring an inexpensive solid-color sweater or sweatshirt to decorate. At the end of the party, hold a contest to judge whose is ugliest.
Gingerbread House Decorating Party. Make a graham cracker "gingerbread" house for each guest ahead of time. Provide some tubs of white cake frosting to use as glue and have each guest bring a different bag of decorative candy – like peppermints, gumdrops, M&M's, or Sixlets – for everyone to share.
Gift-Making Party. Decide on an easy kid-friendly DIY, like bath bombs, and have each guest bring one bulk ingredient, such as baking soda or Epsom salt. For the cost of one supply, everyone can leave the party with gifts for family and friends. Some other ideas for gifts kids can make include hand-beaded bracelets, decoupage drink coasters, slime-filled Christmas ornaments, painted mugs, and holiday dish towels.
16. Volunteer
When families volunteer together to walk dogs at an area shelter, clean up garbage at a neighborhood park, or sing Christmas carols to housebound seniors, it's a no-cost family activity that helps kids feel the spirit of the season.
To find places to volunteer as a family, search a national directory like VolunteerMatch or Great Nonprofits, which can match you with organizations in your local area. Or look into opportunities at your children's school, through a religious organization, or through your local city government.
---
Christmas Eve Activities
In many ways, Christmas Eve is more exciting for kids than Christmas Day. There's nothing quite like the anticipation of waiting up for Santa, leaving out milk and cookies, and tracking his journey on the Norad satellite.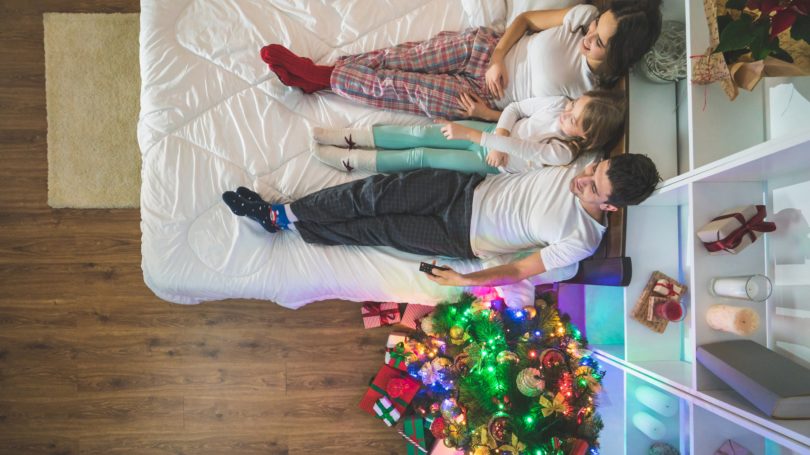 17. Create Your Own Polar Express
It's possible to find Polar Express train rides throughout the U.S., but the tickets are often prohibitively expensive. And if you don't buy them months in advance, it's next to impossible to get them.
Instead, create your own version on Christmas Eve. Print out some tickets like the ones at Teachers Pay Teachers. Cue up the movie's soundtrack, which is available for free streaming on Spotify and with Amazon Prime. Then brew up some hot chocolate and serve it with Christmas cookies.
After you've put kids to bed for the night, do a surprise wake-up. Settle them into the car in their pajamas, and drive around the neighborhood looking at Christmas lights while you listen to the movie soundtrack. Search Christmas Lights Finder for the best light displays in your area.
18. Hold a Christmas-Themed Family Game Night
If a crowd is gathering at your house on Christmas Eve, try hosting a game night. You can play Christmas-themed games and serve hot cocoa and Christmas cookies.
A few free or affordable games to play include:
Christmas Charades. Make up your own by brainstorming holiday words or phrases or download free printable game cards on Childhood 101.
Christmas Songs Pictionary. Make a list of your own Christmas songs or use the free printable game cards at Creations By Kara.
Christmas Family Feud. Challenge your family to this quick-thinking, TV show-inspired game of holiday-themed Family Feud. Get the full instructions at Play. Party. Plan.
Christmas Sorry. This DIY board game will take a little prep work the first time around, but it makes a cherished keepsake you can bring out year after year. Find the full instructions at Motte.
Christmas Trivia. This Christmas trivia game keeps everyone guessing with holiday-themed questions like, "What was the only movie to win an Academy Award for its Santa?"
Lump of Coal Christmas Plastic Wrap Game. The traditional candy bar party game involves wrapping candy bars in layers of plastic wrap – one in each layer – to make a giant ball. Guests take turns struggling with the frustrating layers of clingy film to get their candy. This version gets a Christmas makeover with token Christmas gifts and the inclusion of coal cards, which give instructions for players to unwrap the ball in challenging ways, like behind their back or under their seat. Find the full instructions at Play. Party. Plan.
19. Host a Christmas Movie Night
If you'd rather snuggle up in your pj's for a cozy Christmas movie, turn Christmas Eve into a family movie night. Pop some popcorn and gather everyone in front of the TV for one of these family-friendly movies:
"The Christmas Chronicles." Two siblings crash Santa's sleigh and must help him recover his stuff to save Christmas in this heartwarming adventure. Find it on Netflix. If you've already seen the first one, check out "The Christmas Chronicles 2," which is about an elf who plots to ruin Christmas and a now teenage Kate (one of the kids from the first film) who helps to save it. It's coming to Netflix November 25, 2020.
"The Polar Express." This beautifully reimagined version of beloved children's book "The Polar Express" by Chris Van Allsburg is about a boy who desperately wants to believe in Santa and is whisked away on a train ride to the North Pole on Christmas Eve. Find it on Amazon Prime.
"It's a Wonderful Life." This classic film never gets old. It's about a man who doesn't believe in the value of his life until he sees how many other people's lives would be different without him in it. Find it on Amazon Prime.
"Dr. Seuss' The Grinch." This most recent adaptation of the classic Christmas story stars Benedict Cumberbatch and gives a feature-length glimpse into the Grinch's life. It includes enough backstory to make the viewer feel sorry for the "villain" and a sweet ending that brings all the characters together. Find it on Netflix and Amazon Prime.
"Arthur Christmas." When a highly trained team of elves leaves behind one gift, it's up to Santa's hapless son Arthur to make sure no kid goes without a present. Find it on Netflix and Amazon Prime.
"Elf." This tale of an elf-raised human intent on reuniting with his biological family is a Christmas classic that appeals to kids and adults alike. Find it on Netflix or Amazon Prime.
20. Set Up a Hot Cocoa Bar
Set out some of Santa's favorite warm beverage for everyone to share along with a selection of toppings, including candy canes, toffee bits, caramel bits, peppermint chips, whipped cream, and marshmallows.
21. Give Christmas Eve Gifts
Waiting to open all the presents on Christmas Day is tough, especially for little ones. Give them a sneak peek by passing out one gift on Christmas Eve. Or make an annual Christmas Eve-themed gift box filled with a holiday-themed book, pajamas, hot cocoa, and a movie to tie it in with your other Christmas Eve festivities.
22. Track Santa's Flight
For younger kids who still believe in Santa, one of the most fun activities on Christmas Eve is checking out the Norad satellite to see Santa's flight path. To make it even more fun, have kids keep track of the stages of Santa's journey by writing in a free printable flight tracker you can download at Little Bins for Little Hands (see item number 9).
Then, make double sure Santa can find your house by helping kids lay down a "runway." Use glow-in-the-dark tape to light up your driveway with a giant arrow so Santa can see exactly where to go. Or do the same with some homemade glow-in-the-dark sidewalk chalk like they made at Coffee Cups and Crayons.
And don't forget to leave out milk, cookies, and carrots for Santa and his hardworking reindeer.
23. Leave Santa Footprints
Seeing the footprints Santa left behind is thrilling for the little ones. Create a footprint stencil by tracing one of your boots – preferably a large men's boot – on a piece of paper. Then cut out the bootprint. Once the kids are asleep, sprinkle baking soda or flour through the stencil to leave some snowy footprints.
24. Host a Family Sleepover
Kids love the novelty of "camping out" in their living rooms. Set up some play tents around the Christmas tree, read Christmas stories, make s'mores, and brainstorm ways to catch a glimpse of Santa as he stops by with his bag of toys. But make sure they're fast asleep before trying to sneak in the gifts. For bonus points, leave some flour "footprints" behind. It's quite a shock for them to wake up Christmas morning to discover he was right there while they were sleeping.
---
Christmas Day Activities
When it finally gets here, the big day can feel a little anticlimactic. Help keep the holiday spirit going with a few Christmas Day traditions for kids to look forward to.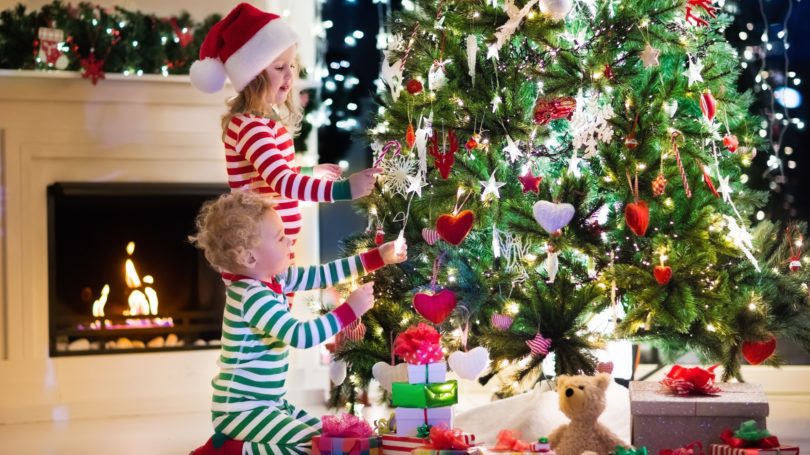 25. Wear Family Pajamas
Lounging around in your pajamas all Christmas Day is way more fun than dressing up in a fancy holiday outfit. On Christmas Eve, give the whole family a set of matching pj's. They make for some adorable family photos.
26. Make a Pancake Bar on Christmas Morning
On Christmas morning or the night before, mix up a big batch of buttermilk pancake batter. At breakfast, set out bowls filled with options for customizing your flapjacks. Go with healthy ingredients like blueberries, banana slices, and apple chunks. Or since it's Christmas only once a year, go wild with indulgent ingredients like chocolate chips, caramel bits, and peppermint chips, plus some whipped cream for topping. Cook the pancakes to order, allowing everyone to drop the ingredients they want into the cooking batter. You can do the same with waffles or omelets.
27. Host a Holiday Potluck
The lead-up to Christmas can be exhausting. Instead of breaking your back cooking a big holiday meal for friends and family, host a holiday potluck instead.
Invite each of your dinner guests to bring a dish or a drink. Between prep and cleanup, it saves hours in the kitchen. And since everyone is sharing the cost of food, it also saves on cash.
To make sure you don't end up with six green bean casseroles or 10 apple pies, use the free printable potluck planner chart at Real Simple or the free online signup tool at Perfect Potluck to coordinate who's bringing what.
28. See a Movie in the Theater
Christmas Day is an ideal time to go to the movies. The theaters are less crowded because most people are busy with their holiday activities. Plus, movie theaters are one of the very few places open on Christmas Day. And there are almost always new movies out right around Christmastime. Save time once you get to the theater by purchasing your tickets ahead of time through Fandango.
---
Winter Break Activities
If you'll be home with the kids during winter break, arm yourself with some low-cost, low-prep activities to keep them entertained.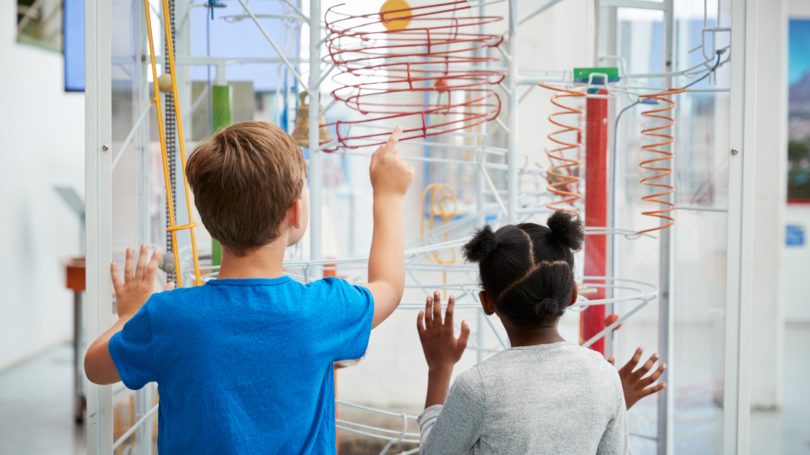 29. Visit a Museum, Zoo, Historical Site, or Amusement Center
Although family-friendly attractions like museums, zoos, historical sites, and amusement centers are often expensive, many run free or discount days throughout the year, including during the holidays.
For example, on Black Friday, Legoland Discovery Center typically sells annual passes and discounted tickets you can use any day of the year. Plus, roller skating rinks, ice skating rinks, bowling alleys, and video arcades often have discounted days or times.
Also, check to see if any local museums and historical sites have free or discount days. Historical sites are especially lovely places to visit this time of year because they often deck out the area for the holidays.
And be sure to check Groupon for deals on fun things to do.
30. Have a Staycation
If you're not traveling for the holidays, you can still pretend you're on a real family vacation with a staycation. Tour your town like a visitor and take in all the local attractions. Visit landmarks, take a walking tour of your downtown, and explore a new restaurant.
For inspiration, do an Internet search of fun things to do where you live. Look for travel guides, just as if you're a tourist. Check for local experiences like those listed on Airbnb. And keep an eye out for discount deals aimed at travelers, like City Passes, which allow you to access a variety of attractions for one lower rate.
31. Perform Holiday-Themed Science Experiments
Kids can explore science while performing holiday-themed experiments, like melting gumdrops and shattering ice bubbles. They won't even realize they're learning valuable science, technology, engineering, and math skills. A few to try include:
Grinch's Heart Slime. Kids get to explore chemistry concepts like polymers, cross-linking, states of matter, elasticity, and viscosity when they combine glue with baking soda and saline solution to create slime. Tint the slime neon green and add some glitter and red metallic hearts to complete the theme. Find the full instructions on Little Bins for Little Hands.
Gumdrop Science. Have them test out their engineering skills using gumdrops and toothpicks to build geodesic domes, bridges, and towers. For a real challenge, see if they can build a structure that holds the weight of a textbook. Find the full instructions on The Homeschool Scientist.
Crystal Snowflakes. Using just borax and water, kids can learn about the chemistry involved in crystal formation. And with crystals formed on pipe cleaners twisted to look like snowflakes or icicles, the result of the experiment is a sparkly winter decoration. Find the full instructions on Happy Hooligans.
Frozen Bubbles. By blowing bubbles in temperatures below freezing, kids can explore the various states of water and the effects of warm and cold air. The cold air flash-freezes the bubbles, turning them into glasslike orbs before they shatter on the ground. Get a full explanation of the science on National Geographic.
Fake Snow. If the kids are missing out on a white Christmas this year, have them make fake snow with baking soda and shaving cream. They can mold and shape it to make snowmen and igloos, just like real snow. It's a pleasant sensory activity for younger kids or an educational chemistry experiment for older children. Find the full instructions on The Spruce Crafts.
Make Paper Snowflakes. Kids can learn about shapes, patterns, and geometric relationships while crafting a lacey winter-themed decoration. Have kids make freehand cutouts to come up with some unique and surprising designs. For older kids who'd like more of a challenge, search the Internet for intricate designs, like kirigami or 3-D snowflakes.
32. Make Winter Art & Crafts
Winter-themed arts-and-craft projects let kids unleash their creativity while practicing valuable skills like focus, perseverance, and self-expression. A few to try include:
Snowman Charm Bracelet. Have kids string together beads in various shades of blue and a few snowman-themed charms you can find at a craft store like Michaels. Or buy a complete kit for making their own snowman charm bracelets.
Stained-Glass Snowflakes. Kids can use clear contact paper and squares of tissue paper to make "stained-glass" art to reflect light while hanging in a window. With the addition of a snowflake cutout, this becomes a winter-themed craft. Find the full instructions on Kinder Craze.
Snow Paint. Kids get to paint with fluffy, sparkly "snow" when they make this puffy paint. Have them use it to make snowmen for toasty-warm indoor snow play. Find the full instructions on Growing a Jeweled Rose.
Egg Carton Penguins. Upcycle egg cartons by transforming them into mini penguins with some paint, googly eyes, and paper scraps. Find the full instructions on One Little Project.
Polar Bear Race Game. Using only construction paper, white card stock, markers, and tape, kids can make a craft that doubles as a fun board game to play. Find the full instructions on Little Family Fun.
Winter Bubble Wrap Tree. Upcycle some bubble wrap into a fun art tool and have kids use it to "stamp" snowflakes onto a winter tree painted on blue paper. Find the full instructions on Arty Crafty Kids.
33. Play in the Snow
If there's real snow on the ground during winter break, there are plenty of outdoor winter activities to keep kids occupied. Have an old-fashioned snowball fight, go sledding, or make snow art with some homemade snow paint made by filling a spray bottle with water and adding enough food coloring to create a vibrant color.
Or play a winter version of a classic game like capture the flag. The rules are the same, but instead of tagging someone out, hit them with a snowball.
And before the snow melts, challenge each other to see who can create the best snowman. If the snow is deep enough, you can also build tunnels, forts, and igloos for the snowmen to live in or for kids to crawl through.
34. Take a Hike
Check out your local parks for winter programs. Parks and hiking trails are often open year-round, and many of them even have special winter events. The whole family can get some exercise while learning about resident wildlife, including what animals do for food during winter, which animals hibernate, and how animals stay warm.
35. Feed the Birds
To learn about winter wildlife and help animals at the same time, make a winter bird feeder. Slather pine cones with peanut butter and roll them in birdseed. Hang the pine cone bird feeders from trees in your yard. Or try making a bird feeder from a recycled 2-liter soda bottle, like the one on Living Well Spending Less.
Then sit at the window and watch the birds that come for a visit. You can use a book like "The Ultimate Explorer Field Guide: Birds" from National Geographic Kids to identify the types of birds.
36. Visit an Indoor Playground
If there's no snow outside, visit an indoor playground instead. Find indoor play spaces at popular kid-friendly restaurants like McDonalds or Chick-fil-A. Or search your local area for play cafes – indoor play spaces specifically designed to keep little ones occupied and entertained.
37. Attend a Maker Workshop
Several national retail chains offer free workshops for kids, although some require you to buy one or more of the materials. Regardless, kids get hands-on guidance to do a project they can take home with them for little to no cost.
For example, Michaels craft stores host free classes for kids several times a month in project categories like food crafting, fine art, and textiles. Projects typically center around the holiday or season, like painting a snowman or arm-knitting a chunky blanket.
National home improvement retailer Home Depot offers kids workshops on the first Saturday of every month. Past projects have included model race cars, picture frames, and planters. Classes are free, including materials, and kids get to take home an orange apron along with their projects. Make sure to register in advance to save your child a spot and ensure there are enough materials for them.
The Disney Store features some fun in-store events a few times per month. These include free giveaways, singalongs, storytelling, art experiences like learning to draw Mickey and Minnie Mouse, and holiday-themed events like the Magical Wishes celebration. Events are first-come, first-served, so be sure to arrive early, especially if there's a giveaway happening.
---
New Year's Eve & Day
New Year's marks the official end of the holiday season, so it sometimes feels like a let down to kids – especially since they have to go back to school in the next day or two. So keep their spirits up with something to look forward to.
38. Host a New Year's Eve Bash
Many parents head out for a grown-up evening of glittery parties and drinking Champagne on New Year's Eve. But if staying in with the kids is more your style, make it extra fun by throwing a family New Year's Eve bash. Troll the dollar store for inexpensive supplies, like glow-in-the-dark necklaces, paper hats, and feather boas.
Have kids create noisemakers by piling a few rattling objects like dried beans, rice, or plastic beads onto a paper plate. Then staple another paper plate on top, keeping the staples close together so nothing will fall out. Decorate them with shiny and glittery stickers. Or fill plastic bottles or containers with things that rattle.
And if the kids are too young to stay up until midnight, do a mock countdown. Netflix subscribers can look for a selection of countdowns featuring their favorite characters. If you don't have Netflix, Amazon's Alexa will count down for you. Or search YouTube for a kid-friendly version of the ball drop.
If you want to order dinner from your family's favorite restaurant, you can use DoorDash. They frequently waive the delivery fee on your first order.
39. Have a Tree Takedown Party
If you and your family get gloomy when taking down the tree, make it more fun by turning it into a party. Put on your favorite music, set out some drinks and snacks, and have a dance party while filling up those ornament boxes.
40. Eat Lucky Foods
Cultures all over the world have traditional foods they prescribe eating on New Year's Day to usher in a good year. In Germany, for example, they eat pork and sauerkraut for prosperity. And many Americans eat black-eyed peas and collard greens for luck. Take a look at the list of lucky foods at Good Housekeeping and pick one for your family to enjoy this year.
---
Final Word
Whether you spend a lot of money on making Christmas as perfect as possible or opt for free and frugal activities, it's easy to get overwhelmed with all the options. As parents, we want our kids to have memories to last a lifetime. But what matters most is that we're present with our kids, not how "perfect" we make those moments. The best experiences involve just being together – like making snow angels or cuddling in front of the tree in your pajamas.
So don't get caught up in thinking you have to do it all. Choose a few things you feel would make your holidays memorable and create cherished traditions, and leave the rest. The most important thing is just to enjoy the season with your family and have fun.
Published at Mon, 21 Dec 2020 23:45:57 +0000