Boris Johnson backtracks on relaxing Christmas rules after scientists warn new Covid-19 strain spreads faster – CNN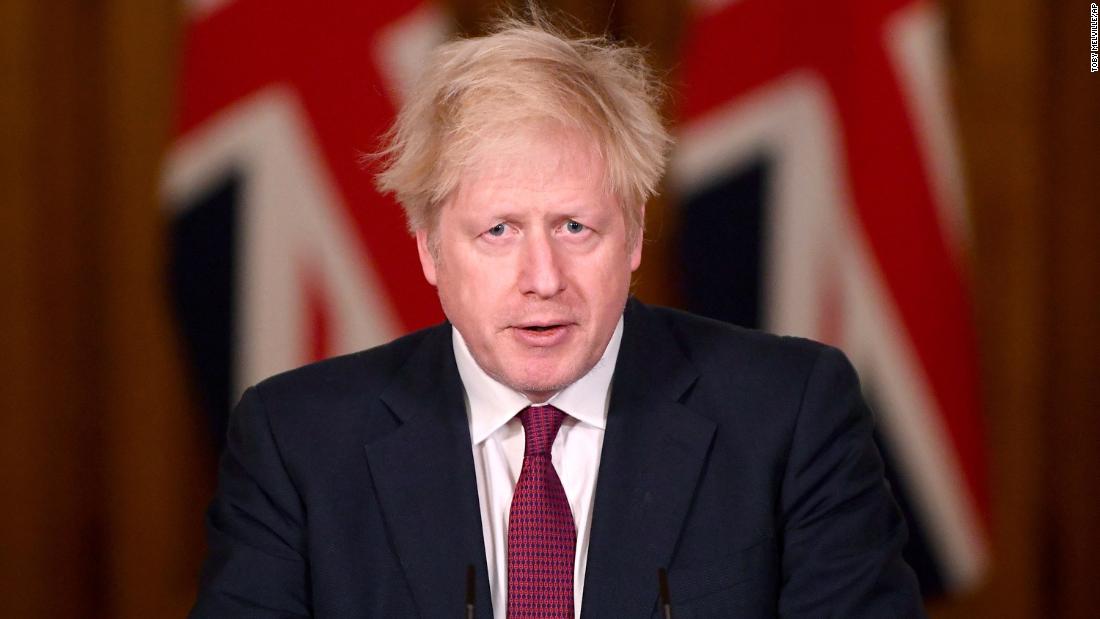 UK Prime Minister Boris Johnson announced a series of stricter coronavirus restrictions, tightening rules around household mixing that were due to be relaxed over Christmas in England, while leaders in Scotland and Wales also introduced more stringent measures. The UK has among the highest Covid death rates in Europe, with more than 67,000 fatalities, and over 2 million cases.
The PM broke the news that London, and large parts of southern and eastern England, where cases are surging, will enter Tier 4 restrictions, similar to a lockdown, on Sunday.
"The spread is being driven by the new variant of the virus," Johnson said in a hastily called press conference. "It appears to spread more easily and may be up to 70% more transmissable than the earlier strain."
England's chief medical officer, Professor Chris Whitty, warned Saturday that a newly identified variant of Covid-19 "can spread more quickly" than previous strains of the virus.
"This is now spreading very fast," Johnson warned. "It is with a very heavy heart that I say we cannot continue with Christmas as planned."
Johnson outlined that in Tier 4 areas under the toughest restrictions, there will be no possibility for household mixing over Christmas. In areas under lower alert levels in England, Scotland and Wales, mixing will now be permitted only on Christmas Day.
Alert Level 4 restrictions will be brought forward to apply across Wales from midnight, the country's First Minister Mark Drakeford announced Saturday, meaning that "festive bubbles" can be formed only on Christmas Day, PA Media reported. Under Alert Level 4, people must stay at home except for very limited purposes, and must not meet other households or people they do not live with, while many businesses are required to close.
Scottish First Minister Nicola Sturgeon on Saturday said a strict travel ban would be implemented throughout the Christmas period north of the border, warning that people from Scotland should not visit other parts of the UK, and vice versa.
"In order to reduce the risk of more of the coronavirus strain being imported into Scotland, we intend to maintain a strict travel ban between Scotland and the rest of the UK," Sturgeon said.
Meanwhile, the toughest level of coronavirus restrictions will be applied to all of mainland Scotland for three weeks from December 26, she added.
No changes in restrictions in Northern Ireland, which is set to go into lockdown on Boxing Day, were announced.
Critics lambast Johnson's handling of pandemic
As recently as this week, Johnson reiterated his pledge to relax rules over the Christmas period, allowing up to three households to mix for five days. But as of Saturday, the entire nation is being asked not to travel and those under the highest level of restrictions, will not be allowed to travel abroad except for work purposes.
Keir Starmer, leader of the opposition Labour Party, criticized the government's handling of the crisis, saying: "Many people will be heartbroken by the news that their Christmas plans are being ripped up.
"I'm really frustrated because I raised this with the Prime Minister on Wednesday, and he dismissed that. He went on to tell people to have a 'merry little Christmas,' only three days later, to rip up their plans," he said on Sky News.
Experts urgently seek clarity on new strain of the virus
According to Whitty, the new variant is responsible for 60% of infections in London, which have nearly doubled in the last week.
Earlier, he said "urgent work" is underway to establish whether the new strain, prevalent in the southeast of England, can cause a higher mortality rate.
"There is no current evidence to suggest the new strain causes a higher mortality rate or that it affects vaccines and treatments although urgent work is underway to confirm this," Whitty said in a statement.
As with other new variants or strains of Covid-19, this one carries a genetic fingerprint that makes it easy to track, and it happens to be one that is now common. That does not mean the mutation has made it spread more easily, nor does it not necessarily mean this variation is more dangerous.
Multiple experts in the genetics and epidemiology of viruses are noting that this one could be just a "lucky" strain that's been amplified because of a superspreader event; it could be the mutation somehow makes it spread more easily without causing more serious illness; or it could just be by chance.
The government's scientific advisory group for Covid-19 has also warned the new strain is a "real cause for concern," and called for urgent action. On Twitter, Jeremy Farrar said, "Research is ongoing to understand more, but acting urgently now is critical. There is no part of the UK & globally that should not be concerned. As in many countries, the situation is fragile."
Whitty also urged people to take more precautions. "Given this latest development it is now more vital than ever that the public continue to take action in their area to reduce transmission," he said.
Daniel Altmann, Professor of Immunology at Imperial College London, said the emergence of a new strain of the virus strengthens the case for all to get vaccinated as soon as possible. "The vaccines induce neutralising antibodies to several parts of spike ("epitopes") and most of these would be unchanged by the mutations — so the vaccines will still work," the Science Media Centre reported.
Dr. Michael Head, Senior Research Fellow in Global Health at University of Southampton, agreed that surging case numbers means that "dramatic interventions are essential."
"It has been obvious for some time that mixing of multiple households over the Christmas period will lead to a very difficult January," he said. "Therefore, this level of restrictions is what should have been implemented at the time of the previous Christmas announcements, regardless of the impact of this new variant."
Published at Sat, 19 Dec 2020 17:50:00 +0000