Melaleuca Food Drive Delivers Hope for the Holidays – Idaho Falls Magazine
Melaleuca is once again brightening the holidays for hundreds of families in need. The Wellness Company recently wrapped up another successful food drive. In the spirit of the company's mission of enhancing lives, Melaleuca employees collected more than $15,000 in cash and food before donating them to the Community Food Basket—Idaho Falls.
On Dec. 2, after purchasing over $5,000 worth of food and delivered it to the nonprofit's warehouse, Melaleuca presented them with a check for the remaining amount of $9,923.
Ariel Jackson, Executive Director of the Community Food Basket, says this donation will support countless families throughout the region since her organization supplies more than a dozen other local food pantries. She also points out that the food bank can stretch each donated dollar to cover 10 meals because of the partnerships it has with major food manufacturers, producers and retailers.
"Since the pandemic hit, we've seen an unbelievable increase in demand," Jackson said. "Thankfully, we live in a wonderful community full of generous people and great companies like Melaleuca who come running to help when help is needed."
A Holiday Tradition
This annual food drive is one of Melaleuca's favorite holiday traditions, reflecting Melaleuca's mission of enhancing lives. Not only did employees step up to donate food during the holidays, but they are currently donating hundreds of toys, clothing and Christmas supplies to needy children through the company's "Angel Tree" program.
As the Covid-19 pandemic continues to afflict the community, many families are facing a tougher-than-normal holiday season. Unfortunately, food scarcity has risen by 30 percent in our community, and food pantries like the Community Food Basket are busier than they've ever been.
"At Melaleuca, we've all been fortunate to be able to continue working during the pandemic," Vice President of Human Resources Jamie Reynolds said. "Because we've been so blessed, we feel this was a great time to give back to the community."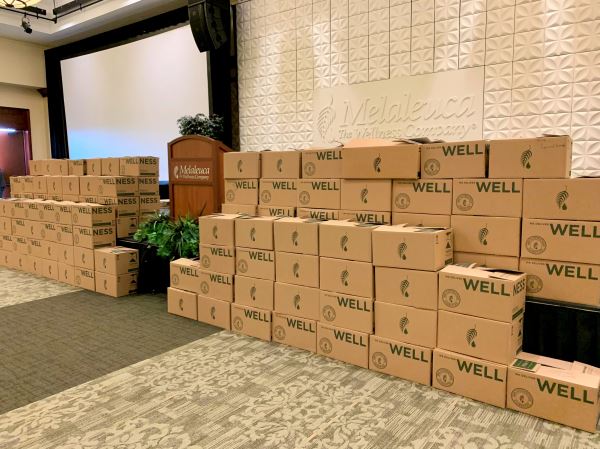 Feeding the Hungry
Melaleuca has long been a strong supporter of non-profit organizations that fill families' pantries and ensure less-fortunate families have enough to eat.
Over the last few months, Melaleuca has donated thousands of dollars to promoting several food drives in the community. It paid for multiple large-scale advertising campaigns throughout eastern Idaho. As a result of its efforts, along with many other factors, the Community Food Basket—Idaho Falls received more than 160,000 pounds of food from community food drives that Melaleuca supported during the month of October.
Melaleuca says its employees are quick to serve the community, generous with their personal contributions, and excited to come together in support of meaningful opportunities.
"I'm so proud of the entire Melaleuca team and all who contributed to this year's food drive," Reynolds said. "Our hope is that this gesture will brighten the holidays and enhance the lives of many local families in need."
Published at Wed, 16 Dec 2020 21:50:49 +0000