Watch the first Pfizer COVID-19 vaccine arrive in BC (VIDEO) | News – Daily Hive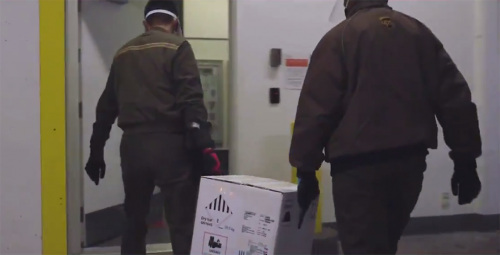 Monday evening marked a momentous occasion as the first delivery of Pfizer's COVID-19 vaccine arrived in British Columbia.
The shipment is the first of approximately 4,000 doses that are being delivered to the Lower Mainland. Calling it "one of the most important deliveries" in their 45-year history, UPS shared images of the vaccine being processed and shipped out of Cologne, Germany, last week.
Provincial Health Officer Dr. Bonnie Henry explained during a news briefing that BC is preparing to deliver the first doses of the vaccine on Tuesday morning. The vaccine will be given at one location in Vancouver and another in Fraser Health.
Premier John Horgan shared a video on social media of the first delivery being made.
"Here it is," he tweeted. "We're one step closer to British Columbians being immunized."
The one-minute clip shows two UPS workers carrying the package that contains the vaccine into a storage unit. Upon opening, smoke and dry ice can be seen covering the vaccine before it's placed in a freezer.
Here it is. We're one step closer to British Columbians being immunized. Watch as the first COVID-19 vaccine arrives in BC. pic.twitter.com/N7u46DVw3V

— John Horgan (@jjhorgan) December 15, 2020
Once the initial rollout of Pfizer's COVID-19 vaccine is complete, health officials expect to receive "tens of thousands" of doses in the subsequent weeks and into early January.
Vaccines will continue arriving each week in BC in increasing quantities, with targeted deployment for people in priority groups. Timelines will depend on vaccine approval and availability.
By March 2021, nearly 400,000 people should be immunized in the province.
Pfizer Canada and BioNTech will supply the Government of Canada a minimum of 20 million doses — and up to 76 million doses — of the vaccine through 2021.
Published at Tue, 15 Dec 2020 18:09:00 +0000