Covid vaccine: More than 130,000 vaccinated in UK in first week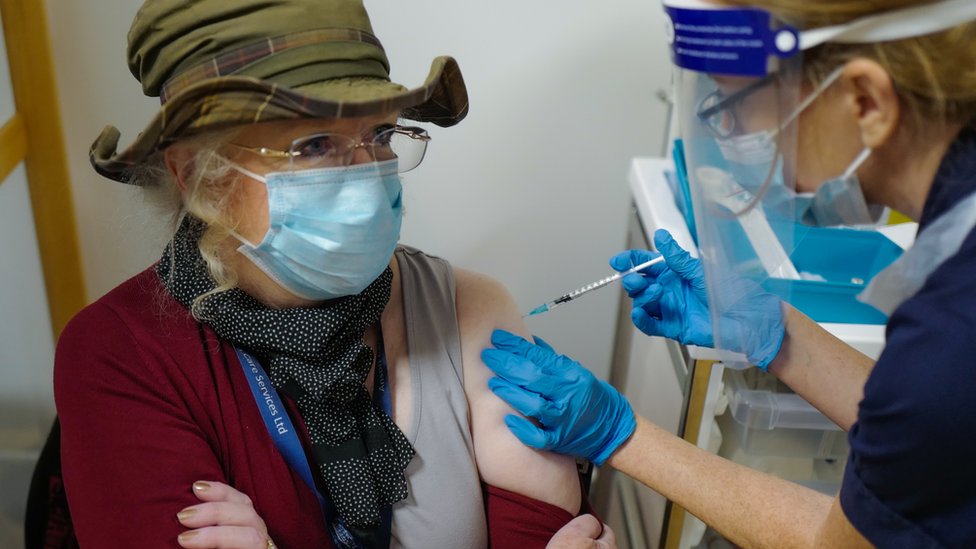 More than 130,000 people have been vaccinated in the first week of the UK's vaccination programme.
Minister Nadhim Zahawi, who is in charge of vaccine rollout, tweeted 137,897 people had been given their first doses of the Pfizer / BioNTech jab between 8 and 15 December.
He described it as a "really good start" for the programme.
The figure only captures the start of the community vaccination programme run by GPs which launched on Monday.
About 200 of these local vaccination clinics are expected to be up and running by the end of the week.
They will be followed by another 1,000 in the coming weeks.
Who will get the vaccine first?

What you need to know about vaccine safety
How close is light at end of Covid tunnel?
How will the UK vaccinate millions of people?
A rapid expansion will be needed.
The government wants to offer everyone over 50 and younger adults with health conditions a vaccine – about 25 million people.
But the National Audit Office has warned "complex logistical challenges" remain.
It said thousands of extra staff would be needed to deliver vaccinations on the scale being talked about – the government has committed to offering all over 50s and younger adults with health conditions a vaccine.
It said hospitals and GP-run local clinics would not be able to do this on their own.
But it added the government had worked "quickly and effectively" to secure access to vaccines – contracts have been signed giving priority access to five different jabs.
It estimated the vaccination programme, including manufacturing, purchasing and delivering the jabs, could cost up to £12bn.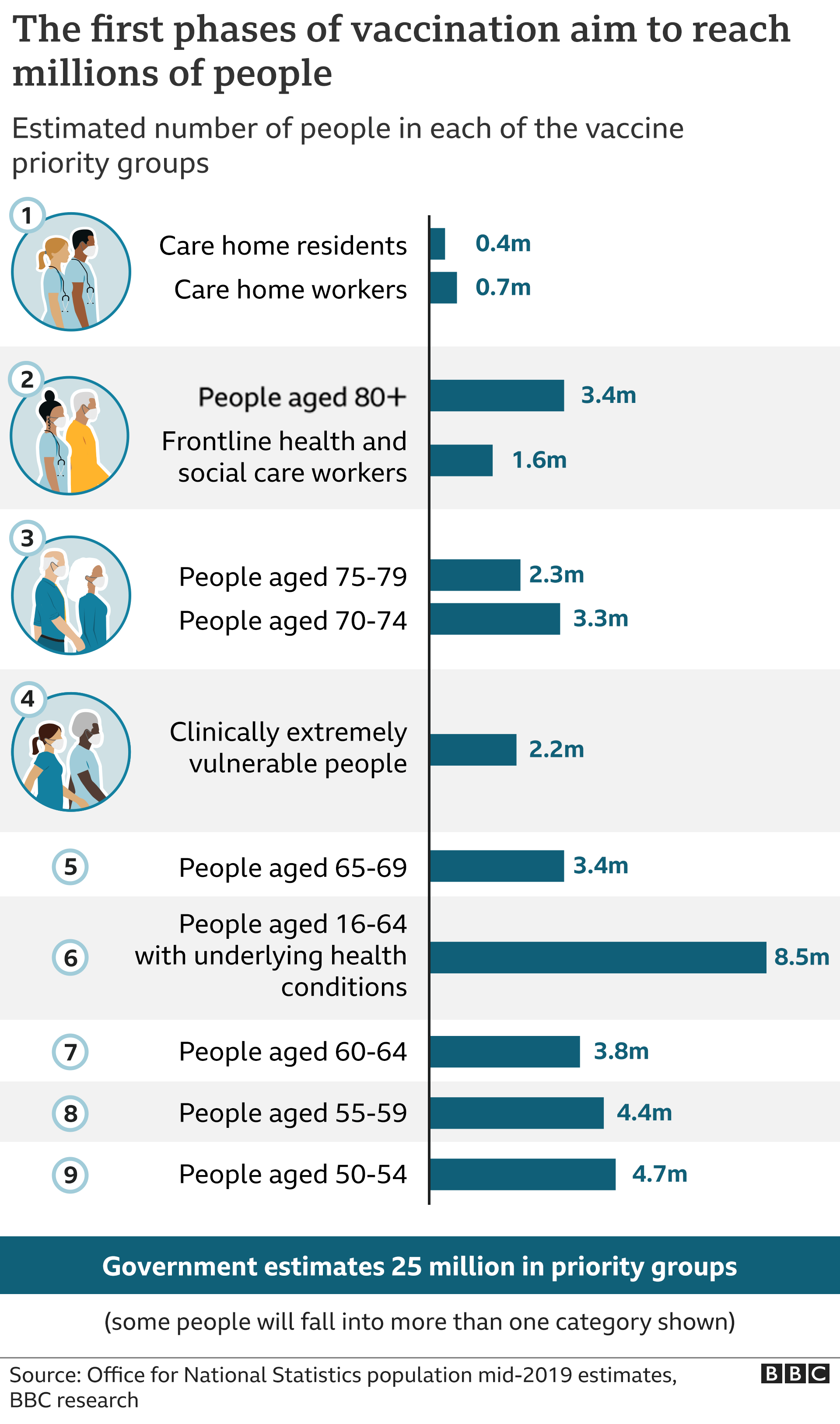 During the first week, more than 70 hospitals took part in the vaccination programme – with another 10 starting this week.
Mr Zahawi said the figures were provisional and from next week there would be published data available.
The breakdown for individual nations showed:
108,000 vaccinated in England
7,897 in Wales
4,000 in Northern Ireland
18,000 in Scotland
"Transparency is vital as we deliver vaccines across the UK," Mr Zahawi added.
Health Secretary Matt Hancock said: "This is just the start and we will steadily expand our vaccination programme – ultimately helping everyone get back to normal life."
The over-80s have been invited for vaccination first, along with some health and care staff.
But the highest priority group, care-home residents, have only just started to receive the Pfizer-BioNTech jab.
It has to be kept in in large batches in ultra-cold storage.
And the NHS had been waiting for guidance on how it can be safely taken into care homes.


SYMPTOMS: What are they and how to guard against them?
YOUR QUESTIONS: We answer your queries
THE R NUMBER: What it means and why it matters
TREATMENT: How close are we to helping people?
VACCINE: How close are we to finding one?


Published at Wed, 16 Dec 2020 11:05:59 +0000