Covid vaccine: GPs in England to begin offering Pfizer jab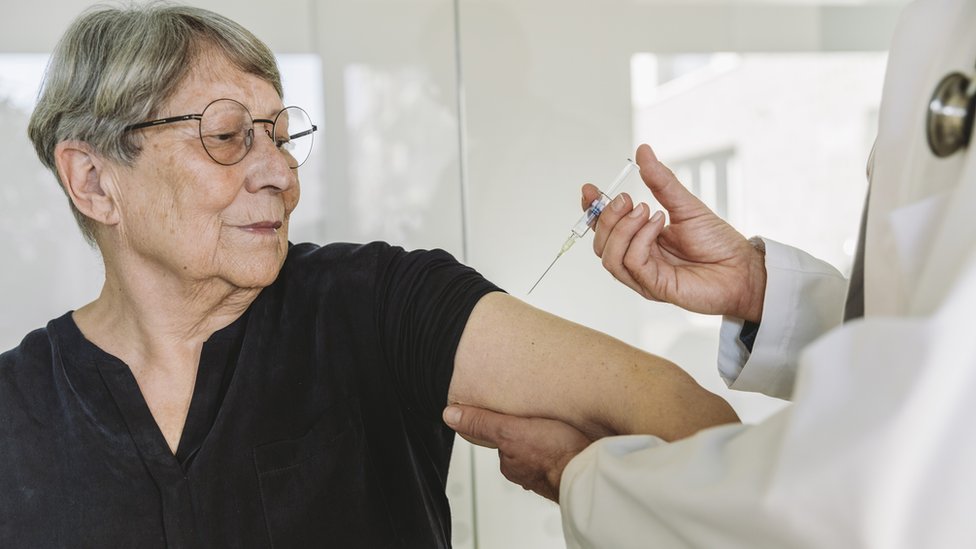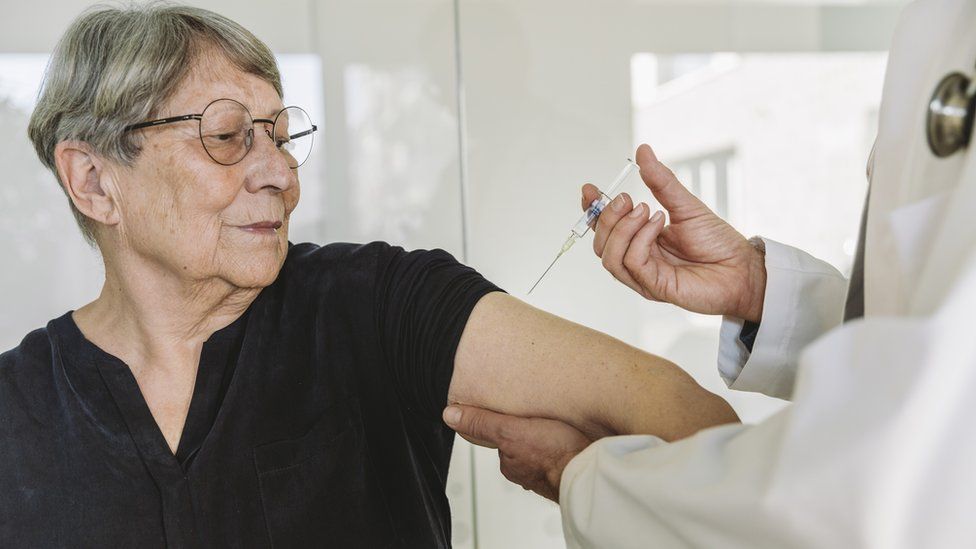 Covid vaccinations will start being given to patients from GP surgeries in England as part of the next stage of the rollout of the programme.
GP practices in more than 100 locations will receive their first deliveries of the vaccine later, the NHS said.
Some will start vaccinating on Monday afternoon, with the majority getting under way on Tuesday.
Tens of thousands of people in the UK
received the Pfizer-BioNTech jab last week in hospitals.
Like last week, the GP practices will prioritise over-80s, along with health and care staff.
It comes as a further 18,447 coronavirus cases were recorded across the UK on Sunday, along with 144 deaths within 28 days of a positive test.
The number of deaths recorded tends to be lower over the weekend because of reporting delays.
How will get the vaccine first?
What you need to know about vaccine safety
How does the Pfizer vaccine work?
The vaccination centres will operate from existing doctors' surgeries or community hubs in villages, towns and cities across the country.
NHS staff, including nurses and pharmacists, will work alongside GPs to carry out the vaccinations.



Once the vaccine is delivered, there will be no messing around. GP practices will receive batches containing 975 doses.
These will have been thawed out – they are kept in ultra-cold storage in hospital – which means practices only have three-and-a-half days to use them up.
It will be all hands on deck therefore with GPs, practice nurses and health care assistants working together to vaccinate the over-80s.
The 100 or so practices getting the vaccine on Monday will be followed by another 100 to 200 over the course of the week.
The rest of the network of 1,200 designated practices – each local area has been asked to nominate one practice to deliver the vaccine – are expected to follow in the coming weeks.
But that will depend on supply. There's thought to be fewer than one million doses of the Pfizer vaccine in the country – although more is due to arrive from Belgium soon.
What could change the whole speed of rollout is approval of a second vaccine made by Oxford University and AstraZeneca.
Regulators are currently assessing the safety and effectiveness of that vaccine, of which there are already over five million doses available.


Care home residents in England are also expected to receive their first vaccine later this week, along with other parts of the UK, the NHS said.
Rollout to care homes – the highest priority for vaccination – had been held up by strict rules governing the handling of the Pfizer vaccine, which has to be stored at -70C.
But the regulator is expected to give the green light to vaccinators taking the jab into care homes in the coming days.
In Scotland, GPs are helping deliver the vaccination programme via hospital hubs but England is the first part of the UK to roll out the jab through GP practices.
'Logistical challenges'
Dr Nikki Kanani, practising GP and NHS director of primary care, encouraged people to attend when they were invited to have the vaccine.
"This is the greatest vaccination programme ever undertaken by the NHS and, to help vaccinate people safely we will be working with local communities to deliver it in convenient and familiar settings," she said.
Prof Martin Marshall, chairman of the Royal College of GPs, acknowledged there were "logistical challenges" to the rollout but said GPs had "an excellent track record of delivering mass vaccination programmes".
He added: "We won't be vaccinating everyone all at once – it will be a relatively small number at first – but as long as there is supply, GPs and our teams at selected sites will start vaccinating people this week, starting with our most vulnerable patients."
He urged people not to contact their GP enquiring about vaccination, saying patients would be contacted when it was their turn to get the jab.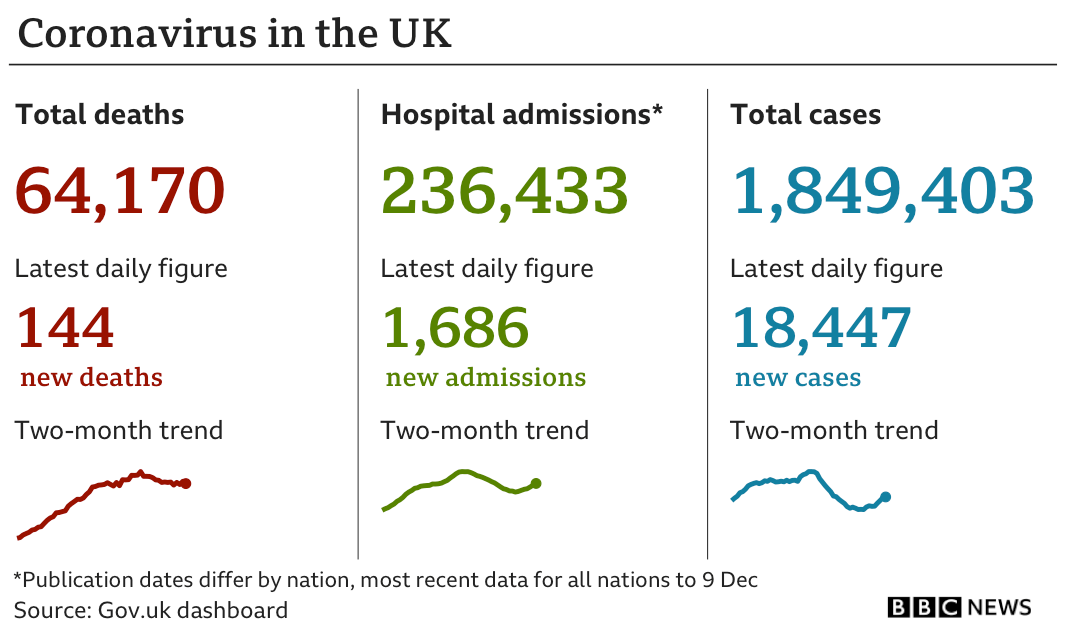 Ministers and experts have warned the rollout of the vaccine does not mean coronavirus restrictions can be suddenly relaxed.
On Sunday NHS Providers – which represents hospital trusts in England – said people must think carefully about the risk of increased social contact over Christmas, despite the rules allowing three households to mix indoors and stay overnight between 23 and 27 December.
Meanwhile, from this week mass testing is being rolled out in 67 areas of England which are under tier three restrictions, including Oldham, Lancashire and Kent.
More than 1.6 million of the rapid lateral flow tests will be delivered this month to detect asymptomatic cases in areas with high infection rates, the government said.
Mass testing is also being offered to sixth-form and secondary school staff, pupils and their families in parts of north-east London, Essex and Kent, following a rise in cases, particularly among 11 to 18-year-olds.


LOCKDOWN LOOK-UP: The rules in your area
TESTING: How do I get a virus test?
SYMPTOMS: What are they and how to guard against them?
LOOK-UP TOOL: How many cases in your area?


Published at Mon, 14 Dec 2020 01:57:40 +0000