Covid: Grange Hospital 'at tipping point' with coronavirus patients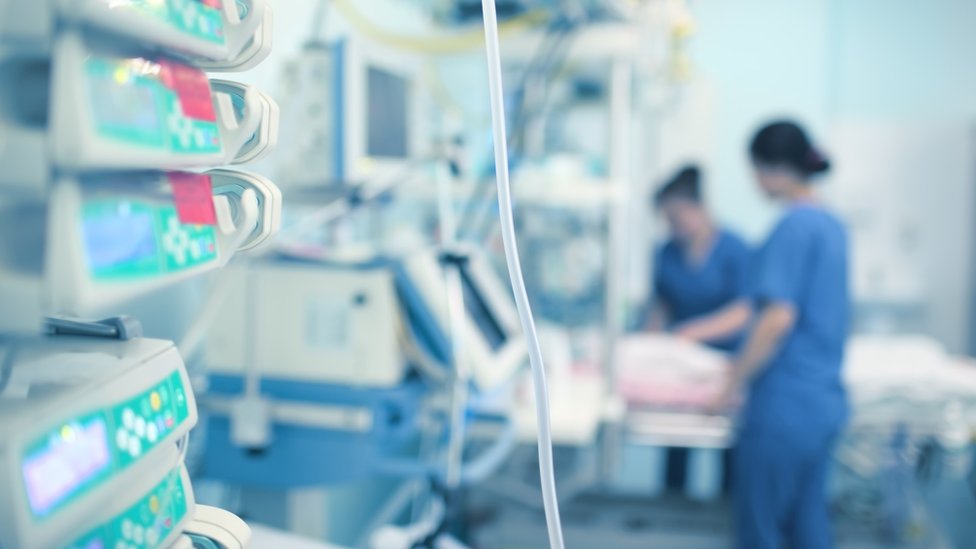 A hospital is "stuffed full", with more patients in beds with coronavirus than without, a consultant has warned.
Outpatient appointments and non-urgent planned surgery have been halted at hospitals in the
Aneurin Bevan health board area.
Dr Ami Jones, an intensive care consultant at the new Grange hospital, Cwmbran, said people were queuing in ambulances as there was "no space".
Wales' Health Minister Vaughan Gething said it was "incredibly serious".
Mr Gething said another, un-named, major health board in Wales would also be withdrawing a range of non-urgent services shortly due to increasing pressures.
Grange University Hospital opened in November and is Wales' newest general hospital.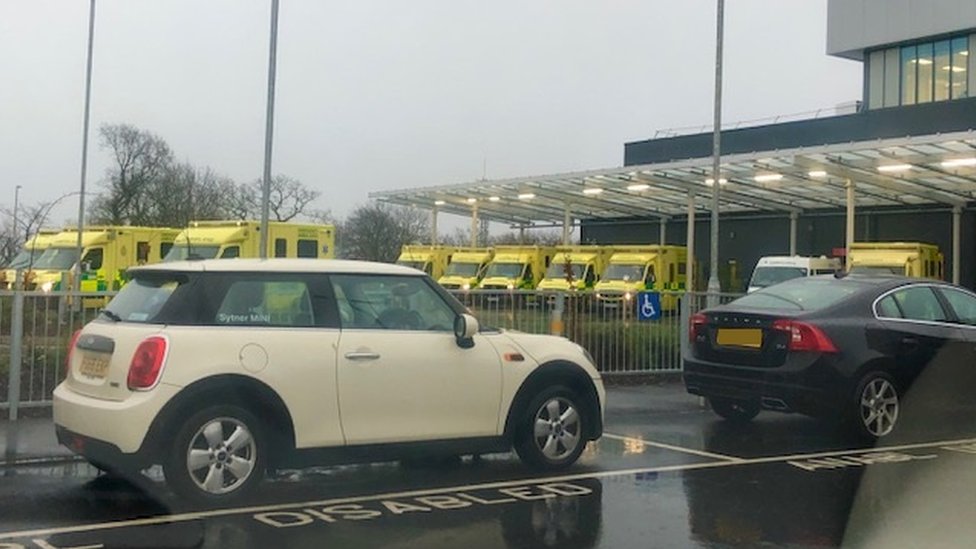 Wales' First Minister Mark Drakeford warned the Welsh NHS was in danger of becoming the "national coronavirus service" when the number of positive Covid-19 tests passed 100,000 in Wales on Saturday.
Aneurin Bevan health board, which covers Blaenau Gwent, Monmouthshire, Torfaen, Caerphilly and Newport, has some of the highest levels of Covid in Wales.
Dr Sarah Aitken, the health board's interim executive medical director, said there were now 404 patients with confirmed coronavirus in its hospitals.
This compares with 283 in April, at the peak of the first wave of the pandemic, but she said the service was "not close to breaking point".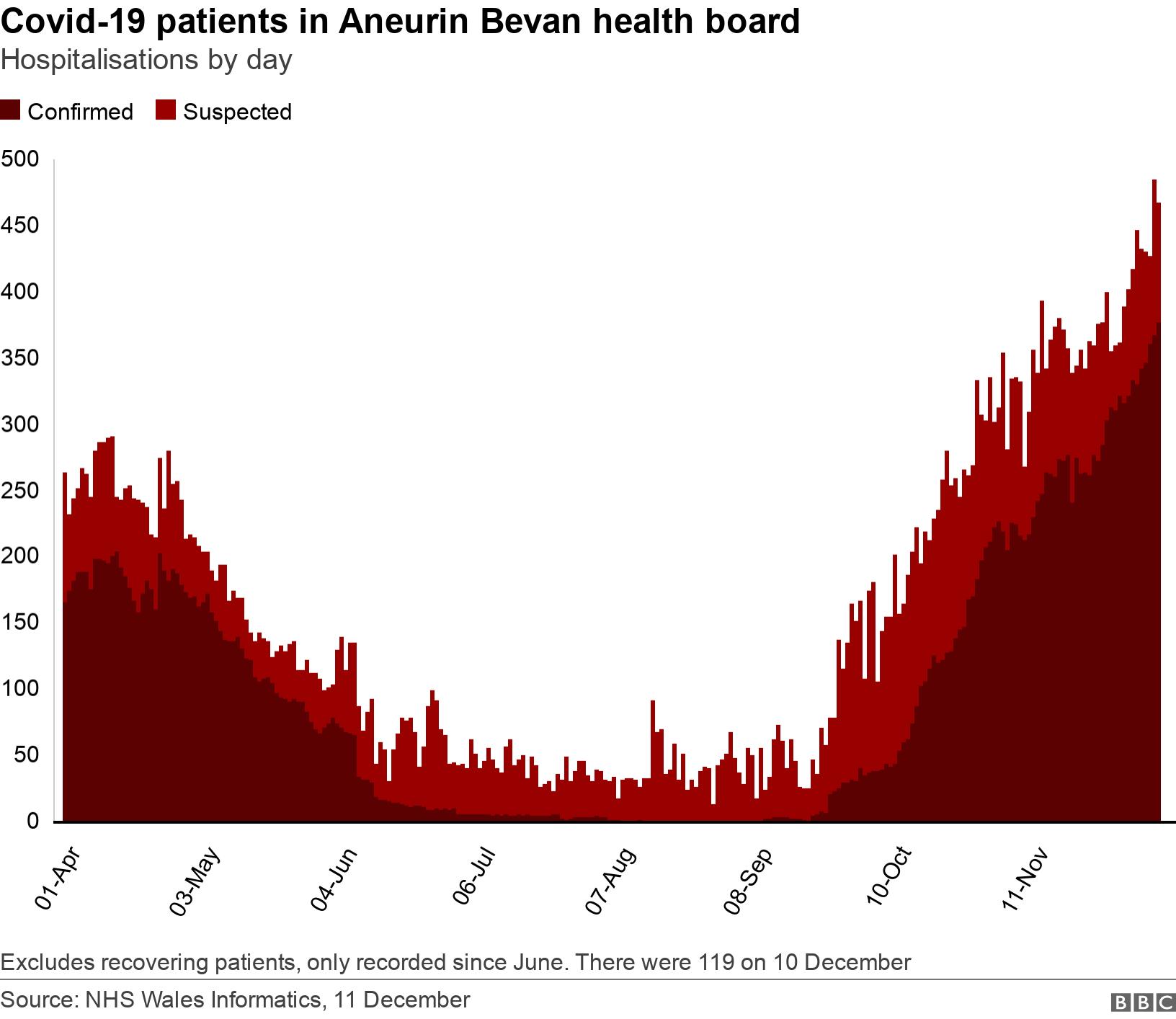 She added that the situation was intense as they were trying to keep other essential departments, such as cancer treatment, going.
"Our staff are tired, and they are distressed by the seriousness of Covid and what they're seeing," she said, adding more younger people who were seriously unwell were being admitted.
Dr Jones, ICU consultant at the new Grange Hospital, said it was "stuffed full with patients with very significant needs".
She said keeping patients without coronavirus from getting the virus was hard and non-urgent treatment had to be halted.
She told BBC Radio Wales Breakfast: "As the numbers of patients with Covid in the hospital get more and more, that becomes more difficult. It's not just pure beds, it's trying to keep those patients safe.
"We have reached a tipping point, we have more patients that have Covid than don't have Covid now.
"My ICU is probably two-thirds, three-quarters Covid patients who are not getting the care."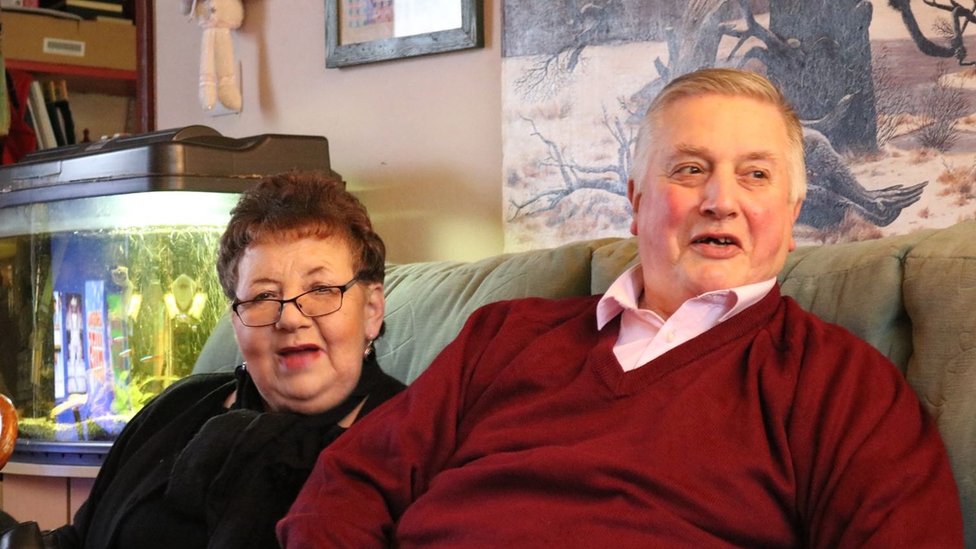 On Sunday the health board apologised after a 73-year-old man waited more than 19 hours in an ambulance outside the hospital.
Ted Edwards' family said he had been waiting outside following suspected sepsis or a stroke.
Dr Jones said people were queuing outside the hospital as there simply was no room inside, adding: "We are stuffed."
"It's very difficult, but the staff are working really, really hard, we are really sorry to the patients who are not getting the care," she said.
Dr Jones said many staff in the hospital were now off sick, either due to stress, having to isolate after catching Covid themselves or having been in contact with someone who tested positive.
"We've had nine months of slogging it out," she said.
"I'm not absolutely bursting to the gills in ITU, but I don't have enough staff to look after my patients, I think that's similar everywhere in Wales.
"We've got enough beds, and we've got enough ventilators, but that doesn't make an ITU bed, we need nurses."
She added: "It's very tough, we don't want to get to the point where we can't deliver the care we want to deliver."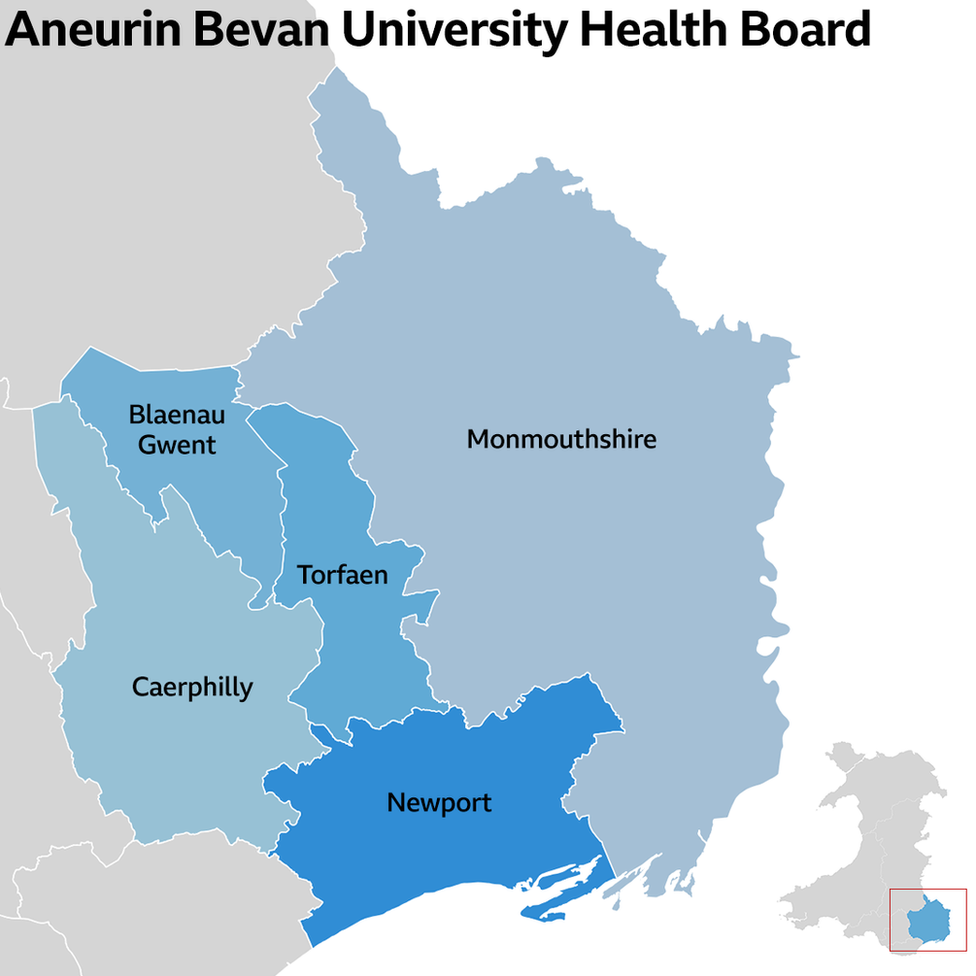 On Saturday the health board said the number of positive cases in its areas were "increasing at an alarming rate" and so all non-urgent care was being halted.
Weekly infection rates across the five south-east Wales counties the health board covers averaged about 550 cases for every 100,000 people.
Speaking to BBC Radio Wales on Monday, Mr Gething said the situation was "incredibly serious" and he wished people would think about the impact on the NHS and on hospital staff when breaking Covid rules.
"I just don't see how it can be much more serious before people recognise that the behaviour within our whole country… has a very real impact on the harm that is caused, and the way our NHS can keep us safe," he said.
But Mr Gething said it was right to still allow people to have a period to meet others and travel during Christmas, as otherwise "people would make their own rules up".
Up to three households can stay together and form a "Christmas bubble" from 23 to 27 December, as agreed by all four UK nations.
At the weekend a public health expert warned that loosening rules to allow people to travel and celebrate during the festive period was a mistake.
But Mr Gething also told the Today programme that people should carefully consider their actions as the impact of the pandemic would not hit "just one Christmas"."These are many future life events we are planning for because the greater mixing, the greater the number of infections, the greater number of people who will need hospital care and the greater number of people who will not leave that care," he said.
Published at Mon, 14 Dec 2020 10:42:23 +0000