Blood donation: Rule change means more gay and bisexual men can give blood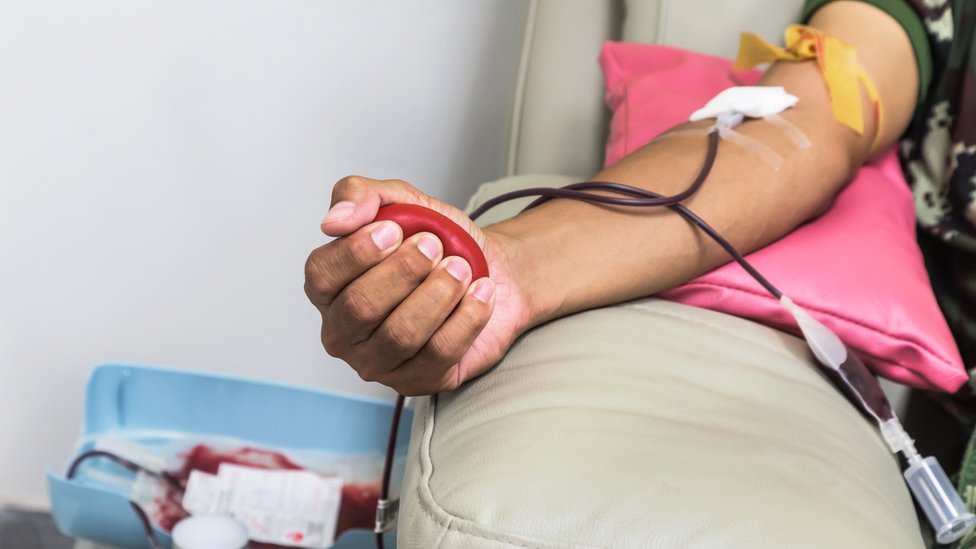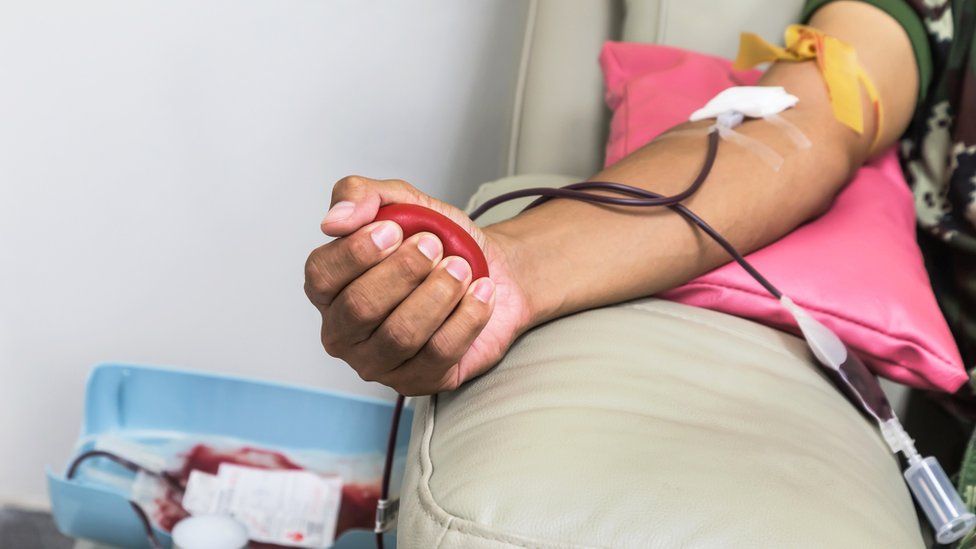 Blood donation rules for gay and bisexual men are being relaxed across the UK, in what the government is calling a "landmark change".
The new criteria focuses on individual behaviours, lifting a blanket ban for any men who have had sex with men in the last three months.
It means men who have sex with men in a long-term relationship will now be able to donate blood at any time.
The changes will be implemented by summer 2021.
All blood donors who have had one sexual partner and who have been with their sexual partner for more than three months, will now be eligible to donate regardless of their gender, the gender of their partner, or the type of sex they have.
Under previous rules, all men who have sex with men had to abstain from sex for three months in order to donate.
The Advisory Committee on the Safety of Blood, Tissues and Organs – which advises UK health departments – recommended the changes after examining the latest evidence relating to blood donation and sexual behaviour.
If donors have had more than one sexual partner or a new partner in the last three months, they can donate as long as they have not had anal sex. Having anal sex is one of the sexual behaviours that carries the most risk of a sexually transmitted infection.
Acknowledging that "all donors" have potential to carry infections, including heterosexual men and women, the government claims the UK has now become one of the first countries in the world to adopt a "more individualised risk-based approach" to donor selection criteria.
The gay men breaking blood donation rules

Gay blood donor rules 'irrelevant'
The For the Assessment of Individualised Risk (Fair) steering group is a collaboration of UK blood services and LGBT charities. The group conducted extensive research into the risks associated with more individualised blood donor selection policies.
In a report published on Monday, Fair proposes moving away from the previous blanket three-month deferral for men who have had sex with men. Instead, they have opted for identifying a wider range of "high risk behaviours" which apply to all blood donors, regardless of their sexuality.
The group states that these changes will still maintain a "world-leading" safe supply of blood in the UK, which is echoed by Su Brailsford, associate medical director at NHS Blood and Transplant.
She said: "Patients rely on the generosity and altruism of donors for their life-saving blood. I'm pleased to have concluded that these new changes to donor selection will keep blood just as safe."
Health Secretary Matt Hancock called this a "positive step" as it recognises individuals for the actions they take "rather than their sexual preference".
He concluded: "This landmark change to blood donation is safe and it will allow many more people, who have previously been excluded by donor selection criteria, to take the opportunity to help save lives."
'More work to do'
Campaigners have welcomed the relaxation of rules.
The BBC previously uncovered how some gay and bisexual men were breaking the three-month rule in order to donate blood.
One of the sexually active men claimed the three-month rule for all men who have sex with men was "rooted in deep homophobia".
Ethan Spibey, founder of FreedomToDonate, said his group has been campaigning for these restrictions to be updated for more than six years and they "warmly welcome" this announcement.
"Simply being a man who has sex with men is not a good enough reason to exclude someone from donating blood," he added.
Also welcoming the change, Dr Michael Brady, medical director at Terrence Higgins Trust, said: "There is certainly more work to do and we will continue to work to ensure that our blood donation service is inclusive, evidence based and both maximises the numbers who can donate while ensuring our blood supply is safe."
Follow Ben Hunte on Twitter and Instagram.
Published at Mon, 14 Dec 2020 01:56:40 +0000