Covid: More tier 3 areas to get mass testing from Monday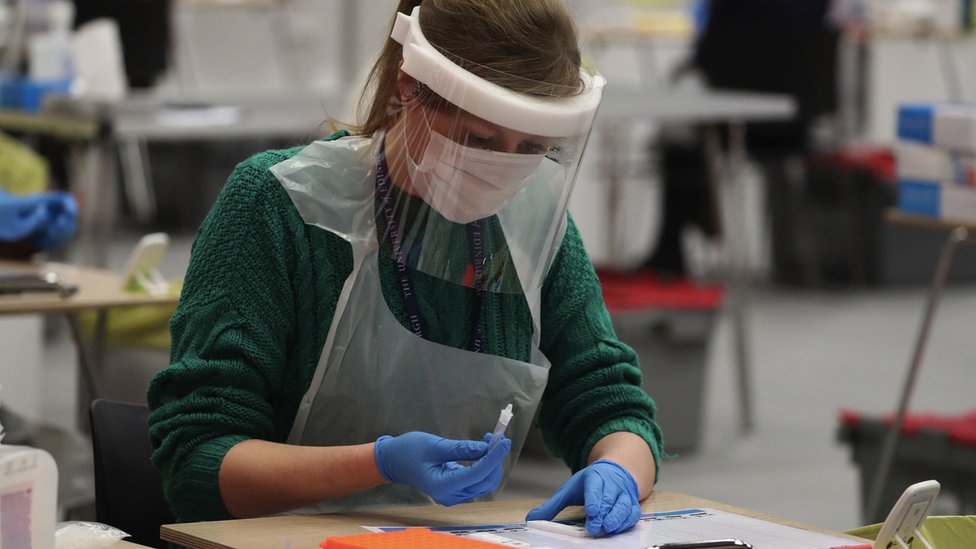 Mass testing programmes like the one trialled in Liverpool are to be rolled out in 67 tier three areas of England, with the first starting on Monday.
More than 1.6 million of the rapid lateral flow tests will be delivered for community testing this month, the government said.
The programme will last six weeks.
But concerns have previously been raised about the lateral flow tests, with experts warning they can give false negative results.
More areas will be involved in the rollout of testing in the new year.
Those involved in this first wave will receive government support for at least six weeks, the Department for Health and Social Care said.
It is hoped the testing initiative, along with existing measures, could help lead to an easing of restrictions in tier three areas.
The community testing is in addition to schemes run by local directors of public health. They have been able to request a set number of lateral flow tests to be used in their area, regardless of tier, since early November.
Can mass testing save us from another lockdown?

NHS rapid test use defended amid accuracy concerns
Health Secretary Matt Hancock said the enhanced testing programmes follow the mass testing pilot in Liverpool and were a "vital additional tool" in finding asymptomatic cases. It is thought as many as one in three cases of coronavirus could be in people who have no symptoms.
However, preliminary data released on Friday by the Scientific Advisory Group for Emergencies (Sage) suggested the rapid coronavirus tests rolled out in Liverpool missed about 51% of all Covid-19 cases.
A separate mass testing scheme for secondary school-aged pupils in London, Essex and Kent was announced earlier this week.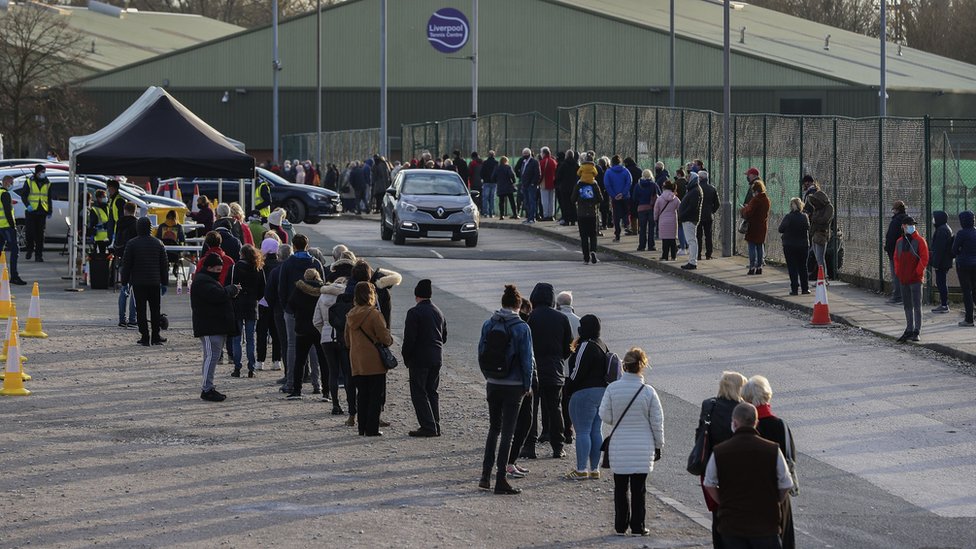 Earlier this month, Dr Susan Hopkins, senior medical adviser to NHS Test and Trace, said the tests were a "game changer" and had helped find Covid-19 infections in people that would otherwise have been missed, because they had no symptoms.
An evaluation by Oxford University and Public Health England workers at Porton Down previously concluded the test has an overall sensitivity of 76.8%. It detects almost all cases where patients have a high viral load, however.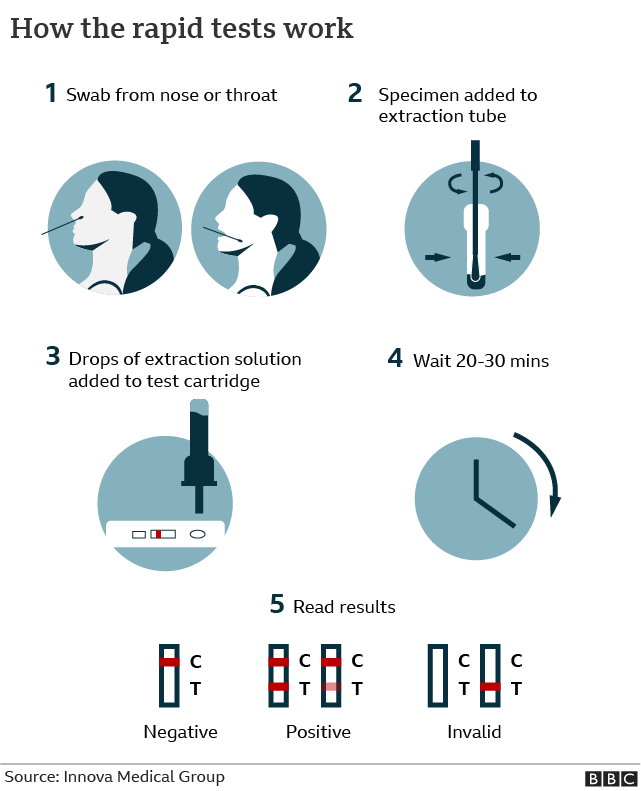 Among the 67 areas taking part in the testing programme is Oldham, Greater Manchester, where the increased access to testing will initially focus on schools and colleges, along with those in higher-risk supported living accommodation, and health and social care staff.
In Kirklees, West Yorkshire, high-risk workplaces will be among those focused on first. And in Lancashire, large manufacturing sites and workplaces with staff of more than 200 will be prioritised.
Local authorities in Kent – said to be seeing a "worrying" rise in cases – are also in the first wave of areas taking part in the testing.
A full list of the areas involved in this first rollout can be found here.
Mr Hancock said: "Community testing will be very important in helping the areas where levels of the virus are highest to drive down infection rates and, ultimately, will help areas ease tougher restrictions.
"This is just the start, and we are working quickly to roll out community testing more widely as soon as more local teams are ready. I urge all those living in areas where community testing is offered to come forward and get tested."
Published at Sat, 12 Dec 2020 20:01:34 +0000