12 best shopping cities in the world – CNN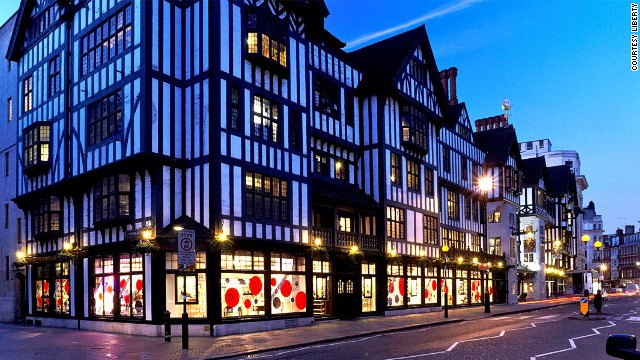 (CNN) — From a shopper's perspective, frequent traveling can be crippling. It can get worse in the holiday season where Christmas dominates many people's calendars. Why buy something in one city when a trip to a better shopping city is coming up?
To pinpoint which cities around the world deliver the most gratifying, enjoyable shopping experiences, we consulted global experts, such as fashion merchandising firm Donegar Creative Services and Marie Bergfelt, senior spokesperson for Global Blue, which publishes the Globe Shopper City Index.
Then we judged cities in four areas, using a 1-to-10 scoring scale for each category:
1. Getting around: Quality of public transportation, affordability and availability of cabs, transport time
2. Value: Bargain opportunities, such as sale seasons and average prices.
3. Variety: Number of available brands, range of shopping categories, quantity of upscale shops, department stores, boutique and vintage retailers and market stalls.
4. Experience: City beauty, quality of window displays and shop décor, friendliness and competence of clerks and service staff, dining and accommodation options.
Then we charged into the breach.
12. Seoul
Getting around: 4 Value: 7 Variety: 4 Experience: 6 Total: 21
Fact: South Korea has a serious addiction to shopping. The most serious in the world, in fact.
South Korea recorded more credit card transactions per person than any other country in 2011, and all merchants are required by law to accept credit cards no matter how low the price. Yes, that means the phrase "cash only, please" is technically illegal.
While foreign luxury goods tend to get a hefty mark-up (except at the airport, which boasts the first Louis Vuitton airport duty free store, as well as cheap prices for most foreign brands), local boutiques tend to be cheap and chic.
Whip out the plastic at:
Seoul's trendiest late-night shopping mall: Doota, 18-12 Euljiro 6-ga, Jung-gu; +82 2 3398 3333; Tuesday-Saturday 10:30 a.m.- 5 a.m., Monday 7 p.m.-5 a.m., Sunday 10:30 a.m.-11 p.m.
Garosugil, Sinsa-dong, Gangnam-gu (shop-lined trendy street), accessible via subway from Sinsa Station (Subway Line 3)
10 Corso Como, B1F Trinity Building, 79 Cheongdam-dong, Gangnam-gu; +82 70 7098 0010
11. Milan
Getting around: 5 Value: 5 Variety: 4 Experience: 8 Total: 22
Home to many of fashion's biggest names such as Prada, Dolce & Gabbana and Versace, it's little wonder this beautiful city is full of glamorous locals and shops that cater to them.
One of the most beautiful (if expensive) shopping experiences can be found at Quadrilatero della Moda or Quadrilatero d'Oro ('rectangle of gold'), which many fashion insiders consider is the world's most important fashion district.
The interwoven pedestrian streets are lined with jewelers, boutiques and lifestyle showrooms that make for great window shopping.
While the boutiques cater to the alligator-bag-and-black-card-toting crowd, luckily for bargain shoppers, yesterday's styles are tossed aside so fast, outlets and sales racks are always full.
Il Salvagente ("the lifesaver"), Milan's best known and longest established outlet, has three floors of goods discounted up to 60%, all organized by size and color.
No one back home needs to know it was bought at an outlet mall — Milan fashions are always months ahead of the trends elsewhere.
Whip out the plastic at:
Quadrilatero d'Oro, between via Montenapoleone, via Borgospesso, via Della Spiga and via Sant' Andrea, Milan
Il Salvagente, Via Fratelli Bronzetti 16, 20129 Milan; +39 02 7611 0328; Monday 3 p.m.-7 p.m., Tuesday-Saturday, 10 a.m.-7 p.m.
10. Madrid
Getting around: 6 Value: 6 Variety: 4 Experience: 7 Total: 23
Madrid mostly gets our credit cards warm simply for being Madrid, though it's worth noting that the city ranks third for best prices on general luxury items in the Globe Shopper Index.
But we can't wow our friends with statistics (not our shopping friends, anyway), so what about the goods?
When searching for items unique to Madrid, we fell in love with Capas Seseña.
Established in 1901, the shop sells traditional wool and cotton velvet capes for men and women. The clientele includes Pierce Brosnan and Hillary Clinton. Picasso was reportedly buried in his cape from the store.
Casa de Diego stocks souvenir-worthy fans, mantillas, ornamental combs and even castanets. But what we really wanted to take home was one of its work-of-art statement umbrellas with engraved silver handle (€325/US$415).
Whip out the plastic at:
Capas Seseña, Calle de la Cruz, 23, 28012 Madrid, Community of Madrid; +34 915 316 840; Monday-Friday 9 a.m.-2 p.m., 5-8:15 p.m., Saturday 10 a.m.-2 p.m. and 4-8 p.m.
Casa de Diego, Puerta del Sol, 12. 28013 Madrid; +34 91 522 66 43; Monday-Saturday 9:45 a.m.-8 p.m.
9. Dubai, United Arab Emirates
Getting around: 6 Value: 6 Variety: 8 Experience: 4 Total: 24
A miniature kingdom unto itself, the Dubai Mall is the world's largest mall in total area, with theme parks, a waterfall, "dancing" fountains, Olympic-sized ice rink, aquarium, indoor souk and malls within the mall, such as the Galeries Lafayette from France and the first Bloomingdale's outside the United States.
If that isn't enough cash registers, there's also the Mall of the Emirates, with the first indoor ski resort in the Middle East.
The Dubai Mall also hosts the annual Dubai Shopping Festival in January and February. We assume it's called a festival because they have fireworks, but it's really about package deals and discounts — up to 70% on electronics, clothing and popular items.
Whip out the plastic at:
Dubai Mall, Doha Street, Dubai; +971 4 362 7500; Monday-Wednesday and Saturday-Sunday 10 a.m.-10 p.m., Thursday-Friday 10 a.m.-11:30 p.m.
Mall of the Emirates, Al Barsha 3, Dubai; +971 4 377 2000; Sunday-Wednesday 10 a.m.-10 p.m., Thursday-Saturday 10 a.m.-midnight
8. Vienna
Getting around: 6 Value: 8 Variety: 3 Experience: 8 Total: 25
With some of the earliest closing hours out of all the cities on the Globe Shopper Index, Vienna is tricky for shopping.
Total buzz kill, right? But it also has some of the best values in Europe, coming in second on the Index for total cost of luxury items.
At the centuries-old Naschmarkt, shoppers can eat their way along 1.5 kilometers of 120 food vendors flogging local eats from kaiserschmarrn (dessert pancakes) and crepe-like palatschinke to exotic cheeses and seafood.
During Christmas season, they can browse through glass baubles and handcrafted ornaments while sipping on glühwein at Vienna's venerable and gloriously lit Christmas markets, the Platonic ideal of a fairy tale Christmas.
That's good for an extra "Experience" point and an eighth-place finish.
Whip out the plastic at:
Naschmarkt, 1060 Vienna; +43 1 5463405430; Monday-Friday 6 a.m.-7:30 p.m., Saturday 6 a.m.-6 p.m.
The Viennese Christmas Market by City Hall runs November 17 to December 24. Rathausplatz, 1010 Vienna; Sunday-Thursday 10 a.m.-9:30 p.m., Friday-Saturday 10 a.m.-10 p.m., December 24 10 a.m.-5 p.m.
7. Buenos Aires
Getting around: 6 Value: 8 Variety: 6 Experience: 7 Total: 27
Sexy Argentine dance moves + sexy Argentine climate = sexy Argentine shopping.
Yes, the formula sort of sometimes works like that, especially when you're stalking high-quality leather at affordable prices.
Established in Buenos Aires in 1952, Mocasines Guido sells leather shoes for men; today there are three locations in Buenos Aires.
Calle Murillo is a street with leather shops that also offer tailoring services. Murillo 666 is perhaps the best known, but about 50 more surround it, a handy surfeit of shops come haggle time.
Whip out the plastic at:
Moscasines Guido, Rodríguez Peña 1290, Buenos Aires; +54 11 4813 4095; open Monday-Friday 9:30 a.m.-7:30 p.m., Saturday 9:30 a.m.-1 p.m.
Murillo 666, Murilla 66, Villa Crespo, Buenos Aires, Buenos Aires Province; +54 11 4856 4501; open Monday-Saturday 9:30 a.m.-8 p.m., Sunday 10 a.m.-7 p.m.
6. Hong Kong
Getting around: 10 Value: 5 Variety: 6 Experience: 7 Total: 28
Hong Kong's shop clerks are borderline stalkers — in a good way.
If you don't know where you're going, they'll follow you around till you find it. If you don't know what you want, they'll tell you.
But the obsessive help can come in handy, especially if it leads to a world-class bargain.
According to Global Shopper City Index research, 87 percent of Hong Kong tourists shop, and "76 percent of shopping tourists expressed above-average satisfaction on value for money in 2011." Small wonder that Hong Kong also claims the title of best Asian shopping city in the Index.
For a bespoke shopping experience that involves local color, we hit up individual boutiques.
Fang Fong Projects in Central stocks womenswear from local label Fang Fong, which is like a Shanghai Tang that you'd actually wear often — modern clothes with tasteful Asian touches.
Frequented by celebrities, KniQ stocks one-of-a-kind items like artfully ripped stockings (HK$320/US$41), and a selection of jumpsuits for men that costs upward of HK$2,000 ($250).
Whip out the plastic at:
KniQ, Shop 4B, Vienna Mansion, 55 Paterson St, Causeway Bay, Hong Kong; +852 2881 7903; Monday-Saturday 2-10 p.m., Sunday 2-9 p.m.
Fang Fong Projects, 67A Peel St., Central, Hong Kong; +852 3105 5557; open daily 2-8 p.m.
The hippest district in town: The likes of WDSG, Kapok, Club Monaco Men's Store, Monocle are found in in Star Street Precinct in Wanchai (Star Street, Moon Street, Sun Street) and St. Francis Yard.
5. Paris
Getting around: 6 Value: 6 Variety: 8 Experience: 9 Total: 29
The best shops in Paris don't sell clothes. They sell lifestyles.
Whimsical concept shop Merci stocks a selection of designer goods that fall under the category of utterly useless but absolutely desirable, such as art deco Bakelite switches. It's housed in an airy and vaguely bucolic space that includes a secondhand bookshop, florist and café. In addition to the Annick Goutal scent line, Merci stocks apparel by Stella McCartney and Yves St Laurent, often with deep discounts.
Colette offers reduced prices on designer goods. Then again, if you're like us, whatever you save on a Fendi dress might be spent on stylin' necessities like a bottle of Bling H2O, which comes in a frosted glass bottle decorated with Swarovski crystals. It's available for about US$50 at the downstairs "water bar," which has more than 70 brands of bottled water.
And, of course, there's the holy trinity of Parisian department stores:
Le Bon Marché dates to the 1850s. It's famed for a monster section of gourmet food (5,000 choices strong).
Printemps has the world's largest beauty department. This year the store is partnering with Christian Dior for an exclusive line.
Extravagant Galeries Lafayette is housed in a seven-story art nouveau structure with an entire floor dedicated to lingerie. Every Friday at 3 p.m. there's a free fashion show with English commentary. Reservations required, either by emailing welcome@galerieslafayette.com or calling +33 1 42 82 36 40.
Whip out the plastic at:
Le Bon Marché, 24, rue de Sèvres, Seventh Arrondissement, Paris; +33 1 44 39 80 00; Monday-Wednesday, Saturday 10 a.m.-8 p.m., Thursday-Friday 10 a.m.-9 p.m.
Printemps, 64, boulevard Haussmann, Ninth Arrondissement, Paris; +33 1 4282 5000; Monday-Saturday 9:30 a.m.-7 p.m. except for Thursday open 9:30 a.m.-10 p.m.
Galeries Lafayette, 40, boulevard Haussmann, Ninth Arrondissement, Paris; +33 1 4282 3456; Monday-Wednesday, Friday-Saturday 9:30 a.m.-8 p.m., Thursday 9:30 a.m.-9 p.m.
Merci, 111, boulevard Beaumarchais, Third Arrondissement, Paris; +33 1 42 77 00 33; Monday-Saturday 10 a.m.-7 p.m.
Colette, 213, rue St.-Honoré, First Arrondissement, Paris; +33 1 55 35 33 90; Monday-Saturday 10 a.m.-7 p.m.
4. Kuala Lumpur
Getting around: 6 Value: 10 Variety: 8 Experience: 6 Total: 30
Sometimes bigger really is better.
That's the prevailing shopper's ethic in Kuala Lumpur, anyway.
Three of the world's 10 largest malls are in KL, including 1 Utama, the world's fourth-largest mall with more than 650 shops, Asia's largest indoor rock climbing facility, massive rooftop garden with 500 species of exotic plants and indoor rainforest with koi ponds and freshwater aquarium.
KL's impressive score comes from its winning combination of high quality shopping, affordable prices and reliable sales, which can stretch for several months. This year's Year-End-Sale, from November 10 to January 1, is just one doozy of an example.
Whip out the plastic at:
1 Utama, 1, Lebuh Bandar Utama, Bandar Utama City Centre, Bandar Utama, 47800 Petaling Jaya, Selangor Darul Ehsan; +60 3 7710 8118; open daily 10 a.m.-10 p.m.
Local designer Peter Hoe's store in KL's historical building: Peter Hoe Beyond, 145 Jaan Tun HS Lee, Kuala Lumpur, +60 3 2026 9788, open daily 10 a.m.- 7 p.m.
Quirky Brown Cow, Lot 23-1, Jalan Telawi 2, Bangsar Baru, 59100 Bangsar, Kuala Lumpur; +603 2201 0212, Monday-Sunday 11 a.m.-10 p.m.
3. London
Getting around: 6 Value: 6 Variety: 10 Experience: 9 Total: 31
London prices can destroy your will to live. And that's just the cab fare to get to the shopping areas. But get over the sticker shock and you'll probably agree with its Globe Shopper Index ranking as top European shopping city and its Donegar Group nod as the world's top fashion shopping destination.
The Globe Shopper City Index notes that London outstrips all the other European cities in both the quantity of shops and availability of international and local brands.
London shopping at its best is bold, eclectic and international. Case in point: department store Liberty.
Liberty may have a Tudor-style exterior and fireplaces, but its stock is contemporary and cool, encompassing in-house designer stationary, clever kitchen accessories to upstage your neighbors and clothes from a select pool of local and international designers.
Of course, you might end up with a £245 (US$390) Mathieu Challières Mini Volière Bird Cage Table Lamp, but that's the black magic of a wonderful shop — it inspires you to buy things you never knew existed.
Whip out the plastic at:
Liberty, Great Marlborough Street, London, +44 20 7734 1234; open Monday-Saturday 10 a.m.-8 p.m., Sunday noon-6 p.m.
London's most fashion forward market: Dover Street Market, 17-17 Dover St., London W1S 4LT; +44 20 7518 0680; open Monday-Wednesday 11 a.m.-6:30 p.m., Thursday-Saturday 11 a.m.-7 p.m., Sunday noon-5 p.m.
2. Tokyo
Tokyo's historic Ameya Yokocho market is crammed full with more than 500 shops selling everything from food to sneakers. Video by Black Buddha.
Getting around: 8 Value: 8 Variety: 9 Experience: 9 Total: 34
The ultimate Tokyo shopping experience is the department store. Walk into one and you'll be met like a royal.
Global chain Isetan has its mammoth flagship store in Shinjuku, eight separate buildings stretched along two blocks. Isetan has English, Chinese and Korean-speaking staff and a personalized interpretation service, as well as shopping consultants who will advise you on everything from shoes to fish, all available through reservation (+81 3 3225 2514).
A foodie heaven, the basement has dainty Japanese bento boxes as well as French pastries and macaroons. When shopping for clothes you can take a break from the international luxury brands on stock to try on some kimonos.
Tokyo's shopping is also surprisingly affordable, according to the Globe Shopper City Index, with Asia's fourth-cheapest shopping, and the cheapest average price for a Canon EOS 600D body.
All this too tame? No worries, Tokyo still gets its freak on. Shops like the seven-story M's: Pop Life Sex Department Store sell creative toys such as you've never seen and we prefer not to describe in front of our impressionable interns.
Whip out the plastic at:
Comme des Garçons, 5-2-1 Minami-Aoyama, Minato-ku, Tokyo; +81 3 3406 3951; open daily 11 a.m.-8 p.m.
Isetan Shijuku flagship, 3-14-1 Shinjuku, Shinjuku-ku, Tokyo; +81 3 3352 1111; open daily 10 a.m.-8 p.m.
1. New York
Getting around: 8 Value: 7 Variety: 10 Experience: 10 Total: 35
In what other city do you see a toddlers running around in perfectly matching Tory Burch ballet flats and tiny purses or be able to go on curated vintage shopping sprees?
"This town has so much diversity in style and interpretations of chic," says New York-based fashion editor and stylist Stella Lee.
For something you can't simply Google up, Lee recommends vintage showroom Rare Vintage for "anyone who is visiting and in search of a shopping gem unique to NYC."
"You can find pieces from every possible era spanning the entire last century of fashion history, and from a wide range of design houses including the likes of Galanos, Dior, Givenchy, Ungaro, Pierre Cardin, Ossie Clark, and more," says Lee.
If you have the stamina to get up at ungodly hours for the city's sample sale stampedes, New York Magazine has a comprehensive guide.
Whip out the plastic at:
Rare Vintage, 24 West 57th St., New York; +1 212 581 7273; open Monday-Friday 11:30 a.m.-6 p.m.
From vintage collectibles to local art and crafts: Brooklyn Flea (Fort Greene Flea), 176 Lafayette Ave., Brooklyn, open Saturday and Sunday 10 a.m.- 5 p.m., (moves to 1 Hanson Place at Ashland Pl., Fort Greene from November 24 to April)
Originally published November 2012; updated November 2013.
Published at Wed, 19 Feb 2014 08:00:00 +0000