Covid: Russia begins vaccinations in Moscow
Russia is starting its Covid-19 vaccination programme, with clinics in the capital Moscow inoculating those most at risk from the virus.
Its own vaccine Sputnik V, which was registered in August, is being used.
Developers say it is 95% effective and causes no major side effects, but it is still undergoing mass testing.
Thousands of people have already registered to get the first of two jabs over the weekend, but it is unclear how much Russia can manufacture.
Producers are expected to only make two million doses of the vaccine by the end of the year.
Moscow Mayor Sergei Sobyanin, who announced the programme earlier in the week, said it was being offered to people in the city of 13 million who work in schools and the health service, and social workers.
He said the list would grow as more of the vaccine became available.
An online registration service allows city residents in the above professions aged 18-60 to book free appointments at 70 sites around the city.
Russia pins hopes on own vaccines and huge hospitals

Russia Covid-19 vaccine 'triggers immune response'
Putin: Russia's Covid-19 vaccine approved for use
They will operate from 08:00 until 20:00 local time (05:00-17:00 GMT).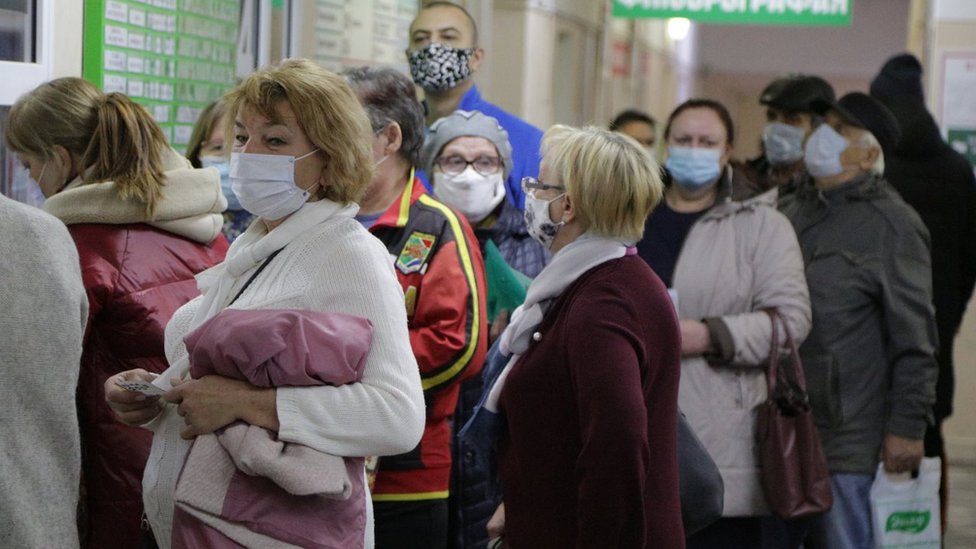 People who have received injections in the last 30 days or who have had respiratory diseases within the last two weeks will be excluded, as will those with certain chronic illnesses, and pregnant and breastfeeding women.
Each person will receive two injections, the second 21 days after the first.


Recipients calm as vaccine rolled out
By Sarah Rainsford, BBC News, Moscow
We've seen a handful of health workers and teachers getting vaccinated at this smart, central Moscow clinic.
They were all calm enough about receiving Sputnik V, even though it's still undergoing mass trials to test its safety and efficacy. One doctor said she'd seen enough Covid patients at her own hospital to prefer taking her chances with the vaccine.
When I asked another woman whether she was worried about the experimental injection, she reasoned that "everything has to start somewhere".
Everyone said they'd signed up voluntarily. Patients are asked a few general health questions before getting the vaccine, which is removed from the deep freeze around 15 minutes before use.
A leaflet warns of possible side effects, though it suggests those are most likely to be mild and last a couple of days at most.


'Let everyone else get vaccinated'
Reactions among the public to the vaccine rollout have been mixed, however.
"I like it because this is a chance to turn the tide, to reduce the infection rate," resident Igor Krivobokov told Reuters news agency.
Nightmare spreads through Russia's care homes
Russian spies 'target coronavirus vaccine'
But another, Sergei Grishin, said he did not plan to get the jab.
"This process will take a long time. Only a small amount of the vaccine has been produced… Let everyone else get vaccinated, and if they will – I will survive," he said.
So far Russia has recorded 2,431,731 cases of the virus, and 42,684 deaths. On Saturday it reported a record daily high of 28,782 new cases.
Hospitals all over the country have been overstretched.
Moscow is the centre of the pandemic in Russia, recording thousands of cases and dozens of deaths daily. The total number of cases for the past 24 hours was 7,993.
Russia's government has ruled out a lockdown, but in November Mr Sobyanin introduced restrictions in Moscow on opening hours for bars and clubs, moved higher education students to distance learning and reduced cultural and sporting events.
Published at Sat, 05 Dec 2020 10:04:55 +0000