Local health-care workers donate food, care items to charity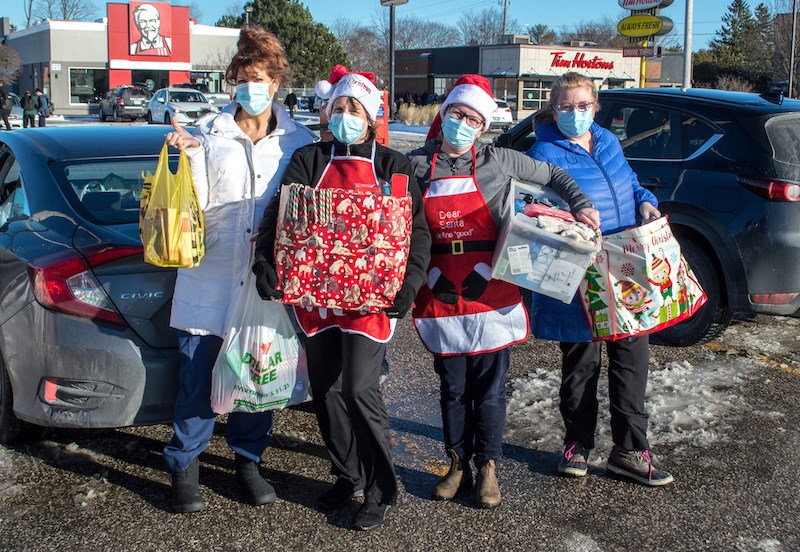 A group of appreciative local health-care workers has given back to the community to help those in need.
On Wednesday afternoon, personal support workers, nurses, visiting nurses, clinic nurses and clinic administration staff from Bayshore HealthCare Orillia gathered at the Fittons West Plaza, where they collected food and essential care products that were later donated to the Salvation Army, The Sharing Place Food Centre and the St. Vincent de Paul Society.
For the month of November, about 50 members of the Bayshore Orillia staff participated in a "reverse advent calendar." They were challenged to make a donation every day for 30 days. Each staff member donated about $70 worth of food or personal care items. Overall, about $3,500 worth of food and other items were donated.
Marlene Borrelli, a registered nurse with Bayshore Orillia, said it was important for the staff to give back to the community that has been supportive of them during the pandemic.
"People have always been thinking of us during the pandemic, and we have people wish us well and safety every day, and we very are fortunate for that," she said.
"We are essential workers and we are out there every day wearing layers of PPE (personal protective equipment), but we are fortunate to still be working."
Borrelli said the initiative is meant to help people in Orillia who have lost their jobs during the pandemic.
"I keep thinking about the people who worked at Casino Rama. I keep thinking about all the people who are left unemployed here in Orillia now," she said.
"That's why we are doing this food drive. It's a way to help those people in need and it's a way for us to give back."
Borrelli hopes the Bayshore Orillia initiative will encourage other workplaces to do something similar if they're able to.
"Everyone collected what they could and, through this food drive, I wanted to make a point that you don't have to have a lot of money to be able to supply people with food," she said.
"If everyone could contribute just a little bit, it would make a big difference."
Borrelli said the charities that will be receiving the Bayshore staff donations are thrilled with their efforts, especially during this time of need.
"I'm sure they really need it because not only are there fewer people who can give right now, but there are also more people who need it," she said.
Published at Thu, 03 Dec 2020 01:00:00 +0000