Covid-19: Pfizer/BioNTech vaccine approved for use next week in UK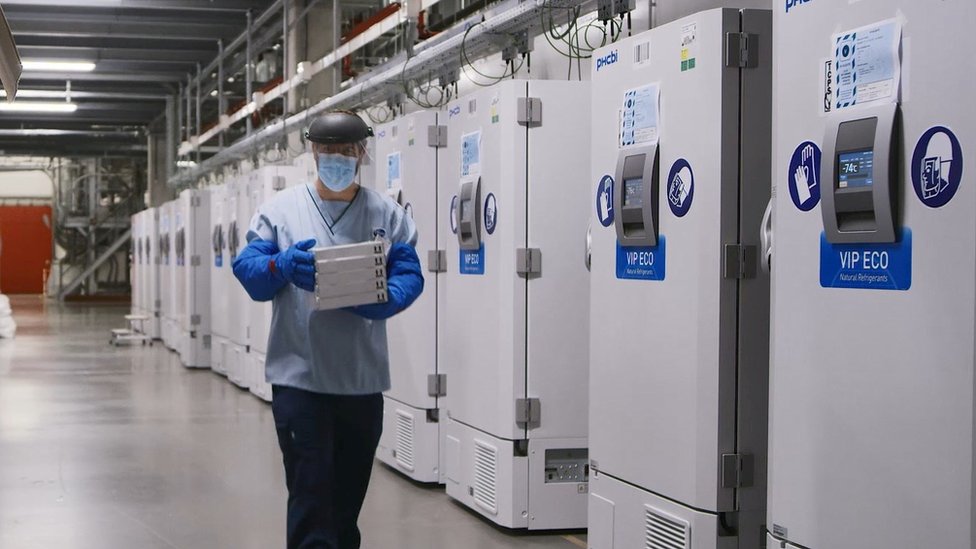 The UK has become the first country in the world to approve the Pfizer/BioNTech coronavirus vaccine, paving the way for mass vaccination.
Britain's medicines regulator, the MHRA, says the jab, which offers up to 95% protection against Covid-19 illness, is safe to be rolled out.
The first 800,000 doses will be available in the UK from next week, Health Secretary Matt Hancock said.
People should wait to be contacted by the NHS, he added.
Elderly people, those in care homes and some NHS staff will be prioritised first – although more details on the priority list is due later.
What are the safety checks for vaccines

How will I get a vaccine?
Follow live updates as vaccine approved
The Pfizer/BioNTech jab is the fastest vaccine to go from concept to reality, taking only 10 months to follow the same steps that normally span 10 years.
The UK has already ordered 40 million doses of the free jab – enough to vaccinate 20 million people.
The doses will be rolled out as quickly as the company in Belgium can make it, Mr Hancock said, with the first load next week and then "several millions" throughout December.
But the bulk of the rollout will be next year, he added. "2020 has been just awful and 2021 is going to be better," said Mr Hancock.
"I'm confident now, with the news today, that from spring, from Easter onwards, things are going to be better. And we're going to have a summer next year that everybody can enjoy."
Prime Minister Boris Johnson added: "It's the protection of vaccines that will ultimately allow us to reclaim our lives and get the economy moving again."
There will be three ways of vaccinating people across the UK:
Hospitals
Vaccination centres "a bit like the Nightingales project and including some of the Nightingales", said Mr Hancock
In the community, with GPs and pharmacists.
Around 50 hospitals are on stand-by and vaccination centres – in venues such as conference centres or sports stadiums – are being set up now.
NHS chief executive Sir Simon Stevens said the health service was preparing for "the largest-scale vaccination campaign in our country's history".
But experts said people still need to remain vigilant and follow rules to stop the virus spreading – including with social distancing, face masks and self-isolation.
"We can't lower our guard yet," said the government's chief medical adviser Prof Chris Whitty.


This is the news we have all been waiting for

This is the news we have all been waiting for.
The NHS has already been gearing up for this moment for some time. The venues are in place and there is provision for extra staffing, with even lifeguards and airline staff to be brought in to help with the effort.
But the biggest hurdle will be supply.
The UK has been promised 40 million doses by the spring – enough to give the required two jabs to health and care workers and everyone over 65. But in the first few weeks of winter, our ability to vaccinate could easily outstrip supply.
Ministers say they will have 800,000 doses in the country within days but the original expectation that there could be 10 million doses by the end of the year is already looking ambitious.
Getting the jabs into the country remains a challenge. It is being made in Belgium. Could Brexit be an issue? The government is confident it has secure routes to ensure supply does not get disrupted.
Nonetheless, major hopes are still being pinned to authorisation being given to the Oxford University vaccine so that rollout can happen as quickly as possible in 2021.


The order in which people will get the jab is decided by the Joint Committee on Vaccinations and Immunisations, which is due to set out more details in the next few hours.
But according to their current guidance, care home residents and staff, people over 80 and other health and social care workers are top of the list.
However, the order could also depend on how easily the jab can be rolled out. The Pfizer jab needs to be stored at -70C, which is easier to be stored in hospitals rather than in the community, Mr Hancock.
Mass immunisation of everyone over 50, as well as younger people with pre-existing health conditions, can happen as more stocks become available in 2021.
The vaccine is given as two injections, 21 days apart, with the second dose being a booster. It takes a few weeks for immunity to build.

LOOK-UP TOOL: How many cases in your area?
HOLIDAYS: Where can I go away in the UK?
YOUR QUESTIONS: We answer your queries
GLOBAL SPREAD: How many worldwide cases are there?
THE R NUMBER: What it means and why it matters

The Pfizer/BioNTech was the first vaccine to publish positive early results from final stages of testing.
It is a new type called an mRNA vaccine that uses a tiny fragment of genetic code from the pandemic virus to teach the body how to fight Covid-19 and build immunity.
An mRNA vaccine has never been approved for use in humans before, although people have received them in clinical trials.
Because the vaccine must be stored at around -70C, it will be transported in special boxes, packed in dry ice. Once delivered, it can be kept for up to five days in a fridge.
Covid vaccine: How will we keep it cold enough?
There are some other promising vaccines that could also be approved soon.
One from Moderna uses the same mRNA approach as the Pfizer vaccine and offers similar protection. The UK has pre-ordered seven million doses that could be ready by the spring.
The UK has ordered 100 million doses of a different type of Covid vaccine from Oxford University and AstraZeneca. That vaccine uses a harmless virus, altered to look a lot more like the virus that causes Covid-19.
Russia has been using another vaccine, called Sputnik, and the Chinese military has approved another one made by CanSino Biologics. Both work in a similar way to the Oxford vaccine.

What questions do you have about the Pfizer/BioNTech coronavirus vaccine and other vaccines?
In some cases your question will be published, displaying your name, age and location as you provide it, unless you state otherwise. Your contact details will never be published. Please ensure you have read our terms & conditions and privacy policy.
Use this form to ask your question:
If you are reading this page and can't see the form you will need to visit the mobile version of the BBC website to submit your question or send them via email to YourQuestions@bbc.co.uk. Please include your name, age and location with any question you send in.
Published at Wed, 02 Dec 2020 10:11:19 +0000