Hillsboro Free PressA new food truck comes to Marion County – Hillsboro Free Press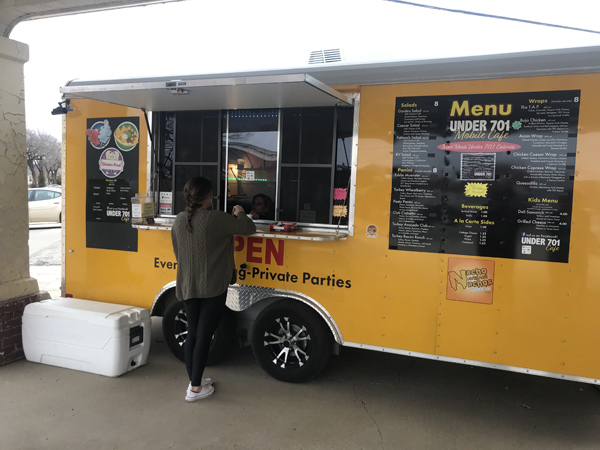 While there have been limited options for dining in Marion County, there has been one new option that has many community members excited. That is Under 701 Cafe which is a food truck that travels around Marion and McPherson Counties.
Molly Dillon said, "I love having healthy options. The portions are big enough that I can have some now or save some for later. And if I eat the whole thing, I don't feel gross like I do with other places.
Michael Lewis recently started the mobile cafe when he had to shut down his restaurant in Newton due to COVID-19 and not being able to stay afloat with shutdowns and less business.
"I had been wanting to travel anyway," said Lewis. "and these little towns don't have a lot of food options."
Most meals are under 701 calories.
"The address of the restaurant in Newton was 701 N. Main so we went with 701. I have also had a health and fitness background for 12 years and I still do personal training so I wanted to provide healthy food options," said Lewis.
The schedule is fairly consistent with a start time of 11 a.m. until the food is sold out or at least until 2 p.m. Some days they go as late as 6 p.m. The truck can be found in Marion on Mondays, Hillsboro on Tuesdays, Moundridge on Wednesdays, Canton on Thursdays and Peabody on Fridays.
Some of the options include healthy salads, wraps, paninis and smoothies. They also offer lighter sides such as yogurt, cottage cheese, fruit and more. They have gluten-free options as well.
But don't worry. There are also not as healthy options for those who would like such as nachos, pretzels, hot dogs, cotton candy and soda.
At some locations, food can be ordered ahead of time online using their app. You can find out more information by going to Under701mobilecafe.com or find them on Facebook. Their number is 316-227-0889.
Published at Mon, 30 Nov 2020 23:09:36 +0000