Dal's student‑led food security programs get boost from community
It's a Thursday afternoon in November, and dozens of masked, physically distanced students line up outside the Dalhousie Student Union (DSU) Food Bank in the lower level of the Student Union Building. They're here to receive a box which, among other things, includes cereal, tomatoes, onions, potatoes, bananas and their choice of chicken, pork, Halal meat or fish.
Many speak languages other than English. They study as they wait, or stare at their phones. A woman approaches the desk and Micha Davies-Cole, food bank manager, instructs a volunteer to double her allotment. "She's eating for two," Davies-Cole explains, and asks how her pregnancy is progressing.
It's nearly closing time and the pace quickens. Davies-Cole, who's also a sociology student, hands cooked mussels with printed instructions on how to reheat them to a young man. The man looks skeptical but says he'll give them a try. "Students who come here learn a lot about the food," says Davies-Cole (shown below). A recent donation of fresh squash proved problematic as few students knew how to cook it. Likewise, the turkeys given out at Thanksgiving. But Davies-Cole and the team of dedicated volunteers — many of whom used or still use the Food Bank, and who walked to their shifts from all corners of the city when public transportation was limited during the first wave of COVID-19 — troubleshoot solutions and send hundreds of students home each month with food and information to tide them over until they have the transportation, time or money they need to get groceries.

It's estimated at least one in three post-secondary students in Canada experiences food insecurity — that's three times the national average reported by Statistic Canada. Recognizing that food insecurity is a problem that's further exacerbated by COVID-19, Dalhousie launched The Food Security Project to raise funds for Dal's student-led food programs this Giving Tuesday (Dec. 1).
"Food insecurity is a feeling of uncertainty. Maybe you can feed yourself this week or this month but there's this worry at the back of your head that this could change at any moment and you would not have anyone or anything to depend on," says Social Work student Isa Wright, vice president of finance and operations for the DSU and a student leader in food security. In their peer group, Wright is the only person who has had steady employment since the pandemic began.
Read more: Students and alumni come together to advance food security
Peers provide sense of community
The Dalhousie Student Union has a network of food security programs to support students. Together, the DSU Food Bank, The Loaded Ladle (shown below), the DSU Farmers' Market and the DSU Sustainability Office make free food and meals available, subsidize the cost of locally grown produce, and teach students how to budget for, purchase, prepare and store nutritious food.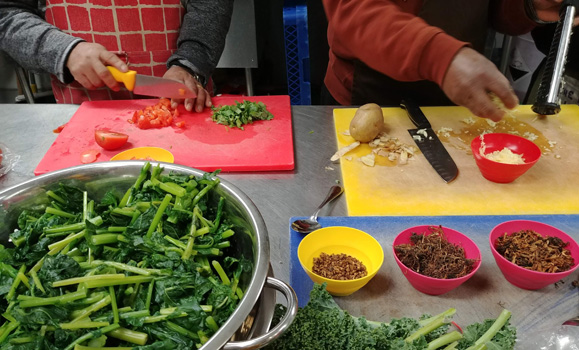 "One of the amazing things about student-led food initiatives is that you know when you enter the SUB and see 30 people lined up for the Loaded Ladle it's like, 'Oh, I'm not alone in this," says Wright. "When it's a student handing you that plate of food or another student handing you a box of food from the food bank, there's a sense of trust there. It's like you see me, you're in this with me."
Wright believes that peer-led initiatives engender feelings of solidarity amongst students and help break down the shame associated with food insecurity. "Everyone deserves to eat," Wright says. With additional funding, Wright says the DSU could grow its existing programs by, for example, opening the food bank more often, thus serving more students. (The Food Bank used to be open five days a week before COVID-19, but due to limited resources is now open two days a week.)
Universities come together
The situation doesn't only exist at Dalhousie. Across Nova Scotia, university
students need help. And since Dalhousie launched The Food Security Project the idea has caught on, both with Dal's matching sponsor, the J & W Murphy Foundation, and eight other Nova Scotia universities. These universities, in partnership with their student unions, have joined Dalhousie in efforts to improve food security for students on Giving Tuesday, Dec. 1. The J & W Murphy Foundation is providing a minimum donation of $3,500 to each university with the potential for additional matching funds if the campaigns exceed this threshold. At Dalhousie, the Foundation has agreed to match gifts from individuals up to $20,000.
"I'd like to thank the J & W Murphy Foundation for their generosity," says Deep Saini, President of Dalhousie University. "COVID-19 has been a difficult time for everyone, and it's had significant impacts on our students. Because of the Murphys' financial commitment, donors will be able to make twice the impact on the fantastic work of our Dalhousie Student Union through student-run programs that improve food security. To support this important initiative, the university will provide $1,000 as an opening gift."
---
Comments
Published at Tue, 01 Dec 2020 00:00:00 +0000