Boston.com readers have a runaway favorite for favorite food chain – Boston.com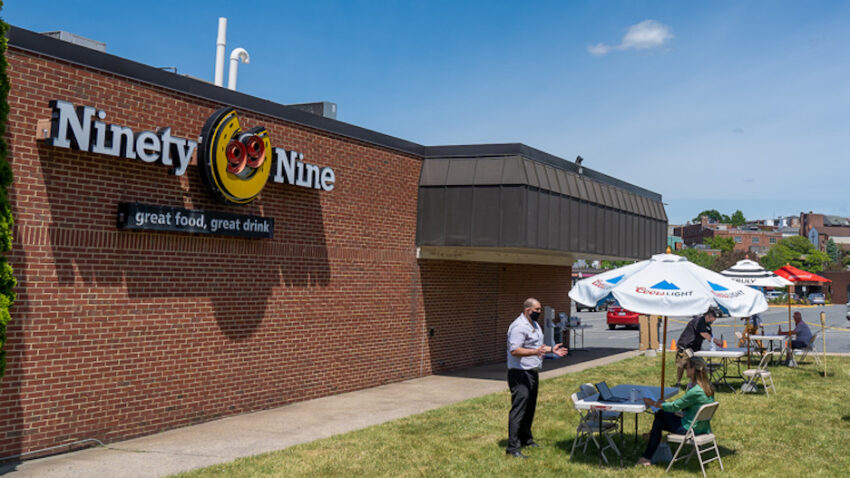 Our very unusual Thanksgiving of 2020 is behind us, the leftovers have been demolished, and you know what that means: Time for takeout, or, if you're the daring sort, some socially distanced indoor dining. And we know where you want to go.
You'll recall that an ersatz "Favorite Food Chain" map chose Boston Market as the Bay State's go-to chain eatery, resulting in much consternation among the locals on Twitter. It prompted us to ask Boston.com readers what their actual favorite chain was, and the results were clear.
First we should mention that while it may not be as ubiquitous as it once was, Boston Market's results were actually not too shabby: About 5% of the almost 300 responses gave the thumbs up to the Market as their favorite chain, more than such stalwarts as Papa Gino's (4%), Panera Bread (4%), or Five Guys Burgers and Fries (3%).
But the top destination for hungry locals, dominating 23% of the votes, was an old standby: New England's own Ninety Nine Restaurant & Pub, headquartered in Woburn. The quintessential "something for everybody" family eatery, it's also known for letting kids eat free the day after a Sox win (not really much of a consideration for this year, unfortunately).
Second place, with 12%, was that other local favorite, Dunkin' ("Donuts," we hardly knew ye) — this despite its lack of what most people would call an actual meal, with apologies to the various combinations of bacon, eggs, and cheese on their ever-expanding menu. Other top finishers included Chick-fil-A, whose politics apparently didn't turn off 7% of our reader respondents; Chipotle, which got 6%; and a pair of locally based eateries: Legal Sea Foods, with 6%; and Bertucci's with 5%.
Take a look at all the chains that got at least three votes in our poll in the chart below:
Other quick takeaways: Wendy's is twice as popular as either McDonald's or Burger King (somewhere, Dave is smiling); at least three readers are saddened to see the ever-dwindling supply of Friendly's locations; and four others took the time to answer our food chain poll by telling us they don't eat at food chains. ("I'd rather starve than eat at a chain," said Lori from Billerica, dramatically.)
Here's what some Boston.com readers had to say about why they love their favorite chains:
"Boston Market: Great takeout meals for a good price. Good juicy chicken and sides … terrific cornbread."
"110 Grill: They provide an extensive gluten free option menu. The Chorizo Tater Tots are the best!" — Rebecca, Boston
Ninety-Nine: "Consistency no matter what location I visit in Mass. or N.H., in both service and local beer selection or menu quality and variety." — Bob, Stoughton
"B.Good: Really good burgers and fries." — Alex, Westwood
"Bertucci's: I still have plenty of nostalgia for the place from growing up in the Mass. suburbs. And yeah, the bread rolls are unbeatable." — Greg, Somerville
"Burger King: Impossible Whoppers!" — D, Jamaica Plain
"Chick-fil-A: Tasty food, unbeatable, cheerful, professional, efficient service (have you seen their drive through at peak hours — a master class in logistics right there!), good prices, and good working conditions. Hands down winner!" — Kay T, Woburn
"Chipotle: I see the food right in front of me, I like to tailor order my food, and I like Mexican food."
"Dunkin': DUNKS IS LIFE KID!" — T. Dubbah, Boston
"Friendly's: You know going to dinner that dessert is on the menu. Sad they are disappearing!" — Tina, Boston by way of East Longmeadow
"Kelly's Roast Beef: Get a large roast beef sandwich with sauce, and you'll know why."
"Legal Sea Foods: The food quality is up there with a lot of the top fine dining restaurants. They have also diversified their newer-ish locations like Legal C Bar (Legacy Place), Legal Oysteria (Charlestown), Legal on the Mystic (Somerville), and Legal Harborside (Seaport) so each location has its own identity and vibe. You can go there for a family meal, just take the wife for date night, or get drinks and apps with buddies and watch a game. Not something you can say about a lot of chain restaurants: great food and diversity. (I like Berkowitz's ads too.)" — Chris, Westwood
"Mary Lou's: The. Pink. Cup."
Get Boston.com's browser alerts:
Enable breaking news notifications straight to your internet browser.
Turn on notifications
Published at Mon, 30 Nov 2020 17:18:17 +0000