Coronavirus: Suspend peak rail fares over Christmas, says Labour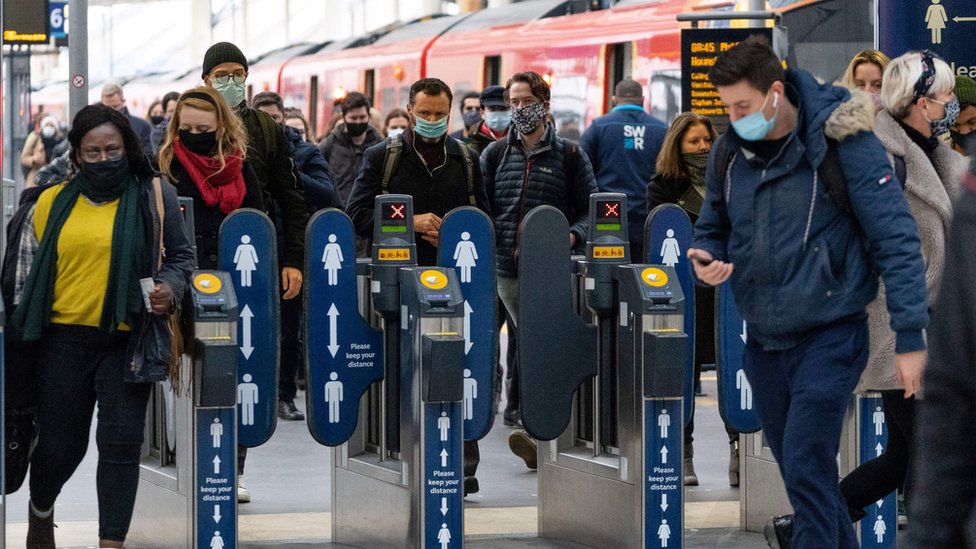 Peak rail fares should be suspended over Christmas and mass testing should be provided for transport workers to avoid travel "chaos" when restrictions ease, Labour has said.
Three households in the UK will be able to form a "bubble" from 23-27 December.
A surge in travel is expected and Labour wants a "comprehensive travel plan" presented to Parliament.
Network Rail chairman Sir Peter Hendy has been appointed to assess how prepared road and rail networks are.
The Department for Transport said on Friday that
plans are being prepared to reduce disruption on roads and railways, including 500 miles of roadworks being cleared and extended train timetables.
Labour has warned that more than two million people travelled by train between Christmas and New Year in previous years, plus millions more by car.
It said suspended peak fares between 23 and 27 December would reduce the risk of overcrowding on trains either side of peak hours.
Train staff, bus drivers and highway personnel should also be mass tested, Labour said.
Shadow transport secretary Jim McMahon said: "This is too important for the government to ignore or leave until the last minute. This is about protecting lives and livelihoods."
Labour also argued that planned engineering works on the East Coast Mainline – which will close London King's Cross station for six days from Christmas Day – should be delayed from 27 December.
And it said Highways England should postpone non-essential road maintenance to reduce congestion and travel delays.
Melanie Clarke, customer service director for Highways England, said the "current plan" was to remove "non-essential" roadworks from 20 December to 4 January 2021.
The Department for Transport said it will publish measures aimed at easing travel disruption next week, and Transport Secretary Grant Shapps has urged people to plan their journeys "very carefully".
The start and the end of the five-day travel window is expected to be very busy.
Cheaper advance train tickets went on sale on Friday for Christmas travel, about eight weeks later than usual because of delays in finalising timetables during the pandemic.
To allow social distancing capacity on board trains is restricted and some operators are preventing passengers from boarding without a pre-booked ticket.
London North Eastern Railway, which normally uses London King's Cross station for its Anglo-Scottish trains, has warned that alternative routes will be "very busy and should also be avoided".


Published at Sun, 29 Nov 2020 07:53:09 +0000