Complete your holiday shopping locally | Heraldrepublican – KPCnews.com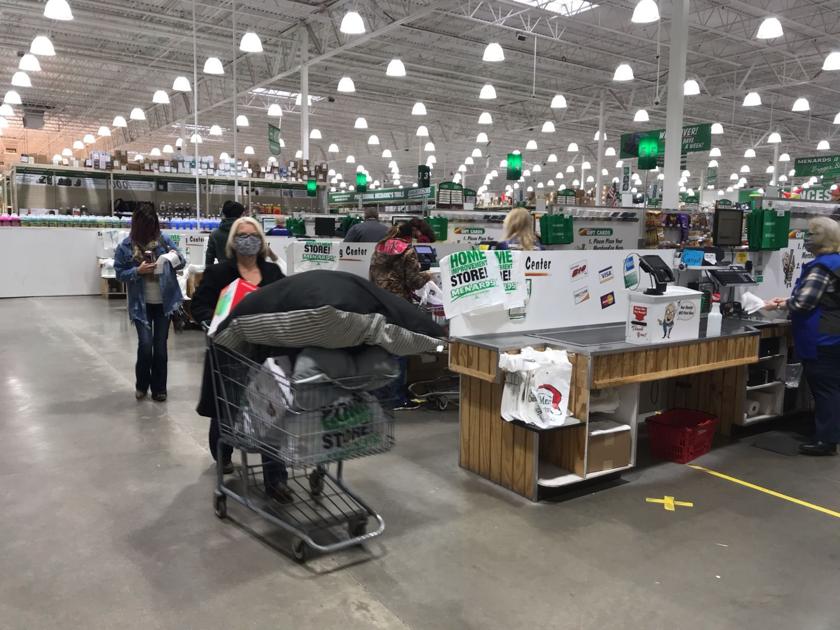 Black Friday is over and so is Small Business Saturday, but with more and more people hunkered down at home due to the coronavirus, online shopping is up.
The importance of shopping at local small businesses is preached on a yearly basis, but there is no more important time than now to shop local this holiday season.
Small businesses owned and operated by people living in local communities, make up the heart of our downtowns and local commercial strips. The coronavirus has hit these businesses, in many cases, harder than it has hit big retailers.
Angola Mayor Richard Hickman summed it up best during a coronavirus press conference on Tuesday:
"You don't just walk away from the holiday. We know there is going to be shopping, we ask that you shop local," he said. "Our local businesses are small businesses that need us.
"We need to support them so they can support us. They are the ones that support our schools, 4-H, our little leagues and our churches. They're the ones that help support us. We need to support them at this time to help them get through this pandemic the best they can," he continued.
That sentiment is echoed by chamber of commerce and economic development leaders in the four-county area, who are helping to promote local-owned shops this seasons.
Local businesses offer a widely unique array of items to help complete your holiday shopping list. From specialized boutiques for adults and children, to custom made clocks, artwork, specialty foods and more, there is something for everyone.
Shannon Carpenter, executive director of the DeKalb Chamber Partnership said they are definitely encouraging people to shop early and shop local.
She said her organization is encouraging shopping early to avoid crowding at area stores. This will also help cut down on the spread of the coronavirus in the community.
"Our small businesses are the cornerstone of our community," Carpenter said. "Our businesses weathered the pandemic pretty well this spring. As soon as they opened back up people flooded in. We need to continue so they can make up for the loss they saw earlier this year."
Gary Gatman, executive director of the Noble County Economic Development Corp. said small businesses are vital to a growing and thriving community.
Shopping local keeps about 70 cents of every dollar spent in each county, which is a significant impact in the four-county area.
Gatman said eight out every 10 businesses in Noble County employ 10 or fewer people.
"Shopping local just makes sense because it directly supports small businesses that are so critical to the success of our local economy," he said.
While shopping, don't forget about those area restaurants, which have also been hit hard during the pandemic. The majority of the restaurants in our communities offer gift certificates, which can be used for dine-in or take-out.
The four-county area also features one of the top tourist destinations for shopping in the state. Shipshewana located in northwest LaGrange County has been a shopping destination for years no matter the time of year.
Phyllis Youga, executive director of the LaGrange County Convention & Visitors Bureau said the community is open and ready for businesses.
"Businesses are hoping to recoup some of their losses," she said.
With the high positivity rate of the virus in LaGrange County, Youga said all businesses are following safety protocols to keep merchants safe.
She said holiday events like Shipshewana's Lights of Joy has helped to bring people to the community. The drive-through light display experience features more than two million LED Christmas lights displayed in an almost mile and a half long display. The display is open through the beginning of the year.
The town will also be hosting a Ship-Chic craft and vintage show on Dec. 5 at the Shipshewana Auction Antique & Misc. Building. The event will feature a wide variety of vendors.
Youga said the event will be held outside in a heated tent allowing vendors to spread out allowing distance between each booth.
"The flea market has done a great job with precautions," she said.
Leaders in the four county area all say that local businesses are willing to work with shoppers who have hesitations about shopping. Many of the businesses will offer curbside pickup for customers and the majority of them feature online shopping.
Each of the counties chamber of commerce and visitor bureaus feature online sites featuring the small businesses in their communities.
SHOPNoble in Noble County, for example, features a list of nearly 200 locally-owned, small businesses.
And local shoppers may even come out ahead by shopping small businesses. The Kendallville Area Chamber of Commerce, for example, is running its holiday promotion where shoppers who spent at least $50 in local stores and turn in receipts to the chamber are entered for a $500 grand prize drawing in Chamber bucks — another opportunity to put more money back into the community.
Published at Sun, 29 Nov 2020 05:00:00 +0000