Covid-19: PM to unveil 'cautious' plan to lift England's lockdown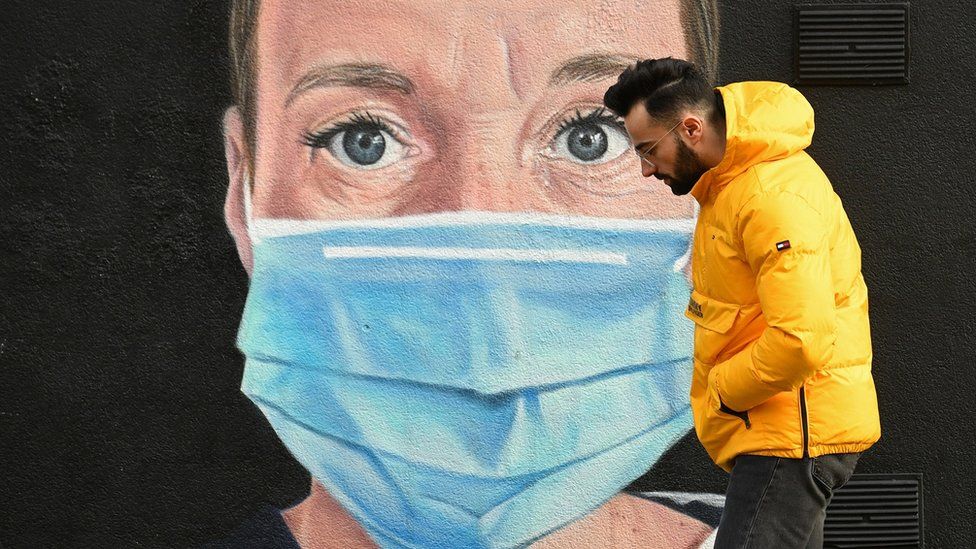 All schools in England are expected to reopen on 8 March as part of the prime minister's "cautious" four-part plan to lift the coronavirus lockdown.
Boris Johnson will share his finalised "road map" with ministers later, before unveiling it to MPs and then leading a news conference at 19:00 GMT.
It is understood that up to six people or two households will be allowed to meet outdoors from 29 March.
Rules will be lifted in phases and four conditions must be met at each stage.
It is understood that the first phase will be split into two parts:
Phase one, part one (from 8 March) – All schools expected to open with outdoor after-school sports and activities allowed. Recreation in a public space – such as a park – could be allowed between two people, meaning they would be allowed to sit down for a coffee, drink or picnic
Phase one, part two (from 29 March) – Outdoor gatherings of either six people or two households are expected be allowed, including in private gardens. Outdoor sports facilities such as tennis or basketball courts could reopen and organised adult and children's sport, such as grassroots football, could also return
Also on 8 March, new rules will allow each care home resident in England to have one regular visitor, who they can hold hands with.
And from 29 March it is also understood that people will once again be able to travel out of their areas – although guidance will likely still recommend staying local, and overnight stays will not be permitted.
Data will be used to inform "every step" of lifting restrictions, Mr Johnson said.
"We will be cautious about this approach so that we do not undo the progress we have achieved so far and the sacrifices each and every one of you has made to keep yourself and others safe," he added.
The four conditions that must be met at each phase of lockdown easing are:
The coronavirus vaccine programme continues to go to plan
Evidence shows vaccines are sufficiently reducing the number of people dying with the virus or needing hospital treatment
Infection rates do not risk a surge in hospital admissions
New variants of the virus do not fundamentally change the risk of lifting restrictions
Downing Street said the four tests are currently being met so the first step of lockdown easing in England will proceed as planned on 8 March.
The first stage of easing restrictions will be across the whole of England, Downing Street added, due to the current uniform spread of the virus.
MPs will be given the chance to vote on the regulations enabling England's road map in the coming weeks.



What's perhaps most interesting about the four tests for the road map is that a rise in infection levels is not, in itself, a barrier to easing restrictions further.
Some members of the scientific community, as well as some teaching unions, believe any increase should not be tolerated.
But, instead, infection rates are only being seen as a problem by the government if they risk a surge in hospitalisations.
That's important. The government's advisers do not consider schools to be a significant driver of infections. But reopening to all pupils could certainly lead to some increase.
The rollout of the vaccination programme, however, weakens the direct link between infections and hospital admissions.
That's not to say a surge in infections can or will be tolerated – the number of Covid patients in hospital is still only just below where it was in the first peak.
What's more, high rates of infection at a time when vaccines are being given provides an ideal breeding ground for mutations.
But it's clear the progress made has created some wriggle room.


How risky are the routes out of lockdown?
'Reckless' if all pupils back 8 March, say unions
Catch-up narrative 'putting pressure on children'
All four UK nations have been in lockdown for weeks, after hospitals were put under unprecedented pressure due to the rapid spread of a variant of the virus, which was first detected in Kent.
The devolved nations have the power to set their own restrictions.
In Scotland, children in early years education and the first three years of primary will return to school on Monday. First Minister Nicola Sturgeon is set to outline a route out of lockdown in the coming days, but has warned people not to book Easter holidays.
In Wales, First Minister Mark Drakeford said he hopes the "stay-at-home" requirement could end within three weeks, with some non-essential shops and hairdressers possibly reopening at the same time. Children aged three to seven are starting a phased return to Welsh schools on Monday, along with some college students.
Northern Ireland's health minister has played down the prospect of restrictions being eased in time for Easter. A review of current measures will take place on 18 March.
Pre-school, nursery and pupils in primaries one to three will return to classrooms in Northern Ireland on 8 March. After two weeks, they will resume remote learning so older pupils in years 12 to 14 can go back to school.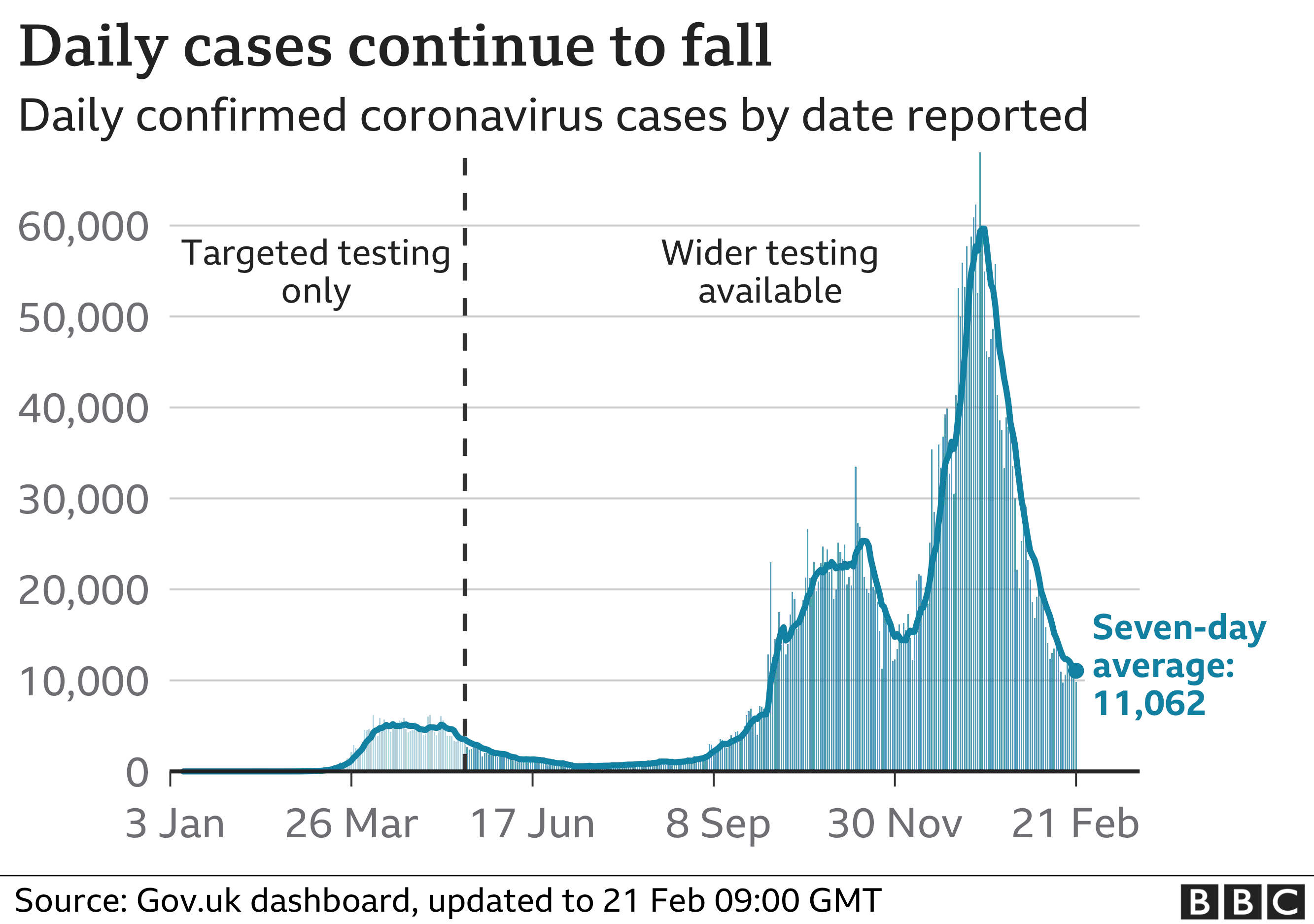 As part of the PM's road map, Public Health England will publish new data on the impact of vaccines on transmission rates.
There is "early data" suggesting a reduction in transmission of the virus in people who have had a vaccine, the health secretary said on Sunday, adding that hospital admissions were falling "much more sharply" than they were in the pandemic's first wave.
However, Matt Hancock told the BBC's Andrew Marr Show that the number of people in hospital – currently around 18,000 – was still "far too high".
Mr Hancock reiterated the government's new target to offer a jab to adults aged 50 and over and those in the top nine priority groups by 15 April, followed by all adults by the end of July.
The government's previous aim was to offer all adults the first dose by September, but the PM said bringing the target forward would protect vulnerable people sooner and help to further ease lockdown restrictions across the country.


LOOK-UP TOOL: How many cases in your area?
YOUR QUESTIONS: We answer your queries
GLOBAL SPREAD: How many worldwide cases are there?
THE R NUMBER: What it means and why it matters
TEST AND TRACE: How does it work?


So far, more than 17.5 million people in the UK have received a vaccine dose since the rollout began in December last year.
The order of priority for the under-50s to receive jabs has yet to be outlined by the Joint Committee on Vaccination and Immunisation (JCVI).
Prof Adam Finn, a member of the JCVI, told the BBC on Sunday that he expected a public announcement to be made on vaccine priorities at some point this week.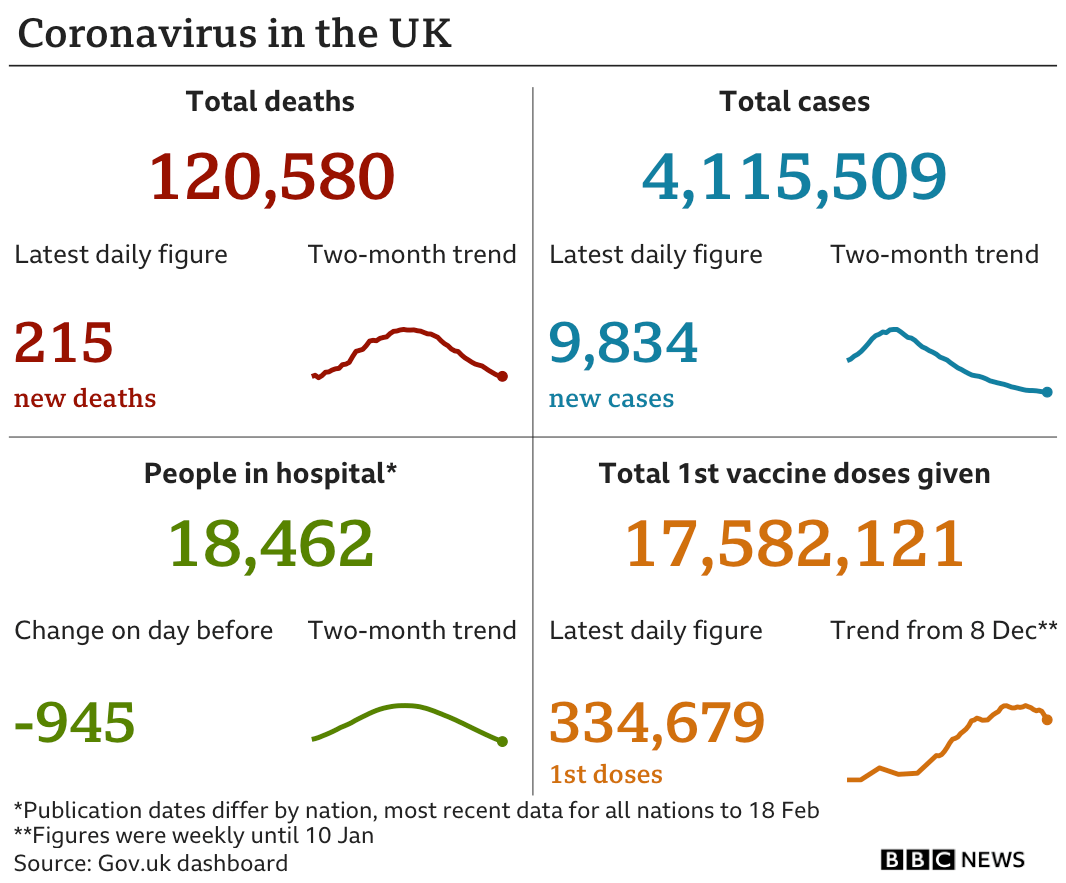 BBC HEADROOM: Your mental health toolkit – Mindful tips, mood mixes and motivation
'I WANT PEOPLE TO TALK': West Ham Women captain opens up on mental health

Published at Mon, 22 Feb 2021 04:00:26 +0000